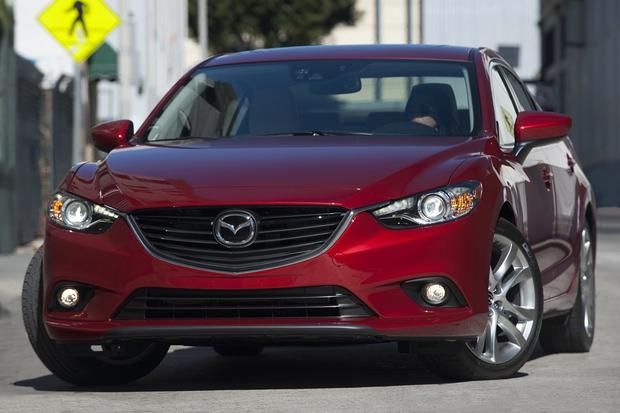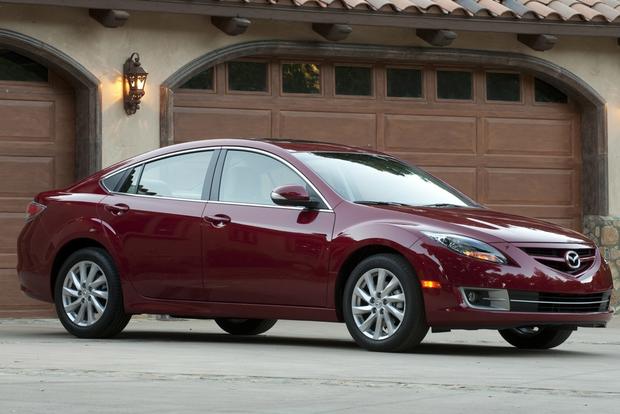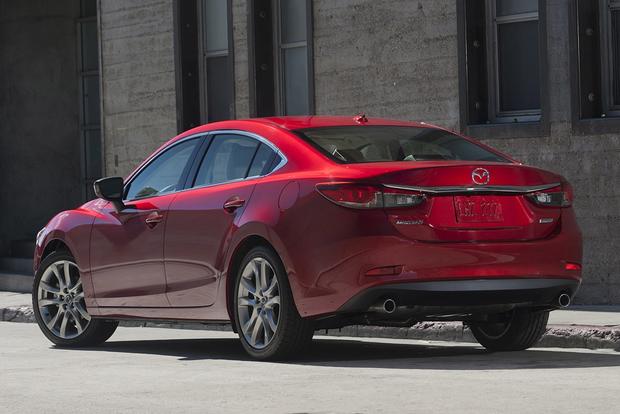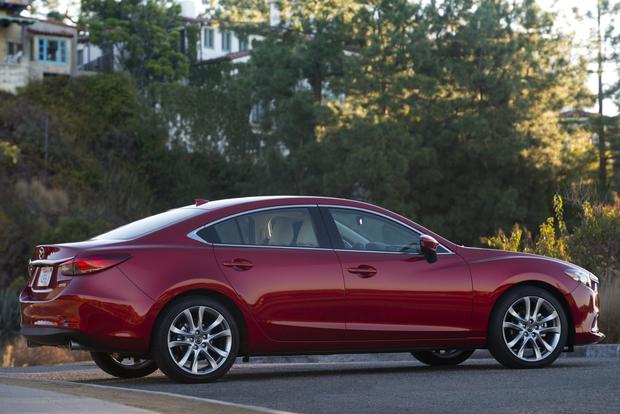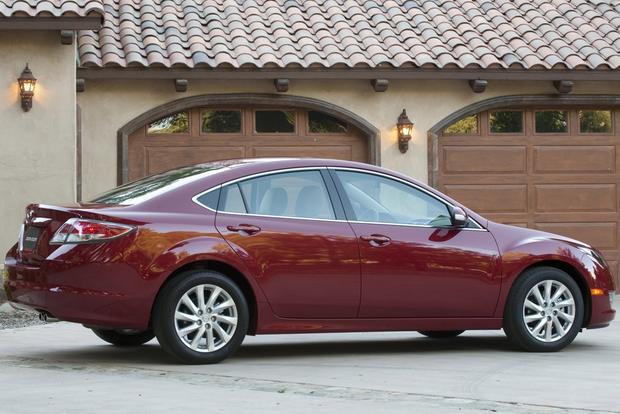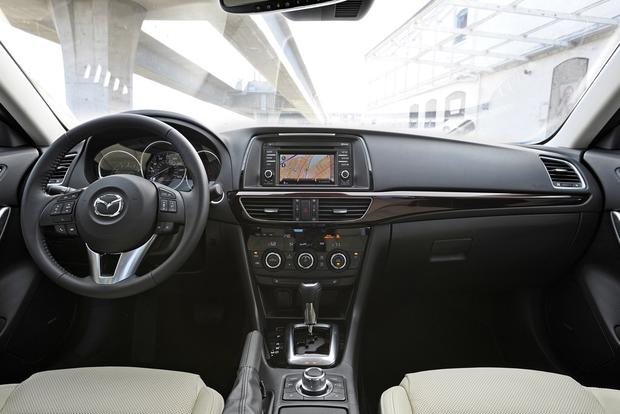 Introduction:
A redesigned 2014 Mazda6 is in showrooms now, the first 2014 model from any automaker to go on sale when it arrived in early January of 2013. The Mazda6 was last redesigned for the 2009 model year, when it was created specifically for Americans, built in Michigan and equipped with a larger interior, a bigger trunk and more powerful engines than Mazda6 models that were offered in other parts of the world.
Unfortunately, the 2009 Mazda6 arrived right as the Great Recession was kicking off and fuel prices began a relentless march upward. As all companies pulled budgets back to weather the economic storm, that new Mazda6 was left to twist in the wind with little marketing support to help it make inroads with consumers who retained the job security and purchasing power to drive home in a new car.
As a result of consumer disinterest in a Mazda6 that was by most accounts a competitive car, many of these roomy midsize sedans found their way into courtesy vehicle and rental car fleets, which kept Mazda dealers well stocked with low-mileage, late-model, certified pre-owned family cars. That brings us to the question we're trying to answer here: Should car buyers consider one of those used Mazda6 models or buy the redesigned 2014 Mazda6? Let's take a closer look.
Fuel Economy:
Between 2009 and 2013, the previous-generation Mazda6 was offered with a choice between a 4-cylinder and a V6 engine and as might be expected from a car company using Zoom Zoom as an advertising tagline, the Mazda6 could be equipped with a manual gearbox.
The Mazda6i models had a 2.5-liter 4-cylinder engine generating 170 horsepower at 6,000 rpm and 167 lb-ft of torque at 4,000 rpm. A 6-speed manual gearbox came standard on the 6i Sport, while the 6i Touring and 6i Grand Touring models were equipped with a 5-speed automatic transmission with manual shift capability (optional for the 6i Sport). Base curb weight for the 2013 Mazda6i measured 3,268 pounds.
The Mazda6s models had a 3.7-liter V6 engine under the hood, rated at 272 hp at 6,250 rpm and 269 lb-ft of torque at 4,250 rpm. A 6-speed automatic transmission with manual shift capability was the only transmission offered for the V6 engine.
A beneficiary of the automaker's SkyActiv approach to vehicle design and engineering, the new Mazda6 is 85 pounds lighter and is smaller than the previous-generation model, as it lost head room, front legroom and trunk space while gaining wheelbase, shoulder room, hip room and rear legroom. The new Mazda6 boasts a low 0.26 coefficient of drag in Grand Touring trim.
A new 2.5-liter 4-cylinder engine is standard for the new Mazda6, developing 184 hp at 5,700 rpm and 185 lb-ft of torque at 3,250 rpm. As before, the Mazda6 Sport is equipped with a 6-speed manual gearbox. A new 6-speed automatic transmission with manual shift capability is optional for the Sport model and standard for the Touring and Grand Touring models.
Mazda says that it will add a turbocharged, 2.2-liter, clean diesel 4-cylinder engine to the lineup in the middle of the year and promises a high amount of torque across a broad power band that stretches to 5,200 rpm. A new i-ELOOP (Intelligent Energy Loop) system is also coming later this year and will employ capacitor-based brake energy regeneration to power the car's electrical system.
Fuel economy ratings for the new Mazda6 with the manual transmission are 25 miles per gallon in the city, 37 mpg on the highway and 29 mpg in combined driving. With the 6-speed automatic, the Mazda6 is rated at 26 mpg city/38 mpg hwy and 30 mpg in combined driving.
Compare those figures to the previous-generation Mazda6. That car's 4-cylinder engine returned 21 mpg city/30 mpg hwy regardless of transmission choice. The combined rating with the manual transmission was 24 mpg, while the automatic was expected to return 25 mpg. Of course, the V6 engine in the old Mazda6s was thirstier, rated at 18 mpg city/27 mpg hwy and 21 mpg in combined driving.
Significant gains in fuel economy make the new Mazda6 the clear winner in this category.
Safety:
When the 2009 Mazda6 went on sale, the National Highway Traffic Safety Administration (NHTSA) performed crash tests on the car and gave it the best possible rating of five stars across the board, including for resistance to rollover. This was a rare feat at the time, making the 2009-2010 Mazda6 one of the safest family sedans for sale.
Then the NHTSA strengthened its testing parameters and when the federal agency retested the 2012-2013 Mazda6 (the 2011 Mazda6 was never tested and never rated), the car's overall crash test rating fell to 4 stars. In the frontal impact test, the car protected the driver at a 4-star level and the front passenger at a 3-star level. In the side impact test, the Mazda6 provided 5-star protection for the driver, 4-star protection for the rear seat passenger and 3-star protection if the vehicle slid laterally into a pole or a tree. The rollover rating remained 5 stars.
Meanwhile, the Insurance Institute for Highway Safety (IIHS) gave the 2009-2013 Mazda6 its top rating of Good for frontal impact and side impact collision protection, combined with an Acceptable rating for roof crush strength and a Marginal rating for the car's ability to protect against injury in a rear impact collision. The IIHS also assessed the 2013 Mazda6 in its new small overlap frontal impact test and gave the Mazda6 an Acceptable rating, a favorable result in this new test, especially considering the car's age.
Between its debut in 2009 and its departure after an abbreviated 2013 model run, the previous-generation Mazda6 added a blind spot information system in 2010 and a reversing camera in 2011, but these features were only offered on top trim levels. With the redesigned Mazda6, the automaker is introducing a number of new safety technologies for its family sedan.
A reversing camera is standard for all Mazda6 models except the Sport with the manual transmission, along with a new E911 emergency notification service and text messaging capability. The latter feature displays incoming messages on the car's display screen, reads them aloud and allows the driver to respond using generic phrases provided with the system.
Touring models add a Blind Spot Monitoring and Rear Cross Traffic Alert system and can be equipped with a new Smart City Brake Support system. Smart City Brake Support works at speeds under 19 miles per hour, identifies when a collision might occur, prepares the braking system for maximum brake force and, if the driver does not act, automatically brakes the car to reduce speed before impact.
Grand Touring models include Smart City Brake Support and an Adaptive Front Lighting system. Grand Touring models can also be upgraded with Mazda Radar Cruise Control and Forward Obstruction Warning systems, with a Lane Departure Warning system and a High Beam Control system coming later this year.
At the time this article was written, neither the NHTSA nor the IIHS have performed crash tests on the new Mazda6. However, given modern engineering designed to meet crash protection standards all around the world, combined with the additional technology outlined above, we're confident in giving the redesigned Mazda6 the nod for safety.

Reliability:
Historically, the Mazda6 has proven better than average in terms of reliability, according to Consumer Reports, with 2009-2013 models exhibiting no serious trouble spots. That might help explain why Mazda offers such generous Certified Pre-Owned (CPO) coverage on models that meet program standards.
Mazda's CPO program puts every car through a 150-point inspection and provides an AutoCheck vehicle history report with an Experian-backed 3-year repurchase guarantee on the report. A 12-month/12,000-mile limited warranty with no deductible, a 7-year/100,000-mile power train warranty with no deductible and 24-hour roadside assistance for the duration of the powertrain warranty are included for all Mazda CPO vehicles and the warranties are fully transferable to another owner who might buy the car before they expire. The automaker also offers Mazda Extended Confidence warranty coverage at extra cost to the buyer.
Contrast the previous-generation Mazda6's favorable reliability rating and impressive CPO coverage to the 3-year/36,000-mile limited bumper-to-bumper warranty with 24-hour roadside assistance and the 5-year/60,000K-mile powertrain warranty that is included with the redesigned 2014 model; you can understand why we lean in favor of the old Mazda6 with regard to reliability. It is, after all, a known entity at this stage of the game.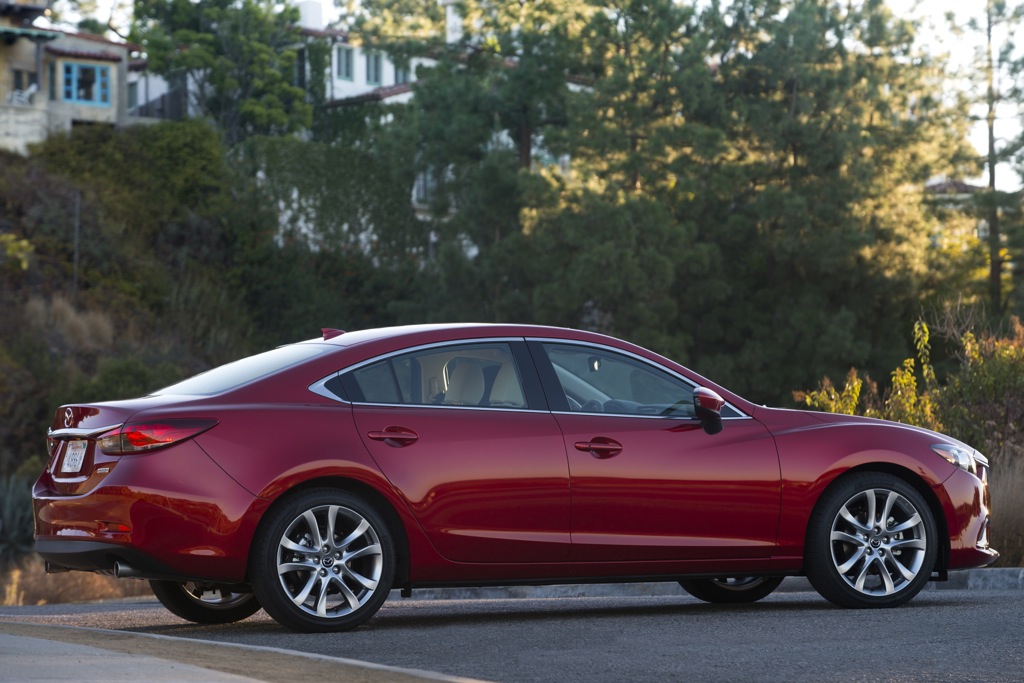 Value:
Certified Pre-Owned Mazda6 models are also appealing from a value standpoint. At the time this article was written, AutoTrader had listed 565 examples of CPO Mazda6 models for sale nationwide, ranging from a 2009 Mazda6i with 42,630 miles for $11,400 to a 2013 Mazda6s Grand Touring with 8,500 miles for $27,995. Additionally, Mazda is offering finance interest rates as low as 0.9% for CPO vehicles.
Because the redesigned Mazda6 just arrived in showrooms, Mazda dealers are also clearing out remaining stocks of the 2013 Mazda6, offering 0% financing for 60 months, attractive leasing programs and an extra $500 to current Mazda owners. Prices range from $21,520 for a 2013 Mazda6i Sport with a manual transmission to $35,395 for a 2013 Mazda6s Grand Touring with all the options.
Good deals are not limited to CPO models and the outgoing 2013 Mazda6. The automaker has priced the new 2014 model aggressively. Though the car is substantially improved over the vehicle it replaces, it starts at just $21,675 including the $795 destination charge. A Mazda6 Grand Touring loaded with every option except paint protection film runs at $32,965. Also, despite the fact that it is a redesigned car, the 2014 model is offered to current Mazda owners with a special $1,000 cash rebate. Plus, any buyer can take advantage of lease deals and 1.9% APR financing for 36 months.
This one is a tough call, but based in the information above, choosing a CPO Mazda6 still makes plenty of sense.
Technology:
As is typical, the latest version of the Mazda6 basically mops the floor with the outgoing previous-generation model when it comes to technology. For 2014, all Mazda6 models are equipped with a standard auxiliary audio input jack, a USB port and a push-button ignition system. All models except the Mazda6 Sport with a manual transmission get a new 5.8-inch touchscreen infotainment system, a reversing camera, E911 emergency notification service, Bluetooth with audio streaming capability, HD Radio, Pandora Internet radio and SMS text messaging service.
Upgrade to the Mazda6 Touring and the car is equipped with Blind Spot Monitoring and Rear Cross Traffic Alert technologies. A navigation system, a Bose Centerpoint surround sound audio system, Mazda Advanced Keyless Entry, rain-sensing wipers and a Smart City Brake Support system are options on the Touring model and standard on the Grand Touring model. Grand Touring models are also equipped with a new Adaptive Front Lighting system.
Options for the Mazda6 Grand Touring include Mazda Radar Cruise Control and Forward Obstruction Warning systems. Later in the year, buyers choosing the Grand Touring model will be able to upgrade the car with a Lane Departure Warning system, a High Beam Control system and an i-ELOOP electrical system.
Advantage: The new Mazda6.
AutoTrader's Recommendation:
Clearly, Mazda takes a huge step forward with its new Mazda6. This svelte family sedan is far more fuel efficient than before, is likely to prove safer when crash tests are conducted, is likely to continue to be reliable and is technologically superior. For these reasons, and because the new Mazda6 is one of the best-looking cars on the road at any price, we're giving the redesigned Mazda6 our recommendation.
Nevertheless, the old 2009-2013 Mazda6 is reliable and represents a terrific value. There's no question that buyers on a budget can save enough cash on a CPO version to pay for the extra gas it will require to operate. Either way, buying a Mazda6 makes good sense.
What do you think of the Mazda6? Let us know in the comments below.