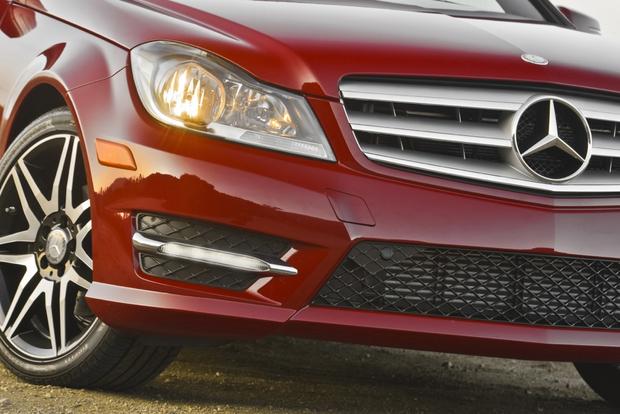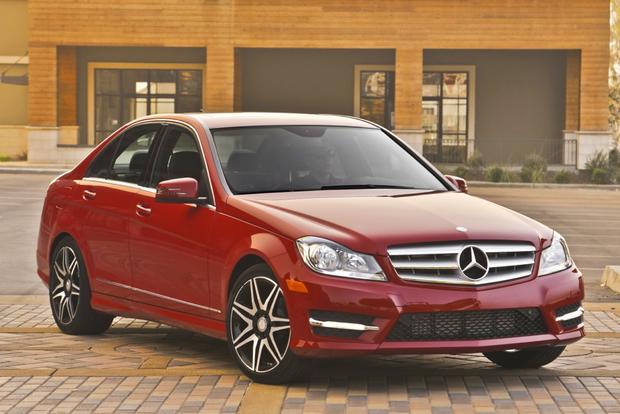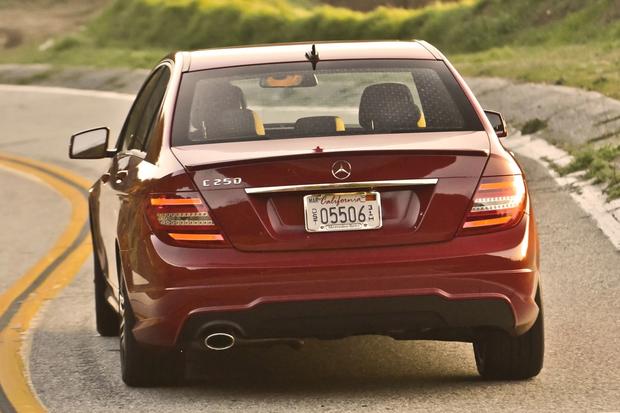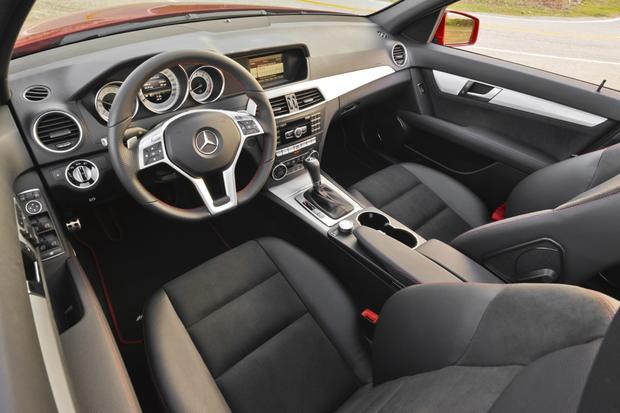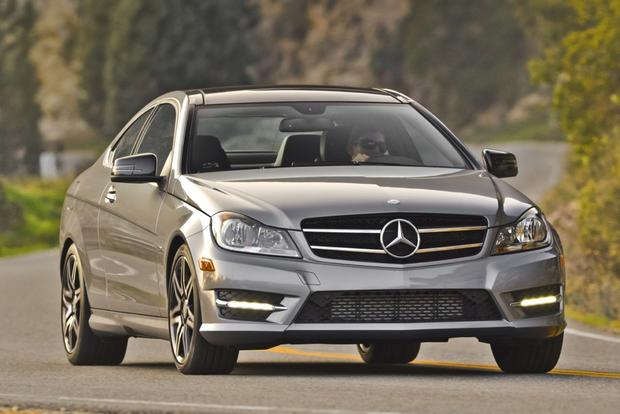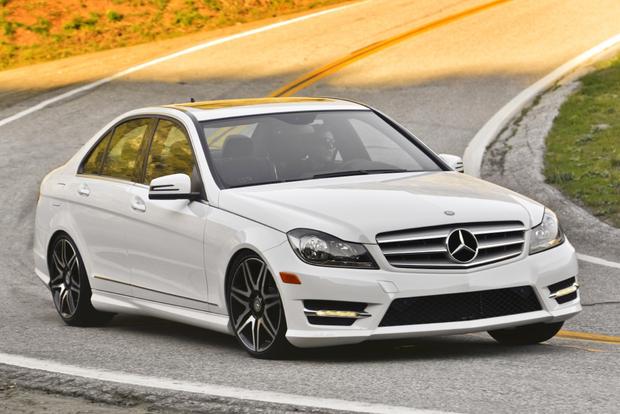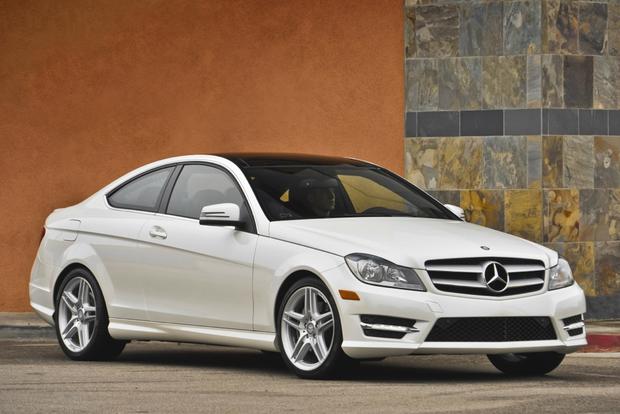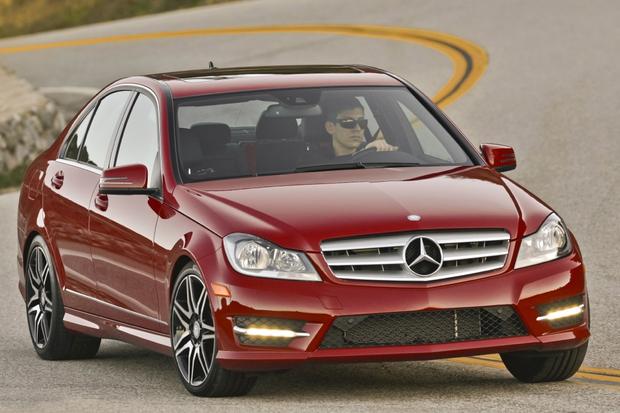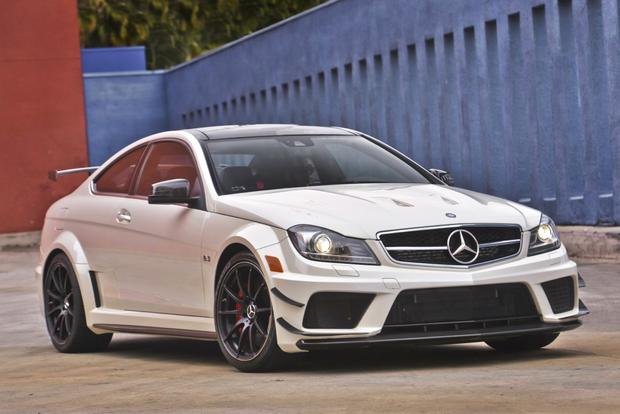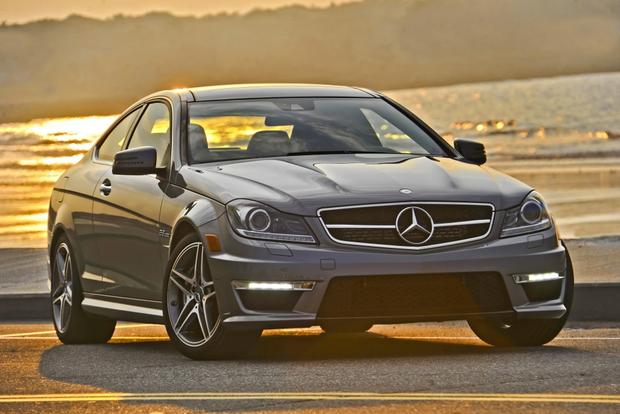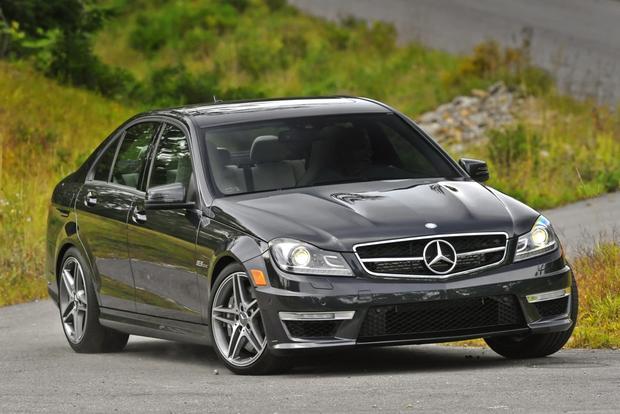 The 2014 Mercedes-Benz C-Class is enjoying its last moment in the sun before a dramatically reworked successor replaces this successful but aging lineup of coupes and sedans. The C-Class has had some of its thunder stolen by the just-introduced CLA-Class -- a compelling compact sedan with an attractive $29,900 starting price -- but the 2015 models may just steal some of it back. Until that happens, the CLA is enjoying the advantage of approximately the same exterior proportions as the C-Class while boasting a more attractive MSRP. When the all-new C-Class debuts as a 2015 model, it will be bigger, plusher and pricier, giving the CLA-Class some much-needed breathing room within the lineup.
What's New for 2014?
For 2014, the entire Mercedes-Benz C-Class lineup receives a standard split-folding rear seat. The C350's standard wheel size climbs from 17 to 18 inches, while an even higher performance Edition 507 package becomes available on the C63 AMG.
What We Like
More fuel efficient yet still sophisticated; plenty of Mercedes tech on board; blue-chip luxury that rarely disappoints
What We Don't
Staid styling; more expensive and (arguably) less attractive than the CLA; basic options are bundled into pricey packages
How Much?
$35,800-$70,000
Fuel Economy
The introduction of direct injection and start/stop engine technology from the 2013 model year enables the 2014 models to further enjoy boosted fuel economy figures. Those numbers will vary depending on model chosen. For instance, the C250 coupe's turbocharged 1.8-liter inline 4-cylinder scores 22 miles per gallon city/31 mpg hwy, while the C350 drops to 20 mpg city/28 mpg hwy, and the track-ready C63 AMG plummets to 13 mpg city/19 mpg hwy.
Standard Features & Options
The 2014 Mercedes-Benz C-Class is available in 10 variants: the C250 Sport sedan, C250 Luxury sedan, C300 4Matic Sport sedan, C300 4Matic Luxury sedan, C350 Sport sedan, C250 coupe, C350 coupe, C63 AMG sedan, C63 AMG coupe and C63 AMG Edition 507.
All C-Class models come with standard dual-zone climate control, power multi-adjustable front seats, second-row folding seats, cruise control, Bluetooth audio streaming and keyless entry.
The C250 Sport sedan ($35,800) is powered by a 201-horsepower turbocharged inline 4-cylinder engine mated to a 7-speed automatic transmission. C-Class options include a $2,500 Premium Package that adds 14-way power seats, SiriusXM satellite radio, a Harman Kardon surround sound system and heated front seats. The $2,860 Multimedia Package adds a rearview camera, voice control, navigation with an 80-gig hard drive and a 10-gig music register. A sport package adds 18-inch AMG-branded wheels, sport seats, special trim including a flat-bottomed steering wheel and a rear spoiler to the tune of $2,300. Leather upholstery can be ordered for $1,750, and a Lane Tracking Package with blind spot and lane-keeping assist adds $875 to the bottom line. The mbrace mobile app, which enables automatic collision notification, remote unlocking, roadside assistance access and a vehicle finder, among other features, is free for six months, followed by a $280 annual fee.
The C250 Luxury sedan ($36,250) offers essentially the same standard and optional items, only outfitted with more traditional trim and body accents, and same-sized front and rear wheels and tires (unlike the Sport, which is equipped with staggered 225-mm front, 245-mm rear tires.)
The C250 Coupe ($38,200) offers the same essential exterior treatment as the C250 Sport Sedan but trades four doors for two.
The C300 4Matic Sport sedan ($39,400) upgrades to a 248 hp 3.5-liter V6 and adds all-wheel drive, also mated to a 7-speed automatic transmission. The Luxury version ($39,850) offers more subdued body work and same-sized front and rear wheels and tires.
The C350 Sportsedan ($42,100) upgrades the engine once again, to a 302-hp 3.5-liter V6, which includes stop/start technology. Also included is an uprated 450-watt stereo with SiriusXM Radio, 12 speakers and LOGIC7 surround sound.
The C350 Coupe ($43,850) offers the same package as the C350 Sport sedan, only in 2-door form.
Graduating to the C63 AMG sedan ($60,250) and C63 AMG coupe ($62,750) makes significant engine and suspension upgrades, with a 451-hp 6.2-liter V8 and a lengthier list of standard items, though many luxury items (like leather seats) are still optional. Add $9,750 for the Edition 507 Package and engine output gets boosted to 507 hp, top speed increases to 174 miles per hour, brakes are uprated and wheels enlarge to 19 inches.
Safety
Safety features include adaptive high-beam, attention, blind spot and lane-keeping assist features, which warn the driver through vibrations in the steering wheel.
The C-Class was most recently crash-tested in the 2013 model year by the Insurance Institute for Highway Safety and received a superior front-crash prevention rating while earning Top Safety Pick status.
The National Highway Traffic Safety Administration awarded the 2013 four out of five stars in frontal crash testing, five out of five stars in side crash and four out of five stars in rollover, for an overall rating of five out of five stars.
As 2014 model C-Classes are essentially carryovers from the 2013 model year, it is safe to say 2013 crash ratings can be applied to the 2014 model.
Behind the Wheel
The cabin of the C350 test car was a tidy but fairly luxurious space. Black, grain-finished surfaces abounded, and a thick, flat-bottomed steering wheel framed large, white-backed analog gauges. Trim materials offset an otherwise no-nonsense demeanor. The tester was clad in AMG trim, sporting real aluminum across the steering wheel, dashboard and center console. Other variants feature black ash or burled walnut bits for a richer, more traditional feel.
The C350 sedan drives with a sense of confident calm. Retuned suspension improves responsiveness, and adaptive shocks enable a smooth ride over most surfaces and stiffen during high-speed cornering or abrupt steering input.
While negotiating twisty mountain roads, the C350 offered a reasonable balance of ride comfort and control. Its 3,615-lb body hustled itself effectively thanks in part to a 5-arm multilink rear setup and the aforementioned automatic suspension stiffening.
The 302-hp V6, which Mercedes-Benz estimates will whisk you from 0 to 60 mph in 5.9 seconds, feels noticeably gutsier than the previous model, with assertive torque that pulls nicely in concert with the smooth-shifting 7-speed transmission. Although more engaging to drive than its predecessor, the 2012 C350 still veers toward the functional end of the spectrum, offering solid on-road manners that will satisfy all but the most performance-oriented drivers.
With its subtle exterior, solid interior amenities and efficient yet powerful drivetrains, the 2014 C-Class takes on the competition with a stronger arsenal of amenities and a more focused sense of purpose on the road.
Other Cars to Consider
BMW 335i-- The arch rival of the Mercedes C-Class, the 335i, is more driver-oriented. The twin-turbocharged BMW delivers more torque at lower rpm (300 lb-ft at 1,400 rpm, versus the Benz's 273 lb-ft at 3,500 rpm), but it also costs about $2,000 more and has a very different feel than the Mercedes.
Lexus IS 350 -- More of an apples-to-apples comparison with the C350 than the BMW, the IS350 is similarly priced at $39,070.
Infiniti Q50 -- Infiniti has stepped up its game with the Q50, which introduces sharp styling, a significantly improved interior and a host of technological advances. With a starting price of $36,700, the Q50 offers a value-driven alternative to the Mercedes-Benz C-Class.
AutoTrader's Advice
It may not be as driver-oriented as the BMW 3 Series, but that doesn't stop the 2013 Mercedes-Benz C-Class from being a strong proposition for luxury-sedan shoppers. If the C350's $42,100 MSRP is outside your price point, the more attractively priced 4-cylinder C250, which starts at $35,800 for the Sport sedan and $36,250 for the Luxury sedan, should draw even more buyers toward the 3-pointed star.