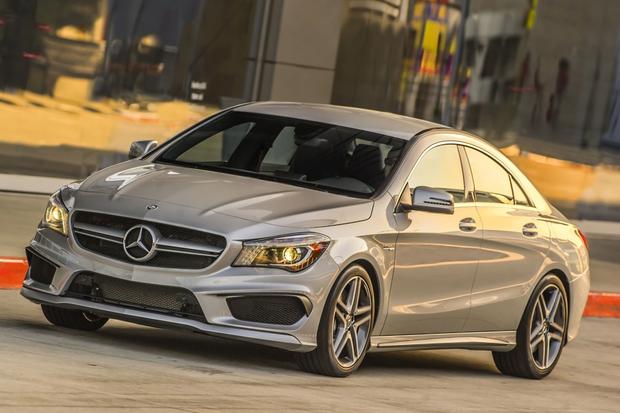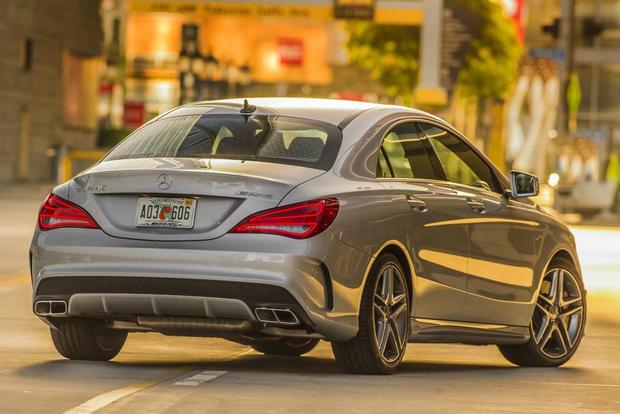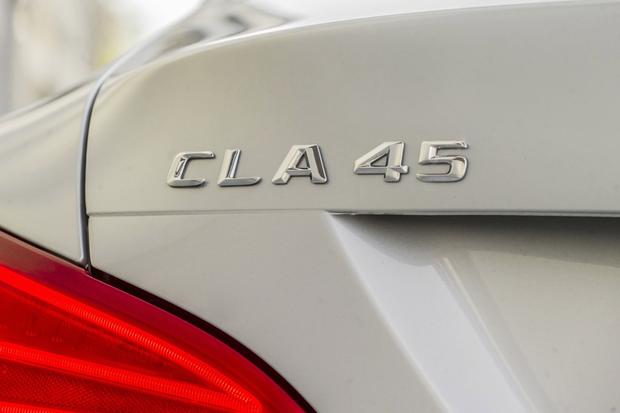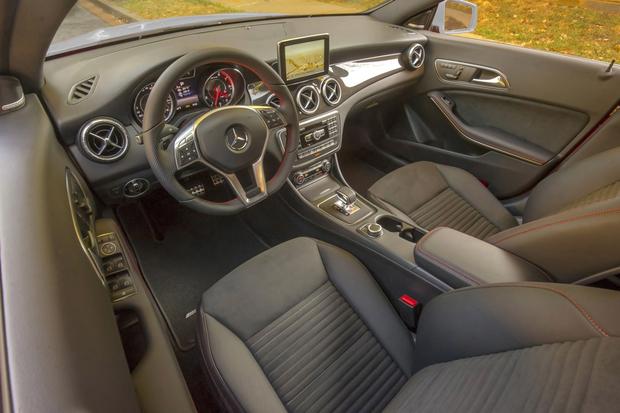 The 2014 Mercedes-Benz CLA45 AMG is important for several reasons, among them that this small sedan is the first vehicle in AMG history to sport a 4-cylinder engine, and the first to be based on a front-wheel-drive platform.
When you compete against bigger AMG-powered Benzes with imposing road presences and supercar-like spec sheets, you run the danger of coming across as insubstantial in the face of pricier, and potentially more premium-feeling, products. How does the CLA45 AMG compare to its higher-priced stablemates? Read on to find out.
What's New for 2014?
The Mercedes-Benz CLA45 AMG is all-new and based on the just-introduced CLA-Class platform.
What We Like
Punchy, responsive performance; sharp, fresh styling; a fresh alternative to the usual high-performance suspects
What We Don't
Front-biased power distribution takes away the traditional high-horsepower, tail-sliding hot rod appeal; though reasonably well-equipped, items such as a rearview camera should be standard; unproven reliability record may hamper confidence among some car buyers
How Much?
$48,375-$68,765
Fuel Economy
The CLA45 AMG is powered by a turbocharged 2.0-liter 4-cylinder engine producing 355 horsepower, mated to a 7-speed dual-clutch transmission and all-wheel drive. Despite its prodigious output, the CLA45 receives an impressive Environmental Protection Agency rating of 23 miles per gallon city/31 mpg hwy.
Standard Features & Options
The 2014 CLA45 AMG ($48,375) comes in one trim level only, and its MSRP represents a $18,475 premium over the standard CLA250 model. The CLA45 AMG comes with features such as HD radio, sport seats with a 14-way adjustable driver seat, Bluetooth audio, ambient interior lighting and split folding rear seats. Standard safety features include attention assist, LED daytime running headlights and collision-prevention assist.
Cosmetic exterior options include 19-inch AMG wheels in silver or black ($850), a panorama roof ($1,480) and a carbon fiber package ($3,700). Inside, aluminum trim is standard, while burl walnut, black ash or carbon fiber accents run an extra $325. AMG performance front seats ($2,250) add a layer of sportiness to the cabin, while top-stitched MB-Tex simulation leather on the upper dash and door areas add $1,500 to the MSRP, and a performance steering wheel can be had for $500.
The Premium Package ($2,300) offers dual-zone climate control, heated front seats, a Harman Kardon Logic7 surround sound system and SiriusXM radio, while a Multimedia Package ($2,370) includes a rearview camera, an 80-gig navigation system with a 7-in screen and heated seats that can be ordered a la carte for $850.
A Driver Assistance Package ($2,500) adds adaptive cruise control, blind spot assist, lane-keeping assist and collision-prevention assist plus. If you're unsatisfied with the off-the-shelf AMG suspension, an AMG Driver's Package ($1,950) delivers stiffer suspension with 19-in wheels, red brake calipers and a higher top speed. The self-parking Parktronic system runs $970, while the AMG performance exhaust will cost you $450. Blind spot assist can be ordered solo for $550.
Safety
The CLA45 AMG has 10 airbags, advanced crumple zones, a chassis that incorporates ultra-high tensile steel for additional crash protection and numerous optional safety items outlined above.
Neither the Insurance Institute for Highway Safety nor the National Highway Safety Transportation Administration has crash-tested the Mercedes-Benz CLA-Class.
Behind the Wheel
Climb inside and the CLA45 AMG's cockpit comes across as snug but purposeful and sporty with satisfying surface treatments and appropriately purposeful trim bits in generous portions of brushed aluminum. A few extra hundred dollars' upgrade to wood or carbon fiber finishes makes the CLA45 feel like a reasonably grown-up compact sedan that fits well (if still slightly less lavishly) among its higher-priced stablemates.
The turbo 4-cylinder fires up with a throaty exhaust note (especially when ordered with the optional performance exhaust), and the dual-clutch transmission shifts with a generally smooth but sometimes surprisingly crisp feel. Lay into the throttle and up to 50 percent of the power transfers through the rear wheels, enabling sprints to 60 miles per hour in a quick 4.4 seconds.
Under everyday driving circumstances, the steering feels quick and responsive, enabling this 3,494-lb sedan to negotiate most on-ramps and curvy roads with confidence-inspiring connectedness to tarmac. Combined with the grunty powerplant and quick-shifting transmission, the CLA45 manages to feel every bit as sporty as some of the best performance-focused coupes -- and yet it boasts four seats and a 13.1-cu-ft trunk.
Piloting a CLA45 on a race track reveals some of this baby AMG's less-than-supercar-like traits, among them an unwillingness to slide the tail out under heavy throttle. But considering its price and positioning in the marketplace, those characteristics seem entirely comprehensible.
Other Cars to Consider
Audi S3-- Not quite an apples-to-apples competitor against the CLA45, this upcoming compact sport sedan packs less heat (290 hp) and is more than 8 inches shorter than the Benz. But it will also run for about $6,000 less than the AMG, making it a smaller and lower-performance (but rather attractive) alternative to the CLA45 AMG.
BMW 335i -- It lacks the all-out performance of the CLA45 AMG, but the $43,400 Bimmer is likely to draw some CLA45 shoppers with its proven record, balanced road manners and prestigious nameplate.
Mercedes-Benz C63 AMG -- This soon-to-be-defunct AMG model may sit directly on top of the CLA45 in the Mercedes-Benz lineup (and eclipse the CLA with its $60,250 entry price), but with discounts likely reaching this outgoing model, we wouldn't be surprised if its higher performance lured some would-be CLA45 buyers.
AutoTrader's Advice
The 2014 Mercedes-Benz CLA45 AMG has few direct competitors from other manufacturers offering comparable performance for the price, boding well for this stylish small sedan. Though it lacks a spacious rear seating area and may feel less plush than its high-dollar stablemates, the CLA45 should satisfy most new car buyers looking for a powerful and capable 4-door that won't break the bank.
Unlike the entry level CLA250, the CLA45 AMG is finished with a more generous list of standard items, including leather upholstery and sporty bodywork. That said, we'd suggest opting for a Multimedia Package and calling it a day; after all, this small sedan stands out for nailing the high-performance niche, and CLA45 AMG shoppers are likely more focused on its athletic abilities than luxurious bells and whistles.