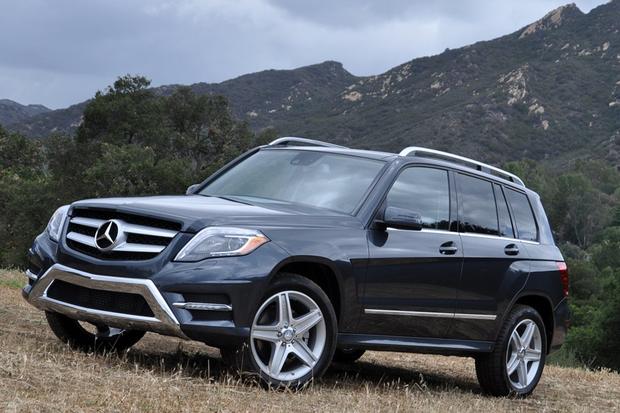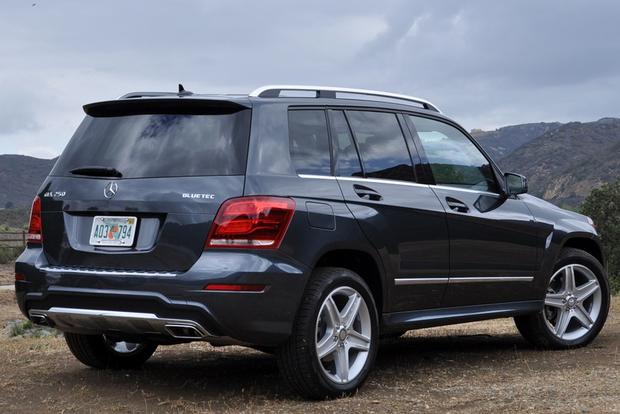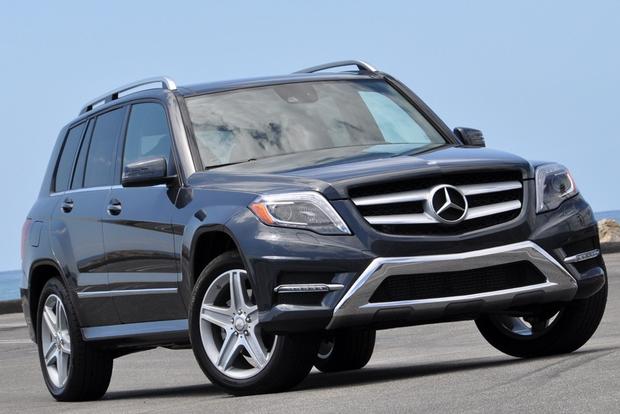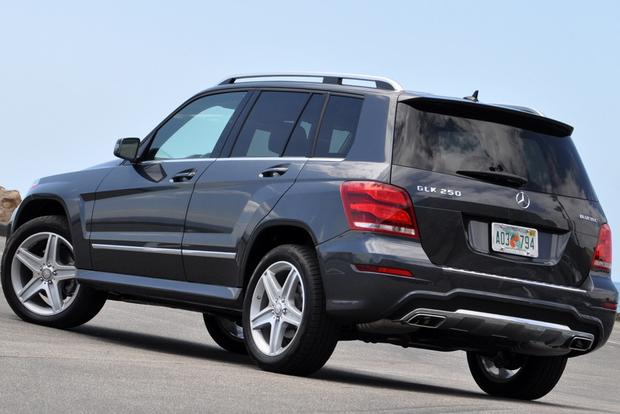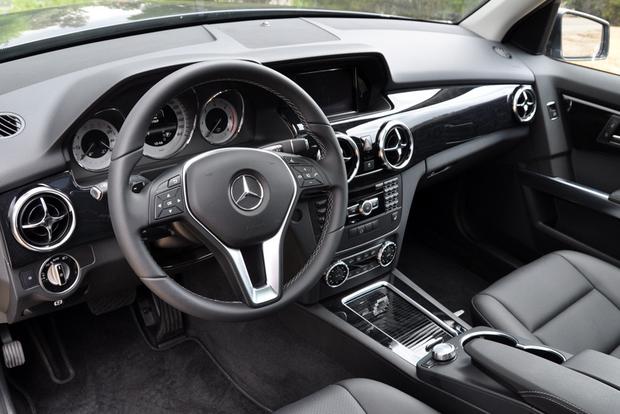 The 2014 Mercedes-Benz GLK-Class borrows the appearance of the automaker's larger sport-utility vehicles but is actually a manageable size for city-dwellers. The GLK-Class has a powerful 302-horsepower V6, carlike independent suspension and upright 8-way power-adjustable seating, featuring a decidedly carlike experience. Its 23 cu ft of cargo space in back makes the GLK-Class practical, as well. Fold the rear seat down and that space more than doubles, to 54 cu ft. Available 4MATIC 4-wheel drive provides all-weather sure-footedness, and the 2014 model capitalizes on the extensive interior, exterior and powertrain upgrades made during the 2013 model year.
What's New for 2014?
The GLK-Class lineup is essentially a carryover for the 2014 model year.
What We Like
Distinctive styling; improvements to interior quality; no price penalty for clean diesel option
What We Don't
Options can quickly inflate price; styling isn't for everyone; lack of availability of high-performance AMG variant
How Much?
$37,480-$38,980
Fuel Economy
The gasoline GLK350 is powered by a 302-hp 3.5-liter V6 mated to a 7-speed automatic transmission. The GLK350 is rated at 19 miles per gallon city/25 mpg hwy for the rear-wheel-drive setup and 18 mpg city/25 mpg hwy for the all-wheel-drive 4Matic version.
The diesel GLK250 BlueTEC gets its motivation from a 200-hp 2.1-liter twin-turbocharged 4-cylinder and a 7-speed automatic gearbox. The GLK250 BlueTEC is rated at 24 mpg city/33 mpg hwy.
Standard Features & Options
The 2014 Mercedes-Benz GLK-Class is available in two configurations: the gas-powered GLK350, and the diesel-powered GLK250 BlueTEC.
The GLK350 ($37,480) comes in base form with rear-wheel drive and can be ordered with 4Matic all-wheel drive for an additional $2,000. Standard features include an engine start/stop system, dual-zone climate control and remote-operated window opening and closing. The Premium 1 Package ($3,450) adds a panorama roof, power lift gate, SiriusXM satellite radio and a rear power outlet. The Multimedia Package ($2,860) includes a rearview camera, voice control, navigation and an upgraded stereo. Heated front seats add $750, while keyless go is available for $650. Blind spot and lane-keeping assist increase the bottom line by $875, while active parking assist with surround view sets you back $1,290. Want leather upholstery? That will add $1,850 to the MSRP. The Sport Package with bodywork, 20-inch wheels and aluminum roof rails adds $1,990, while active bi-xenon headlamps run $1,390.
The GLK250 BlueTEC ($38,980) offers the same options packages, only bundled with a diesel powertrain.
Safety
Mercedes has earned an impressive reputation for equipping its vehicles with the latest safety technology. For 2013, the GLK added active blind spot warning and lane-keeping systems, along with a device that warns if the driver appears to be too sleepy to drive.
Some features combine safety with convenience, such as the forward radar system, which warns the driver and automatically applies up to 40 percent braking power if it sees an object ahead. The same radar contributes to the automatic cruise control, which lets the GLK settle in behind slower-moving cars with the driver disabling the cruise control setting.
The 2013 GLK-Class model earned the Insurance Institute for Highway Safety's top rating of Good across four measures of crashworthiness. The National Highway Traffic Safety Administration has not tested the GLK.
Behind the Wheel
The gas-powered GLK350's broad torque band and flexible 7-speed transmission enable it to command strong acceleration during city driving while maintaining comfortable engine rpms during highway cruising. But don't let images of black-smoke-spewing diesels keep the GLK250 BlueTEC off your shopping list. This diesel variant is remarkably quiet, quick and clean, meeting tough emissions standards in the strictest state in the nation, California.
On the road, the 4,321-lb SUV feels substantial, secure and surefooted even on pockmarked pavement and winding canyon roads. Though heavy, the GLK250 BlueTEC proved lively and responsive in this urban environment.
There is a discernible difference between the GLK250 BlueTEC's Efficiency and Sport powertrain settings. The Sport setting makes the SUV feel quick, while the Efficiency setting aims to maximize mileage. Unlike some automakers, Mercedes hasn't anesthetized the engine's responsiveness when the GLK250 BlueTEC is driven in Efficiency mode.
Other Cars to Consider
Audi Q5 -- Audi's littlest crossover gets a power bump to 220 hp for 2014 and a new turbodiesel model, making it a stronger competitor than ever against the GLK-class. Pricing starts at $37,300.
BMW X3 -- Fancy yourself a serious driver? Then you'll want to seriously consider the X3, which starts at $39,800 and offers strong competition in the premium compact crossover field.
Land Rover Range Rover Evoque -- The Evoque is the clear style leader in the segment. While it's a compelling little sport 'ute, you'll pay dearly for this fashionable crossover, thanks to its $41,145 starting price.
AutoTrader's Advice
Thanks to updates made in the 2013 model year in particular, the 2014 Mercedes-Benz GLK manages to deliver a satisfying combination of luxury and utility, with approachable starting MSRPs. We're especially big fans of the GLK250 BlueTEC, which delivers torquey performance and solid fuel economy without a price penalty for the diesel powerplant. Without going overboard on the options list, this is without a doubt the GLK that offers the greatest bang for buck.