Car Review
2014 Mercedes-Benz M-Class: New Car Review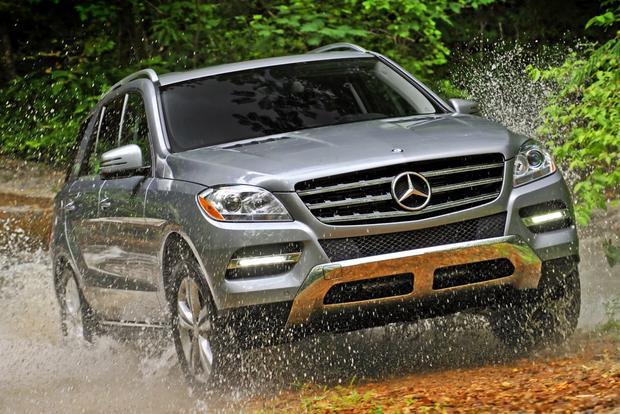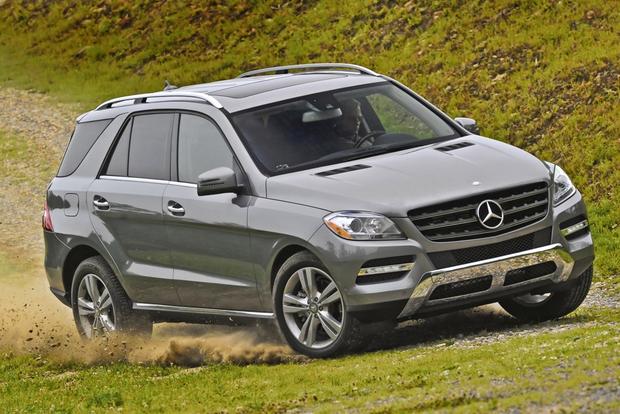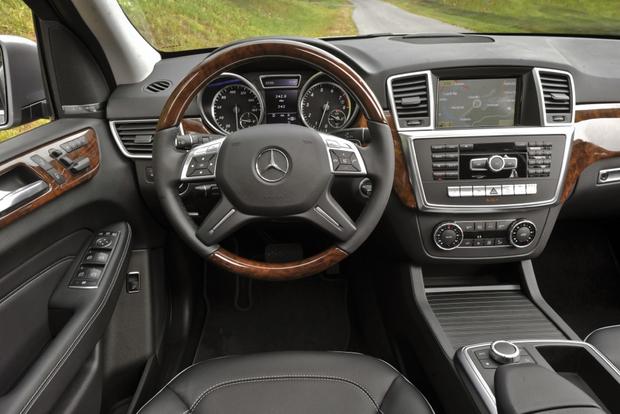 The M-Class has long epitomized the midsize luxury SUV segment, but the competition is always working hard to catch up. With the 2014 Mercedes-Benz M-Class on the scene, those competitors must once again bring strong contenders to stand a chance at matching this SUV's strengths.
The 2014 Mercedes-Benz M-Class benefits from the advancements Mercedes introduced in the 2012 model year. The 3-pointed star concentrated on power, performance, fuel economy and interior upgrades. Mercedes also slightly massaged the exterior but kept the ML's familiar brawny outer appearance. The 2013 model year saw updated mbrace2 telematics, a color display in the instrument cluster and a standard collision-prevention system, as well as a few options added such as an off-road package and front seats with a massage function. For the 2014 model year, the M-Class maintains its predecessors' improvements and stronger standard equipment list.
The ML350 and ML350 BlueTEC both offer ample power and, especially in the case of the diesel-powered BlueTEC, commendable efficiency. But for an even greater infusion of performance, the V8-powered ML550 and the supercharged ML63 AMG offer serious grunt in a formidable SUV package.
The interior of the M-Class retains its high-quality, well-crafted look and feel but has recently been stepped up. Purposeful styling cues and upgraded upholstery give the cabin more opulence, furthering the M-Class's position as a benchmark for upscale motoring.
What's New for 2014?
The 2014 M-Class carries over from the 2013 model year with minor color and trim changes. The Sport Styling package, previously available only on the ML550, can now be ordered on the ML350. Also new for 2014 is the option to special order a Splitview screen, which enables the central display to simultaneously reveal a navigation screen to the driver while the passenger watches a movie.
What We Like
Finely appointed cabin; long list of amenities; excellent seating; availability of a clean-diesel engine; aggressive exterior styling
What We Don't
Steep learning curve for COMAND system; absence of third-row seating
How Much?
$47,790-$97,250
Fuel Economy
The standard ML350 gets its power from a 3.5-liter V6 producing 302 horsepower and 273 lb-ft of torque. It uses a 7-speed automatic transmission and yields fuel economy of 17 miles per gallon city/22 mpg hwy.
The ML350 BlueTEC clean diesel variant has a smaller carbon footprint than the standard ML350. It is powered by a 3.0-liter turbo-diesel V6 that makes 240 hp and an axle-grinding 455 lb-ft of torque. Fuel economy is 20 mpg city/25 mpg hwy, certainly respectable numbers for a vehicle of the ML's size.
The ML550 boasts a potent 402-hp V8 that gets 14 mpg city/19 mpg hwy, while the ML63 AMG gets its power from a massive 5.5-liter twin-turbo V8 producing 518 hp. The AMG version pays the price for all that power with a 13 mpg city/17 mpg hwy rating.
Standard Features & Options
The 2014 Mercedes-Benz M-Class is available in four variants: the ML350, ML350 BlueTEC, ML550 and ML63 AMG.
The base ML350 ($47,790) is powered by a 3.5-liter V6 producing 302 hp. Standard items include cruise control, HD radio, heated front seats, a power lift gate and a 7-speed transmission.
Opt for the ML350 BlueTEC ($51,790) and you'll get a 3.0-liter V6 turbodiesel that churns a modest 240 hp but a thumpy 455 lb-ft of torque. While this diesel version shares much of the same basic equipment as the ML350, Mercedes-Benz's 4Matic all-wheel-drive system -- a $2,500 option on the standard ML350 -- comes standard on the BlueTEC.
The ML550 ($59,450) is motivated by a 402 hp 4.7-liter V8 also mated to a standard 4Matic all-wheel-drive system, and is outfitted with sportier exterior bodywork.
The high-performance ML63 AMG ($97,250) gets you a grunty 5.5-liter twin turbocharged 518-hp V8 and the requisite upgrades to suspension and brakes. Surprisingly, the AMG version is the only M-Class that comes with standard leather seating. Items such as navigation, parking sensors, an upgraded 14-speaker sound system and cooled front seats are also standard on the ML63.
Options include a sport package with AMG body styling and 19-inch wheels for the ML350 ($2,500), a panorama roof ($1,090), a xenon lighting package ($1,390), a premium package with navigation, a 10-gig music register, SiriusXM radio, power folding mirrors and a rearview camera ($3,920). Some a la carte options such as Keyless Go ($650) are optional on all but the ML63 model.
Safety
In addition to its solid construction, the M-Class protects occupants with front, side, head curtain and driver's knee airbags. The front seats have active head restraints to minimize the potential of whiplash in a crash.
Further, the mbrace2 system will alert emergency responders in an accident, and a standard collision-prevention system works to prevent accidents altogether.
Driver-assistance technologies include Blind Spot and Lane Keeping Assists and adaptive cruise control. Unfortunately, the ML350 doesn't offer Night View with Pedestrian Detection, a feature available on the brand's top sedans.
The 2014 Mercedes-Benz M-Class earned a 5-star rating from the National Highway Traffic Safety Administration, scoring five stars in frontal and side crash tests, while receiving four stars in the rollover test. The Insurance Institute for Highway Safety gave the M-Class a top safety pick rating, bestowing it with the maximum Good rating across five parameters.
Behind the Wheel
The ML350 and ML350 BlueTEC are sublime in their own right. The conventional ML350 displays strong, uniform power delivery throughout the rev band, while the BlueTEC launches like a rocket from zero and then fizzles a bit at the top end.
The ML550 and ML63 AMG are serious, high-performance contenders. But does an SUV really need those performance credentials? We wonder.
On normal roads and highways, the ride is smooth thanks to the unibody architecture of the M-Class. An optional adaptive suspension with active damping allows the driver to select a firmness setting based on style of driving and type of road.
The M-Class has impressive handling, especially for a taller vehicle. Steering is well-weighted, and there's very little body roll. Overall, the M-Class feels well-planted and substantial.
The M-Class is not really intended for off-road driving, although it is capable. It is more geared for inclement road conditions, thanks in part to its 20-in wheels. But a new, optional On- and Off-Road package adds some trail-ready components, such as a 2-stage transfer case, a longitudinal differential lock and six transmission settings.
Other Cars to Consider
BMW X5 -- Comparable to the M-Class in price and equipment, the X5 is more of a driver's car with a stronger emphasis on handling dynamics.
Porsche Cayenne -- Offers a more engaging driving experience than the M-Class, whereas the M-Class delivers a plusher ride. The interior of the M-Class is more refined and biased toward comfort, not sportiness.
Acura MDX -- The M-Class has more power and performance, better ride and handling and a higher-quality interior. But Acura's all-wheel-drive system is better than Benz's 4Matic, making the MDX more capable in colder climates. The MDX is also less expensive.
AutoTrader's Advice
Of 2013 Mercedes-Benz M-Class models, the ML350 BlueTEC is our choice. This advanced 50-state-legal clean diesel offers better fuel economy and a smaller carbon footprint than its gasoline-powered counterpart. It also has more torque than a lot of high-performance cars, making it an absolute delight in everyday driving, especially when launching from traffic lights or executing a highway passing maneuver. The ML350 BlueTEC is green, efficient and powerful off-the-line while still offering the luxury and refinement for which the M-Class is well known.