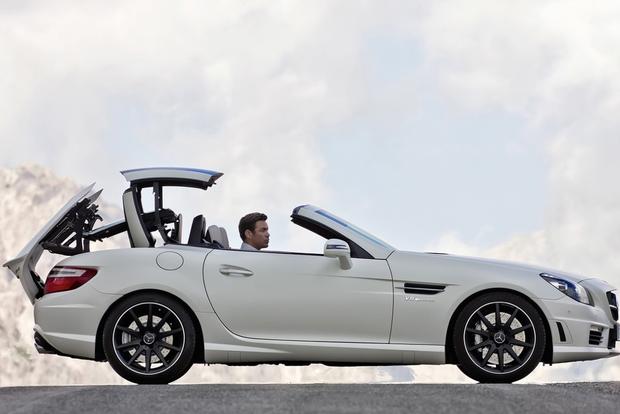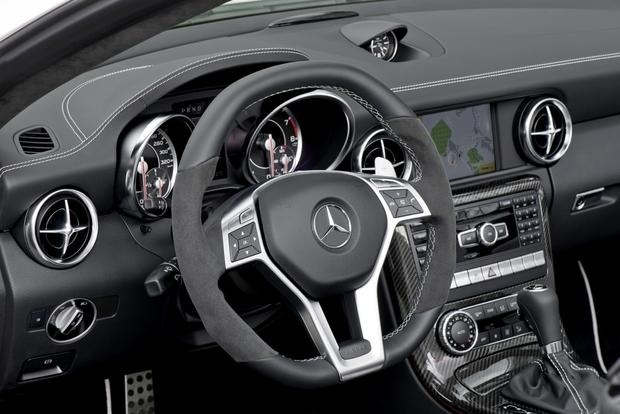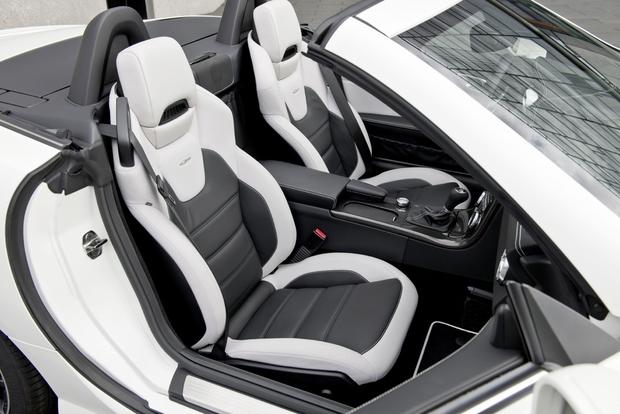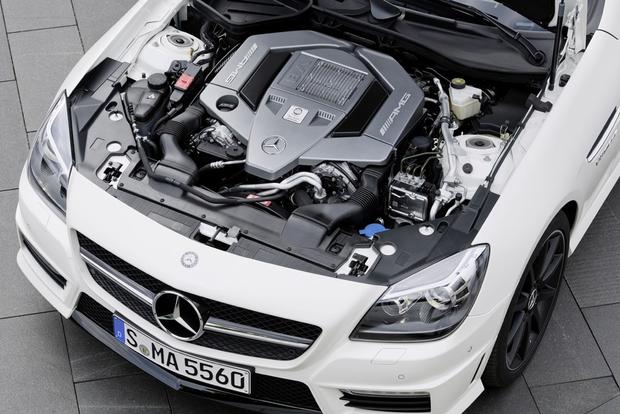 It's easy to forget, but the 2014 Mercedes-Benz SLK-Class traces its roots to the car that invented this segment.
We're talking about the "compact retractable-hardtop roadster" segment, of course. The first one was the original SLK-Class, a late '90s product that, at about half the price of the iconic SL roadster, offered top-down Mercedes status to the slightly less filthy-rich masses.
Initially, the SLK had a problem: Although it was the size of a mildly overgrown Miata, it handled more like an SL -- which is to say, it wasn't exactly a sports car. But we have to give Mercedes credit. After weathering much criticism in this regard, it got its act together, imbuing the second-generation 2014 Mercedes-Benz SLK-class with sports-car-like reflexes. That capable character fortunately carries over to the current third-generation SLK, which was redesigned for 2012. Heck, Mercedes even continues to offer a manual transmission with the base engine, a rare sporting treat in this day and age.
In other respects, the SLK is the consummate luxury hardtop convertible, as long as you don't mind driving a pint-sized car instead of something like the relatively imposing SL. Indeed, that's the only real compromise the SLK demands. If you're looking for a small roadster with a grand-touring pedigree, the SLK is hard to beat. If you'd rather cruise the boulevard with a little more substance, however, a lightly used SL for the same price may be in your future.
But let's be honest: As long as you're prepared to drop this kind of coin on a convertible with two seats, it's hard to go wrong. And you could do a lot worse than the first compact luxury roadster to offer a retractable hardtop, especially since Mercedes has now had about 15 years to perfect the SLK-Class's appealing formula.
What's New for 2014?
The 2014 Mercedes-Benz SLK-Class is essentially unchanged, except that the panorama roof is now standard on every model.
What We Like
Marvelous retractable hardtop; an engine for every occasion; unruffled high-speed demeanor; capable handling; high-quality interior; great fuel economy
What We Don't
Arguably awkward styling; golf bags won't fit in the trunk with the top down; you could get a lightly used SL for the same price
How Much?
$43,525-$68,925
Fuel Economy
The SLK250 features a turbocharged 1.8-liter inline 4-cylinder rated at 201 horsepower and 229 lb-ft of torque. That may not seem like much, but remember that the SLK is a pretty small car, so it doesn't take much to make it feel swift. Also, the 250 is the only SLK that offers a 6-speed manual transmission. The rest feature a mandatory 7-speed automatic.
Nonetheless, you may feel like 201 hp aren't enough for your new Mercedes roadster. We understand that, and apparently Mercedes does too, because it offers plenty more power for those so inclined.
First up is the SLK350, which sports a 3.5-liter V6 rated at 302 hp and 273 lb-ft of torque. Seeing as this is the standard engine in the E-Class luxury sedan, we'd say it's more than enough motor for something the size of an SLK. Indeed, the acceleration is strapping at just about any speed. Most folks will find it to be more than enough.
But the good folks at Mercedes, bless their hearts, offer one more engine for the truly deranged: the 5.5-liter V8 that powers the SLK55 AMG. Cranking out 415 hp and 398 lb-ft of torque set to a truly stirring soundtrack, this V8 turns the SLK into a modern-day Shelby Cobra. The philosophy is the same: Take a diminutive roadster and stuff it full of as much V8 as the engine bay can handle. For the lucky few who upgrade to the SLK55, the V8's insane rush of power will never get old. We promise.
People don't generally have fuel economy in mind when shopping for a pleasure craft such as the SLK, but this Benz sips fuel like few other roadsters we can think of. According to the Environmental Protection Agency, the SLK250 returns 23 miles per gallon city/33 mpg hwy with the automatic transmission. The manual is right behind at 22 mpg city/32 mpg hwy. The SLK350 checks in at a still-solid 21 mpg city/29 mpg hwy. And even the SLK55 is fairly frugal, garnering a rating of 19 mpg city/28 mpg hwy.
Standard Features & Options
The Mercedes-Benz SLK-Class comes in three trim levels: the SLK250, SLK350 and SLK55 AMG.
Standard features on the SLK250 ($44,450) include a 1.8-liter turbocharged 4-cylinder engine and a 6-speed manual transmission. Options include a sport body styling package ($2,500), a lighting package ($1,390) and the instantly tinting MAGIC SKY CONTROL feature on the panorama roof ($2,500). Also optional is a multimedia package that combines navigation with satellite radio ($2,220), a premium package with heated seats, Airscarf, a Logic7 surround sound system ($2,590) and keyless go ($650).
The SLK350 ($56,225) uprates the engine to a 302 hp 3.5-liter V6 and a standard 7-speed automatic gearbox with staggered wheels and tires, combining the premium package, Logic7 surround sound, satellite radio and the Airscarf neck-warming system at no extra cost.
The SLK55 AMG ($68,925) escalates to a 415-hp V8 and the expected chassis, suspension and brake upgrades.
Safety
The SLK-Class comes with standard stability control, 4-wheel anti-lock disc brakes, 10 airbags, active headrests, aluminum roll bars behind those headrests and a slew of computer-driven safety systems, including a driver-drowsiness monitor.
Every SLK also comes with the mbrace2 safety telematics suite, which connects your car, computer and/or compatible smartphone to both cloud-based and GPS technology, enhancing emergency response times and the like.
Like most luxury vehicles of its ilk, the SLK has not been subjected to any crash tests on American soil.
Behind the Wheel
At speed, the SLK could almost pass for an SL. That's how stable and composed it is on the highway. And unlike big brother, the SLK feels at home on twisty roads too, attacking corners with an enthusiasm that we have not traditionally associated with the 3-pointed star. Naturally, the SLK's truncated wheelbase makes it less compliant over rough pavement, but the structural rigidity is exemplary, so you can put the top down anytime without worrying about shakes and rattles. Moreover, Mercedes has decades of experience with convertible aerodynamics, so you can count on minimal wind buffeting in the cabin. Keep the top up, though, and the SLK morphs into a high-speed luxury cruiser, permitting conversation in normal tones at virtually any velocity.
Other Cars to Consider
BMW Z4-- As a compact hardtop roadster, the Z4 is really the SLK's only direct competitor, but it's a formidable one, featuring silky-smooth turbocharged engines and styling that's more pleasing to our eye.
Porsche Boxster-- The 2014 Boxster still uses a vinyl soft-top, so it lacks the SLK's serene top-up character. But serenity is hardly the point of a Porsche. What Boxster gives up in refinement, it reclaims in pure driving pleasure.
Chevrolet Corvette Stingray Convertible -- The completely redesigned C7 Corvette Stingray offers an impressive performance-to-value ratio, though we suspect it's less likely that buyers will cross-shop this American muscle car against the smaller Mercedes-Benz SLK-Class.
AutoTrader's Advice
Call us deranged, but the SLK55 AMG is the one that calls our name. You may think the other motors are sufficient (and in truth, they are), but you'll think twice after giving that V8 a workout.