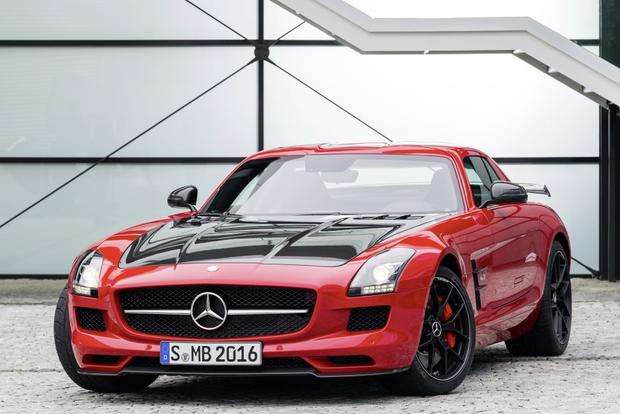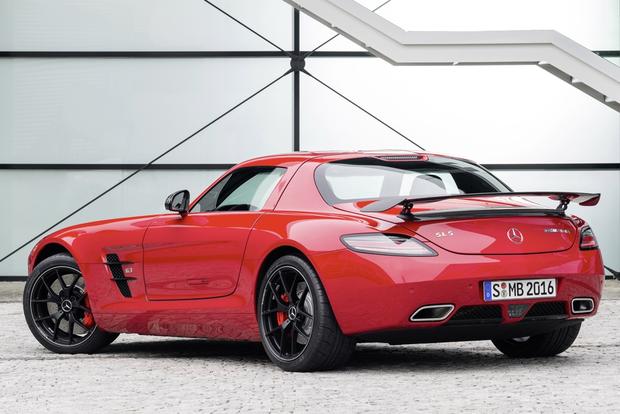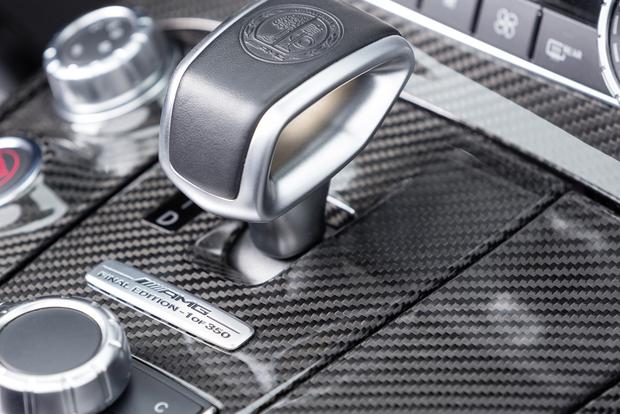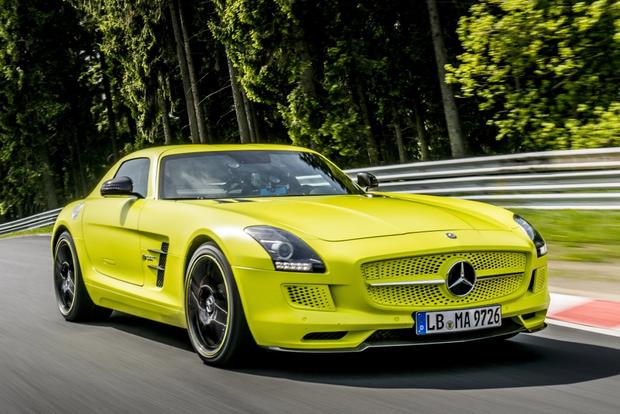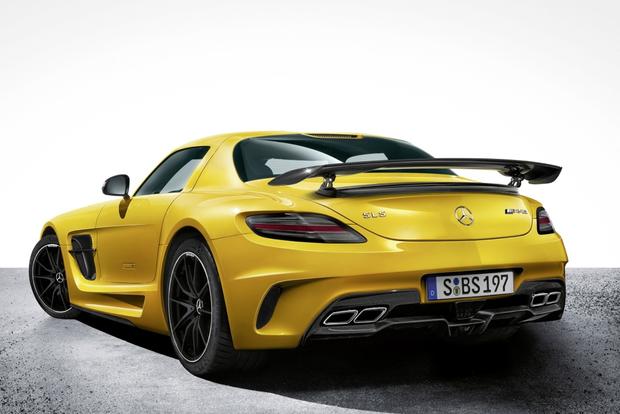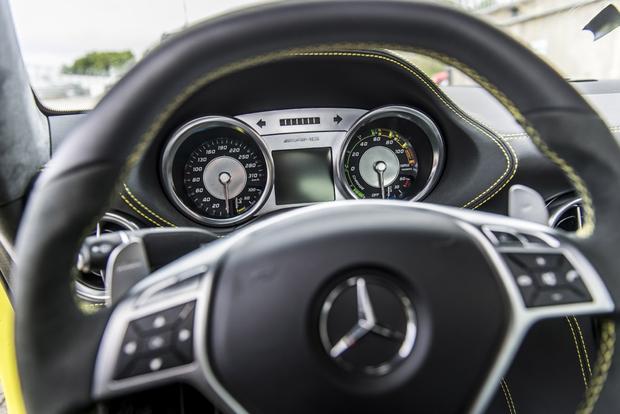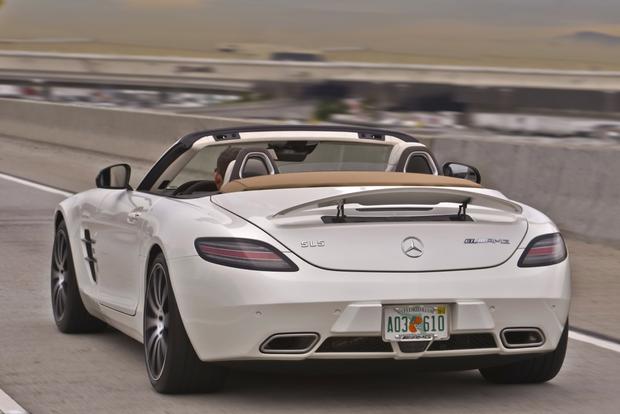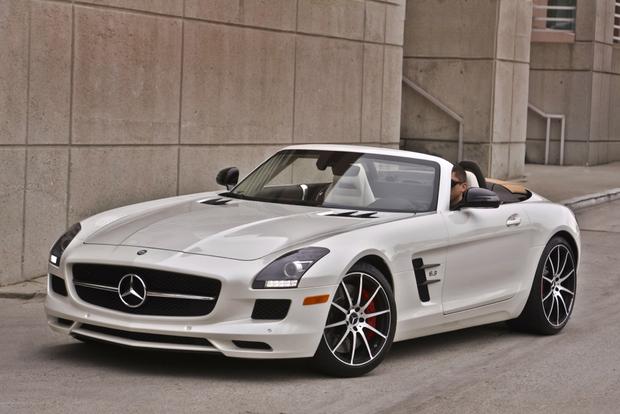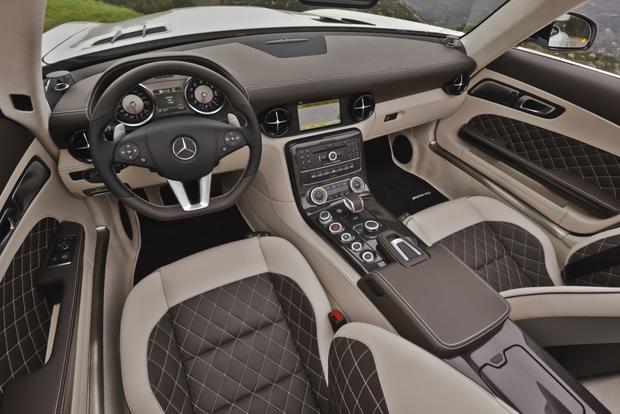 The 2014 Mercedes-Benz SLS-Class shows just how far the brand's AMG division has come in a few short years and how close this model is to bowing out of the supercar scene.
First introduced as a range-topping homage to the 1950s-era 300 SL, the gull-winged SLS was the first time Mercedes-Benz's in-house tuning shop was tasked with designing and building a production car from the ground up. The choices AMG made reflected a disciplined approach to weight savings, performance and balance. By opting for an aluminum chassis, a front-mid-engined layout and a frisky V8 instead of a regal V12, the SLS model's functional priorities made it a surprisingly rational purchase compared to its more exotic counterparts from Bentley, Lamborghini and McLaren.
But as you'll read below, that rationality can deliver a seriously emotional driving experience.
What's New for 2014?
The SLS gains the GT moniker for 2014 and features tweaks to suspension, transmission shifting and engine, offering a 20-horsepower gain and a more committed, stiffer ride quality.
What We Like
Iconic gull-wing doors; inspiring sounds from naturally aspirated V8 engine; understated looks combined with extroverted performance.
What We Don't
Despite jaw-dropping doors, it isn't pretty from most angles; getting in and out is inherently awkward; limited storage space for long road trips.
How Much?
$201,500-$275,000
Fuel Economy
If you're shopping for a 2014 Mercedes-Benz SLS-Class, you're not here for the fuel economy. As such, its naturally aspirated 6.2-liter V8 produces 583 hp and 479 lb-ft of torque, yielding 13 miles per gallon city/19 mpg hwy in both coupe and roadster forms -- and that's when they're being driven mildly. Mercedes doesn't publish fuel economy figures for the higher-performance Black Series variant, but suffice it to say those numbers aren't any higher.
Standard Features & Options
The 2014 Mercedes-Benz SLS-Class comes in GT Coupe, GT Roadster and Black Series coupe variants.
The SLS GT ($201,500) is well equipped with the standard slew of luxury items -- as well it should be, given its 6-figure starting price and with exterior cosmetic options ranging from a variety of wheels to carbon-fiber side mirror caps ($1,900). Aluminum trim is standard inside, while carbon fiber can be added for $2,750. If you don't mind extensive use of the stiff, lightweight stuff, the Extended Interior Carbon Fiber Package ($7,250) should suffice. A 1,000-watt Bang & Olufsen sound system adds $6,400 to the price, while an AMG Performance Media package ($2,500) delivers performance-based instrumentation and data logging for lap info. A carbon-fiber engine compartment cover runs $5,400, while virtually fade-free brakes can be had for $12,500.
Essentially the same options can be applied to the SLS GT Roadster ($208,000), except for the carbon side mirrors.
The SLS Black Series ($275,000) squeezes 622 hp and 468 lb-ft of torque out of the V8 and adds a more aggressive shift pattern with the 7-speed dual clutch transmission. Also included is an electronic rear differential and higher-performance brakes and suspension, not to mention several rather racy body mods including a large rear spoiler. Though Mercedes doesn't publish the cost of options on the limited-production Black Series, those items include a Bang & Olufsen sound system, an extended carbon-fiber interior, additional bodywork and the ability to delete the COMAND nav system for greater weight savings.
Safety
While it has no shortage of standard safety features, the latest SLS-Class has not been tested by the National Highway Traffic Safety Administration or the Insurance Institute for Highway Safety.
Behind the Wheel
If you think the SLS is not compelling compared to flashier exotics, driving it may change your opinion of this low-slung coupe. Yes, it's a bit of trouble to get into the car, as its gull-wing door arrangement sometimes makes for head-banging, tail-wiggling awkwardness. Once inside, there's an ergonomic, no-nonsense approach to how the instruments and interfaces are laid out. Think less blingy jewelry, more functional race car, with several nice high-end finishes throughout.
The naturally aspirated V8's burble is a welcome alternative to the relative silence of comparable turbocharged engines, and merely putting around town is an aurally rewarding experience that makes this dramatically styled grand touring sports car all the more alluring. Doing so in the Roadster version with the top down adds an even deeper layer of auditory intoxication, but the SLS model's biggest visceral draw comes from its gut-wrenching acceleration (0 to 60 miles per hour in 3.6 seconds) and incredibly quick, direct and glued-down handling, which lends it an air of unflappable tenacity.
Opt for the Black Series and you'll take one more step closer to race-car territory. It's stiffer, about 100 pounds lighter, even quicker to 60 mph and more accomplished about how it transfers power to the rear wheels thanks to the electronic differential. Brakes are also commensurately more effective, making this an incredibly potent package ready to take on the most challenging tracks.
Other Cars to Consider
Aston Martin Vanquish-- This $278,295 British super coupe tops the Aston Martin lineup, and feels quite special thanks to its beautifully bespoke details and elegant design. Undeniably quirkier than the SLS, it appeals to a different crowd that's equally interested in performance and style.
Lamborghini Gallardo-- The $191,900 Gallardo is the flashier alternative to the SLS. And like the Benz, this V10-powered Bull is enjoying its last moments in the sun before it's replaced with an all-new model. Strong, secure types may prefer the SLS's Teutonic solidity, but wild-child showoffs will be drawn to the Gallardo.
McLaren 12C -- It's hard to argue with McLaren's technological tour de force, which boasts dihedral doors that offer a strong counterpoint to the SLS model's famous gull-wing arrangement. The 12C makes a strong case for itself compared to the SLS, but you'll pay a steep premium starting at $239,400 for 12C.
AutoTrader's Advice
If you're looking to get in on the legend of the Mercedes-Benz SLS AMG, you'd better act fast: The Final Edition of this already limited-production vehicle was recently announced, signaling the end of the line for the modern Gullwing we've come to know and love. While the standard SLS already feels special, the $275,000 Black Series is rare and exceptional enough to be one of those cars that will someday merit a spot in the world's great classic-car shows, such as Villa d'Este and the Pebble Beach Concours d'Elegance. It may be out of reach for most, but the SLS inspires enthusiasts everywhere with its forward-thinking engineering and outrageous performance, making it hard for well-heeled buyers to ignore -- especially just before it heads off into the supercar sunset.