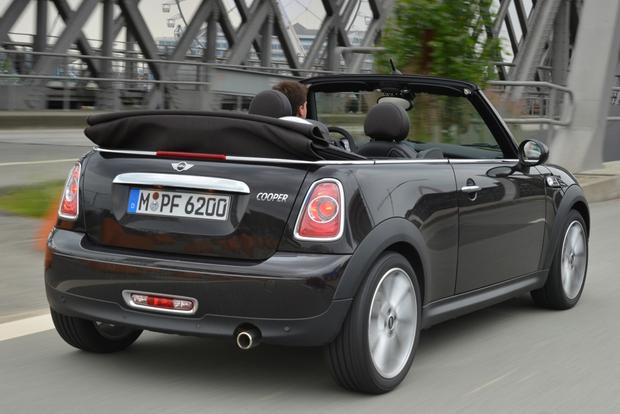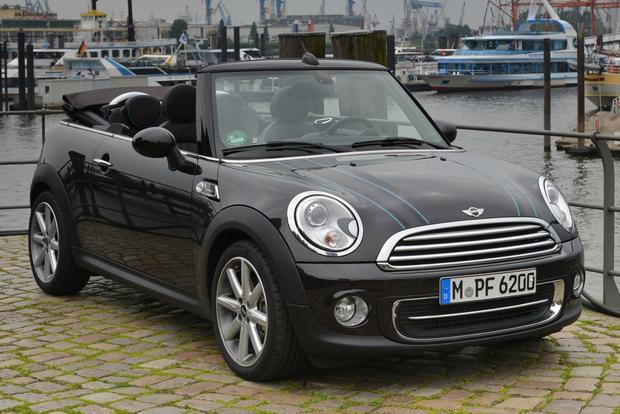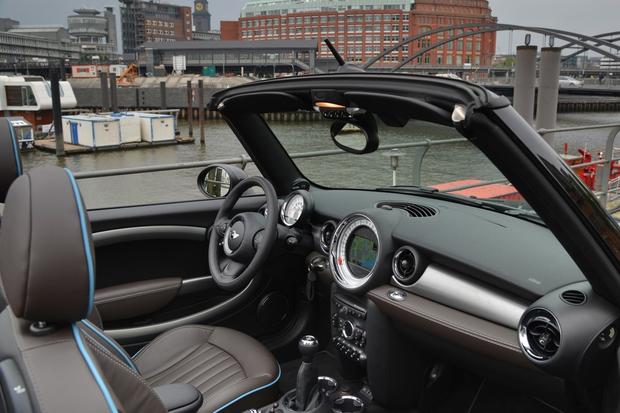 The 2014 Mini Cooper Convertible is a charismatic car that manages to be many things to many people. If you regard cars as fashion statements, the Mini's endearing style hits the spot with endless customization possibilities. If you're a driving enthusiast, the Cooper's got your number, too; few front-wheel-drive cars are as satisfying on a winding road or a racetrack as this hyper-responsive runabout. Even if you're just looking for a high-quality compact car that gets great fuel economy, the Mini Cooper Convertible is all of that, too. Best of all, it combines all these features into a drop-top package for drivers interested in having fun in the sun.
But appeal is one thing, utility is another. As wonderful as Minis are to slip into tight spaces, they're not much help when you need to haul four adults or bulky cargo. That's especially true with the ragtop model, as the convertible top pretty much ensures you'll never fit sizable objects in back. And the back seat is barely usable for children, let alone adults.
Still, that today's Cooper continues to be a genuine object of desire in its eighth year of production testifies to the Mini's fundamental excellence. Indeed, not much has changed since it debuted way back in 2007 (by the way, it is scheduled for replacement for next year), but that's fine with us. Today's Mini Cooper Convertible remains a champ at bringing smiles to practically every face it meets.
What's New for 2014?
The Mini Cooper Convertible is unchanged for 2014. A redesigned Mini Cooper is on its way soon, and we'd expect a new Cooper Convertible to follow closely behind.
What We Like
Sophisticated engines; great fuel economy; responsive handling; inspired styling; makes parking fun
What We Don't
Tiny back seat and cargo bay; ergonomically challenged controls; stiff ride with sport package
How Much?
$26,200-$36,200
Fuel Economy
The base Mini Cooper Convertible is powered by a 1.6-liter inline 4-cylinder rated at 121 horsepower and 114 lb-ft of torque. It's offered with 6-speed manual or automatic transmissions. Fuel economy is a frugal 27 miles per gallon city/35 mpg hwy with either transmission.
The Cooper S upgrades to a turbocharged 1.6-liter inline 4-cylinder producing 181 hp and 177 lb-ft of torque (192 lb-ft on temporary overboost when you floor it). Fuel economy remains high at 27 mpg city/35 mpg hwy with the manual and drops to 26 mpg city/34 mpg hwy with the automatic, making the Cooper S one of the all-time greats at combining speed and efficiency.
The John Cooper Works gets an upgraded version of the 1.6-liter turbo with 208 hp and 192 lb-ft of torque (207 lb-ft on overboost). The Environmental Protection Agency estimates that adding the JCW's extra power drops fuel economy to 25 mpg city/33 mpg hwy.
Standard Features & Options
The Mini Cooper Convertible comes in three trim levels. Base models are called simply, the Cooper. Drivers who want more performance can upgrade to the Cooper S, while the John Cooper Works model tops the range.
The base-level Cooper ($26,200) offers 16-inch alloy wheels, full power accessories, air conditioning, keyless entry, vinyl upholstery, HD radio, Bluetooth, vinyl upholstery and an AM/FM stereo with a CD player, a USB port and an auxiliary jack. It also comes with the car's 121-hp 1.6-liter 4-cylinder engine.
Step up to the Cooper S Convertible ($29,200) and you get a turbocharged version of the base model's engine that's good for 181 hp. You also get fog lights, sport suspension, sport seats and alloy pedals.
At the top of the Mini Cooper Convertible lineup is the sporty John Cooper Works ($36,300), which adds even more power -- 208 hp now -- as well as larger brakes, an aerodynamic bodykit and grippy cloth upholstery.
The Cooper convertible lineup is full of optional extras, as Mini is famous for letting drivers customize cars any way they want. Options include adaptive headlights, heated seats, automatic climate control, a navigation system, a keyless starting system, satellite radio and a 10-speaker Harmon Kardon audio system. Drivers can also choose from dozens of wheel combinations, paint colors and interior schemes.
Safety
The 2014 Mini Cooper Convertible comes with standard stability control, 4-wheel anti-lock disc brakes, four airbags (front, front side and full-length side curtain) and an active rollover protection bar. While the National Highway Traffic Safety Administration has not yet tested the Mini Cooper using its latest methodology, the Insurance Institute for Highway Safety deemed standard Cooper hardtop models Good (its highest rating) in frontal-offset and rear impacts.
Behind the Wheel
The Mini Cooper Convertible squirts along the road like an amped-up athlete who can't wait to get on the field. That's especially true once you hit the little Sport button next to the shifter, causing the throttle and steering response to get far quicker. We find the default suspension tuning firm and aggressive. The optional sport suspension is needlessly stiff, and combining that option with the available 17-in wheels is a recipe for compressed vertebrae. Road noise is pronounced at speed. Put it this way: The Mini has one big personality. Surprisingly, little of it is lost in the transition to a convertible. The ragtop model feels every bit as enjoyable and fun to drive as its hardtop sibling.
The base Mini's front seats have weak side bolsters, which makes upgrading to the optional sport seats (standard on Cooper S) worthwhile, though the chairlike driving position gives the driver a surprisingly commanding view. The pedals are perfectly placed, and the steering wheel tilts and telescopes for comfort. Mini's entertaining website calls its standard setup the Alert Ergonomic Driving Position -- and we wholeheartedly agree with that description.
The audio and climate controls, however, are laid out haphazardly. In a nod to kitschy retro design, some controls use stylish but frustrating toggle switches rather than knobs or buttons. Materials quality is also hit or miss. We're fans of the enormous center-mounted speedometer, though it takes a little getting used to.
Other Cars to Consider
FIAT 500c -- We consider the 500c a step down from the Mini Cooper Convertible, but it's also a lot cheaper. Meanwhile, the turbocharged 500 Abarth convertible has a great engine, and is almost as quick as the Cooper S Convertible for a little less money. Plus, it sounds fantastic.

Ford Mustang-- Sure, it may seem a whole different animal from the Mini Cooper Convertible. But at its core, the Mustang offers many of the same thrills: top-down driving, high-performance capabilities and enjoyable styling. It's also priced about the same as the Mini, but with far more power.
BMW 128i -- If you find your Mini's projected price creeping well above $30,000 -- trust us, it's hard not to -- keep in mind that BMW's sporty 1 Series starts in that neighborhood with rear-wheel drive, more power and superior refinement.
AutoTrader's Advice
We've had a crush on the Cooper S ever since it came out, and we're still feeling the love. Make ours a base Cooper S Convertible with the standard suspension, 16-in wheels and the manual transmission. Spirited performance and handling plus 37 mpg equal one happy bunch of AutoTrader editors.