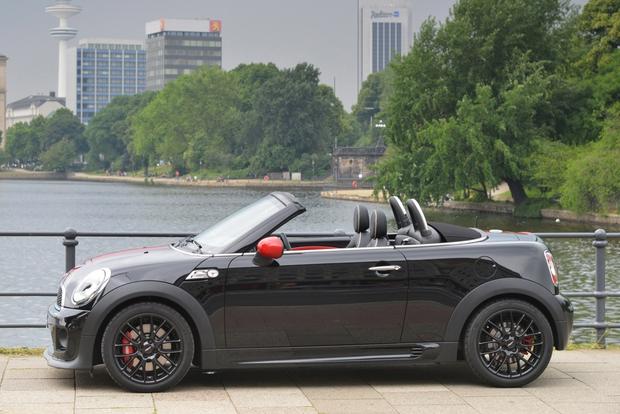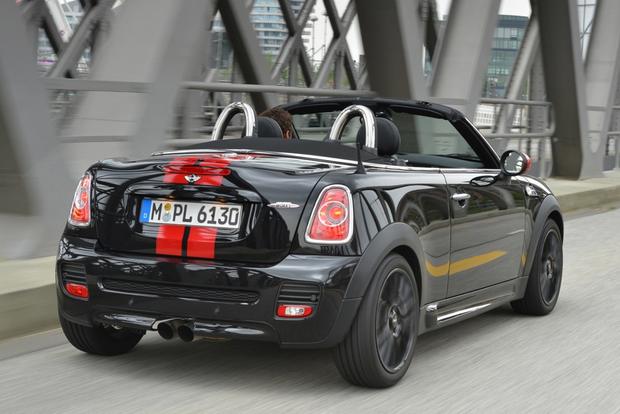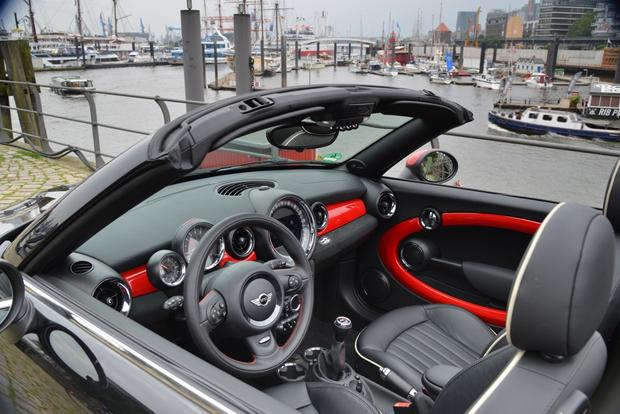 Some Mini models emphasize a balance between practicality and driving enjoyment. The 2014 Mini Cooper Roadster isn't one of those models.
Instead, the Mini Cooper Roadster offers just two seats, a small passenger compartment and an even smaller trunk. That's in direct contrast to Mini's other drop-top, the Mini Cooper Convertible, which has four seats and room for gear.
So why choose the Roadster over the Convertible? Simple: It's more fun.
The Roadster is based on the 2-seat Mini Cooper Coupe, which is known for razor-sharp handling and a generally enjoyable driving experience. The Roadster keeps those traits, but it also includes the added benefit of a ragtop for open-air fun on warm, sunny days. The result: If you want the most exciting Mini you can buy, this is it.
Of course, good things don't come cheap, and the Roadster is no exception. Pricing is in luxury-car territory, which means you'll have to decide if the pleasure you get from Mini's tiny drop-top is worth the price.
What's New for 2014?
The Mini Cooper Roadster is unchanged for 2014 after minor updates for the 2013 model year.
What We Like
Very fun to drive; classic Mini styling; long list of customization options and features
What We Don't
High pricing; lethargic base model; poor visibility with the top on
How Much?
$26,200-$36,400
Fuel Economy
The Mini Cooper Roadster offers three powertrains. Base-level models use a 121-horsepower 1.6-liter 4-cylinder that returns 27 miles per gallon city/35 mpg hwy with either the standard 6-speed manual or optional 6-speed automatic transmission.
The Cooper S Roadster adds a turbocharger to that engine for a total of 181 hp. Fuel economy ratings for that model stand at 26 mpg city/34 mpg hwy with the automatic, or 26 mpg city/35 mpg hwy with the 6-speed manual. The John Cooper Works model, which adds 27 more horsepower for a total of 208, returns the same 26 mpg city/35 mpg hwy with the manual and 26 mpg city/34 mpg hwy with the automatic.
Standard Features & Options
The Mini Cooper Roadster comes in three available trim levels. There's a base model, called simply the Roadster, a mid-level Cooper S Roadster and a high-performance John Cooper Works model.
Drivers who choose the base-level Cooper Roadster ($26,200) get 16-inch alloy wheels, a power convertible top and basic power accessories, such as windows, mirrors, locks and keyless entry. The Roadster also includes standard "leatherette" upholstery, along with iPod and USB connectivity. The Cooper Roadster also uses a 121-hp 1.6-liter 4-cylinder engine.
Upgrade to the Cooper S Roadster ($29,300) and you get a turbocharged version of the base model's engine, which is good for 181 hp. Other upgrades include fog lights, firmer sport suspension, sport seats and sport pedals.
Topping the range is the John Cooper Works ($36,400), which boosts power to 208 hp. It also features even firmer sport suspension, an aerodynamic body kit, 17-in wheels and strong Brembo brakes.
While those prices may not seem so bad, the Cooper Roadster's biggest problem is that so many features are relegated to the options list. There's a Cold Weather Package with heated seats and heater mirrors; a Premium Package with keyless ignition, automatic headlights and automatic climate control; a Technology Package with the Mini Connected smartphone integration system, rear parking sensors and an upgraded sound system; and a Sport Package, which adds larger wheels, sport seats and sport-tuned traction control. Like most Mini models, the Roadster also offers a long list of color options. And an automatic transmission is $1,250 extra.
Safety
All Mini Cooper Roadster models come standard with a long list of safety features, ranging from anti-lock brakes to side airbags, roll bars for increased rollover protection, dual side airbags, traction control and stability control. Likely owing to the Roadster's low production volume, the model has not yet been assessed in National Highway Traffic Safety Administration crash tests.
Behind the Wheel
Because of a low center of gravity, a rigid body and electric power steering, the Mini Roadster takes twisty roads much like the traditional Mini Cooper: firmly planted on the ground with quick, responsive steering and very little body roll. But with low-profile tires, you'll be able to feel every bump in the road. For some drivers, that's no problem, but for those interested in comfort, don't say we didn't warn you.
Mini's models are known for their striking interiors, and the Roadster's cabin is no different. All the brand's classic round portholes are there, and the large, central circle includes the optional Mini Connected system and its 6.5-in screen. Opt for Mini Connected and you get an on-board computer with Internet music integration, so you don't have to fuss around with your mobile device to stream tunes. Of course, the Roadster includes Bluetooth and USB/iPod adapters, but it's hard to beat the convenience of snapping your phone into a centrally mounted charging cradle.
The Roadster also features a funny gimmick to amuse you and your friends on a sunny afternoon. It's an available option called Dynamic Music. Turn it on and it will replace the sound of your blinkers with percussion beats that rise and fall with your speed.
Other Cars to Consider
FIAT 500 Abarth Cabrio -- It's not a true convertible, thanks to frame rails that stay in place even when the top is down. But the Abarth Cabrio offers similar thrills to the Roadster, plus two rear seats. It's also cheaper, offering Cooper S Roadster power for base-level Cooper Roadster money.
Mercedes SLK -- OK, so the SLK250's base price is more than $43,000 before options. But a well-equipped John Cooper Works Roadster is in the same league. The SLK offers more room, roughly the same power and the cachet of the Mercedes brand name.
MINI Cooper Convertible -- That's right, one of the Cooper Roadster's biggest rivals is in the same showroom. The Cooper Convertible boasts four seats, along with similar performance, pricing and interior quality.
AutoTrader's Advice
With its distinctive styling and impressive handling, the 2014 Mini Cooper Roadster is an excellent choice. But high-level models can be expensive, especially with options. We recommend a mid-level Cooper S Roadster to maximize thrills, and we recommend going easy on the options to minimize cost.