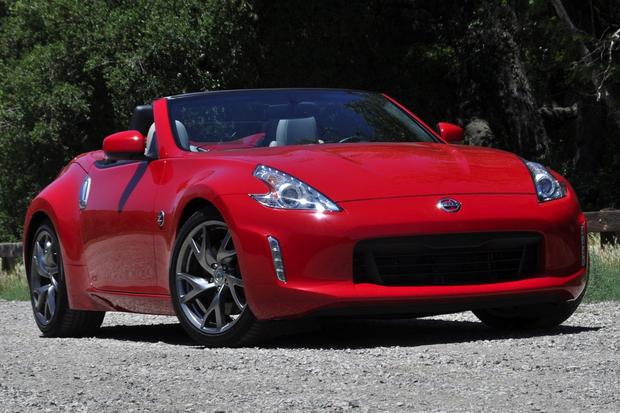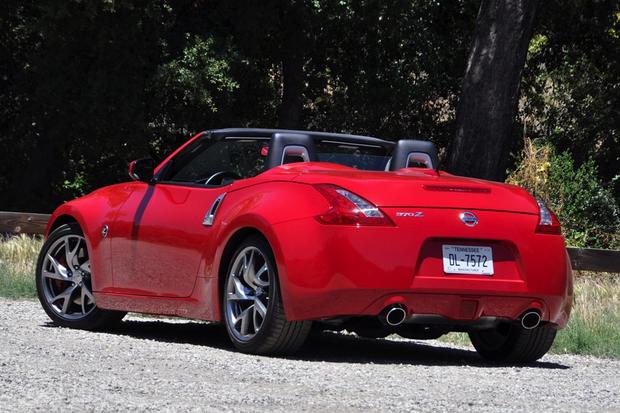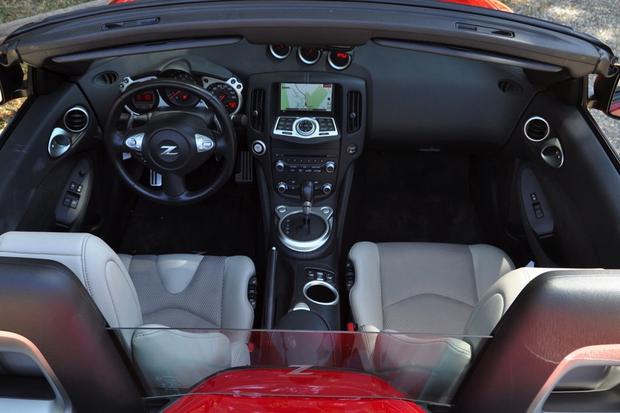 Aging and off the sports-car radar, the 2014 Nissan 370Z Roadster deserves more consideration than it gets. Context is critical here, though, especially given the starting price tag of $42,280 and the fact that it weighs nearly 3,500 pounds before you add any extras. In fact, think of this Nissan as an Infiniti but without a wacky Q-based name, and you'll have a better understanding of what the 370Z is all about and to whom it is most likely to appeal.
Let me save you some guesswork: It's a luxury Miata.
Three Ways to Buy
Two versions of the 2014 Nissan 370Z Roadster are for sale. Inexplicably, the standard model has a standard automatic transmission but is unavailable with Bluetooth. If you want to be able to make hands-free phone calls or row your own gears, you'll need to get the 370Z Roadster Touring, which also adds leather, power adjustable seats with heating and cooling, a premium sound system, aluminum pedals and more.
A Sport package is optional for the Touring, installing performance brakes, revised suspension tuning, a limited-slip rear differential and 19-inch forged aluminum wheels wrapped in high-performance tires. With the manual gearbox, the Sport package also includes SynchroRev Match technology. My test car had this package, making my time on the ribbons of road writhing high above Malibu, Calif., that much more enjoyable. I didn't even mind the automatic transmission.
Fast and Fun
With the power top dropped, I headed into the mountains to exercise the 332-horsepower 3.7-liter V6 engine. A member of Nissan's VQ-series family of engines, this V6 is basically the same powerplant used in a variety of Nissan and Infiniti models and is exactly what the 3,510-lb 370Z Roadster Touring model needs to feel like a sports car. It sits behind the front axle line, thereby qualifying as a mid-mounted engine, but the car's weight distribution remains a nose-heavy, 54/46 front-to-rear split.
Nevertheless, the aging 370Z Roadster impressed me when the roads began to kink and curve. My test car's 7-speed automatic transmission included downshift rev-matching, or "throttle-blipping" as it is sometimes called, along with long, slender shift paddles fixed on the steering column rather than the steering wheel, and I really didn't miss the 6-speed manual gearbox. Notably, both transmissions drive the 370Z's rear wheels through a carbon-fiber-composite drive shaft. So exotic!
Effortlessly gathering speed while bellowing its characteristic exhaust note, the 370Z blazed across the mountain range. The V6 was eager to sample its 7,500-rpm redline, the shift paddles were perfectly positioned for a shuffle-steering driver like me, and the limited-slip rear differential made the most of every bit of power. Adding to the experience, the SynchroRev Match technology is fantastic, and I honestly can't imagine skipping the automatic in favor of the manual.
This is a fast car. It sticks, too, what with its tweaked suspension, staggered-width 19-in forged aluminum wheels and Bridgestone Potenza performance tires. Bigger sport brakes are included in the Sport package, clamped by 4-piston front and 2-piston rear calipers, and they resisted heat and fade on a day with temperatures in the 90s. If the Sport package isn't good enough, Nissan offers a NISMO cat-back exhaust, NISMO suspension components and NISMO braking upgrades through an accessories catalog.
These aren't really necessary, though my opinion could be rooted in the fact that I expected this car to be more of a cruiser than it is. Apparently, cruising is what an Infiniti Q60 Convertible is for. The 2014 Nissan 370Z Roadster is a sports car, no doubt.
Compromises Come Standard
What comes with that sports-car designation, though, is increased discomfort and decreased utility. For example, while Nissan says that the trunk will carry a couple sets of golf clubs, the 370Z Roadster's 4.2 cu ft. of cargo space is about 25 percent smaller than that of a Mazda Miata. Beyond this, the 370Z's sport seats are narrowly bolstered and therefore uncomfortable for those members of society who are perhaps considering this 2-seat roadster as a salve for a midlife crisis.
Anybody, regardless of age, height or weight, is likely to feel like they're sitting too low in this car. The entire time I was driving it, I felt like I was sitting in a hole, peering out at the world. All the mass behind the seats really cuts down on the whole convertible experience, too. Additionally, Nissan offers a reversing camera only for the Touring model and only in the optional Navigation package. Given the visibility problem, especially when the top is up, the camera really ought to be standard.
That criticism aside, driving the 2014 Nissan 370Z Roadster proved an unexpected surprise and a delight. Despite its age and heft, this is quite an agreeable sports car.