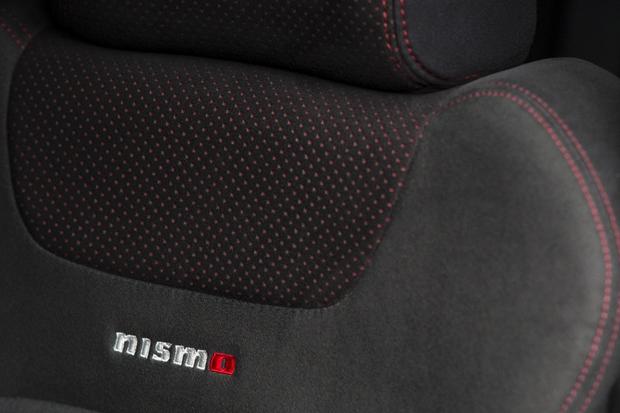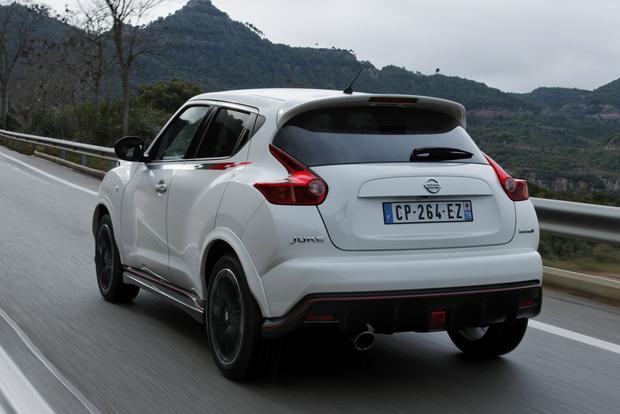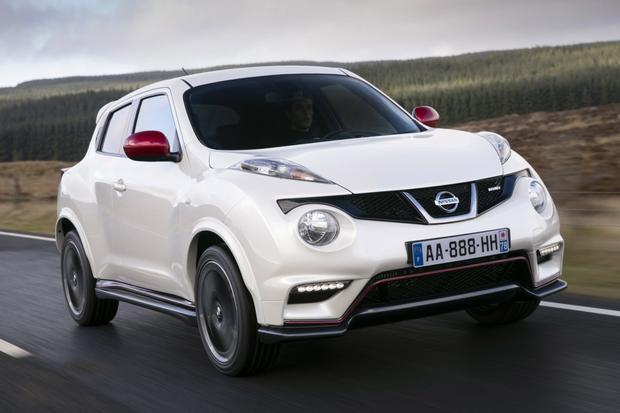 Bizarre, unsettling and brazenly unconventional, the 2014 Nissan JUKE NISMO is a performance crossover based on the JUKE compact crossover (also bizarre, unsettling and brazenly unconventional). After a few days of driving one in Los Angeles, we found it has more chutzpah than a Mustang GT.
Essentially, the JUKE NISMO (NISMO = NISsan MOtorsports) takes the basic JUKE, which is quite fun to drive on its own, and adds more power and torque, a tight suspension, racing style seats and styling modifications. As such, it goes from ballsy to badass, and I love it.
Unique Design
Before I go on, I feel compelled to provide an orientation on basic JUKE design, because if you can't figure it out, you're not alone. The JUKE's headlamps are the big, round things in the grille that look like fog lamps, while the clear-lens barnacles on the hood that look like they could be the headlamps merely contain amber turn signals. It gets weirder as your eyes take in the fenders, which look like big metallic balloons, and then the roofline, which could have been drawn by a third-grade art student just learning perspective. The boomerang-shaped taillamps are about as natural a fit on the design as any other element. In other words, it's a total mess, and I love it.
The NISMO version dials it up even higher with an aggressive front fascia, LED running lights, a diffuser-style rear bumper and side sill extensions, all with a cool red stripe. The aforementioned light barnacles are darkened, and a set of sexy, charcoal-painted 18-inch wheels are stuffed into the wheel wells.
Racy Interior
The NISMO racing-style seats are snug and aggressively bolstered, while the steering wheel is an unusual mix of leather and nappy Alcantara, with a red leather cuff top-dead center, just like a race car. The tachometer features a red face and white lettering, also courtesy of NISMO. There's even a G-Force meter in the middle of the dashboard, though it's mounted too low (down by the NISMO shifter) to be truly useful when you're actually pulling g's, at which point you really ought to be watching the road, not a screen.
The modifications are welcome, but they don't mask the innate disjointedness of the JUKE's dashboard layout, and they don't help the hard plastics used on the dash and door panels feel any less thin or cheap. The numerous information screens are all small by 2013 standards, and the whole cabin feels like it was designed in pieces, not as a whole. It is none too spacious, either, with even average-sized rear passengers hitting their heads on the black headliner. And a distinct shortage of cargo space hampers this little crossover's utility, which, let's face it, is half the reason to get a crossover over a sedan.
Impressive Performance
What it lacks in everyday usability, however, it makes up in performance. First, its turbocharged 4-cylinder has a bunch of power: 197 horsepower and 184 lb-ft of torque (9 hp and 7 lb-ft more than stock). With its waiflike mass, the 2014 Nissan JUKE NISMO zips about happily and sounds good doing it.
All-wheel drive is available with a CVT automatic transmission, but my tester had front-wheel drive and a delightfully notchy manual transmission. Considering how easily that kind of power can overwhelm the front wheels, the NISMO is remarkably well-behaved. Credit must be given to the buttoned-down suspension, which keeps the wheels planted and helps prevent wheel spin. The JUKE NISMO also provides an impressive level of communication from the steering and brakes. All the while, fuel economy remains respectable at 25 miles per gallon city/31 mpg hwy.
All told, the 2014 Nissan JUKE NISMO is an all-around excellent performance vehicle with a ton of personality. The base price is $22,900, but even at an as-tested price of $25,195 (including destination fee, a center armrest and the Navigation Package) the JUKE NISMO represents an interesting and expressive alternative to other performance hatchbacks, such as the MINI Cooper S and FIAT 500 Abarth.