Car Comparison
2014 Nissan Pathfinder vs. 2014 Ford Explorer: Which Is Better?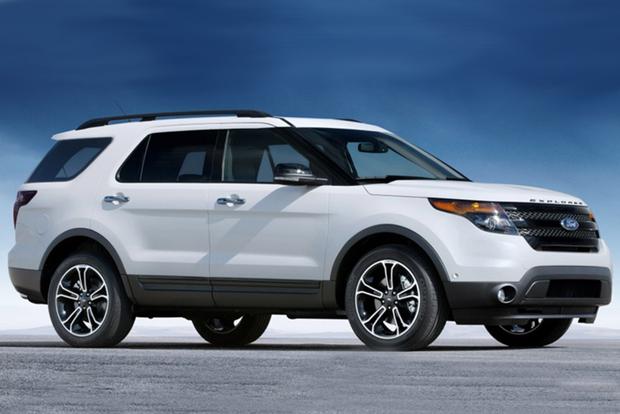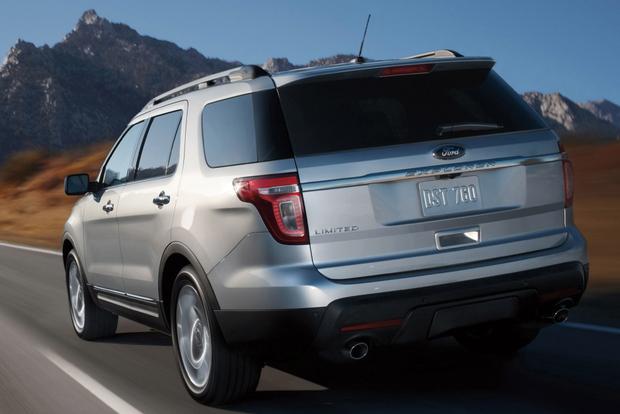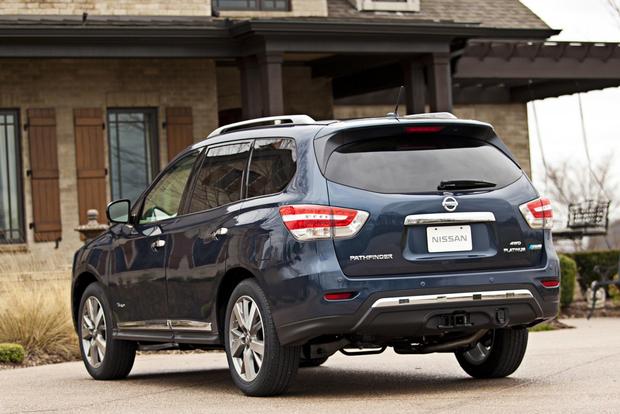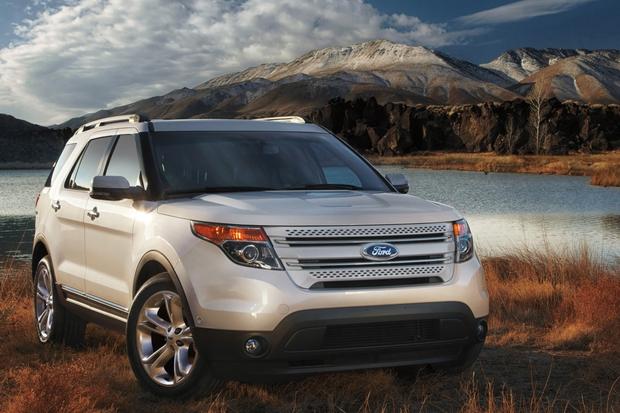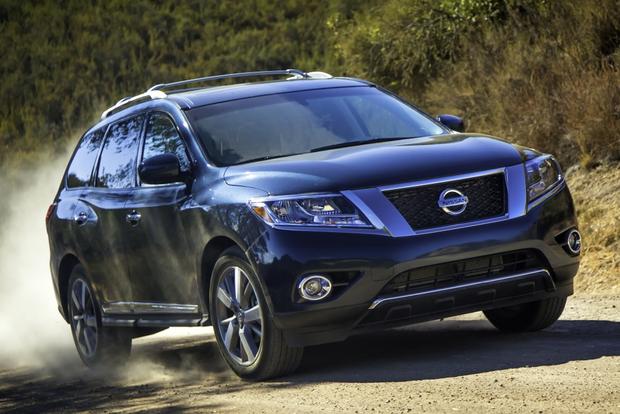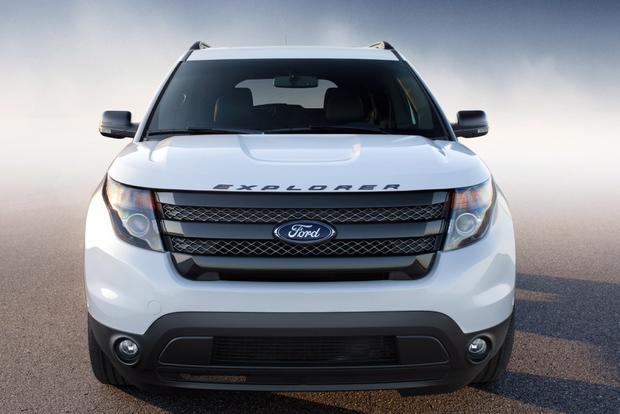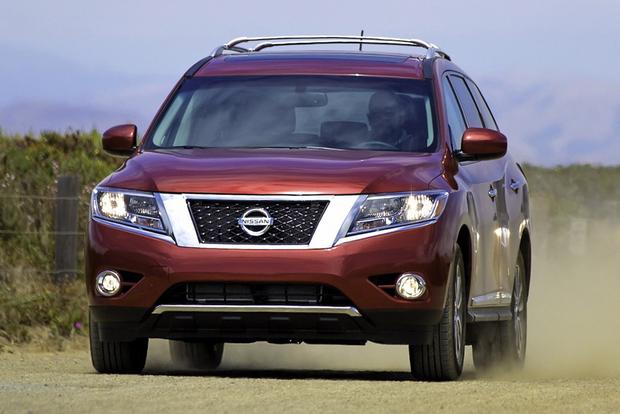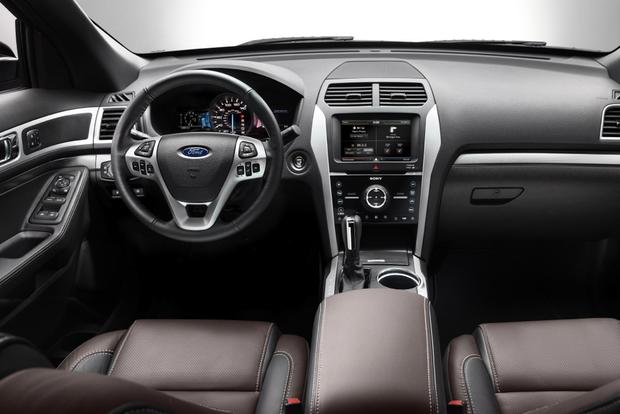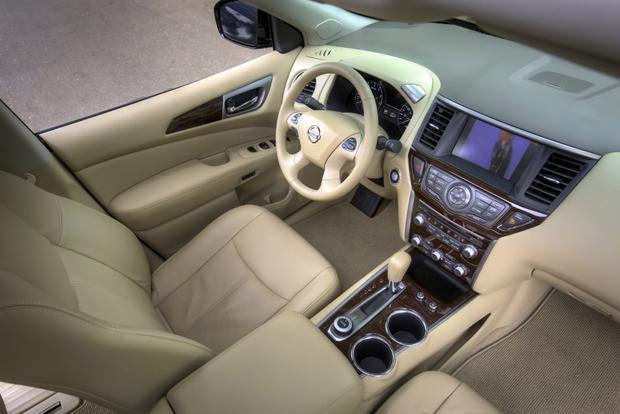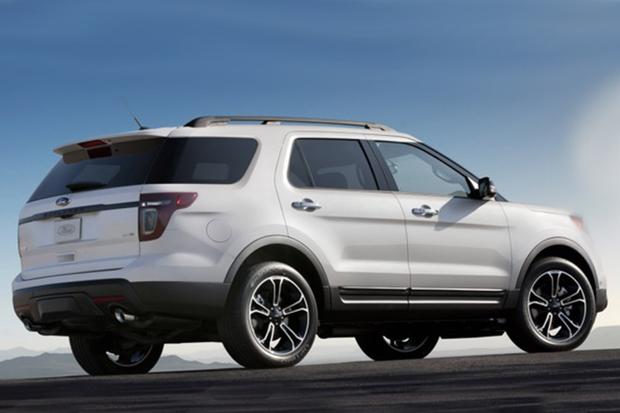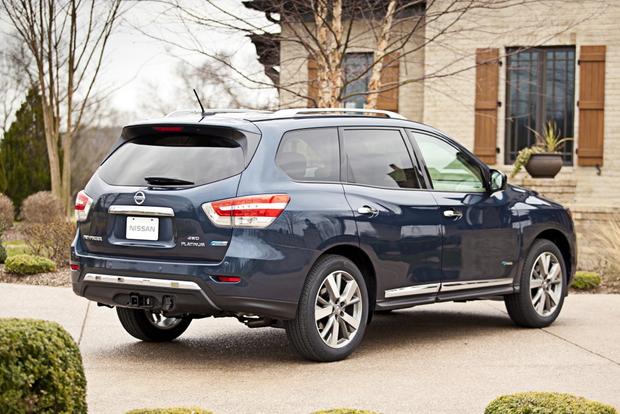 If you're interested in finding a 3-row crossover for your family, you might be considering the 2014 Ford Explorer and the 2014 Nissan Pathfinder. Both are excellent choices, offering reasonable pricing, modern styling, high-end interior materials, and a wide range of safety and convenience features. Which is better? We have the answer, but first, we'll check out what's new with each vehicle for the 2014 model year.
2014 Ford Explorer
The Explorer makes only minor changes for 2014, including newly standard automatic headlights on all models and standard heated rear seats on the upscale Explorer Limited.
2014 Nissan Pathfinder
Because it was redesigned last year, the Pathfinder doesn't see major changes for 2014. The biggest news is a new Pathfinder Hybrid model, which uses a supercharged 2.5-liter hybrid 4-cylinder engine.
Reliability
Predicting the reliability of a new car can be hard, but J.D. Power makes an attempt based on reliability data from earlier model years and early reports of problems. In the case of Explorer vs. Pathfinder, neither crossover is the most reliable SUV in the segment: J.D. Power gives the Explorer a three circle rating out of five (indicating average reliability), while the Pathfinder gets a mediocre two circles out of five.
Comparing warranty length, neither the Pathfinder nor the Explorer has an advantage. Both crossovers offer a 3-year or 36,000-mile bumper-to-bumper warranty, along with 5-year or 60,000-mile powertrain coverage. As a result, the winner of the reliability category is -- narrowly -- the Explorer, based on its slightly improved J.D. Power scores. We suspect that actual real-world reliability differences may come down to chance.
Fuel Economy
The Explorer offers three engines: one for the majority of drivers, one for fuel economy, and one for shoppers interested in a little extra muscle. The fuel economy-focused powerplant -- a 240-horsepower 2.0-liter 4-cylinder offered in front-wheel-drive Explorer models -- touts Environmental Protection Agency figures of 20 miles per gallon in the city and 28 mpg on the highway, which can't reach the Pathfinder Hybrid's impressive 25 mpg city/28 mpg hwy numbers.
Most shoppers, however, will opt for the standard 3.5-liter V6, which makes 290 hp and 255 lb-ft of torque -- slightly better numbers than the Pathfinder's 3.5-liter V6, which makes 260 hp and 240 lb-ft. The Explorer's V6 returns 17 mpg city/24 mpg hwy with front-wheel drive or 16 mpg city/22 mpg hwy with all-wheel drive (AWD) -- once again, a far cry from the Pathfinder's numbers (20 mpg city/26 mpg hwy with front-wheel drive or 19 mpg city/25 mpg hwy with AWD).
Although we don't expect that performance-minded drivers will pay much attention to fuel economy, it's also worth noting that the 365-hp Ford Explorer Sport returns the same fuel output -- 16 mpg city/22 mpg hwy -- as Ford's standard V6.
In the end, fuel economy is an easy win for the Pathfinder; both its hybrid model and its standard V6 clearly outpace the gas mileage of Ford's bulkier Explorer.
Safety
When we consider safety, we generally examine two components: crash-test ratings and safety equipment. In terms of crash-test ratings, both the Explorer and the Pathfinder post excellent scores: a perfect five stars from the federal government's National Highway Traffic Safety Administration and generally good scores from the nonprofit Insurance Institute for Highway Safety.
When it comes to safety features, however, things are a little different. Of course, both vehicles feature every safety item that you'd expect, such as side-curtain airbags, anti-lock brakes and traction control. If you want the latest in safety gadgets and features, though, you might be surprised to find out that it's the older-design Explorer that takes the lead.
The Explorer, for instance, offers a lane-keeping assist system that will help you stay in your lane when you drive down the road. There's an available blind spot monitoring system, a frontal-collision warning system, adaptive cruise control and unique inflatable seat belts. None of those items are offered in the 2014 Pathfinder, though we do like Nissan's 360-degree Around View camera, which makes low-speed maneuvering easy with a top-down view of the vehicle.
In the end, we have to give the safety category to the Explorer, simply due to its longer list of available equipment. Otherwise, the two crossovers are very similar -- and very safe.
Technology
If it's technology that you're after, you'll find that both vehicles are once again surprisingly similar, though there are a few subtle differences. We happen to like the latest incarnation of the Explorer's MyFord Touch system, though we also appreciate the Pathfinder's available infotainment system. The Explorer's 8-inch touchscreen is a little easier to use than the Pathfinder's 7-in screen.
As we mentioned, the Ford takes an edge when it comes to safety technology -- and that's the primary area where the two crossovers differ. The Explorer offers features such as a blind spot monitoring system, a frontal-collision warning system, adaptive cruise control and others, while the Pathfinder doesn't boast any of those cutting-edge items. Nissan does get points, however, for its Around View camera system.
Since we don't want to punish the Pathfinder twice for its lack of safety technology compared to the Explorer, we'll have to consider this category a tie, especially considering that the two crossovers are so technologically similar in every other way. But for drivers who think that technology goes hand in hand with safety, the Explorer is the one to pick.
Value
When it comes to value, we've previously found that the Pathfinder is a hard rival to beat. This remains true for the Explorer, which has trouble matching the Nissan's impressive amount of features per dollar.
Consider, for example, the base models of both SUVs. The Explorer starts around $31,000 with shipping, while the Pathfinder is $30,000. While the Explorer boasts convenient automatic headlights, the Pathfinder's advantages include standard alloy wheels, trizone automatic climate control, a 6-disc CD changer, and second-row seats that offer slide and recline functions.
As you move throughout the model range, you'll notice that the Pathfinder continues to hold an advantage in terms of equipment and pricing, offering more equipment than similarly priced Explorer models. Add that to the already stronger fuel economy figures, and it's easy to see why the Pathfinder is a difficult crossover to beat for shoppers interested in maximizing value.
AutoTrader's Advice
In the end, the 2014 Ford Explorer and 2014 Nissan Pathfinder are neck and neck in the fight for 3-row SUV superiority. The Explorer is a little more reliable, while the Pathfinder is more fuel efficient. The Explorer has more safety gadgets, while the Pathfinder offers a slightly better value. Which one would we pick?
Our answer would be the Pathfinder, but just by a hair. Simply put, the Pathfinder represents some big improvements over the Explorer, especially in terms of cost and fuel economy. The Explorer, meanwhile, boasts only incremental gains over the Pathfinder: slightly better reliability and improved safety technology. If safety is your top priority, the Explorer might make more sense, but otherwise, we'd choose the more efficient, more affordable Nissan. And remember, even though the Pathfinder doesn't offer the same high-tech safety features as the Explorer, it still offers a tremendous safety record, earning excellent scores in all crash tests.
Finda a Ford Explorer or a Nissan Pathfinder for sale