Car Comparison
2014 Nissan Pathfinder vs. 2014 Nissan Rogue: What's the Difference?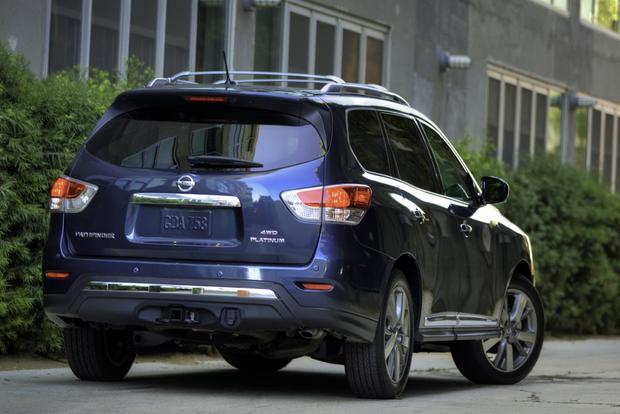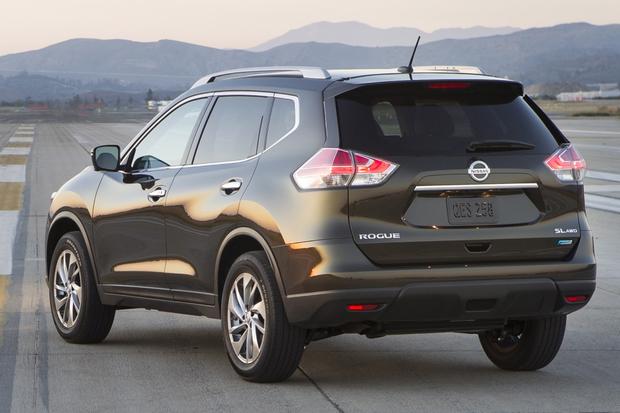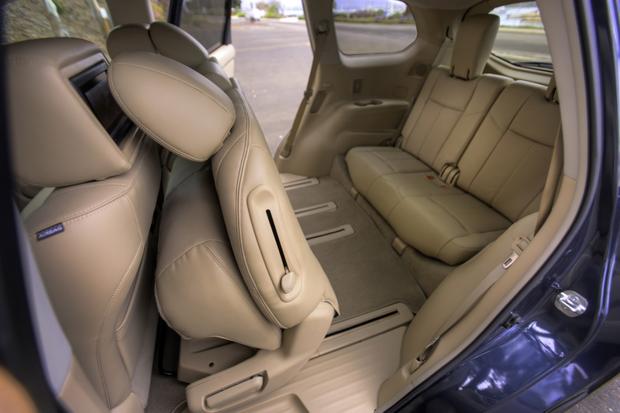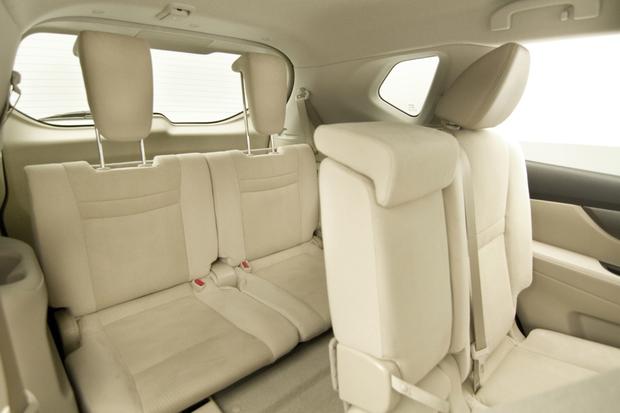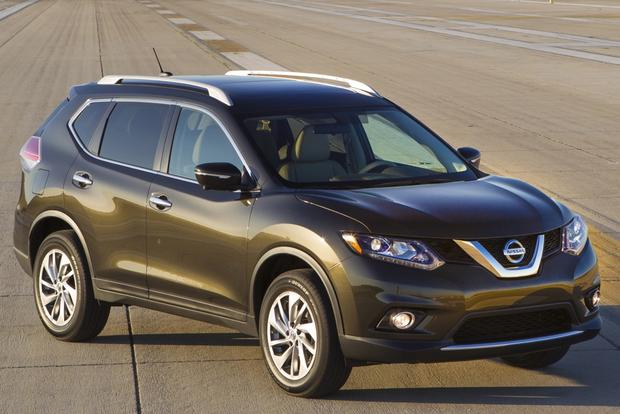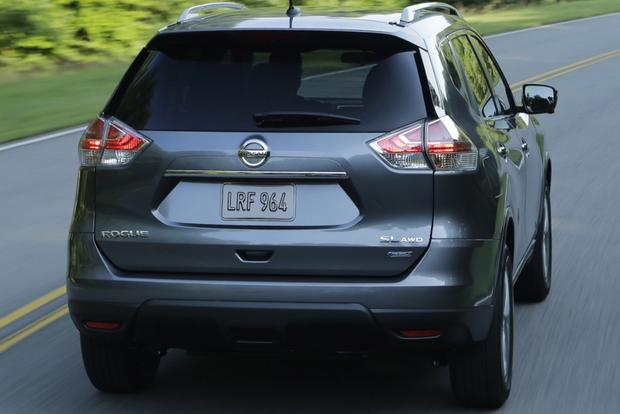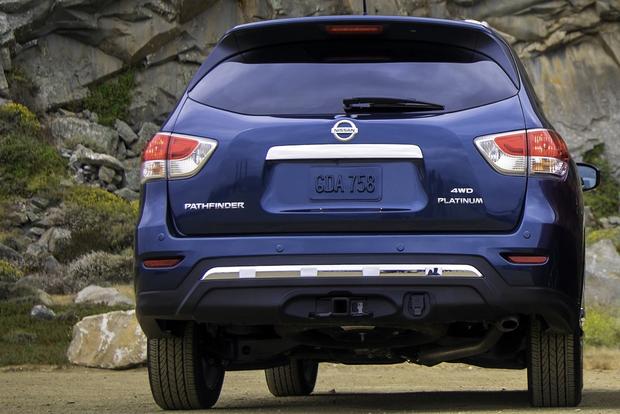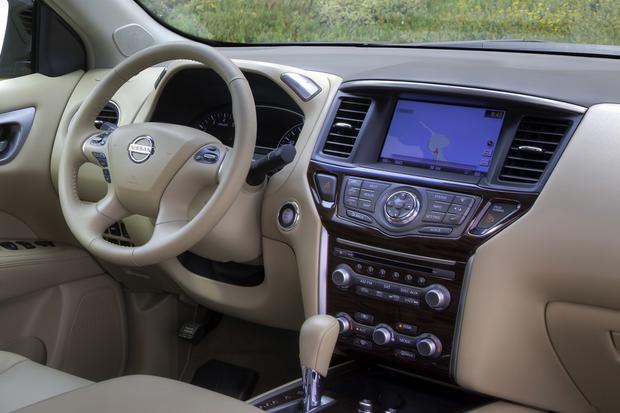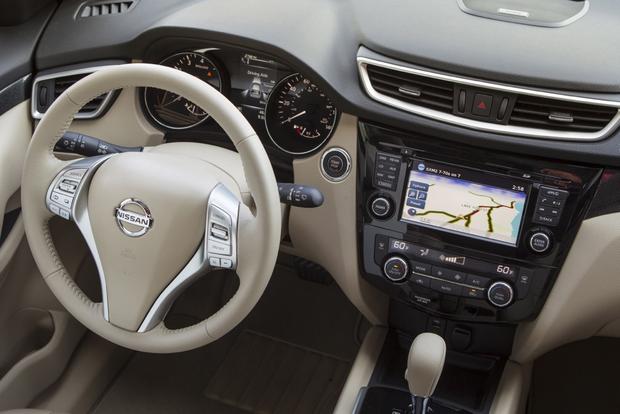 If you're interested in a new crossover that can fit your whole family (and their gear), we hope that your search has led you to the 2014 Nissan Pathfinder and its smaller stablemate, the Rogue. Both of these SUVs are among our favorite new family vehicles, as they combine reasonable pricing and excellent reliability with roomy interiors and a wide range of high-tech features. Given the fact that the Rogue and Pathfinder are both family crossovers with 3-row seating, what sets them apart? We took a closer look.
Exterior
Although the Rogue and Pathfinder look similar from a quick glance, a side-by-side comparison of the two vehicles reveals some key differences. Yes, they offer roughly the same profile, but the Pathfinder has a larger grille, longer front and rear overhangs, and a longer cargo area with larger rear windows. In short, the two SUVs share a lot of design features, but the Pathfinder's larger size quickly becomes evident after a close comparison.
Interior
The Rogue and Pathfinder also have some major differences on the inside. Interestingly, seating capacity is not one of them. While rivals separate their compact and midsize crossovers into 2- and 3-row vehicles, respectively, the Pathfinder and Rogue both offer 3-row seating. Of course, the Rogue's third row is a little tighter than the Pathfinder's, but it's still surprisingly roomy for a compact SUV.
As for differences between the two SUVs, the main changes relate to the center control stacks. While the Pathfinder has a more luxurious, traditional center stack, the Rogue's looks more like one that would be in a compact car, with a smaller number of controls and an open space between the center stack and the gear lever.
Mechanicals
The biggest differences between the Pathfinder and Rogue are under the hood. The Rogue offers just one engine: a 170-horsepower 2.5-liter 4-cylinder. It's not exactly muscular, but it's adequate for the small crossover. Fuel economy stands at 26 miles per gallon in the city and 33 mpg on the highway with front-wheel drive or 25 mpg city/32 mpg hwy with all-wheel drive.
The Pathfinder offers two available powertrains: a 260-hp 3.5-liter V6, rated at up to 20 mpg city/26 mpg hwy, and a 2.5-liter 4-cylinder hybrid that makes 250 hp and returns up to 25 mpg city/28 mpg hwy.
Features
Nissan has done a good job of including a wide range of features in the Rogue, which means that shoppers don't need to step up to the larger -- and more expensive -- Pathfinder just to get more equipment. For instance, both SUVs offer Nissan's excellent 360-degree parking camera, dubbed the Around View Monitor, which makes maneuvering in tight spaces a breeze. Both SUVs also offer items such as the NissanConnect infotainment system, dual-zone automatic climate control, automatic headlights and a panoramic sunroof.
Of course, top-of-the-line Pathfinder Platinum models do offer a few features that you can't get in the Rogue. These items include ventilated seats, a 13-speaker stereo (versus the Rogue's available 9-speaker unit) and a rear DVD entertainment system. The Rogue, however, boasts a few high-tech gadgets that you can't get in the Pathfinder.
Technology
As we mentioned before, the Rogue and Pathfinder offer a lot of the same equipment. The Pathfinder does, however, have a few advantages over the Rogue, offering a rear DVD player and a better stereo.
Interestingly, it's the Rogue that offers more relevant high-tech features than the Pathfinder. While the Pathfinder doesn't include modern safety technology such as a forward-collision alert system, a blind spot monitoring system or lane-departure warning, the Rogue offers all three features. And although it's true that the Pathfinder will likely add the technology soon, we think that this will be reason enough for some shoppers to opt for the less expensive Rogue.
Safety
In the National Highway Traffic Safety Administration's crash-testing, the Pathfinder performed slightly better than the Rogue, earning a perfect 5-star overall score in comparison to the Rogue's 4-star rating. In the Insurance Institute for Highway Safety's (IIHS) testing, the Rogue earned the nonprofit group's highest designation of Top Safety Pick+, while the Pathfinder has not yet gone through enough IIHS tests to qualify for that distinction.
As for safety features, both the Rogue and Pathfinder have everything you'll need, including front-side airbags, side-curtain airbags and anti-lock brakes. Interestingly, it's the Rogue that offers more overall safety features. For instance, both cars offer Nissan's Around View 360-degree camera, but only the Rogue comes with a standard backup camera. Also, only the Rogue boasts modern safety gadgets such as a forward-collision alert system, a blind spot monitoring system and lane-departure warning, none of which is offered in the Pathfinder.
Conclusions
Although we like the 2014 Nissan Pathfinder, we're a little disappointed that it still doesn't offer modern safety features that are available in most other SUVs -- including its compact Rogue stablemate. We're also not entirely sure if we could justify its $7,000 price premium just to get a slightly larger SUV, especially considering that the Rogue also offers 3-row seating and returns better gas mileage. With that said, the Pathfinder boasts more power, more cargo room and more available luxuries -- and you can't get a third row on the upscale Rogue SL, which offers the most equipment. In the end, you'll have to look at these two SUVs closely to decide which one best meets your needs.