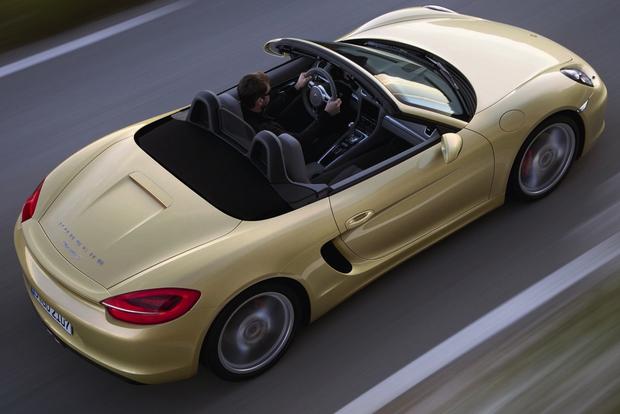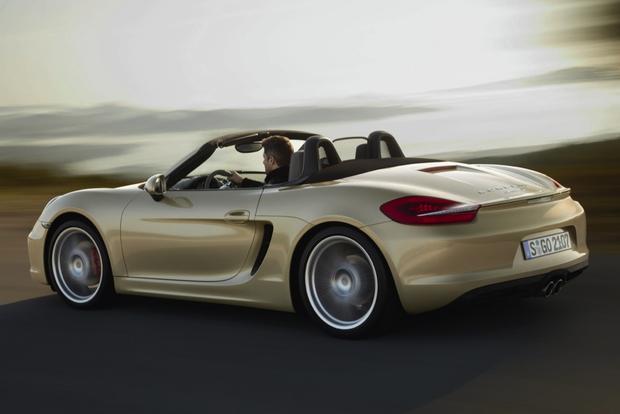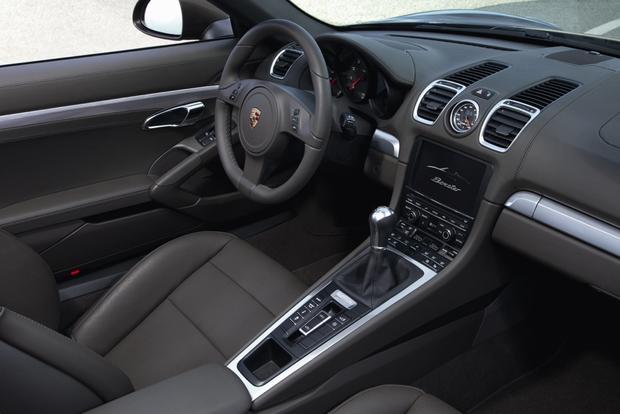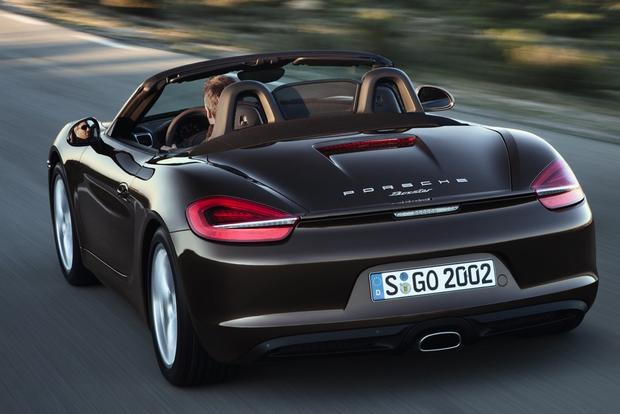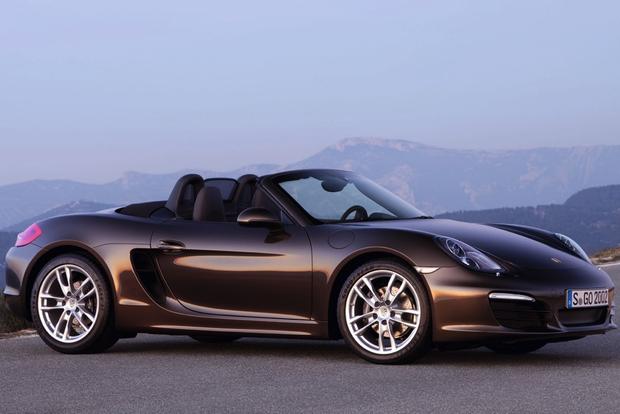 After undergoing a thorough redesign last year, the 2014 Porsche Boxster rolls into the new year with the same playful attitude and affordable price tag that made the original 1997 Boxster such an overwhelming success.
Although it is considered Porsche's so-called entry-level sports car, the Boxster is hardly inexpensive. Then again, when one considers that most 911 models cost more than $100K, the Boxster appears a comparative bargain, especially considering how close to the 911 it feels from behind the wheel.
The Boxster is available only as a 2-seat roadster and comes standard with a folding fabric top available in four colors. The 1-touch power top can be raised or lowered in only nine seconds and even while traveling at speeds up to 31 miles per hour. Unlike some competitors, the Boxster does not have a retractable hardtop in the interests of packaging and weight savings. For people who prefer their sports cars with a fixed roof, Porsche makes a hardtop coupe version called the Cayman, which was also all-new last year.
What's New for 2014?
New options for 2014 include a sport suspension package and a new Burmester audio upgrade.
What We Like
Brisk acceleration; excellent road feel; quick top operation; upscale cabin; surprising luggage space; extensive dealer network
What We Don't
Modest standard equipment; overwhelming number of pricey options; no retractable hardtop option; weak standard audio system
How Much?
$51,350-$105,000
Fuel Economy
For 2014, the standard Boxster's 2.7-liter boxer 6-cylinder engine offers 265 horsepower, while the Boxster S model's 3.4-liter boxer 6-cylinder engine makes 315 hp.
Although the Boxsters are faster and more powerful than ever before, they are also more fuel efficient -- thanks to direct injection, optimized aerodynamics and new fuel-saving systems that cut off fuel when coasting and shut the engine off at stoplights. As a result, the 2014 Boxster achieves an Environmental Protection Agency rating of 20 miles per gallon city/30 mpg hwy with the manual, and 22 mpg city/32 mpg hwy with the PDK automatic. The Boxster S is nearly as good, achieving 20 mpg city/28 mpg hwy with the manual, and 21 mpg city/30 mpg hwy with the PDK.
Standard Features & Options
Porsche offers the 2014 Boxster in two trims: Base and S. Both models come nicely equipped but, in typical Porsche style, offer a dizzying array of options, colors and packages.
The Boxster ($51,350) includes a 6-speed manual transmission, power retractable top with glass rear window, automatic climate control, rain-sensing wipers, Bluetooth hands-free cellphone connectivity, 4-speaker 50-watt AM/FM/CD/AUX stereo with 7-inch color display, manual seats with power recline, 18-in alloy wheels, power windows, power locks, heated side mirrors, cruise control, tilt and telescoping steering wheel, and partial leather interior trim.
The Boxster S ($63,050) adds a more powerful engine, 19-in alloy wheels, bi-xenon headlamps and a 7-speaker audio upgrade.
The options list for both cars is nearly as long as "War and Peace." Suffice it to say, one of the more desirable options includes Porsche's quick-shifting 7-speed PDK dual-clutch transmission with shift paddles, which will run you $3,200. Another $7,400 buys you high-performance ceramic brakes. An adaptive suspension, torque vectoring and a Sport Chrono package for the racetrack are also available, though if you add them together with the PDK and ceramic brakes, be sure to budget an additional $16,000 for all these driver technologies -- not including any wheel or tire upgrades.
More outlandish options include the Burmester audio upgrade ($7,300), a Carbon Fiber package ($1,790), Adaptive Speed Control ($2,170), carbon and leather steering wheel ($1,250) and Adaptive Sport Bucket Seats ($3,025). Along the way you can also choose from numerous paint, interior trim and wheel choices. Check off every possible option and the Porsche Boxster's price can easily exceed $100,000.
Safety
To date, no agency has crash-tested the 2014 Porsche Boxster.
Behind the Wheel
Despite playing second fiddle to the legendary 911 Carrera for the last 15 years, the Boxster has always been delightful to drive. The 2014 model's acceleration is stronger than ever, and becomes downright thrilling the higher the engine revs climb, particularly with the stronger Boxster S. Shifting the 6-speed manual transmission is sheer delight, if you like manual transmissions and are willing to accept the somewhat firm clutch.
With the optional electronically adjustable suspension in the Comfort setting, the Boxster's ride quality is sporty without being harsh, but it stiffens up with the touch of a button for more road feel and even flatter handling.
Steering has always been a Porsche specialty, and while the 2014 Boxster uses fully electric steering, Porsche has tuned it to be as wonderfully communicative and direct as a hydraulic setup.
A wind blocker between the headrests keeps wind buffeting very low, even when driving fast. With the windows raised and the heated seats activated, top-down driving is possible even on cool nights. The padded, multi-layer fabric roof helps insulate the cabin from cold weather as well as outside noise. With the engine so close to the driver, however, the interior can still get a little loud at times -- though if you like performance-car sounds, that may not be a bad thing. An optional $2,825 Sport Exhaust system amplifies the engine sound even more.
Other Cars to Consider
Audi TT -- Audi's stylish TT roadster costs less and is better equipped than the Boxster, but only the 265-hp TTS can keep up with the Boxster from a standing start. However, the TT's front-wheel-drive architecture prevents it from catching the Porsche when it comes to feedback and rewarding driving dynamics.
BMW Z4 -- The BMW Z4 offers a roadster experience that's heavy on luxury at the expense of ultimate sportiness. The sDrive35is model's ability to accelerate to 60 mph in 4.8 seconds makes it nearly as quick as the Boxster S, but its handling isn't quite as precise and its fuel economy is not as high.
Mercedes-Benz SLK -- With its folding metal-and-glass retractable roof, the SLK is heavier and more luxury-inclined than the featherweight Boxster. The SLK55 AMG is downright muscular with its 415-hp V8 and, with a claimed 0-to-60 mph time of 4.5 seconds, it is the only competitor in this set that can keep up with the Boxster S.
AutoTrader's Advice
Thanks to their timeless styling, solid build quality and favorable driving dynamics, prior-generation Boxsters have enjoyed good resale value and may prove to be collectible over time. For 2014, the Boxster is more distinct in appearance, more solid and even more fun to drive, with newfound refinement and impressive fuel economy, to boot. Thus, the 2014 Porsche Boxster may be considered a good investment that can be enjoyed every day -- especially sunny ones.