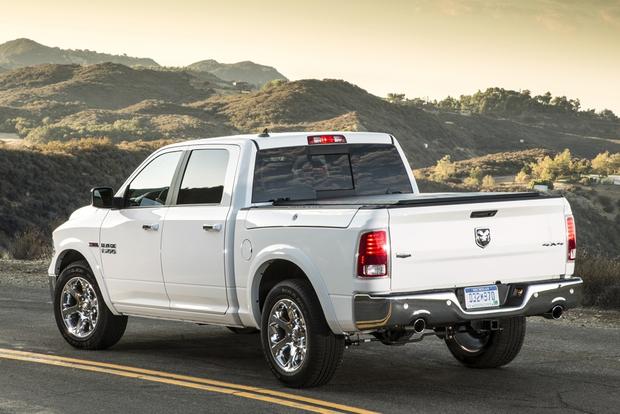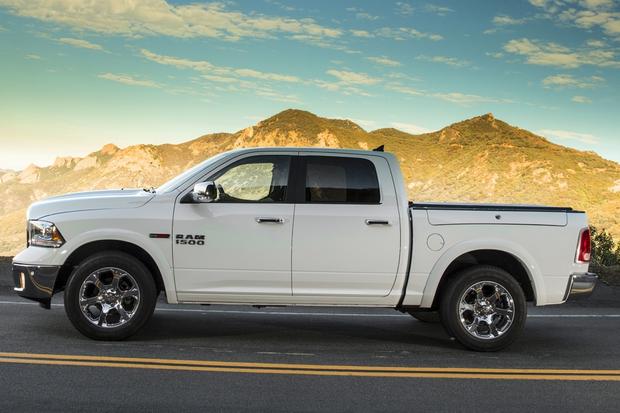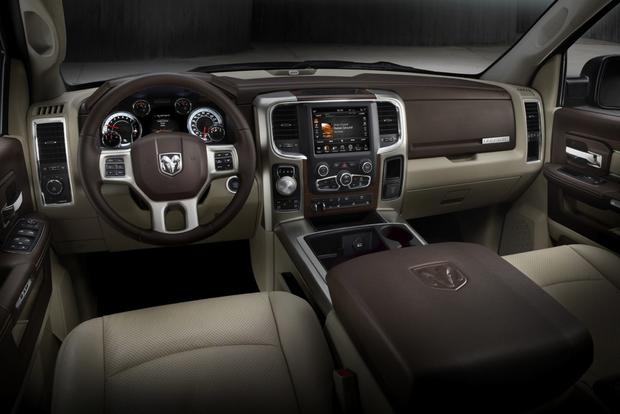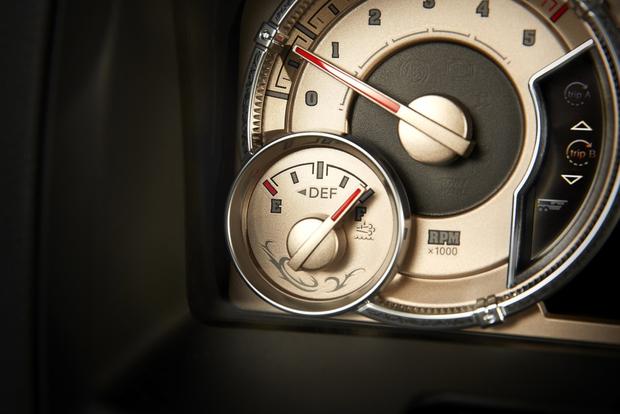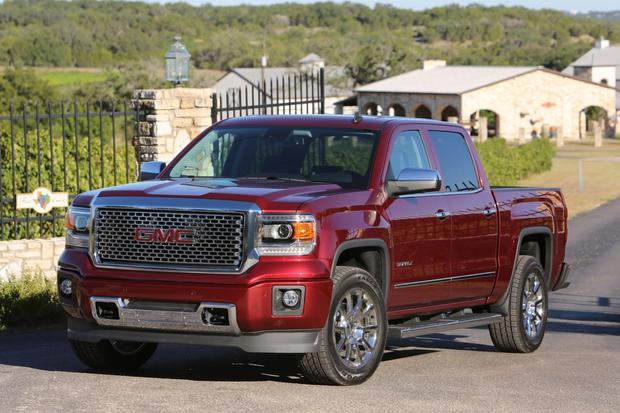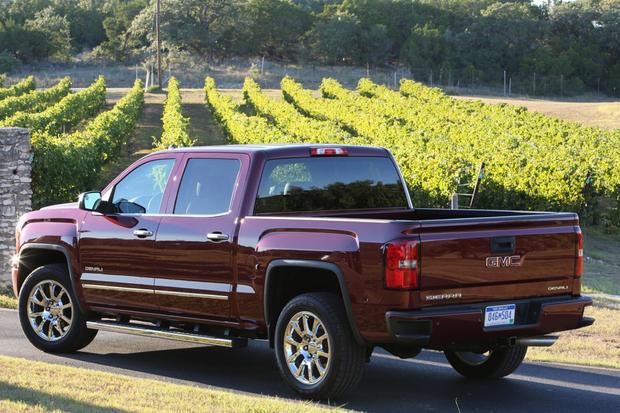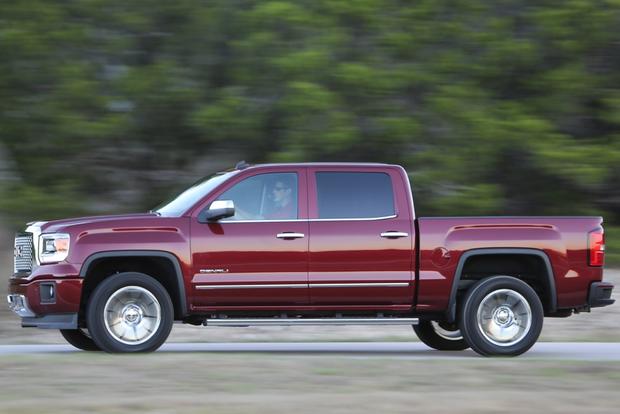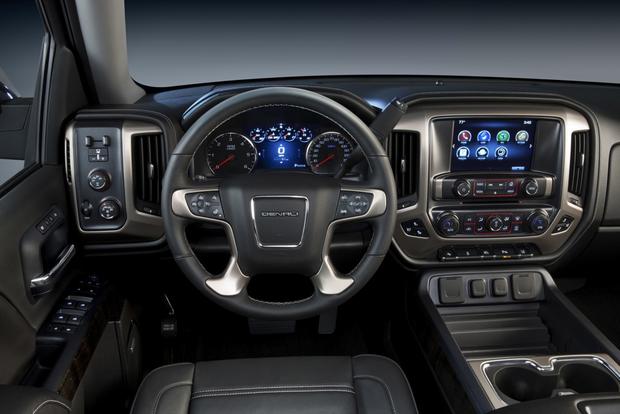 While the 2014 Ram 1500 is carried over from last year -- save for one significant change -- General Motors has launched redesigned versions of its 2014 Chevy Silverado and 2014 GMC Sierra full-size pickup trucks, vehicles designed to compete primarily against the 2014 Ford F-150 and the Ram. The Chevy vs. Ford battle is a long and storied one, fought as often on the merits of tradition and history as modern reality. And while the Silverado and F-150 may dominate sales charts, the new GMC Sierra and 2014 Ram 1500 represent appealing alternatives to the heavy hitters.
Before we explore the merits of each, let's summarize the changes for 2014.
2014 Ram 1500 Highlights:
Last redesigned for 2009, the Ram 1500 saw significant changes for the 2013 model year that enhanced the truck's appeal. Now, for 2014, the Ram 1500 is offered with the only diesel engine in the light-duty truck class.
2014 GMC Sierra Highlights:
Completely redesigned, the 2014 Sierra has more powerful and fuel-efficient engines, increased towing and payload capacity, larger cabs married to more practical cargo beds and a long list of convenience, infotainment and safety technologies.
Fuel Economy
Through the use of variable valve timing, direct fuel injection and cylinder deactivation technology, each of the 2014 Sierra's three new engines is more powerful and fuel-efficient than the one it replaces. Depending on configuration, a Sierra 1500 can tow up to 12,000 pounds and carry up to 2,108 pounds of payload, and every Sierra includes two years or 24,000 miles of free scheduled maintenance. Fuel economy ratings range from a low of 14 miles per gallon in the city for the 6.2-liter V8 engine and 4-wheel drive to a high of 24 mpg on the highway for the 4.3-liter V6 and 2-wheel drive.
Admittedly, the Ram 1500 isn't as capable as the GMC at towing or hauling cargo, topping out at 10,450 pounds of trailer and 1,890 pounds of payload. But it does offer a regular cab, short box model imaginatively named the HFE (High Fuel Economy), and its engine includes automatic stop/start technology to shut the engine off when the truck is idling in traffic or at an intersection to conserve fuel.
Rated to get 18 mpg city/25 mpg hwy and 21 mpg in combined city and highway driving, the RAM 1500 HFE is more fuel-efficient than any GMC Sierra 1500. Furthermore, Ram is offering a new 3.0-liter turbodiesel V6 engine for 2014, and the company claims it will get better than 25 mpg on the highway. Official Environmental Protection Agency ratings are not available as this article is written. However, the Ram's remaining engine choice, a 5.7-liter V8 equipped with cylinder deactivation technology, is expected to return between 13 mpg in the city with 4-wheel drive and a 6-speed automatic transmission and 22 mpg on the highway with 2-wheel drive and an 8-speed automatic -- one digit each lower than GMC's V8-powered offerings.
Here's the thing, though. Kick the Ram 1500 HFE and the $2,850 EcoDiesel option out of the equation, and the GMC Sierra matches or bests the Ram when comparing the most popular engines. The Ram is the fuel economy champ, but for powertrains that people buy most often, the GMC Sierra is the winner.
Safety
Unquestionably, General Motors has a safety advantage in that the new 2014 Sierra was engineered around current crash-test standards, whereas the 2014 Ram 1500's body structure dates to the late 2000s. It is therefore no surprise to learn that the Sierra Crew Cab, the only model tested so far, earns an overall protection rating of five stars from the National Highway Traffic Safety Administration (NHTSA). In fact, the Sierra gets five stars for each individual crash-test parameter, combined with 4-star rollover resistance ratings for both the 2-wheel-drive and 4-wheel-drive models.
Contrast this with the 2014 Ram 1500 Crew Cab. In NHTSA testing, the Ram 1500 Crew Cab receives a 4-star overall rating because the frontal-impact results for both the driver and front passenger measure four stars, and the rating for a side-impact crash with a pole rates three stars. Also, the Ram's rollover resistance rating is three stars with 4-wheel drive.
The Insurance Institute for Highway Safety (IIHS) gives both trucks a Good rating in the moderate overlap frontal-impact test. IIHS has not completed testing for the GMC. The Ram also receives a Good rating in the side-impact test but gets a Marginal rating for roof-crush strength.
Given the current data, there's no question the GMC Sierra is safer, especially in light of the available safety technology outlined below.
Reliability
Since its 2009 redesign, the Ram 1500 has displayed slightly above-average reliability according to Consumer Reports, and J.D. Power predicts that the Ram's dependability will be better than average. Quality, according to J.D. Power, is rated below average.
Compare these results to the previous-generation Sierra. Consumer Reports gives the old Sierra average marks for reliability, while J.D. Power surveys find that owners rate the Sierra as better than average in this regard. Additionally, the Sierra has excelled in quality, according to J.D. Power, leading its class for the past two years.
Of course, with the Sierra's complete redesign, its new family of engines and a slew of new technologies, the ratings for the old truck don't really apply to the new one. That's why, for now, we're calling this one a tie.
Value
As this article is written, GMC dealers are busily clearing remaining stocks of the 2013 Sierra 1500. If you want one of those, great deals can be had. If you want the new 2014 model, it looks like your best deal is going to be invoice, and that's only if you can convince the salesperson to let one go at a minimum profit. On the plus side, the Sierra does come with free scheduled maintenance for two years or 24,000 miles, whichever comes first.
Over at the Ram dealer, the 1500 model is available with low 1.9 percent APR financing plus thousands of dollars in rebate cash ranging from $3,000 to $5,000, depending on the model and region. Getting a great deal on a new Ram truck is no trouble. Therefore, Ram has the advantage. For now.
Technology
When it comes to technology, each of these trucks is remarkably sophisticated. In addition to powertrain features, both can be optioned with trailer brake control systems, a reversing camera, front and rear parking-assist sensors, a heated steering wheel, ventilated front seats and more. Each is also available with touchscreen infotainment systems that include subscription-based telematics and smartphone pairing services. Beyond these features, the GMC offers a Driver Alert Package containing Forward Collision Alert, Lane Departure Warning and Driver Alert Seat systems, while the Ram can be upgraded with SmartBeam headlights, keyless passive entry with push-button starting and an air suspension.
If you're choosing one or the other of these pickups based on standard and available technology, you'll choose the model that best meets your requirements. Therefore, we have another tie.
AutoTrader's Advice
If you're looking for a safe truck or need a rig that can tow or haul as much weight as possible, the GMC Sierra is the one to buy. If you're looking for a great deal or to squeeze every last mile out of every last drip of diesel, drop by the Ram dealership. Otherwise, the redesigned 2014 Sierra and the recently refreshed 2014 Ram 1500 are well-matched adversaries.