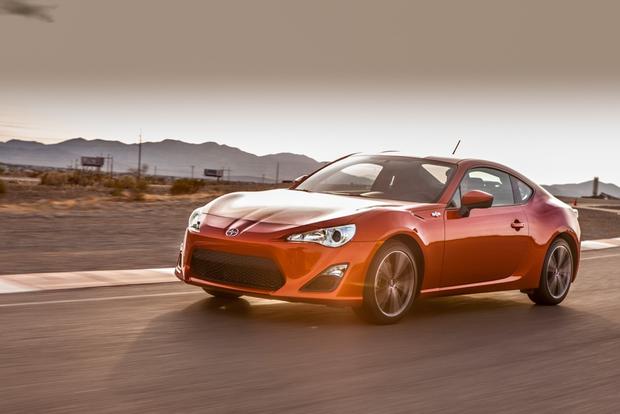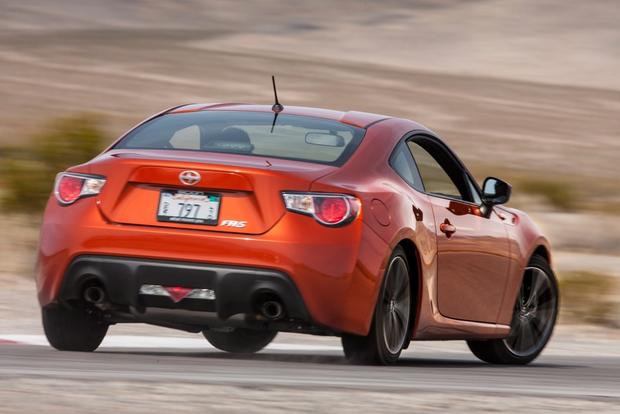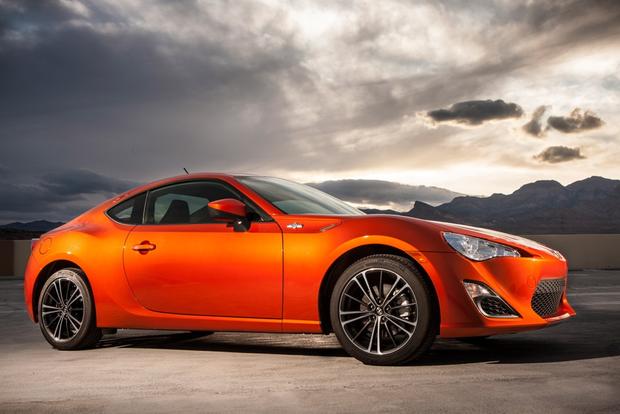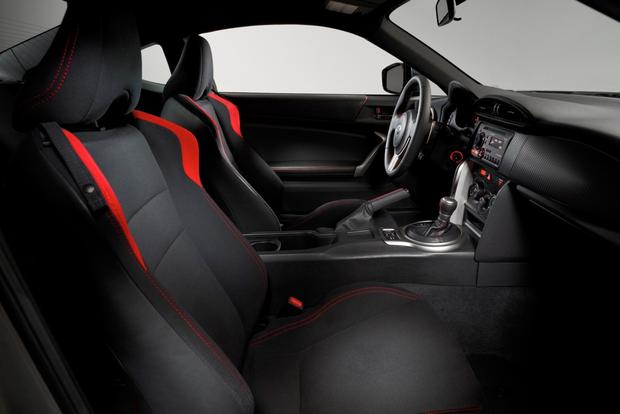 You want to read about mass-market vehicles, like the latest midsize car or hatchback. We want to tell you about them. But occasionally we need a break from the ordinary. Just such a respite arrives in the all-new 2014 Scion FR-S, a front-engined, rear-wheel-drive sports car from Toyota's self-proclaimed youth division.
Designed and engineered in partnership with Subaru, the 2014 Scion FR-S was intended to possess "balanced performance and handling, in combination with compelling style, flexible utility and surprising fuel efficiency." And we think they nailed it. The sheet metal, while conservative relative to Nissan's 370Z, is a shape that will wear well over 60 monthly payments. Its handling balance, with the Subaru-sourced flat 4-cylinder mounted low and rearward relative to the front wheels, is exceptional. And with the admittedly marginal rear seats folded, you have enough trunk and stowage area for the set of racing rubber you want to use on track days.
Regrettably, there aren't a lot of alternatives when shopping for the above-referenced attributes. With roughly 20 percent more power than a Mazda MX-5 Miata, the new Scion is a logical next step for Mazda enthusiasts. If, however, you're comparing the Scion with a V6 Mustang or Camaro, a similar mid-$20,000s investment nets you 300-plus horsepower (and another half ton of curb weight) on the Ford or Chevy showroom.
But if you're stuck on acceleration times, you're missing the point of the FR-S. This car is for those who find more thrills in corners than on straightaways, and it's refreshing indeed to find a reasonably priced modern-day sports car with such a focused mission.
What's New for 2014?
The Scion FR-S gets a standard touchscreen audio system and supple padding for the center console and door panels.
What We Like
The essential goodness of a true sports car; simple specs and an affordable price; surprisingly satisfying interior quality; unusually responsive automatic transmission
What We Don't
Modest power; intrusive road noise
How Much?
$25,455
Fuel Economy
The 2014 FR-S is powered by a 2.0-liter "flat" 4-cylinder engine rated at 200 hp and 151 lb-ft of torque. A 6-speed manual transmission is standard, but Scion also offers an excellent 6-speed automatic with rev-matching capability on downshifts. Fuel economy is 25 miles per gallon city/34 mpg hwy with the automatic but just 22 mpg city/30 mpg hwy with the manual.
Standard Features & Options
The FR-S ($25,455) is offered in one well-equipped trim level.
Equipment highlights include 17-inch alloy wheels with summer tires, dual exhaust tips, LED taillights, a height-adjustable driver seat, a leather-wrapped tilt/telescopic steering wheel, a leather-wrapped shift knob (with a convincingly manual-like appearance on the automatic shifter), cruise control, a folding rear seat back, Bluetooth connectivity and a 300-watt, 8-speaker audio system with a 6.1-in touchscreen, HD radio and auxiliary/USB ports.
For smartphone devotees, Scion optionally provides BeSpoke, which offers a higher level of connectivity with Facebook, Twitter and Internet radio. Other options include 18-in alloy wheels, bigger front brakes, fog lights, a rear spoiler, a cold-air intake, a performance exhaust and lowering springs.
Safety
The 2014 Scion FR-S delivers a full house in old-fashioned accident avoidance measures. Relatively lightweight, well-connected steering, good visibility and strong braking give a reasonably aware driver the tools to stay out of harm's way.
If, however, you fall victim to a collision, know that the FR-S comes standard with six airbags, including dual-stage advanced driver-and-front-passenger airbags, front-seat-mounted airbags and side curtain airbags.
The government hasn't crash-tested the FR-S as of this writing, but the independent Insurance Institute for Highway Safety gave the FR-S its highest rating of Good in every test category.
Behind the Wheel
Getting in and out of the 2014 FR-S doesn't require the typical contortions of the sports car paradigm, and once inside you'll find an expansive greenhouse, a great view over the hood and reasonable visibility to the sides and rear of the car. The front buckets optimize balance between lateral support and long-distance comfort. To Toyota's credit, the rear seat back folds flat to increase utility, but the space provided for humans is marginal at best. Notably, the FR-S is not a hatch; structural rigidity was deemed more important to the sport mission than utility, and the designers made the right call.
If Ferry Porsche were mixing and matching today's production components into a low-volume sports car, the result might look a lot like the FR-S. The Subaru-sourced flat 4-cylinder is philosophically close to all that the Porsche family holds dear, as is a sporty profile providing day-in, day-out utility. Of course, the motor's modest 200-hp output is a far cry from any Zuffenhausen product, and it's the FR-S model's weakest link.
You don't buy this car because of the engine. You buy it because you don't mind the engine given the excellence of everything else.
We strive to be objective, but the new FR-S had us at "hello." Clean lines, a preternaturally balanced chassis and a $25,000 purchase point are a compelling combination. This is an eminently entertaining package and should remain that way well after the warranty and payment book are retired. The steering is well connected, braking is positive and corners are carved with exceptional poise and confidence. If a pure driver's car is what you're after, the FR-S is in a class of one at this price.
Other Cars to Consider
Subaru BRZ -- It's technically the FR-S's twin, but rather than the Scion's 1-size-fits-all sales philosophy, Subaru brings two trim levels to the showroom, along with two price points.
Mazda MX-5 Miata-- For someone coveting the stripped-down simplicity of a compact roadster, Mazda's Miata remains compelling, and its manual shifter is one of the best we've ever sampled. However, it lacks the day-to-day practicality of the FR-S, and its engine is even more breathless than the Scion's at highway speeds.
Ford Mustang -- The Mustang is easily the most athletic of the modern muscle cars, and if you can find a deal on a V8-powered GT, the 400-plus hp under the hood may tip the scales in Ford's favor.
AutoTrader's Advice
We'd opt for a manual transmission, a color we can enjoy for four or five years and little else. Toyota's performance division, TRD, will seduce you with dealer-installed options, and a few will be of value. Before you pull out the MasterCard at the parts counter, get to know your FR-S in its pure, as-Akio-Toyoda-intended form. You'll be pleased with the decision.