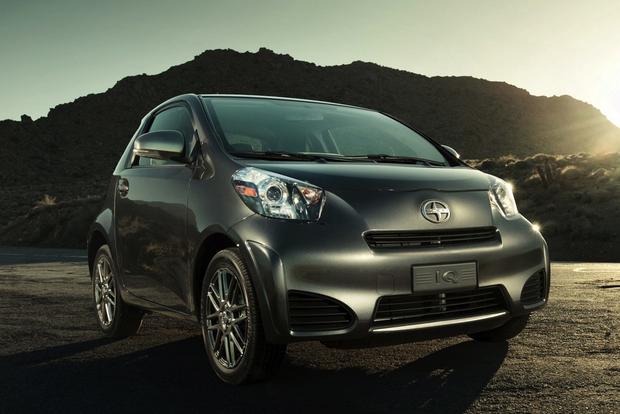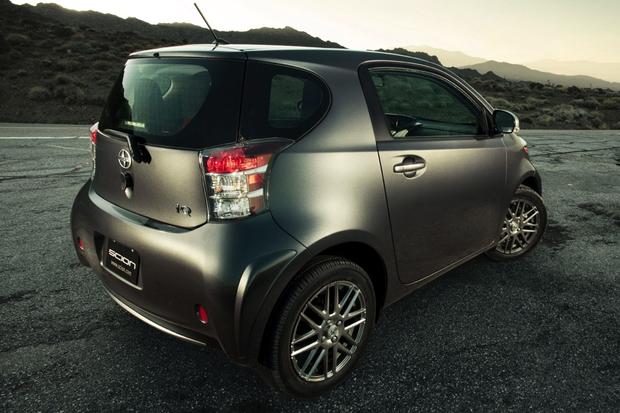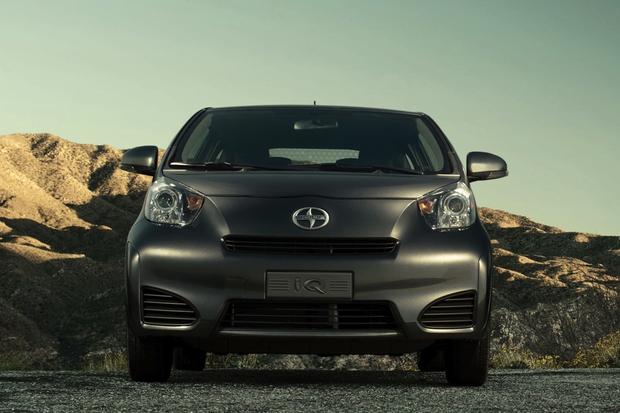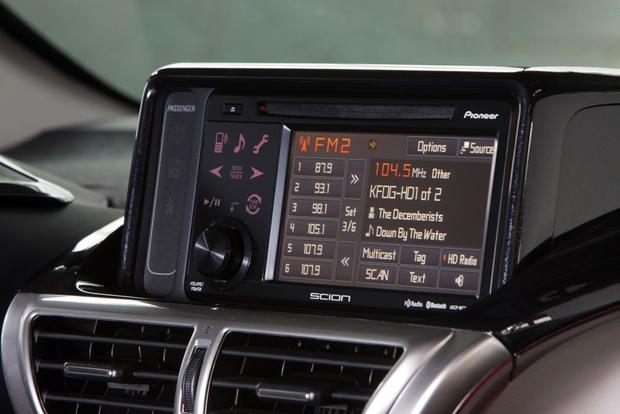 Compared to the Aston Martin Cygnet, the 2014 Scion iQ is an incredible bargain. Relative to the economy cars available on our shores, however, Scion's microcar doesn't fare quite as well.
Allow us to explain. The iconic British sports-car manufacturer Aston Martin needed a fuel-efficient car to comply with European regulations, so it borrowed the iQ from Toyota/Scion, slapped on some fancy winged badges and more or less doubled the price.
Good trivia, right? But it can't change the fact that the iQ's stateside starting price of about $16,000 brings numerous larger economy cars into play. These cars feature more space, have better driving dynamics and also feel a bit more secure when you're surrounded by SUVs. In fact, the only category the iQ would win outright is city fuel economy, where it boasts an impressive 36 miles per gallon.
Now, if your urban lifestyle absolutely demands a tiny set of wheels, please forget most of what we just said, because the iQ is the best microcar we've driven. Don't even think about a smart fortwo; the Scion is superior in every way.
But do you really need something this tiny, or could you live with a larger economy car that's still pretty small? It might be fun to say that your car is a budget-priced Aston Martin, but we suspect there will be better options elsewhere for the typical small-car shopper.
What's New for 2014?
The iQ receives a standard 6.1-inch touchscreen display and a limited-edition 10 Series trim level.
What We Like
Tiny footprint; surprisingly entertaining handling; impressive combined fuel economy
What We Don't
Costs as much as some regular cars; performance-sapping CVT
How Much?
$16,420-$18,605
Fuel Economy
The 2014 Scion iQ is powered by a 1.3-liter inline-4 rated at 94 horsepower and 89 lb-ft of torque. The only transmission for the U.S. market is a continuously variable automatic (CVT).
Fuel economy for city driving is an excellent 36 mpg, but highway efficiency is just 37 mpg -- that's less than many larger, faster cars can manage. Still, at 37 mpg overall, the iQ is one of the most fuel-efficient cars you can buy.
Standard Features & Options
The 2014 Scion iQ is offered in two trim levels -- base and 10 Series -- with a range of optional accessories.
Standard features on the base iQ ($16,420) include 16-in steel wheels with plastic covers, air conditioning, power accessories, a tilt-only leather-wrapped steering wheel, and a 4-speaker audio system with a 6.1-in touchscreen display, Bluetooth and iPod/USB connectivity.
The iQ 10 Series ($18,605) adds 16-in alloy wheels, special silver paint, a jackknife-style key, illuminated exterior front and rear Scion badges, premium Pioneer audio, a solar-powered illuminated shift knob, 10 Series badging and silver seat belts.
Scions are all about accessorizing, so the iQ has a long list of add-ons, notably 16-in alloy wheels and premium Pioneer audio (both standard on the 10 Series), a 7-color interior lighting system and performance-oriented upgrades such as lowering springs.
In terms of versatility features, we think it's likely that most iQ owners will keep the rear seats folded flat, because otherwise there's basically no cargo capacity. Scion claims 3.5 cu ft of space behind the rear seat backs, but in truth, you could barely fit a child's knapsack back there. The seat backs are almost flush against the back wall of the car. Flip the rear seats into the floor, however, and you have a flat loading area with 16.7 cu ft to play with. Considering that measurement's bigger than most sedan trunks, it's pretty impressive for a microcar.
Safety
The 2014 Scion iQ comes with standard stability control, anti-lock brakes (front discs, rear drums) and a dizzying 11 airbags (front, front-side, front seat-cushion, front-knee, full-length side curtain and rear window).
In government crash tests, the iQ received four stars out of five overall, including four stars for frontal impacts and three stars for side impacts. The independent Insurance Institute for Highway Safety was more impressed, giving the iQ its top score of Good in every crash-test category except rear impacts, where the iQ received the second-best Acceptable rating.
Driving Impressions
In our interior evaluation, we found that the iQ's front seats offer just the basics in terms of support, but we like their style. The seat-bottom fabric has an interesting pattern, and the stylish seat backs with their fixed headrests look like something out of "Star Trek." The small, chunky steering wheel is nice to grip but doesn't telescope, an omission that tall drivers will lament.
Glancing around the cabin, we think Toyota has done a good job of giving the iQ the character of a real car. From the respectable materials quality to the sensible gauges and vertically stacked climate-control knobs, everything just seems familiar. It's only when you glance over your shoulder that you're confronted by the iQ's smallness. Stem to stern, a MINI Cooper is about two feet longer.
Not surprisingly, this has consequences for rear passengers. The iQ is technically a 4-seater, but you can more or less forget about putting anyone behind the driver -- there's just no legroom. If the front passenger's in an agreeable mood, he or she can slide the seat forward enough to accommodate one rear occupant.
On the road, the biggest surprise is undoubtedly the way the iQ takes a corner. Not only does it handle like a normal car, it also handles better than some normal cars. The steering is quick and accurate, while the short wheelbase and firm suspension keep body motion to a minimum.
It's a great setup for zooming around the city -- unless you hit a pothole, that is, as the iQ's ride compliance is minimal. On the highway, the iQ is less compelling. That firm ride plus ample road noise combine to make high-speed runs rather unpleasant.
Under the hood, the CVT isn't very smooth, and it seems to be better at generating noise than meaningful acceleration. Despite the racket, though, the little inline-4 manages to yank the iQ around with acceptable authority for urban use. It's only when you're merging or passing on the highway that the iQ's modest power becomes obvious.
Other Cars to Consider
FIAT 500 -- The 500 can't match the iQ's overall fuel economy, but it does have a more usable back seat and a healthy dollop of Italian style.
Hyundai Elantra-- Here's an example of a larger car that can be had for iQ-level money. The Elantra is basically better at everything besides parking.
Kia Rio -- The Rio hatchback is a tempting alternative to the iQ, as it's packed with space and features while remaining within shouting distance of the Scion's compact dimensions.
AutoTrader's Advice
The base iQ is already pushing it on price, so we couldn't justify spending more to get the 10 Series. The entry-level specification would be the one we'd choose, and with minimal accessories at that.\