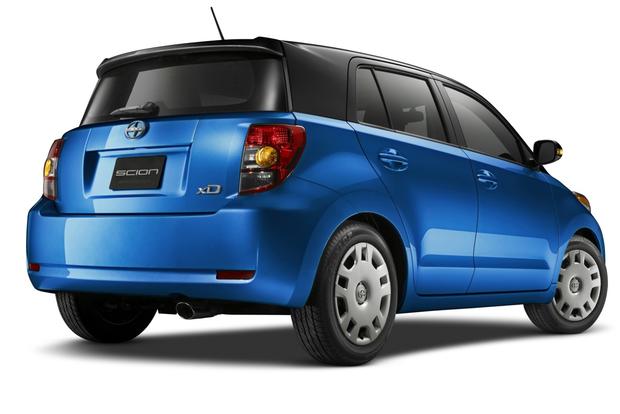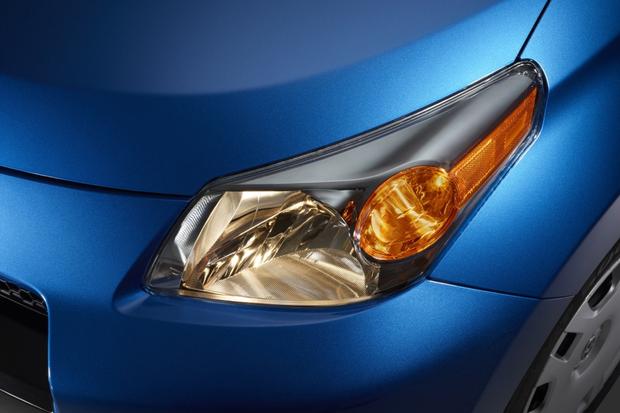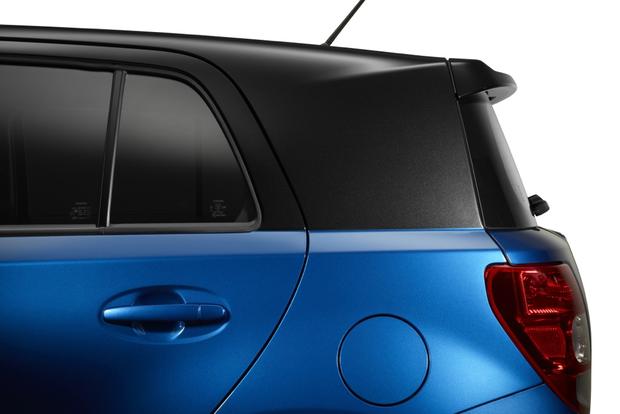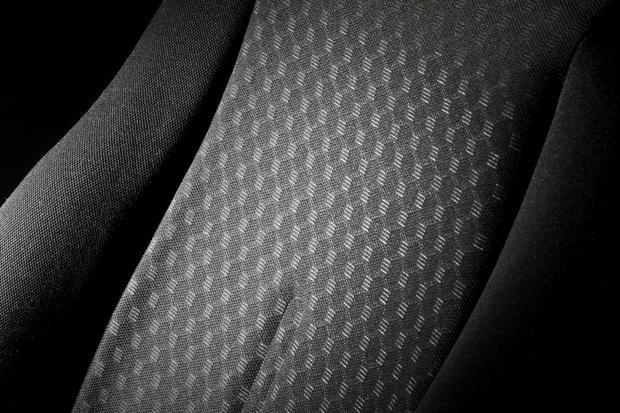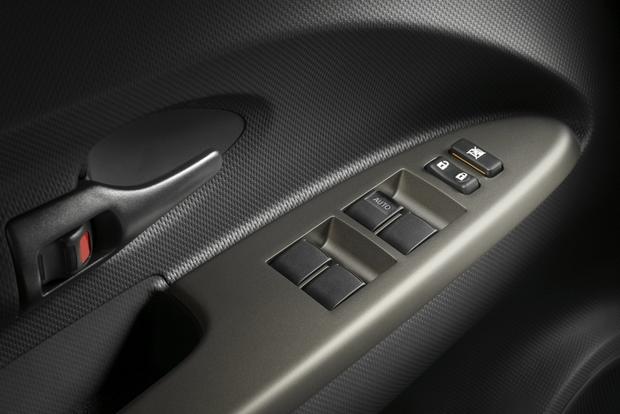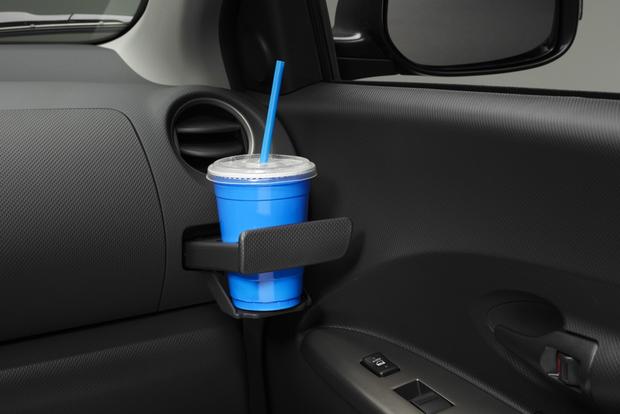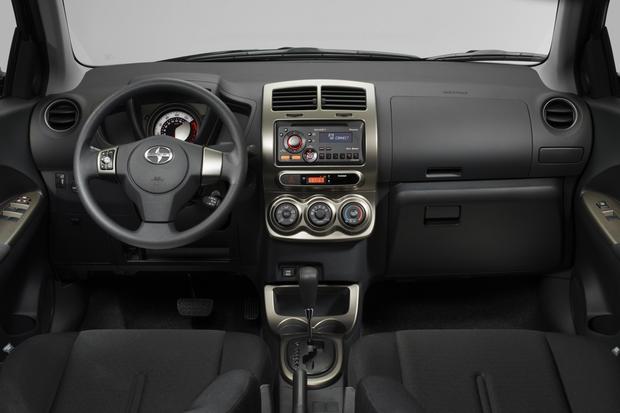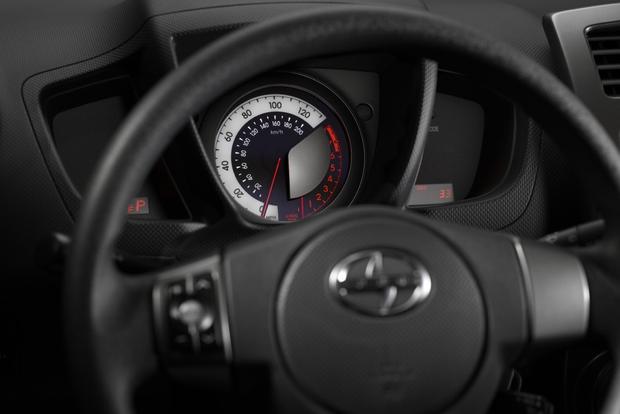 You know how some cars embody everything the brand stands for? Well, the 2014 Scion xD isn't one of them. But we're not complaining, because unlike some of its youth-oriented Scion siblings, the xD actually errs on the side of sensibility.
If you think of the xD as a moderately funky Toyota Corolla hatchback, you'll have a better idea of what it's all about.
Indeed, the xD is powered by roughly the same battle-tested 1.8-liter engine as the Corolla, which earns this Scion major peace-of-mind points with many shoppers. Unfortunately, the xD is also saddled with the Corolla's outdated (and soon to be retired) 4-speed automatic transmission, which hurts both fuel economy and acceleration. But that hasn't stopped Toyota's iconic small sedan from being a perennial sales leader, so the Corolla connection is clearly a selling point for the xD.
At the same time, the xD is every bit a Scion in the following sense: You can customize it till the cows come home. Scion dealers are fully stocked with every imaginable accessory, so if you want colorful interior lighting, a body kit or a sporty exhaust ... yeah, they've got that. And the best part is, none of these extras will affect your factory warranty.
What we have here, then, is a handy hatchback with the heart of a Corolla and just enough of that playful Scion personality to set it apart. There are better economy cars on the market, to be sure, but we're not immune to the 2014 xD's sensible charms.
What's New for 2014?
The 2014 xD adds a standard 6.1-inch touchscreen display and available 2-tone exterior paint.
What We Like
Convenient hatchback body style; standard touchscreen; plenty of customization options; versatile sliding/reclining rear seats
What We Don't
Outdated transmissions; poor highway fuel economy for this class; steering wheel doesn't telescope
How Much?
$16,675
Fuel Economy
The front-wheel-drive xD comes with a 1.8-liter inline-4 rated at 128 horsepower and 125 lb-ft of torque. A 5-speed manual is standard; the optional automatic is a 4-speed. Most rivals offer more speeds in their gearboxes these days, and the xD pays the price on the fuel economy front, checking in at 27 miles per gallon city and a low 33 mpg highway with either transmission.
Standard Features & Options
The 2014 Scion xD is offered in one trim level with a variety of available upgrades. Standard features include 16-in steel wheels, air conditioning, power accessories, cruise control, a first-aid kit, a tilt-only steering wheel and a 6-speaker Pioneer audio system with HD radio, a 6.1-in touchscreen display and iPod/USB and Bluetooth connectivity.
The automatic transmission adds $800 to the bottom line. Other extras include 18-in alloy wheels, a rear spoiler, a premium Pioneer audio system and BeSpoke mobile-app integration, which includes Facebook, Twitter, Yelp and more. Scion also offers a variety of mild performance aids, such as lowering springs, stiffer shocks and a sport exhaust.
Safety
The 2014 Scion xD comes with standard stability control, anti-lock brakes (front disc, rear drums) and eight airbags.
The government hasn't crash-tested the xD, but the independent Insurance Institute for Highway Safety gave the xD its top rating of Good in all categories.
Behind the Wheel
In our interior evaluation, we agreed that the xD's front seats are pleasantly firm, but we found that they don't hug you much through the corners. Given all the xD's sport-oriented accessories, we're surprised that sport seats aren't on the list. The tilt-only steering wheel will frustrate long-legged drivers, as there's just no way to get your arms comfortably close to the wheel without ramming your knees into the dash. But everyone will appreciate the exceptionally user-friendly climate controls.
The xD gets style points for its unusual gauges, including a cockeyed speedometer with a nearly vertical tachometer tucked alongside. The interior materials are nothing to write home about in terms of quality. The plastics, however, have interesting textures, and we like the look of the touchscreen interface; it adds a custom flavor to the otherwise straightforward center stack.
The xD's back seat is perhaps its most distinctive aspect. The seat has six inches of fore/aft travel, so you can prioritize passenger space or cargo space as needs dictate. The seat backs also recline, a feature typically seen in SUVs. With the seat slid all the way back, there's adequate room for a couple of adults, which is no mean feat considering the xD's compact dimensions.
Less impressive is the xD's cargo capacity, which tops out at 35.7 cu ft with the rear seat backs folded down. That's near the low end of the spectrum for 4-door hatchbacks, but what are you going to do? The XD is a pretty tiny car.
The underpinnings of the xD's last-generation Yaris reveal themselves in the firm, sometimes-unyielding ride. We'd definitely stay away from the optional 18-in wheels. Road noise is prominent at highway speeds. The steering response is quite sharp but not in a way that makes us want to head for the hills. While the xD is perfectly adequate as a short-distance runabout, we wouldn't call it especially refined. Acceleration is surprisingly sprightly around town -- credit the xD's modest 2,600-lb-plus curb weight for that -- but tapers off quickly at higher speeds.
Other Cars to Consider
Chevrolet Sonic -- The turbocharged Sonic LTZ is pricier than the xD, but the regular Sonic hatchback with the 1.8-liter engine is a strong Scion competitor.
Kia Rio -- One of our favorite subcompacts, the Rio blends style and practicality like few others in this class.
Toyota Yaris -- If you're looking for a Toyota product, know that the Yaris was recently redesigned, so it has some updates that the xD lacks.
AutoTrader's Advice
We'd make our xD as bare-bones as possible to keep the cost down. Scion's accessories can quickly bump the xD's price up into Ford Focus hatchback territory, and that's just not a fair fight.