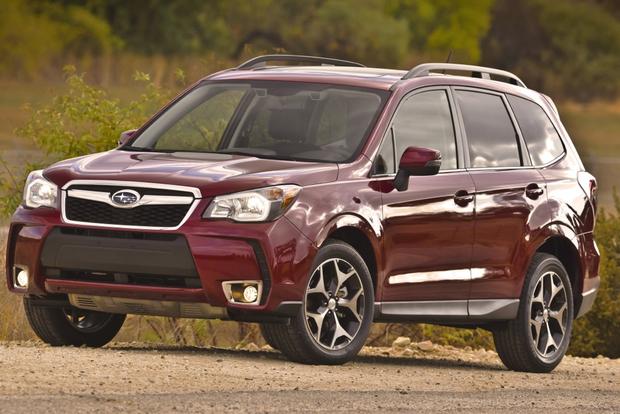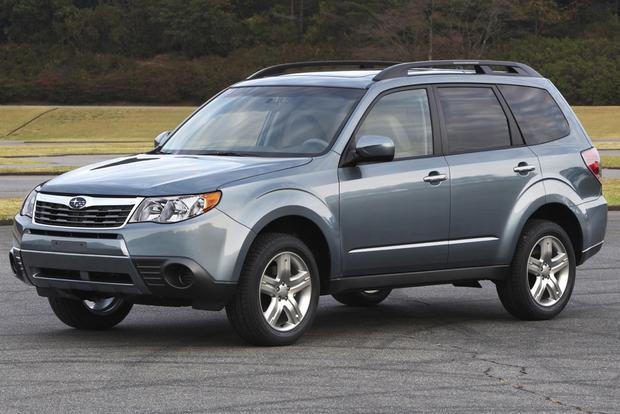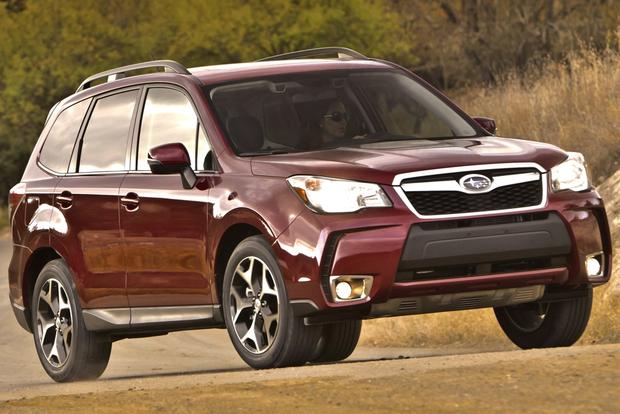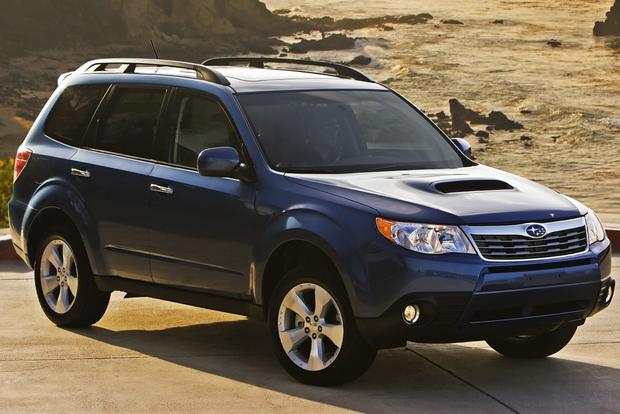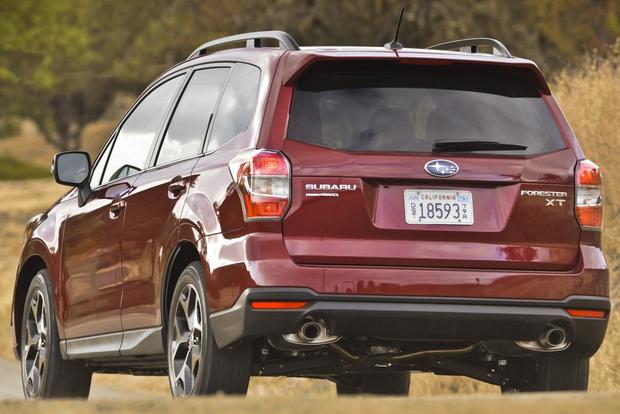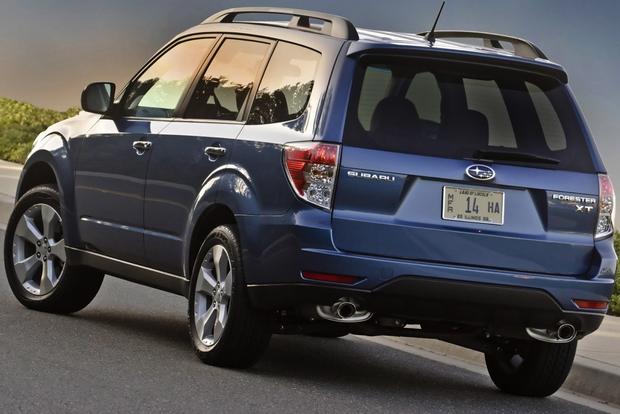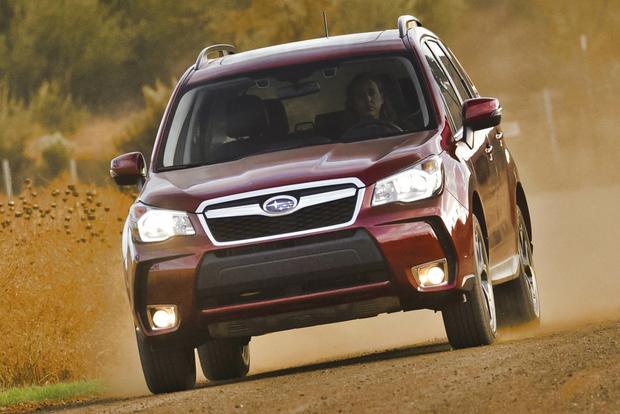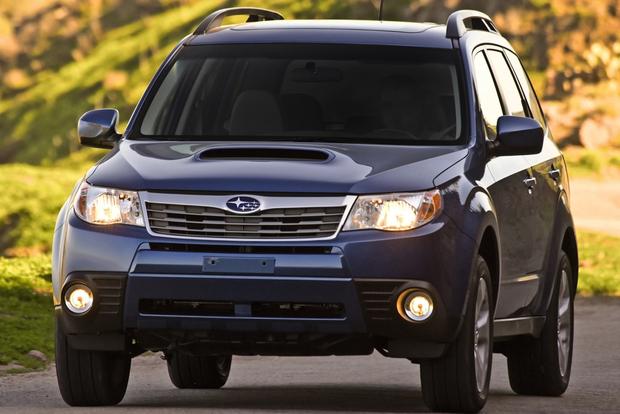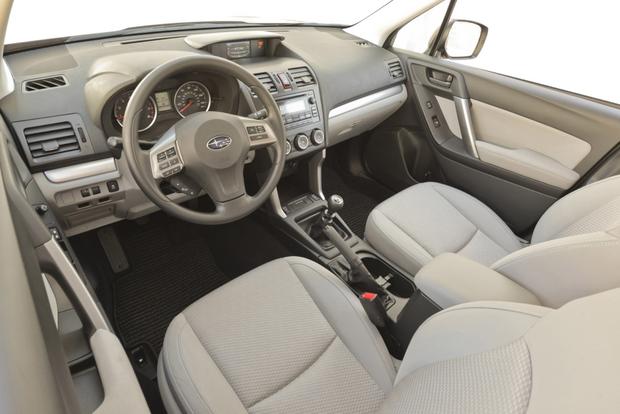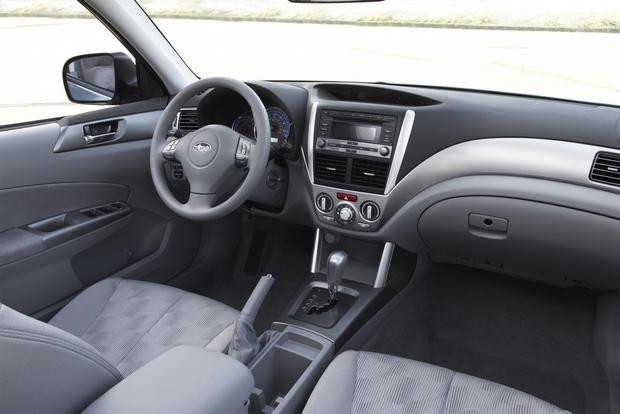 Introduction
Fuji Heavy Industries, the company that builds Subaru vehicles, is a master of the economics of scale and, until the arrival this year of the 2013 BRZ sports car, built an entire product line from just two different vehicle platforms, two different power trains and, of course, two different versions of the company's Symmetrical All-Wheel Drive (AWD) system. The new 2014 Subaru Forester, a popular compact crossover SUV, springs from the company's small car platform, which also provides the basis for the Impreza, the WRX and the XV Crosstrek models.
The last time the Subaru Forester was redesigned the year was 2009, which makes the outgoing version of the popular compact crossover SUV just five years old. Now, Subaru claims the new 2014 Forester provides greater performance, fuel economy, comfort and space as well as an enhanced AWD system and new driver assistance technologies. The question is: Should consumers ignore the previous-generation model and pay thousands more for the new 2014 Subaru Forester? That's what we're here to help you to determine.
Fuel Economy
The previous generation Subaru Forester 2.5X offered a standard 2.5-liter 4-cylinder engine generating 170 horsepower at 6,000 rpm and 170 lb-ft of torque at 4,400 rpm (174 lb-ft of torque for the 2011-2013 models). This horizontally opposed engine, also known as a Boxer engine, was paired with a 6-speed manual gearbox or a 4-speed automatic transmission, and in California and New England the Forester 2.5X met Partial Zero Emissions Vehicle (PZEV) standards.
The 2009-2013 Subaru Forester 2.5XT model included a standard turbocharged version of the 2.5-liter 4-cylinder engine rated to make 224 hp at 5,200 rpm and 226 lb-ft at 2,800 rpm while burning premium unleaded fuel. A 4-speed automatic was the only transmission choice with this engine.
Subaru's Symmetrical All-Wheel Drive system came standard on all versions of the previous-generation Forester. Those models with a manual transmission had an AWD system with a viscous coupling locking center differential and a 50/50 front-to-rear power split under normal driving conditions, with the ability to redistribute power as necessary if the front or rear wheels slipped. Foresters with an automatic transmission were equipped with an Active Torque Split AWD system primarily powering the front wheels until wheel slippage caused a transfer of power to the rear wheels.
These AWD systems are carried over for the redesigned 2014 Forester, and the active version is now offered with an available X-Mode locking feature and Hill Descent Control for greater off-road capability. Likewise, the standard 2.5-liter 4-cylinder engine reappears for 2014, making its peak 170 hp and 174 lb-ft of torque at slightly lower engine revs than before. The previous transmissions are history, swapped out in favor of a new 6-speed manual gearbox or a new continuously variable transmission (CVT). Notably, the new 2014 Forester 2.5i is PZEV-rated in all 50 states.
A turbocharged engine is once again available in the Forester for 2014. This time, it's a direct-injected 2.0-liter 4-cylinder rated to make 250 hp at 5,600 rpm and 258 lb-ft of torque between 2,000 rpm and 4,800 rpm when consuming premium unleaded. A CVT is standard for the new Forester 2.0XT, and this model offers both 6-speed and 8-speed manual shifting modes accessed using shift paddle switches on the steering wheel. The Forester 2.0XT is also equipped with Subaru SI-DRIVE, which calibrates powertrain response according to driver-selected Intelligent, Sport and Sport Sharp modes.
The 2014 Forester 2.5i should feel a little more energetic thanks to its revised power peaks and new transmission choices, and it should prove more fuel efficient based on projected mileage estimates supplied by Subaru. According to the automaker, the Forester 2.5i with the manual transmission will get 22 miles per gallon in the city and 29 mpg on the highway. The big improvements, however, are for Foresters equipped with the new CVT. In Forester 2.5i models, this transmission is expected to return 24 mpg city/32 mpg hwy. In Forester 2.0XT models, the CVT should produce 23 mpg city/28 mpg hwy.
Compare these impressive fuel economy ratings with those of the previous-generation Forester. The 2009-2010 Subaru Forester 2.5X is rated at 20 mpg city/27 mpg hwy with the manual transmission, and 20 mpg city/26 mpg hwy with the automatic. For the 2011 model year, the standard 4-cylinder engine received upgrades that boosted fuel economy to 21 mpg city/27 mpg hwy regardless of transmission choice. The turbocharged Forester 2.5XT models burn premium unleaded at the rate of 19 mpg city/24 mpg hwy.
Clearly, when it comes to fuel economy, the redesigned 2014 Forester is the superior vehicle.
Safety
For many years, Subaru has made a point of telling consumers that its vehicles are constructed with Ring-Shaped Frame Reinforcement, which means that Subaru Foresters are structurally engineered to deflect crash energy away from the passenger cabin. Crash test ratings for the 2009 and 2010 Forester supported the automaker's approach. The National Highway Traffic Safety Administration (NHTSA) gave the Forester 5-star ratings in all frontal and side impact evaluations, and the Insurance Institute for Highway Safety (IIHS) called the 2009 and 2010 Forester a Top Safety Pick.
Unfortunately for Subaru, when the NHTSA strengthened its crash test program for the 2011 model year and added a new side impact evaluation designed to reflect what happens if a vehicle slides laterally into a pole, that Ring-Shaped Frame Reinforcement didn't fare terribly well, resulting in a 2-star rating. A 2-star rating was also assessed for the 2011 Forester's ability to protect the rear seat occupant in a side impact collision.
In response, Subaru made modifications to improve the latter rating to 4 stars for the last half of the 2011 model year, but that 2-star side impact, pole-test rating stuck with the little crossover SUV all the way through 2013. In fairness, however, it must also be noted that the IIHS continued to give the previous-generation 2011-2013 Forester models a Top Safety Pick rating for its top-rated performance in offset frontal, side impact, roof crush strength, and rear impact injury prevention tests.
Fast-forward to the redesigned 2014 Forester, and the Ring-Shaped Frame Reinforcement approach to the SUV's structure continues, while Subaru adds new standard safety equipment including a knee airbag for the driver, anti-whiplash front seat designs, a brake override system designed to make it impossible to accelerate the vehicle if the brake pedal is pressed and an impact-sensing fuel system cutoff feature.
A reversing camera system is standard on all models except the base Forester 2.5i, and for 2014, the 2.5i Touring and the 2.0XT Touring can be equipped with Subaru's new EyeSight driver assist technology. EyeSight includes an Adaptive Cruise Control system, a Pre-Collision Braking system and a Vehicle Lane Departure Warning system.
Because the new 2014 Forester doesn't go on sale until the spring of 2013, it hasn't been crash tested at the time this article was written. But given its new vehicle architecture and its upgrades in safety equipment, it is likely to perform better in this regard. Advantage: New 2014 Forester.
Reliability
Historically, the Subaru Forester has ranked as one of the most reliable vehicles in its class, and this is unlikely to change with the debut of the 2014 Forester. The crossover SUV's impressive dependability record also explains its fairly basic new vehicle warranty coverage, which includes a 3-year/36,000-mile limited new car warranty with 24-hour roadside assistance, and a 5-year/60,000-mile powertrain warranty.
Subaru's Certified Pre-Owned (CPO) vehicle program is similarly simple. Each CPO Subaru receives a 152-point inspection and includes a Carfax report accompanied by a Buyback Guarantee. The real benefit to a CPO Subaru Forester is its extended 7-year/100,000-mile powertrain warranty with 24-hour roadside assistance.
Subaru also allows CPO customers to upgrade their program coverage at extra cost, choosing between a Classic wraparound plan that adds nearly 1,000 vehicle components to the coverage for 7 years or 100,000 miles, or a Gold Plus wraparound plan that covers the entire vehicle for that period, except for a few maintenance items and body parts. The Classic plan reimburses owners for towing and car rental when a covered repair is made, while the Gold Plus plan adds lodging and meal reimbursement as well as road hazard tire protection.
Foresters are reliable, and a CPO Forester costs less than a new 2014 Forester while including a better powertrain warranty. Victory is yours, old Forester.
Value
At the time this article was written, there are 885 Certified Pre-Owned Forester models listed on AutoTrader, ranging from a 2009 Forester 2.5X with almost 77,900 miles and priced at $14,760, to a 2012 Forester 2.5XT Touring with 13,670 miles and a price of nearly $29,000. Subaru sometimes offers low-interest financing for CPO Forester models, and recent finance rates were as low as 0.99%.
Subaru dealers are still selling remaining stocks of the previous-generation Forester. Prices range from $22,090 for a 2013 Forester 2.5X with a manual transmission, to $31,790 for a 2013 Forester 2.5XT Touring with the optional navigation system. At the time this article was written, a special 0% interest financing program and a low subsidized lease deal were offered for remaining 2012 and 2013 Forester models in stock. Additionally, for current Subaru lessees replacing an older model with a new Forester, Subaru will cover the first lease payment up to $500.
As is typical with a redesigned vehicle, prices rise with the introduction of the 2014 Forester. The least expensive Forester 2.5i model starts at $22,820 with a manual transmission, and the most expensive Forester 2.0XT costs $36,220 with every option box checked. As a result, the 2014 Forester doesn't make a strong case for itself in terms of value, especially as Subaru clears out 2012/2013 new inventory with discounts and low-rate financing programs. This is especially true when loaded CPO Forester models with a better warranty and extended roadside assistance protection cost almost 20% less than the equivalent 2014 model -- at a minimum.
Therefore, the value argument swings in favor of the old Forester.
Technology
Let's get right to it, shall we? The redesigned 2014 Forester takes an enormous leap forward in terms of technology. Let's start with the standard upgrades, including electric steering, improved transmissions, a new brake override safety system and Bluetooth hands-free calling and music streaming capability. The Forester 2.0XT adds direct fuel injection and SI-DRIVE technology from the WRX sport sedan, that gives the driver a choice between three different driving modes. Additionally, some models equipped with a CVT get a new X-Mode locking control feature for the AWD system as well as a Hill Descent Control system.
Other technology upgrades for the 2014 Forester include an available keyless access and push-button ignition system, improved audio and navigation systems, smart phone integration with SMS text messaging capability and Subaru's new Starlink infotainment system which supplies access to Internet radio, Facebook and Twitter feeds, hotel and restaurant reviews and more. Let's not forget EyeSight, which adds three new safety technologies to the top Touring trim levels of both the 2.5i and 2.0XT.
AutoTrader's Recommendation
Subaru's new 2014 Forester represents significant improvements in the areas of fuel economy, technology and safety, while old 2009-2013 Foresters are compelling in terms of their value. Add a longstanding record for reliability that bodes well for both the old and the new Forester, and choosing between one or the other really comes down to what you need in your next crossover SUV, and how much money you have to spend.
Our single reservation in giving the nod to the old Forester is that NHTSA 2-star side impact, pole-test rating assigned to the 2011, 2012 and 2013 models. If you can live with that, and you can live without the impressive technological upgrades included for the 2014 Forester, the savings realized by going CPO will pay for all that extra gas the old Forester's slightly less powerful engines will use in comparison to the new one.