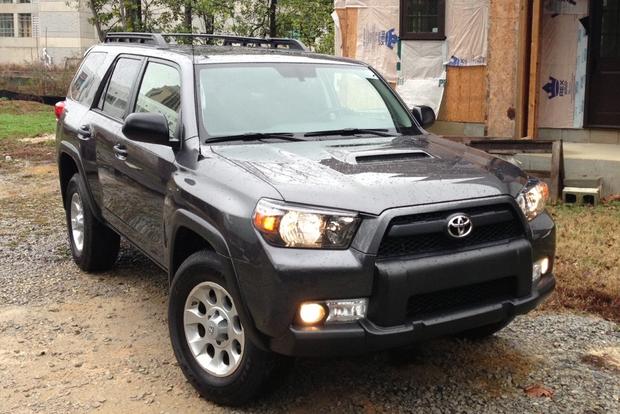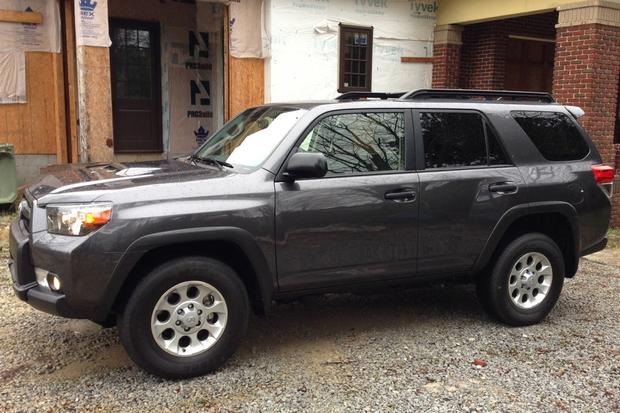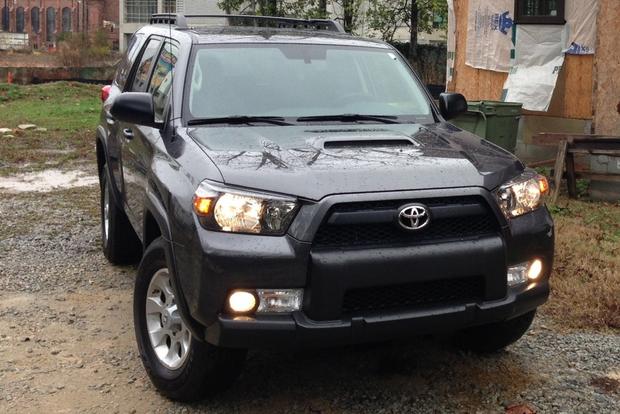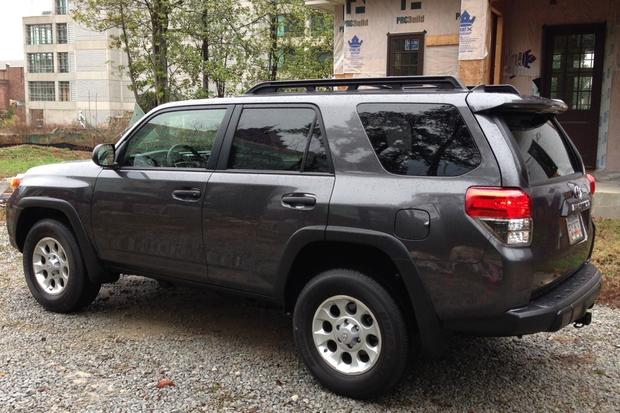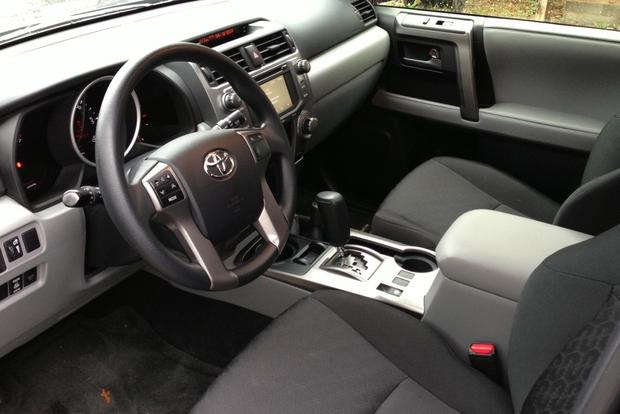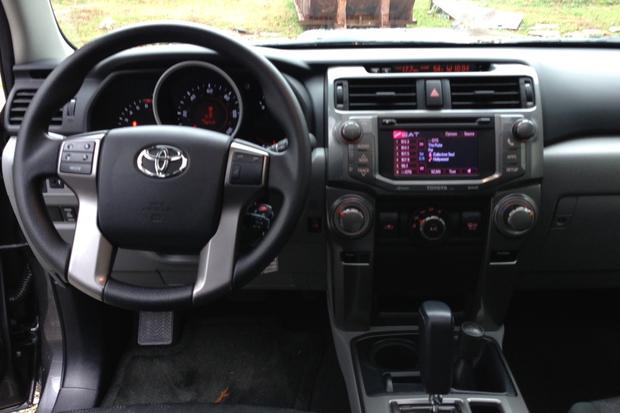 Today buyers can choose two types of SUVs. Shoppers interested in a smooth-riding vehicle for commuting and transporting families will want a car-based crossover. Meanwhile, those who prefer muscular styling and off-road ability will want a true body-on-frame SUV. Make no mistake, the 2014 Toyota 4Runner fits squarely into that second category, as we discovered during a recent week behind the wheel.
Still a Truck
While the 4Runner's dimensions aren't too different from those of Toyota's popular Highlander crossover, the two vehicles could hardly be more different. Where the Highlander drives like a car with better visibility and improved ground clearance, the 4Runner feels almost like a pickup that's sprouted a cargo area.
That feeling is intentional, as the 4Runner retains its old body-on-frame design (as opposed to a unibody design, such as the Highlander and other car-based crossovers) for improved off-road ability. It works, as the 4Runner is adept at tackling nearly any off-the-pavement surface. But for drivers who spend most of their time on the road, the SUV's sloppy handling, raised suspension and trucklike rough ride may get tiresome quickly. If you're looking for comfortable family transportation that's easy to steer around town, you may want to think again before signing the papers on a 4Runner.
Equipped for the Jungle -- and Little Else
But most 4Runner buyers aren't looking for an around-town cruiser. Instead, they tend to live with the SUV's on-road limitations to get its muscular styling, off-road capabilities and bulky, go-anywhere attitude. Fortunately, the 4Runner completely delivers in each of those areas -- though its abilities, style and attitude come at a steep price.
That price, at least for our mid-level 4Runner Trail, was more than $40,000 -- a figure that shocked everyone who rode in or drove it. It's a steep number when you consider that our test car didn't have automatic climate control, leather upholstery, heated seats or keyless access with push-button starting. Most of those features are now standard fare on Honda and Toyota sedans priced $10,000 or $15,000 below the 4Runner.
What the 4Runner Trail did include, however, was a long list of features that improved its off-road capability. Think raised suspension, knobby tires, rock rails and electronic features such as crawl control and a locking rear differential. If you're a fan of getting off the pavement, these items alone may sell you on the 4Runner's $40,000 price tag; if not, you may want to look elsewhere for something more reasonably priced and better suited to your needs.
Pros and Cons
We've covered the 4Runner's main benefits (off-road capability and muscular styling) and its main drawbacks (trucklike ride and a steep price tag). But there are still a few other items -- both positive and negative -- that we think are worth mentioning.
For positive attributes, we have to praise the 4Runner for its excellent durability. Even when you're just climbing inside, you quickly get the feeling that the SUV was built to last thanks to quality construction and buttons, panels and doors that feel exactly as though they could survive some serious miles and rough terrain. This trademark durability has been a hallmark of the 4Runner since its debut in the mid-1980s.
We also enjoy the 4Runner's roll-down rear window, which circulates air throughout the cabin very well. Although only a few vehicles offer this feature, we wish it was standard on every SUV and hatchback. We also wish more SUVs and hatchbacks had the 4Runner's visibility, which is a function of its large windows and upright design.
Of course, there are also a few drawbacks to the 4Runner beyond its pricing and ride quality. The biggest is the SUV's engine and transmission, which are dated and slow. They also deliver poor fuel consumption -- a tough combination, especially if gas prices shoot up again. And there were few kind words for the 4Runner's seats, which are flat and provide little comfort for long-distance trips.
Expensive Off-Roader
We came away from our week with the 2014 Toyota 4Runner thinking that it's the perfect vehicle for drivers who spend more time on rough roads and trails than commuting to the office. Indeed, if your days include mountain biking, skiing, off-roading or hiking, the 4Runner may be the SUV for you -- provided you can stomach the price tag. But if you spend more time commuting than roaming free, we think you'll be put off by the 4Runner's fuel economy, ride and engine performance. We also think you'd be better off with a Toyota Highlander, which suffers from none of those drawbacks.