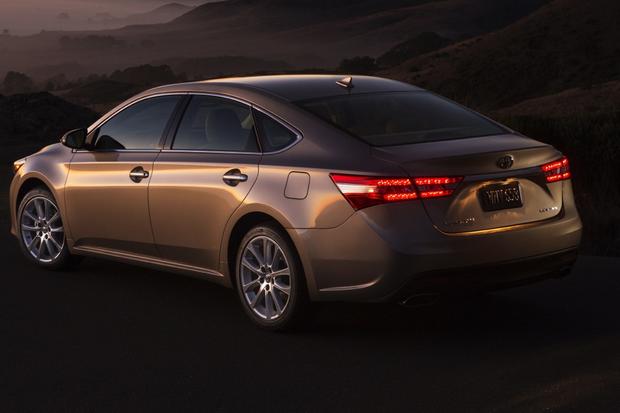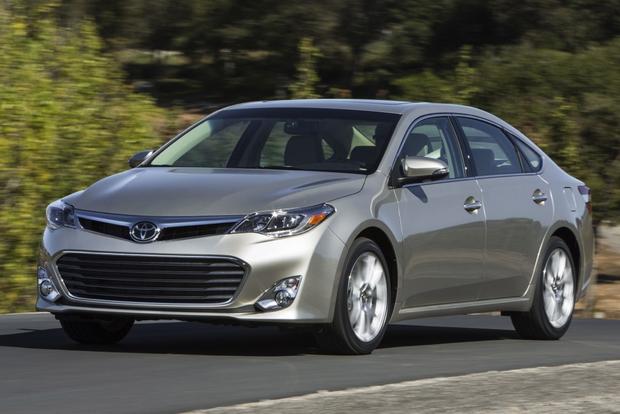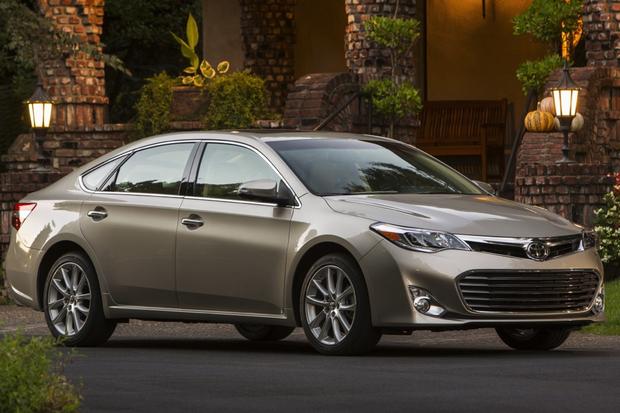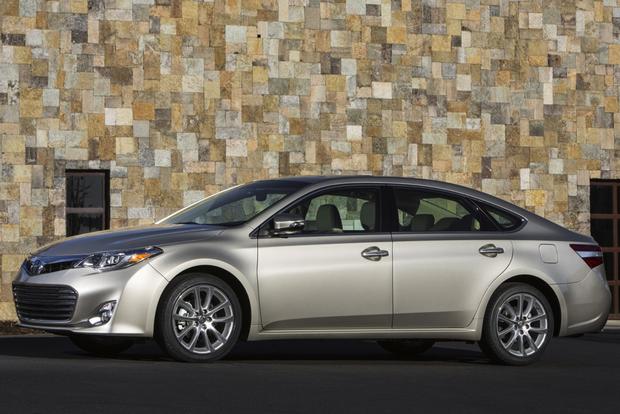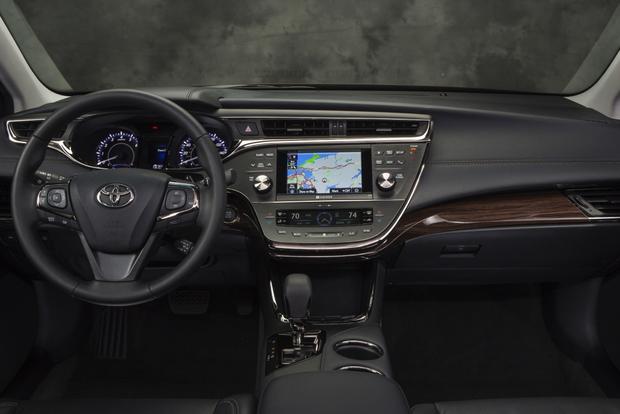 The full-size 2014 Toyota Avalon is entering its second year after a full redesign -- a redesign that completely transformed the sedan's appearance, interior, driving characteristics and even engine lineup.
The most important update is that the Avalon's old sofa-soft ride is gone, replaced by a supple but surprisingly taut setup that actually makes the sedan surprisingly fun to drive. Time will tell whether it's the right fit for traditional buyers, but this newfound sportiness seems certain to extend the Avalon's appeal to younger generations.
Equally notable is the revamped look inside and out. The Avalon now resembles a Camry from the front and a Ford Fusion from the side, with a dash of Hyundai Azera in back. It's a home run, conveying both classy restraint and a contemporary sensibility. The same goes for the modernized cabin, which employs a sleek, driver-centric control layout and visibly up-to-date technology.
The new Avalon is also available for the first time as a hybrid, featuring essentially the same power system as the Camry Hybrid. The fuel economy is unprecedented for a large sedan, clocking in at a whopping 40 miles per gallon overall. Happily, the non-hybrid Avalons continue to rely on Toyota's 3.5-liter V6, a wonderful engine that always seems to punch above its weight.
While the latest Avalon is decidedly different from the car it replaces, it's also better in nearly every measurable way. See if the ride quality is to your liking. If so, you'll likely find the rest of the package tough to resist.
What's New for 2014?
After a full redesign last year, the Avalon is unchanged for the 2014 model year.
What We Like
Excellent standard V6; hyper-efficient Hybrid model; adept handling; smooth styling; big back seat; plenty of technology
What We Don't
Ride is firmer than it used to be, and fancier models get luxury-grade pricing
How Much?
$32,100-$40,200
Fuel Economy
The Avalon offers two engines. Gas-powered models use a 268-horsepower 3.5-liter V6 that's been a mainstay in the Toyota lineup for years. It uses a 6-speed automatic and returns 21 mpg city/31 mpg hwy. Opt for the Avalon Hybrid and you get a 156-horsepower hybrid 4-cylinder mated to a CVT automatic. That model returns 40 mpg city/39 mpg hwy.
Standard Features & Options
The Avalon is offered in four trim levels: XLE, XLE Premium, XLE Touring and Limited. Both gasoline and hybrid models come in Premium, Touring and Limited trims, while the base-level Avalon XLE is solely restricted to the gasoline-powered model.
Things start off with the base-level Avalon XLE ($32,000), which is offered only with the sedan's V6 engine. Standard features include automatic headlights, 17-inch alloy wheels, leather upholstery, power front seats, heated front seats, keyless entry and ignition, a rearview camera, Bluetooth, an iPod hookup and a 6.1-in, center-mounted touchscreen.
Next up is the XLE Premium ($34,000 for the V6; $36,200 for the Hybrid). It adds improved keyless entry functionality (bringing the feature to the rear doors), a power sunroof, a built-in garage door opener and an auto-dimming rearview mirror.
After that comes the XLE Touring ($35,800 for the V6; $37,500 for the Hybrid). It adds larger wheels, fog lights, an improved sound system and, most importantly, a navigation system that includes satellite radio and Toyota's Entune app integration system.
Topping the sedan's range is the Limited ($40,200 for the V6; $42,000 for the Hybrid). It boasts a long list of upscale features such as rain-sensing wipers, blind spot monitoring, heated rear seats, ventilated front seats, a power rear sunshade, a larger touchscreen, rear cross-traffic alert and tri-zone automatic climate controls.
Options are primarily limited to features found on higher trim levels. In the case of the Avalon Limited, options include automatic high beam control, adaptive cruise control and a pre-collision system that tightens the seat belts and primes the brakes.
Safety
The 2014 Toyota Avalon has 4-wheel anti-lock disc brakes, stability control and 10 standard airbags. Available features include rear cross-traffic alert, blind spot monitoring, a pre-collision system, automatic high beam control and adaptive cruise control.
In government crash tests, the Avalon earned a 5-star overall rating. That score consisted of a 5-star side-impact rating and 4-star ratings in frontal and rollover assessments.
Behind the Wheel
On the road, the 2014 Avalon is much tighter and more responsive than its predecessor. Whereas the old car pitched and rolled in corners, the new one stays respectably flat, even feeling like it wants to play at times. Predictably, the ride quality no longer reminds us of a classic Mercedes, having lost some of its cushiness in the transition. It's still quite refined, but the character here has changed for the sportier. In keeping with past Avalons, road and wind noise is suppressed at all speeds.
In our interior evaluation, we immediately noticed that the Avalon's front seats are no longer flat and soft like your favorite easy chair. Toyota has added real contours this time, and there are even modest side-bolsters to keep you planted in corners. In back, the sloping roofline still leaves enough headroom for 6-footers, while the copious legroom might even satisfy the 7-foot segment.
Most controls are straightforward; however, the high-tech IntelliTouch buttons on the center stack may require an adjustment period. Toyota says they're responsive to gloved fingers and long fingernails, but the jury's out on their small size and similar appearance at a glance. On the bright side, the gauges are Lexus-like in their crispness and clarity. The quality of the materials also satisfies.
Trunk space in the regular Avalon has improved significantly, measuring a competitive 16 cu ft versus the outgoing trunk's subpar 14.4 cu ft. Laudably, the Avalon Hybrid's trunk can still hold 14 cu ft despite sharing that region with the hybrid system's concealed battery pack.
Other Cars to Consider
Chrysler 300 -- Riding atop a rear-wheel-drive platform with Mercedes roots, the 300 is a champ on the highway and offers the excellent uConnect 8.4 interface along with optional HEMI V8 power.
Hyundai Azera -- Bursting with features and flair, the Azera is the latest example of Hyundai's transformation into a maker of legitimate luxury cars. But the Avalon's V6 is hands-down better than the Azera's, and the Hyundai doesn't come as a hybrid.
Lincoln MKZ -- Lincoln's midsize luxury sedan is a new shining star in this segment, offering bold styling and several available powertrains, including a more efficient hybrid 4-cylinder than the Avalon's available hybrid engine.
AutoTrader's Advice
The best Avalon is an XLE Premium, which offers all the features you'd want without breaking the bank. Such features include an available hybrid 4-cylinder, which may be a little down on power for some drivers. But if that's the case, the sedan also offers a muscular V6 for shoppers interested in extra oomph.