Car Comparison
2014 Toyota Highlander vs. 2014 Hyundai Santa Fe: Which Is Better?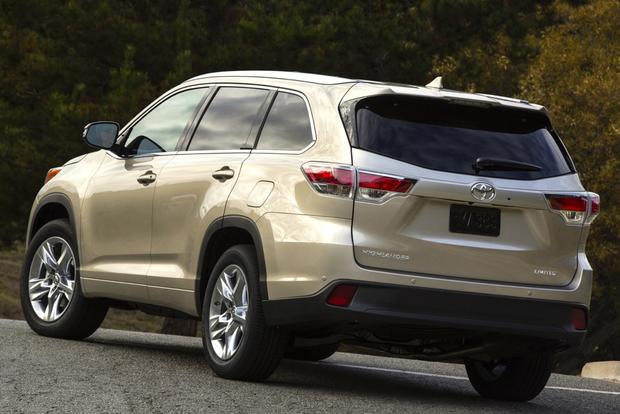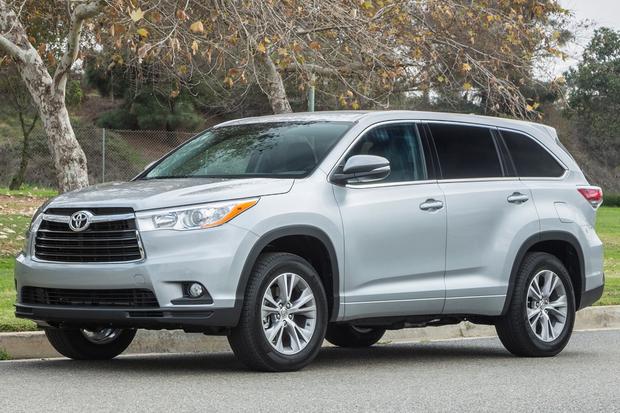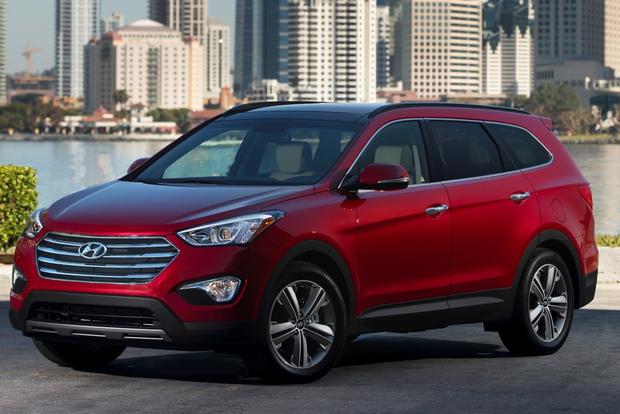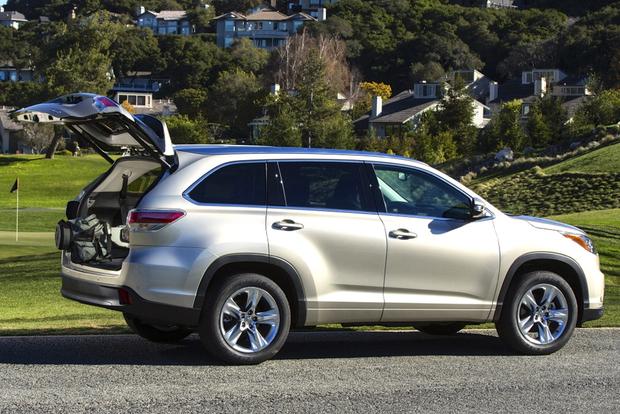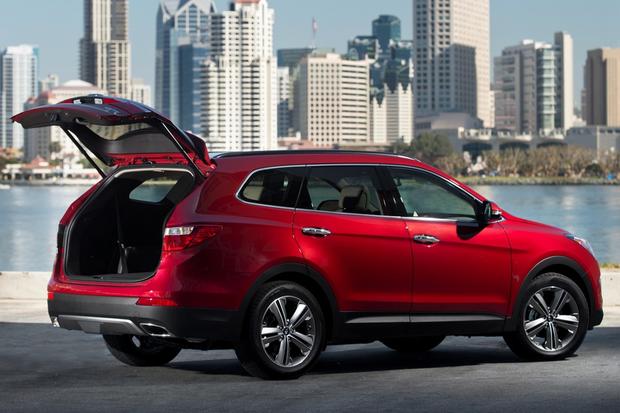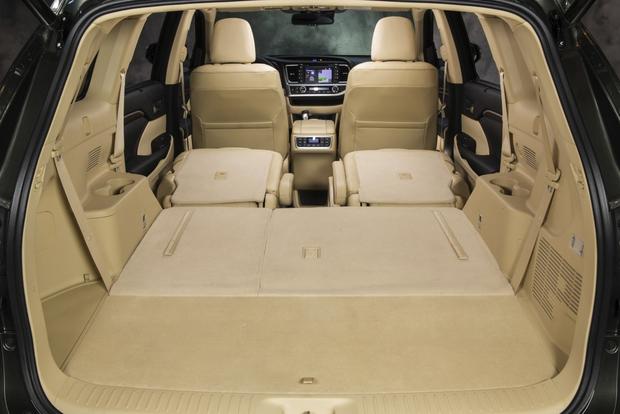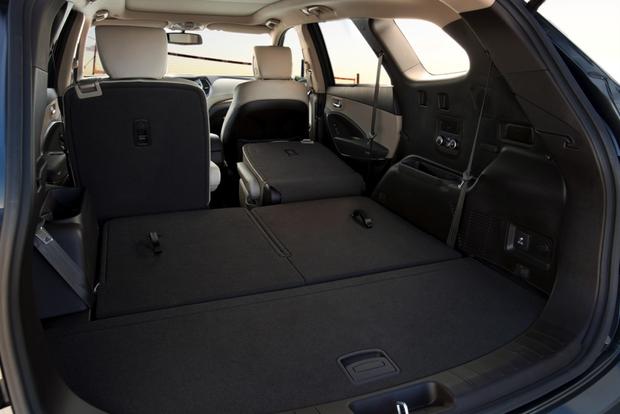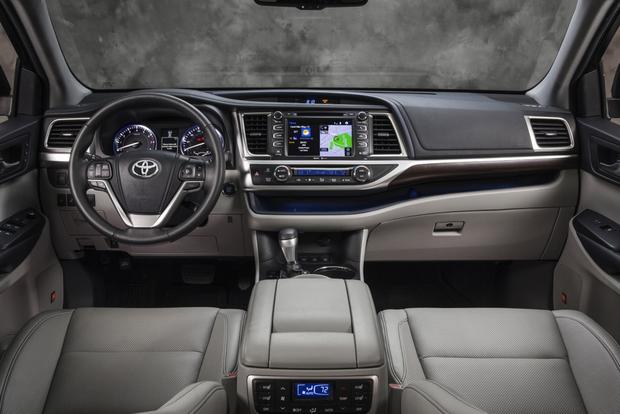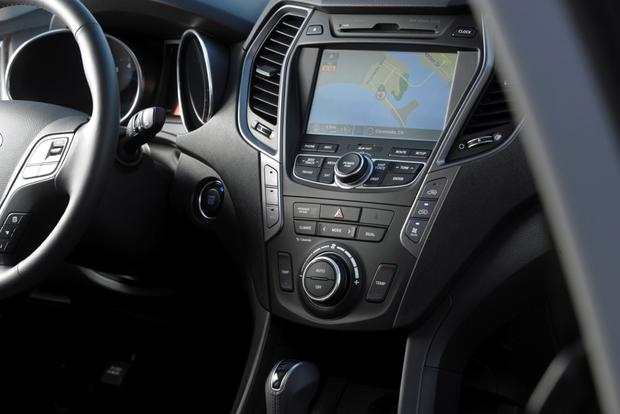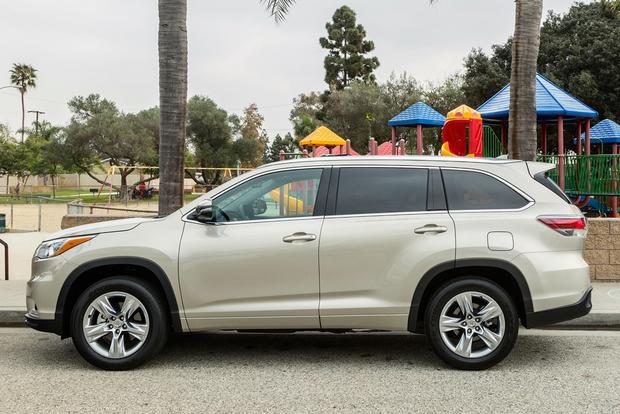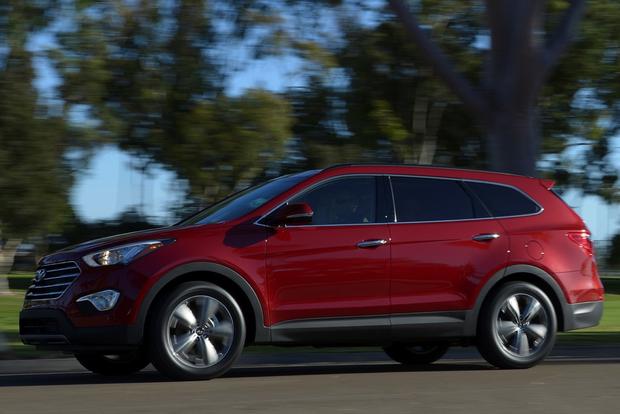 If you're interested in buying a new family crossover, your shopping list probably includes the 2014 Toyota Highlander and the 2014 Hyundai Santa Fe -- two of today's top new models for drivers interested in an excellent new 3-row SUV. Which one is better? We'll find out in our latest article, but first let's see what's new with each SUV for the 2014 model year.
2014 Toyota Highlander
The Toyota Highlander is fully redesigned for the 2014 model year. In addition to new styling, there's a vastly upgraded new interior, a new 6-speed automatic transmission for better gas mileage, available 8-passenger seating and a few new features.
2014 Hyundai Santa Fe
The Santa Fe adds a few new options for 2014, including a blind spot monitoring system, rear parking sensors, high-intensity headlights, LED taillights, ventilated front seats and memory seats.
Reliability
Rating automotive reliability for a newly released car can be hard, but J.D. Power takes a shot at it, assembling data from previous model years and early reports of issues. According to J.D. Power, the Santa Fe's reliability is only average -- worthy of three circles out of five in the firm's Power Circle Ratings -- while the Highlander scores an above-average four circles out of five.
In terms of warranty lengths, however, the two vehicles differ more drastically. While the Highlander offers a shorter 3-year/36,000-mile bumper-to-bumper warranty and a 5-year/60,000-mile powertrain warranty, the Santa Fe boasts a long 5-year/60,000-mile bumper-to-bumper warranty and a 10-year/100,000-mile powertrain warranty -- the best coverage in the industry. The Highlander also offers 2 years or 25,000 miles of free maintenance -- something that isn't available with the Santa Fe.
In the end, reliability is a tie. While the Highlander may be a little more reliable than the Hyundai, the Santa Fe offers a much longer warranty -- big news to shoppers who keep their cars for a long time.
Fuel Economy
The 2014 Hyundai Santa Fe offers one engine: a 290-horsepower 3.3-liter V6 that makes 18 miles per gallon in the city and 25 mpg on the highway with front-wheel drive or 18 mpg city/24 mpg hwy with all-wheel drive (AWD). Meanwhile, the Highlander's 270-hp V6 returns 19 mpg city/25 mpg hwy with 2-wheel drive or 18 mpg city/24 mpg hwy with AWD, showing that there's practically no difference between the two SUVs.
In addition to its V6, the Highlander also offers a 4-cylinder, which is designed for better gas mileage than the V6 can provide. The 4-cylinder -- which makes 185 hp -- returns only marginally better fuel economy than the V6, reaching 20 mpg city/25 mpg hwy.
Fuel economy is almost a dead heat between the Santa Fe and the Highlander, especially when you consider that the vast majority of Highlander sales are V6 models. Still, the Highlander's 4-cylinder offers a slight benefit for mileage-obsessed drivers, so the Toyota takes a slight victory here.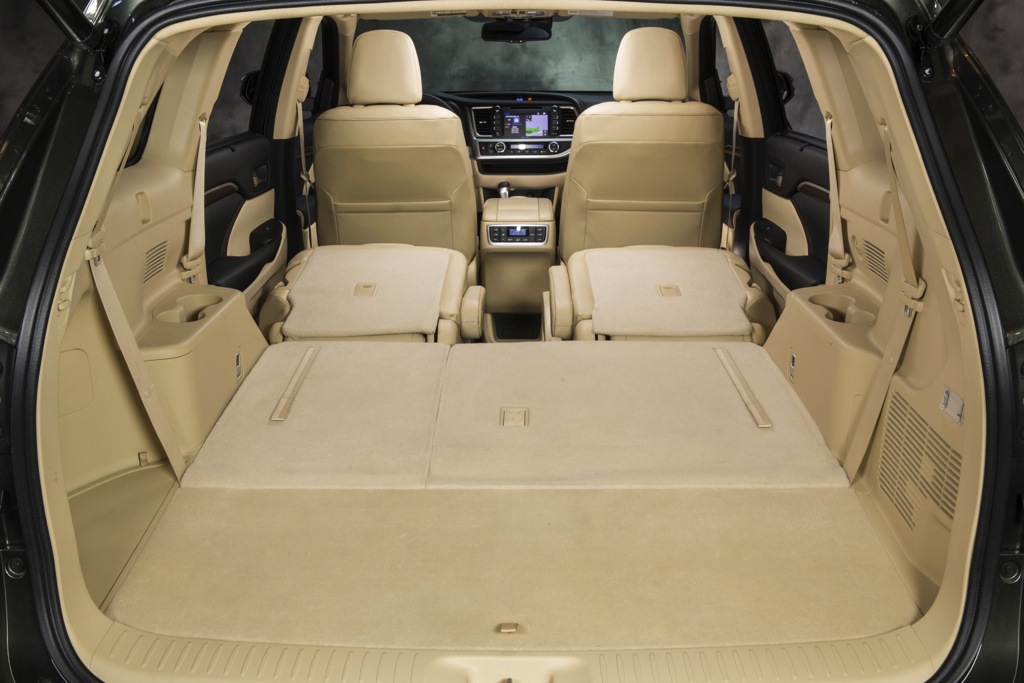 Safety
When it comes to overall safety, we consider both crash-test ratings and safety features. In terms of crash-test ratings, the Highlander boasts an exemplary score -- five stars overall in National Highway Traffic Safety Administration (NHTSA) tests and a Top Safety Pick+ score from the nonprofit Insurance Institute for Highway Safety (IIHS). By comparison, the Santa Fe also scores highly in IIHS tests, though it stopped short of earning the Top Safety Pick+ rating. And while NHTSA has not yet tested the Santa Fe, the slightly smaller Santa Fe Sport has earned a perfect 5-star overall rating.
As far as safety features, the Highlander takes a commanding lead. Though base-model Highlander and Santa Fe trims offer similar levels of equipment, the Highlander touts several optional features that the Santa Fe simply doesn't have, including rear cross-traffic alert, adaptive cruise control and a lane-departure warning system. Hyundai has added available rear parking sensors and a blind spot monitoring system for 2014, but the new features still can't touch Toyota's wide array of equipment. As a result, we have to give the safety category to the Highlander.
Technology
The Highlander is a little newer than the Santa Fe, with the Toyota fully redesigned for 2014 and the Hyundai all new for the prior year. As a result, you'd expect the Highlander to have a few more gadgets than the Hyundai -- and it does.
Chief among them are, as we described, the safety features. While the Santa Fe offers a blind spot monitoring system and rear parking sensors, the Hyundai simply can't touch the Highlander's impressive array of high-tech safety gadgets, ranging from rear cross-traffic alert and adaptive cruise control to a lane-departure warning system.
Beyond that, the Highlander and Santa Fe are pretty similar on the gadget front. Both cars offer a lot of other upscale new features, including a panoramic sunroof, a heated steering wheel, xenon headlights and a highly capable navigation system. Both vehicles feature all the high-tech items that you'd expect them to, including a power lift gate, keyless entry and ignition, and Bluetooth.
Value
On the surface, the Highlander and Santa Fe are highly similar crossovers, save for a few slight differences here and there. That's also true when you consider pricing: The Santa Fe is a little more expensive than the Highlander, but it includes more standard features and a V6 instead of a standard 4-cylinder, making it difficult to decide exactly which crossover offers the best value.
Nonetheless, we suspect that most shoppers will end up with a midrange version of the Santa Fe or Highlander -- not a base model but also not an all-out high-end trim with every option. If that sounds like you, the Santa Fe offers the better deal: For around $34,500, it significantly undercuts the $37,000 Highlander XLE on price and includes an impressive array of standard equipment. No, it can't quite touch the Highlander for gas mileage or technology, but if value is your top consideration, then it's hard to go wrong with Hyundai's aggressive pricing and extensive warranty.
AutoTrader's Advice
If your family-crossover decision has come down to the 2014 Hyundai Santa Fe and the 2014 Toyota Highlander, then you're certainly in the right place. Both crossovers are excellent choices, offering a lot of modern comfort and convenience features, spacious interiors, excellent safety ratings and strong reliability.
In the end, however, your pick will depend on exactly what you value most: If you're looking for the best crossover, the Highlander is probably the one for you due to its slightly better reliability, improved gas mileage, wider range of safety features and extra technology. But if you want the best deal, it's hard to beat the Santa Fe's competitive pricing, especially when combined with its excellent standard features and its impressive warranty.
Find a Toyota Highlander or a Hyundai Santa Fe for sale