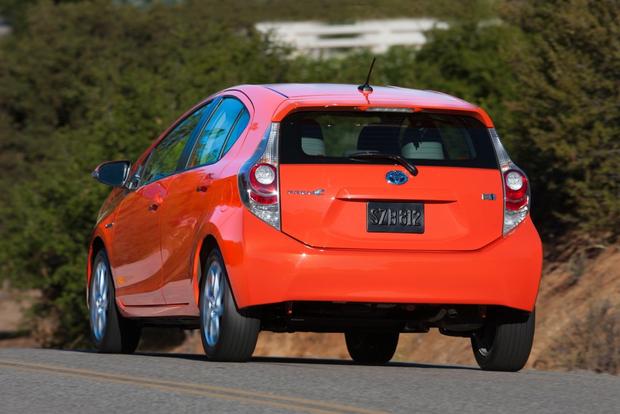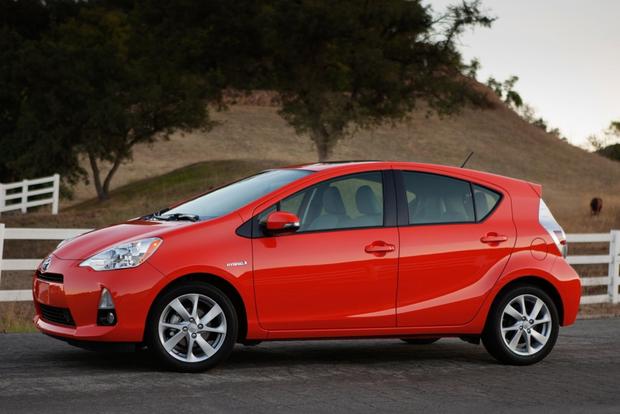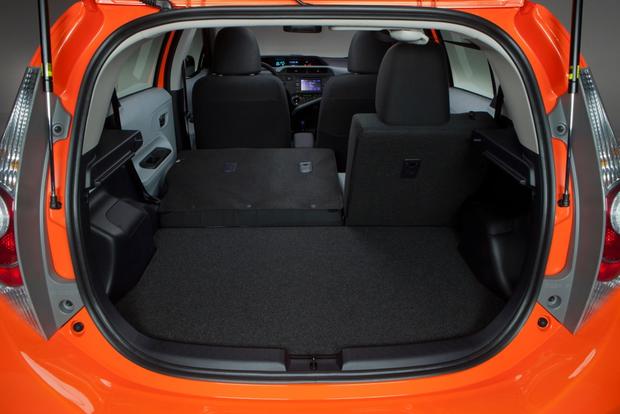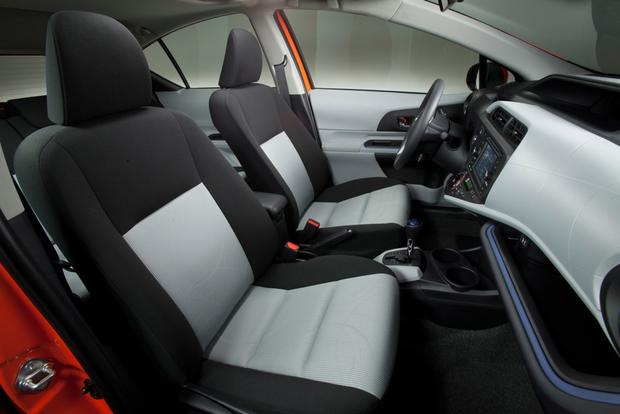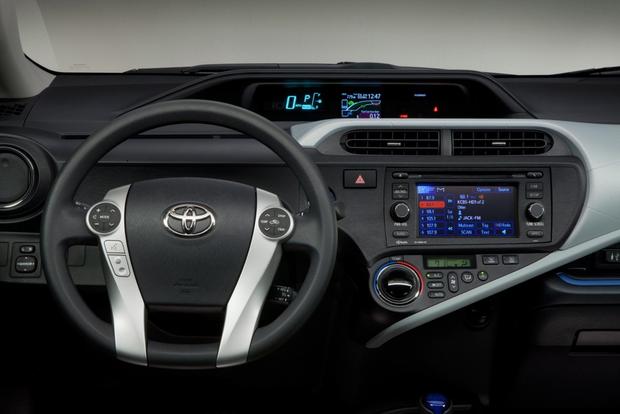 The 2014 Toyota Prius c is the newest member of the Toyota Prius family. While it's a lot like other Prius models -- with its hybrid engine, 4-cylinder power, great gas mileage and 5-door hatchback body style -- it differs in a few key areas. One is price: The Prius c starts around $20,000 with shipping, which is about $5,000 less than the standard Prius. But the Prius c is also much smaller than the standard Prius and Prius v. So how does the Prius formula translate to a smaller scale?
Not Very Prius-Like
If you're buying a Prius c to save money at the pump, you'll likely be delighted -- the Environmental Protection Agency says the Prius c returns 53 miles per gallon in the city and 46 mpg on the highway. But if you're interested in the Prius c as a smaller version of the standard Prius, we think you might find some major differences between the two cars.
You'll notice the first difference as soon as you sit inside. The Prius c's cabin isn't up to the standards of the Prius or the Prius v, and that's immediately apparent from the quality of materials used in the dashboard, the center console, the controls and other areas. You'll also quickly discover that the Prius c offers a rougher ride than the standard Prius. It's certainly not the same smooth, midsize hybrid; rather, it's an inexpensive subcompact car that happens to have a hybrid engine.
As a result, shoppers who want the Prius experience should probably step up to a standard Prius, or consider a used model. But those who just want a fuel-efficient economy car should read on.
Excellent Economy Car
The primary reason that the Prius c is such a great economy car is simple: gas mileage. With a fuel economy rating of 53 mpg city/46 mpg hwy, the Prius c offers the best mileage of any non-electric vehicle on sale today. Couple that with Toyota's legendary reliability and strong resale value, and the Prius c makes a lot of sense for shoppers interested in a new, low-cost vehicle.
We found the Prius c to be surprisingly practical, too. Interestingly, our testers differed on reports of cabin space. Our site editor, Brian, noted that the rear seat was a little tight, while our college senior intern Sadie said she was surprised by the back seat's ample space. In the end, we think the Prius c's interior space is about average for a subcompact, but you shouldn't expect to use it as a family car. It's the same for trunk space: While the cargo area is smaller than most compact cars, it's good for a subcompact -- especially when you consider that the Prius c is lugging around space-stealing batteries.
Subpar Behind the Wheel
We were a little less enthralled with the Prius c when we spent some time behind the wheel. Of course, it's a compact car, so we expected there to be few luxuries such as sound-deadening materials or ultra-comfortable seats, and we anticipated something of a rough ride. But we ended up finding several flaws beyond those.
Sadie noted, for example, that the Prius c's rear window is very small -- a problem that becomes even more critical when there are passengers in back, as their heads will block a large portion of your rear visibility. We were also disappointed with the tiny center console, which has no room for storage, and the unnecessarily bulky dashboard that makes it almost impossible to reach over from the driver's seat without unbuckling the seat belt.
Another thing that surprised us is the fact that, in spite of its small rear window, the Prius c doesn't offer a backup camera. As Brian pointed out, this is even more perplexing when you consider that our Prius c test car had two center-mounted screens, either of which would be a great place for the camera's display. In fact, the Prius c doesn't even offer park assist, though we admit that its small size makes it very easy to park once you've learned its dimensions.
But it's not all bad news. The Prius c offered a few things that pleased our test drivers, such as keyless entry. It even boasts a push-button start system (a standard feature on the Prius c Three model) which is uncommon on a car at this price level. We also enjoyed the Prius c's city-friendly maneuverability -- due largely to its tight turning radius -- and its quiet engine operation, which is a result of the car's hybrid drivetrain.
Our Take
In the end, the 2014 Toyota Prius c is the perfect car for some drivers, and a bad idea for others. If you're primarily focused on fuel economy, cost of ownership and reliability, this could be a great car for you -- especially if you aren't affected by issues like visibility, ride quality, interior materials or driving experience. But if you're searching for a vehicle with a hint of luxury or some high-tech gadgets, the Prius c isn't your car. In that case, you'd be better served by a standard Prius, a non-hybrid, or anything but Toyota's most frugal economy car.