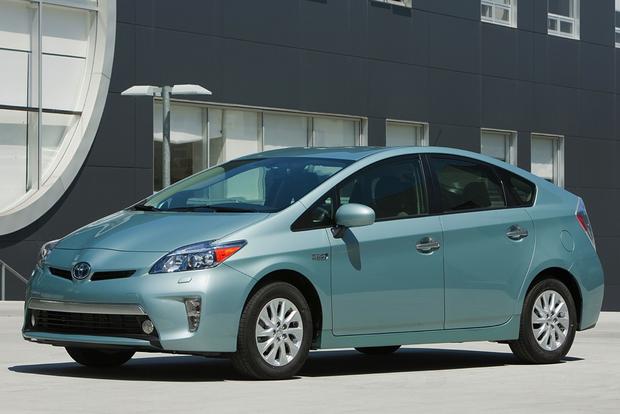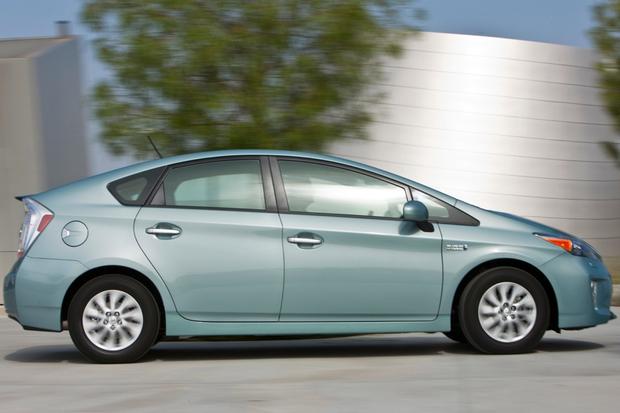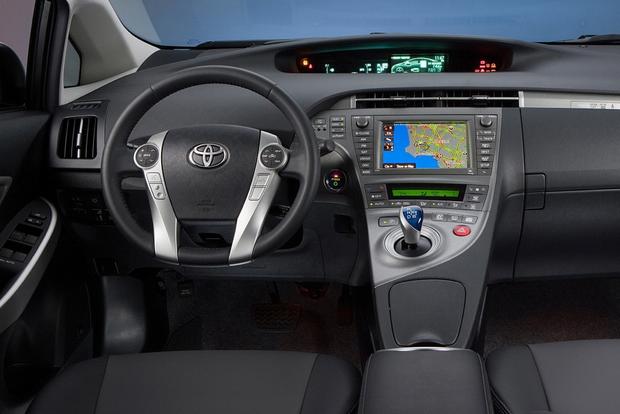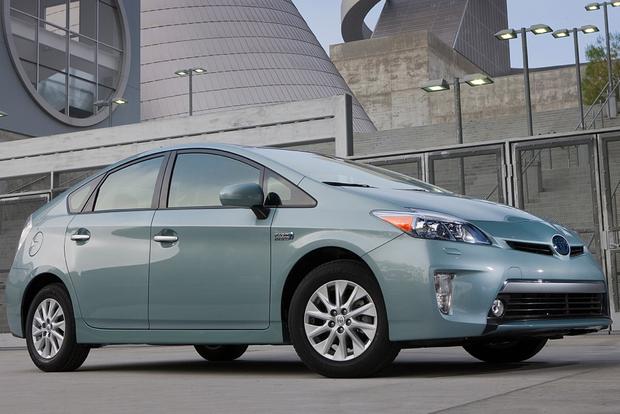 Although Toyota has long been the leader in gas/electric hybrid technology, the 2014 Toyota Prius Plug-in Hybrid is blazing new trails for the company. Competitors have been coming out of the woodwork over the past few years -- led by the Chevrolet Volt, which beat Toyota to the mainstream market with plug-in functionality for sustained electric driving. And now Ford's getting in on the action with the C-MAX, Focus and Fusion plug-in hybrids. And of course, there are also several fully electric models from rivals like Nissan and Mitsubishi. From Toyota's perspective, the gauntlet has clearly been thrown.
So, is the Prius Plug-in Hybrid a compelling response? Not entirely, but we'll call it a good start. It does get Toyota back into the conversation about cutting-edge hybrid technology, and that's an important step. But with less than half of the Volt's electric range, not to mention a 62-miles-per-hour absolute limit in electric mode, the Prius Plug-in doesn't move the goalposts in the plug-in world like past Prius models have done in the world of electric vehicles. Think of it as a Prius for folks who'd like a full-electric option for running errands around town.
We suspect there are quite a few folks who will find this formula compelling. For one thing, the Toyota is considerably cheaper than the Volt, checking in at under $30,000 after the full federal tax credit has been applied. For another, it's more efficient in gas/electric hybrid mode, returning an eye-popping 50 miles per gallon. And unlike the relatively cramped Volt, the Prius Plug-in can accommodate four adults in reasonable comfort. Indeed, if you're a Prius fan in search of more electrons, the Prius Plug-in likely won't disappoint.
What's New for 2014?
After a 2012 debut, the Prius Plug-in is unchanged for the 2014 model year.
What We Like
Full electric mode for gas-free driving; fast recharging times; superior fuel economy in gas/electric hybrid mode; handy hatchback design
What We Don't
Electric mode is limited to 15 miles and 62 mph; economy-car driving experience at a near-luxury price; limited availability
How Much?
$30,600-$35,500
Fuel Economy
The Prius Plug-in uses a 1.8-liter 4-cylinder that puts out 134 horsepower, just like the regular model. But don't be fooled by the powertrain's similarity: The Plug-in boasts the ability to travel up to 15 miles in fully electric mode -- something the standard Prius doesn't offer. Fuel economy is 95 mpg "equivalent" (mpge), the Environmental Protection Agency's rating for electric vehicles and plug-in hybrids. That places it just shy of the Volt's 98 mpge. In gas and electric mode, fuel economy comes in at 50 mpg in combined city and highway driving. Recharge times are 1.5 hours with a 240-volt outlet and three hours with a standard 120-volt power supply.
Standard Features & Options
The Prius Plug-in comes in two available trims: a base-level model dubbed simply the Prius Plug-in, and an upscale Prius Plug-in Advanced.
The standard Prius Plug-in ($30,600) boasts automatic headlights, alloy wheels, Bluetooth, heated front seats, automatic climate control, a navigation system with voice control, a reversing camera, and a long list of audio features including a CD player, an iPod/USB interface, satellite radio, and HD radio. The model also includes a center-mounted touchscreen.
Above the regular model is the Prius Plug-in Advanced ($35,500), which adds a larger touchscreen, adaptive cruise control, upgraded upholstery, a power driver's seat, an auto dimming mirror and a head-up display.
Safety
The 2014 Toyota Prius Plug-in comes with standard stability control, 4-wheel anti-lock disc brakes, active front head restraints and seven airbags, including a driver knee airbag.
In government crash testing, the Prius Plug-in received an overall rating of four stars out of five, consisting of a four-star rating for frontal impact protection and a five-star mark in side impacts. The independent Insurance Institute for Highway Safety has not tested a Prius Plug-in, but it awarded the regular Prius the top rating of Good in all categories.
Behind the Wheel
We noticed more road noise than expected in the Prius Plug-in, perhaps because the ordinarily grumbly gas engine goes completely silent in EV mode. The ride is smooth enough, but pavement seams sometimes send economy-grade quivers through the structure. As with all Prius models, the handling is numb and indifferent. Don't get us wrong, the Prius Plug-in drives just fine for normal commuting duties and the like. But if it seems we're being harsher here than in the regular Prius review, that's because the more expensive Plug-in competes on price with a lot of very capable and luxurious cars. Consider that Toyota's excellent new Avalon sedan is available for about the same cost.
In our interior evaluation, we found that the Prius Plug-in's front seats aren't particularly memorable for their comfort or support. But as in the regular Prius, we really like the way the dashboard curves toward the driver. It gives the cockpit a spaceship-like feel, which seems appropriate in such an advanced car.
The gauges, too, look ready for outer space, comprising a variety of digital readouts and diagrams describing what the hybrid powertrain is up to. Interior materials aren't luxury-grade, even in Advanced trim, but they don't seem cheap, either.
The rear quarters are a step down from what you'll find in a midsize car like the Camry Hybrid, but there's still ample room for full-sized adults back there. While the same is true of the C-MAX Hybrid, the Volt's legroom-deficient back seat doesn't measure up.
Remarkably, the Prius Plug-in offers the same 21.6-cu-ft trunk capacity as the regular Prius despite its larger battery pack. Moreover, the 60/40 split rear seat backs fold down to accommodate larger items.
Other Cars to Consider
Chevrolet Volt -- The Volt's bloated bottom line remains an issue, but it's more rewarding to drive than the Toyota, and its EV mode is the real deal.
Ford C-MAX Energi -- On paper, Ford's plug-in people-mover is a superstar, boasting 21 miles of electric range, an 85-mph top electric speed and genuinely engaging handling. The only drawback is that the battery pack is poorly integrated into the trunk floor.
Nissan Leaf -- The Leaf is purely electric, so it's not the answer if you need a car for road trips. But with a range of up to 73 miles, it's the ultimate electric grocery-getter.
AutoTrader's Advice
There's no question the Plug-in Prius can be nicely equipped with lots of high-end options. However, that can push the price into the $40,000 range, and we just can't see dropping that kind of money on a Prius. For the best combination of value and fuel sipping, we recommend a traditional Prius rather than a plug-in model.