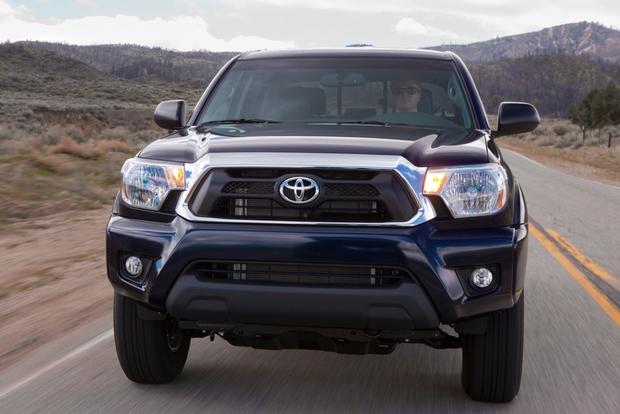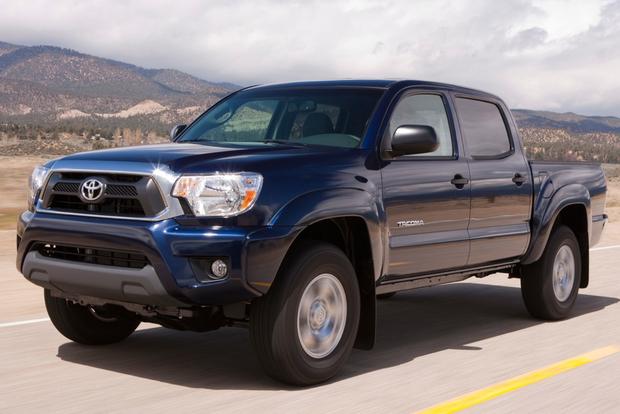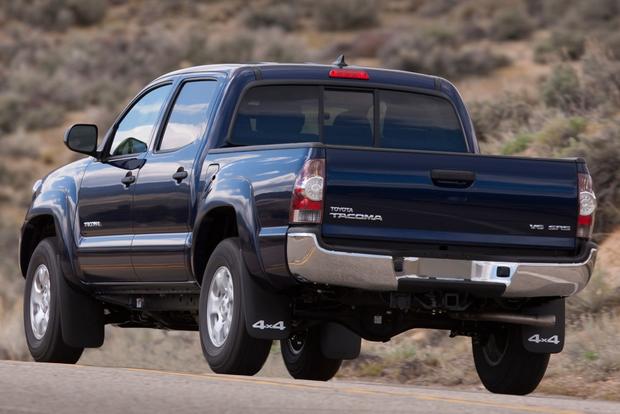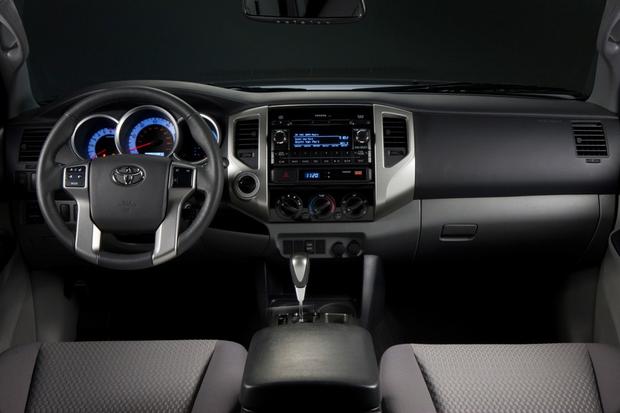 Why should you consider a 2014 Toyota Tacoma? Maybe because you don't need an enormous truck that could tow your residence off its foundation, that's why.
Sure, those big trucks get all the press with their incredible capabilities, but they also require sacrifices. If you want to squeeze into a tight parking space at the mall, for example, best of luck in the massive Tundra. If you want your truck to feel maneuverable and nimble on the road, the F-150 will probably leave you cold. In truth, these full-size beasts aren't designed for the cut-and-slice of congested daily driving.
Fortunately, the Tacoma is. Granted, it's not nearly as compact as it used to be, but its midsize dimensions are still tidy enough to make it a viable urban option. It's even fun to drive. Plus, the newly standard Entune audio system ensures that no Tacoma driver will lack for rush-hour entertainment.
Don't get us wrong, the Tacoma is still a proper truck. To wit, it'll tow up to 6,500 pounds and haul about 1,500 pounds with the V6. Plus, it's a champ off the beaten path with 4-wheel drive.
But it's also happy to be your errand-running companion and hang out in your apartment's parking garage at night. And that's why, for many current truck-shoppers, the Tacoma just might offer the best of all worlds.
What's New for 2014?
The Tacoma makes two changes for 2014. Toyota's Entune audio system is newly standard, while the sporty SR package is newly optional.
What We Like
Muscular V6; numerous body styles; convenient in-between size; sporty interior
What We Don't
Fuel economy isn't great; starting to show its age
How Much?
$18,800-$29,100
Fuel Economy
Most Tacomas offer a choice of rear- or 4-wheel drive with low-range gearing. The base engine is a 2.7-liter inline 4-cylinder rated at 159 horsepower and 180 lb-ft of torque, and it comes with either a 5-speed manual transmission or a 4-speed automatic. Despite the engine's small size, fuel economy is surprisingly unimpressive -- the maximum is 21 miles per gallon city/25 mpg hwy with the rear-wheel-drive manual, while the 4-wheel-drive manual dips to just 18 mpg city/21 mpg hwy. Automatic 4-cylinder Tacoma models return 19 mpg city/24 mpg hwy with 2-wheel drive or 18 mpg city/21 mpg hwy with 4-wheel drive.
The muscular 4.0-liter V6, which cranks out 236 hp and 266 lb-ft, is much less efficient. Four-wheel-drive versions return 16 mpg city/21 mpg hwy with the automatic, or 16 mpg city/19 mpg hwy with the manual. Two-wheel drive models reach 17 mpg city/21 mpg hwy with the automatic or 16 mpg city/21 mpg hwy with the manual.
Standard Features & Options
The Tacoma doesn't really do trim levels. Instead, buyers choose a bed length (short or long), a cab style (regular, an extended Access Cab or a 4-door Double Cab), an engine and a drivetrain.
All models come standard with Toyota's Entune audio system, though drivers can upgrade it as they see fit. At the top of the Entune line, the system includes navigation capabilities and Web-based app integration that includes services from OpenTable, iHeartRadio and MovieTickets.com, among others.
As for options, they run the gamut. Shoppers can choose among anything from a simple, cloth bench seat to leather upholstery with heated front seats. There are off-road packages and the new SR package, which adds style and suspension work. And there are the usual options, such as cruise control, remote keyless entry, a reversing camera and alloy wheels.
Safety
The Tacoma comes standard with stability control, active front headrests and front, side and side-curtain airbags.
In government crash tests, the Tacoma Double Cab received an overall score of four stars out of five, including three stars for frontal impact and five stars for side impact. The independent Insurance Institute for Highway Safety awarded the Tacoma its highest score of Good in all categories except roof strength, where it received a subpar Marginal grade.
Behind the Wheel
The 2014 Toyota Tacoma's driving character is hard to sum up because there are so many models. One issue that plagues them all is low seating position, which makes the midsize Tacoma feel like more of a hulk than it really is. Otherwise, the Tacoma feels maneuverable from behind the wheel. We found parking to be a breeze. The 4-wheel-drive models have a higher center of gravity, so handling suffers a bit. On the other hand, a 4-wheel-drive Tacoma with the special TRD Off-Road Package is a beast in the dirt, while the TRD Sport Package optimizes on-road handling. Suffice it to say that if you want a midsize truck, there's likely a Tacoma variant that drives to your liking.
In our interior evaluation, we immediately noticed the crisp black-on-white numerals in the gauge cluster, a welcome upgrade from the old orange numerals. The main controls are straightforward, and the touchscreen's virtual buttons should generally be operable with gloves on. Most of the materials seem durable enough, though we wonder how long the silver-painted plastic trim will last before it starts to degrade.
The base Tacoma regular cab features a 3-person front bench, but most Tacomas will have front bucket seats. These come in different forms; we'd look for the ones with adjustable driver lumbar support, as long-distance driving comfort will improve significantly.
Other Cars to Consider
Ford F-150 -- It's not a midsize truck, but base- and mid-level versions of the F-150 can run toe to toe with the Tacoma in terms of pricing. Same goes for other full-size pickups, but you'll get a bulkier ride than the Tacoma provides.
Honda Ridgeline -- The Ridgeline is based on the Honda Pilot's chassis, and it shares that model's 3.5-liter V6 and transmission. As a result, it isn't quite a "true" body-on-frame truck, but it offers many of the same capabilities, along with an open-air bed.
Nissan Frontier -- The Frontier is the Tacoma's main competitor now that every other midsize truck has been canceled. While the Frontier doesn't have a regular cab, it's similar to the Tacoma in nearly every other way. We recommend test-driving both.
AutoTrader's Advice
The beauty of the Tacoma is that Toyota makes one for practically every purpose, but we'd love to have the TRD Off-Road Package for ours. Like Marty McFly in "Back to the Future," we think there's something cool about a tough, trail-ready Toyota pickup.