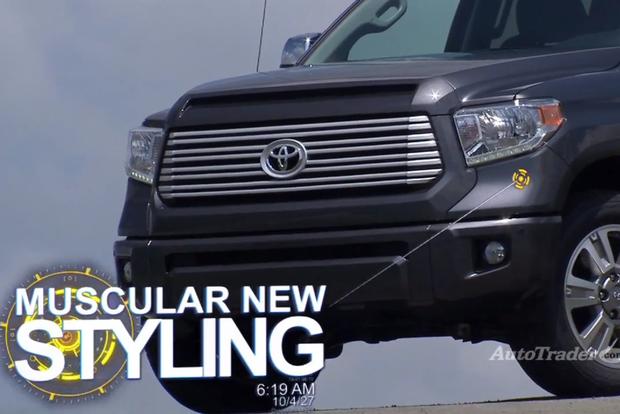 The 2014 Toyota Tundra has quietly been one of the toughest full-size pickup trucks for years -- but just being tough isn't always enough. Some folks thought the Tundra looked a little soft, while others complained about its controversial interior. That's why Toyota gave its big truck a serious makeover for 2014. It was time to set the record straight and let the Tundra's talents shine. Here are five reasons why Toyota's refreshed full-sizer merits strong consideration.
1. Smoother Ride
We always thought the Tundra had an overly firm ride, especially with an empty bed, and we weren't alone. So Toyota made ride quality a top priority this time around, and the results are remarkable. The new Tundra rides noticeably better than before, taking bumps and ruts in stride, even without a load in back.
2. Muscular New Styling
Last year's Tundra still looked good, but there's a trend toward squared-off, macho styling among big pickups, and Toyota didn't want to be left out. The new Tundra's blocky, intimidating front end compares well with the Silverado and F-150, not to mention the sort of old-school Mack truck you may see exiting a log yard. It's still unmistakably a Tundra, but there's an imposing vibe that wasn't there before.
3. More User-Friendly Interior
If you've ever sat behind the outgoing Tundra's wheel, you know that some of the central controls can be hard to reach. We pointed it out in reviews, and we weren't the only publication to do so. Happily, Toyota decided to give the Tundra a brand-new dashboard for 2014. Now those central knobs and buttons are all closer to the driver, and they control cool standard features such as Bluetooth and a rearview camera.
4. Fancy 1794 Edition
Inspired by special-edition rivals such as the Ford F-150 King Ranch, the 2014 Toyota Tundra is offered in 1794 Edition trim with 20-inch wheels, a special grille and saddle-brown leather upholstery. If traditional Chevy or Ford buyers are on the fence, it's just one more factor that might convince them to try the Toyota. These days, you must have a true luxury truck if you want to compete, and now Toyota does.
5. Excellent Off-Road Ability
The Tundra has always held its own in the dirt, but Toyota is emphasizing the TRD Off Road package's capabilities this time around. Boasting upgrades such as skid plates, heavy-duty Bilstein shocks and an off-road-tuned suspension, the TRD Tundra is one of the best factory off-roaders in the business. Take it from us: We drove one on a demanding trail in the Cascades, and the Tundra TRD Off Road barely broke a sweat.
AutoTrader Says
If you're a Tundra fan like we are, you have to love the changes for 2014. The Tundra was already a great truck, but now it should really give the Big Three something to think about.