Car Review
2014 Volkswagen Passat Sport: First Drive Review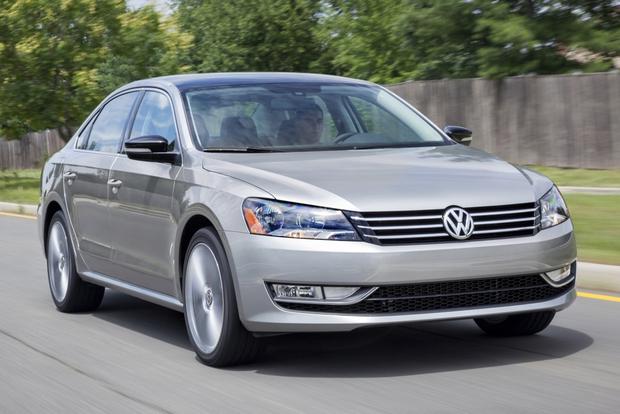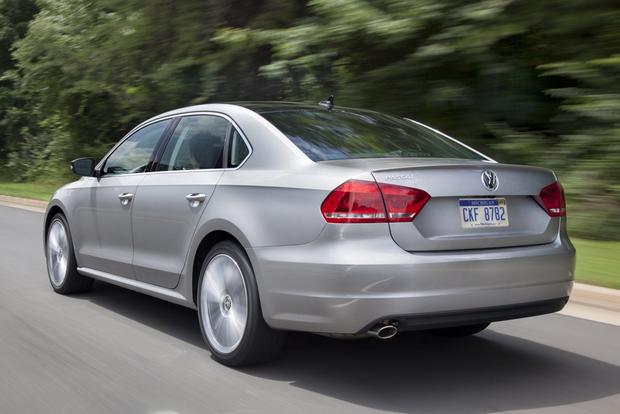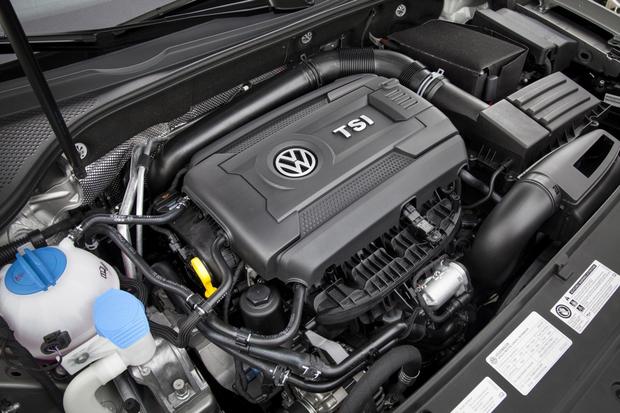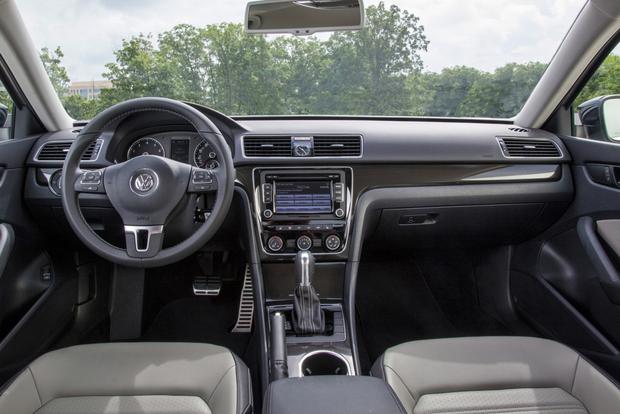 If you don't believe the 2014 Volkswagen Passat Sport is up against some stiff competition in the midsize sedan microcosm, look no further than the Hyundai Sonata's slick exterior design, the Honda Accord's unimpeachable reliability record, the Toyota Camry's stellar sales tally or the Ford Fusion's Aston Martin-inspired good looks.
In retaliation to those powerhouses, Volkswagen has upped the Passat's standard equipment list and is phasing out its 2.5-liter 5-cylinder in favor of a smaller 1.8-liter turbocharged 4-cylinder. But before you start thinking this downsizing is a step down, consider that the new mill is also lighter and more efficient. It also boasts a broader torque spread compared to its normally aspirated predecessor.
A Sport package also offers Passat shoppers a little more snoot, as it delivers a series of subtle upgrades, including paddle shifters, a blacked-out roof and mirror caps, a thin spoiler set atop the rear deck lid, 2-tone seats and carbon fiber trim, all of which rests on bigger 19-inch alloy wheels.
Does the 2014 Volkswagen Passat Sport 1.8T have the substance to stand up to its competitors? We looped the winding roads of Napa Valley, Calif., to find out.
More of the Good Stuff
Volkswagen is serious about taking a bigger slice of the North American pie. The Passat has been a strong point in VW's expanding U.S. lineup, as that model has sold 66,170 cars this year as of July. That figure constitutes more than a quarter of total VW sales, so updates to the Passat have noticeable benefits for the manufacturer's overall image.
For 2014, VW has included a rearview camera on SE trims and above, a new Car-Net connectivity system, higher-spec 18-in wheels, keyless access with push-button start and an MDI iPod cable.
While bells and whistles aren't lost on driving enthusiasts, they'll certainly care more about the changes made under the hood.
Behind the Wheel: Don't Dis the Downsizing
Ten years ago, switching to smaller engines meant manufacturers were dooming a car to a downgrade. These days, the practice often yields the seemingly unlikely combination of gutsier performance and thriftier fuel economy. The 2014 Passat is no exception.
Slide into the Passat Sport's supportive driver seat and you'll find the typically stern interior treatment that's come to characterize the German manufacturer's offerings. The mood here is dominated by horizontal cabin lines and a sense of no-nonsense functionality. Our 2.0T-equipped tester emitted a tinny, diesel-like thrum at idle (typical of direct-injected engines), but the benefits of the engine became clear the moment we pulled away from a standstill. Because its peak torque of 184 lb-ft kicks in at only 1,500 rpm, the acceleration feels considerably swifter and more insistent than in the outgoing 2.5-liter 5-cylinder. There's just a sliver of turbo lag, but once momentum builds, the Passat moves down the road with more confidence and, therefore, more fun, thanks to the engine's newfound sense of low-end grunt. Just don't expect neck-snapping performance. And don't seek thrills at higher rpms, as the 1.8T engine's 170-horsepower rating proves this engine is focused on low- and mid-range power. Incidentally, city fuel economy is estimated at 24 miles per gallon, while the highway number climbs 3 mpg to 35 mpg with the 6-speed automatic transmission.
Handling also benefits ever-so-incrementally from the lighter powertrain, making the Passat a more willing dance partner on kinky roads, thanks to the favorable weight distribution. But the biggest takeaway from the new setup is the more robust power band and the effortless feeling it gives the 6-speed automatic transmission, even if the Sport model deprives drivers of the excellent, rev-matching dual-clutch DSG gearbox found in TDI and 3.6-liter V6 models.
German Flavor, American Approach
When it came to tackling world markets, German carmakers earned a reputation for stubbornly doing things their way and bringing their distinctive flavor to the party. Now that Volkswagen is serious about making a dent on American soil, the company's products are showing subtle but serious signs that it's willing to play ball while also breaking new ground by pushing drivetrains that don't traditionally sell well here, such as diesels.
We found the 1.8T Sport model both satisfying and serious, like a grown-up version of the smaller Jetta. But when the 2.5-liter model, which starts at only $20,845, is phased out and replaced with the $30,895 1.8T SEL Premium, VW will put their brand loyalists to the test by pushing the Jetta further upmarket.
AutoTrader Says
While it may not be the flashiest or most stylish midsize offering, the Passat maintains its unique charisma by sticking to its Teutonic roots and delivering a solid driving experience in a sensible package. For those seeking a departure in this hotly contested segment, the 2014 Volkswagen Passat is a welcome splash of German flavor in the face of Asian and American alternatives.