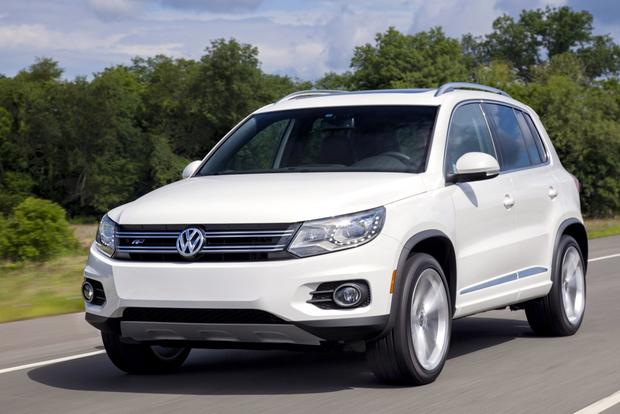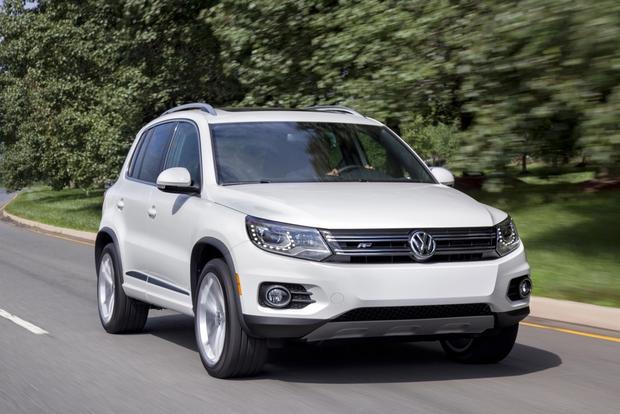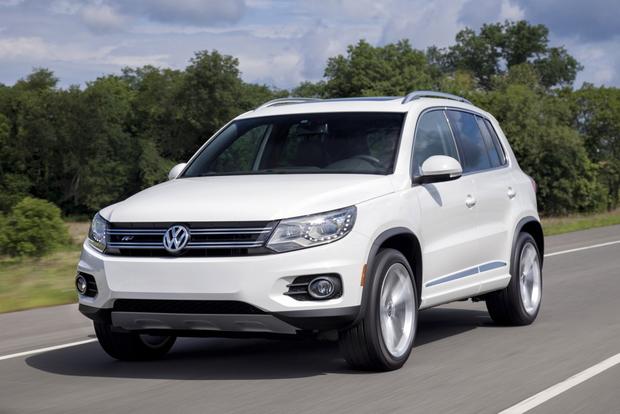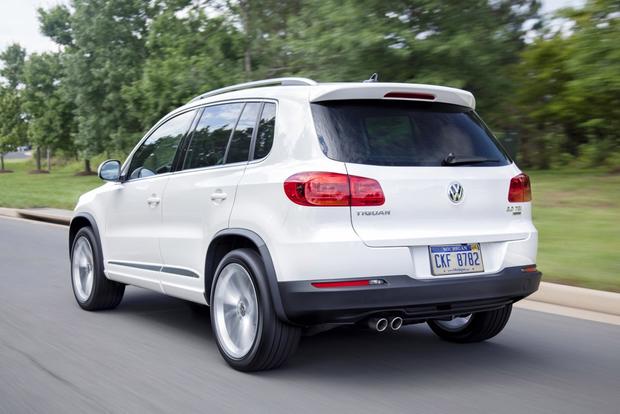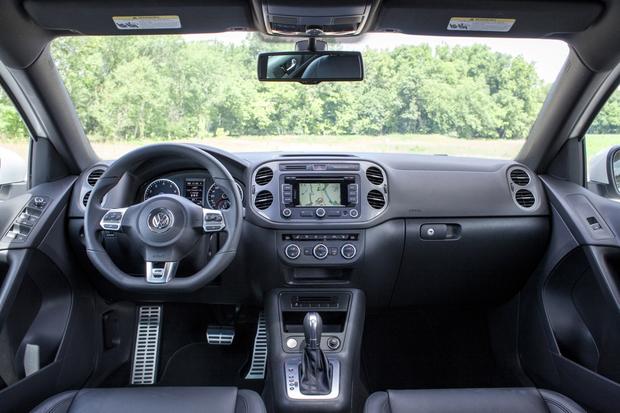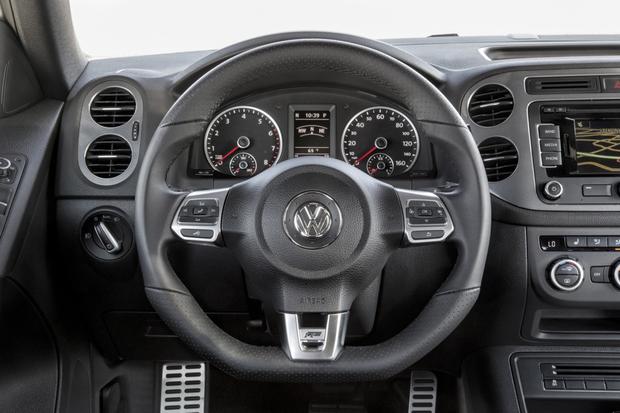 We recently spent a week driving the 2014 Volkswagen Tiguan, a compact crossover aimed at competing with popular rivals such as the Ford Escape, Honda CR-V and Toyota RAV4. Our test car, a Tiguan SE with the upgraded Appearance package, cost just under $31,000 with shipping. Our week of driving included a wide range of city and highway miles, with several staff members climbing behind the wheel to provide opinions. What did we think? We've summarized our thoughts below.
Just Too Expensive
Although we racked up a lot of opinions about our Tiguan test car, both negative and positive, every single staff member is in agreement on one point: It's just too expensive. Our midlevel Tiguan SE is an excellent case in point: Its $31,000 sticker price comes without key features such as a sunroof or automatic climate control. By comparison, Toyota RAV4 and Honda CR-V models equipped like our Tiguan typically cost between $26,000 and $28,000; even the RAV4's most upscale Limited trim starts at just $29,000 with shipping.
Even worse, the Tiguan's price delta just keeps growing as you add more features. Opt for a high-end Tiguan R-Line, which offers a sporty look but few high-performance upgrades aside from an improved suspension, and your starting price is a massive $37,500 with shipping -- easily within the territory of high-end luxury compact crossovers such as the BMW X3 and Acura RDX.
Not Luxurious Enough
Given the Tiguan's high base price, most shoppers will assume that the crossover adds an extra level of luxury compared to the RAV4 and CR-V. In some cases, that's true: The materials are a little nicer than those in most rivals, and the driving experience feels a little more solid. In fact, we're impressed with the crossover's secure handling and excellent ride, which feels almost like a luxury car over bumps.
Unfortunately, however, the Tiguan isn't quite luxurious enough to justify its price premium. Our editor, Brian, noted that the crossover's navigation screen and controls are starting to look dated -- a nod to the Tiguan's 2009-era design, which is the oldest in the compact-crossover segment. Likewise, one staffer, Tommy, noted that the interior feels "very cheap" compared to our recently returned Mazda CX-5 long-term test car. In particular, Tommy singled out the Tiguan's leatherette upholstery and the abundance of hard plastic on the dashboard and door panels.
Good, Not Great
When you're not thinking about the Tiguan's price premium, you'll notice that the small VW delivers exactly what you'd expect from a compact crossover -- and little more. There's no sporty driving feel like in the Mazda CX-5, and there are no unusual features like the Nissan Rogue's third-row seat or the Ford Escape's unique power tailgate. Instead, the Tiguan offers everything you need with few added frills.
This scarcity of extra features isn't necessarily a bad thing. More than one tester remarked on the interior room: One noted that the crossover offers good rear legroom and headroom, while another singled out the cargo room for its adequate size. And one tester, Sadie, remarked on the Tiguan's impressive array of front-seat storage -- perfect for holding a purse, a cellphone and sunglasses.
Several of our testers also noted that the Tiguan's interior controls were good, but once again, drivers stopped short of calling them great. Instead, we heard that the crossover includes clear controls that present little drama, although the dashboard doesn't quite match the style of some rivals such as the Ford Escape.
Consider Your Options
In the end, we liked the 2014 Volkswagen Tiguan, but we didn't love it. Yes, it's a good crossover with a lot of good features and a good interior, but at the price that Volkswagen charges, we expected greatness. The Tiguan doesn't quite offer that, so we'd scout the competition and save some money instead.