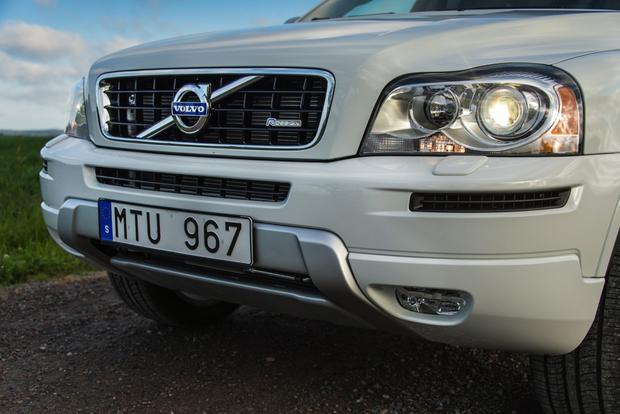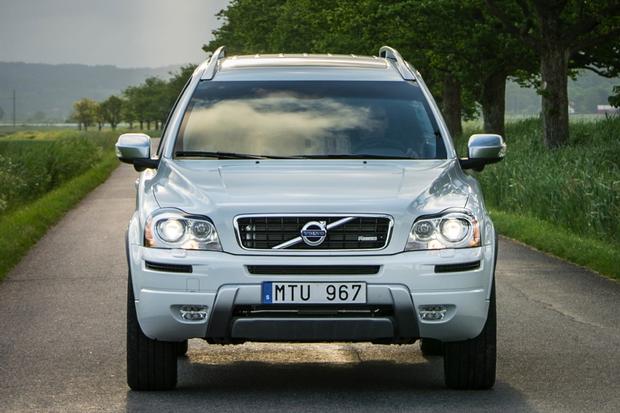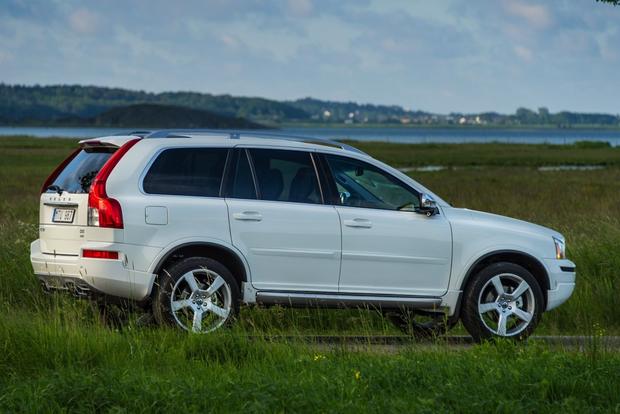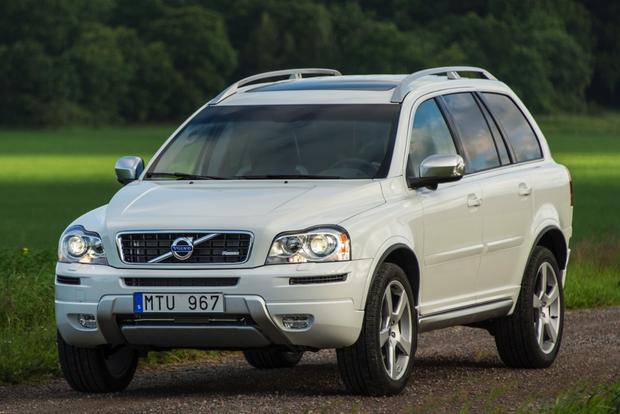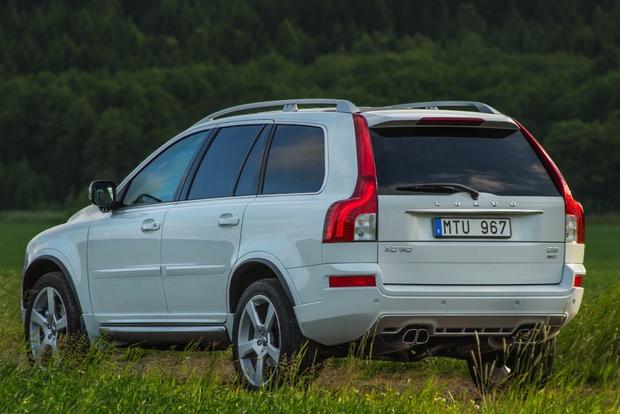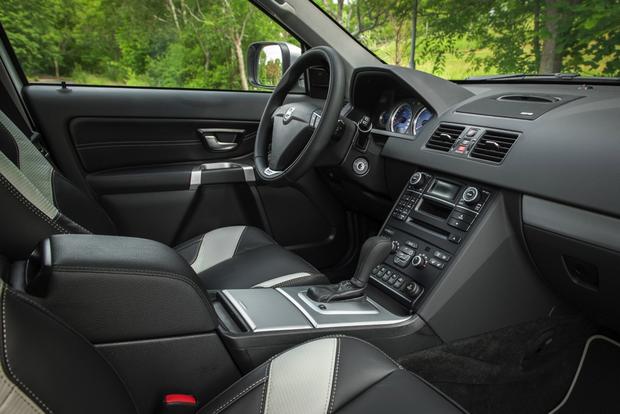 If the 2014 Volvo XC90 could act, it would be a natural for the role of Rip Van Winkle. The XC90, you see, debuted for the 2003 model year, which means it is now entering its 12th (12th!) year of production, with few changes over the intervening years. When the XC90 came out, George W. Bush was still in his first term, Saddam Hussein was still running the show in Iraq, and Facebook didn't even exist yet. So this venerable Volvo could be forgiven for rubbing its eyes and wondering where the time has gone.
The good news is that the XC90 has solid fundamentals, even by current standards. Its carlike underpinnings, which seemed daring a decade ago, are now more or less expected in a luxury utility vehicle. The seats are timelessly comfortable; the interior design, timelessly stylish. And there's always a market for three seating rows and big-time cargo capacity. In other words, this old guy can still play.
You'll have to look past the subpar engine and navigation system, of course, but otherwise, the XC90 merits consideration. The world hasn't passed this Volvo by as much as you might expect.
What's New for 2014?
The XC90 receives only minor equipment adjustments this year.
What We Like
Three-row versatility; comfortable front seats; classy, high-quality interior; lots of cargo space
What We Don't
Underpowered and thirsty engine; yesteryear's navigation system
How Much?
$40,615-$46,315
Fuel Economy
The XC90's sole engine is a 3.2-liter inline 6-cylinder rated at 240 horsepower and 236 lb-ft of torque. The transmission is a 6-speed automatic.
Fuel economy is not a strong suit, checking in at 16 miles per gallon city/25 mpg highway with front-wheel drive and 16 mpg city/23 mpg hwy with all-wheel drive.
Standard Features & Options
The 2014 Volvo XC90 is offered in base, Premier Plus or Platinum trim.
The base XC90 ($40,615) comes standard with 18-inch alloy wheels, front skid plates, a sunroof, interior walnut wood inlays, leather upholstery, power front seats, a third-row seat and an 8-speaker audio system with iPod/USB and Bluetooth connectivity.
The Premier Plus ($42,115) adds xenon headlamps, a quick-fold front passenger seat, redwood interior trim and an upgraded rearview mirror with HomeLink and a compass.
The Platinum ($46,315) tacks on a 650-watt Dolby Pro Logic II audio system, a rearview camera and a navigation system.
The R-Design equipment group includes 19-in wheels, rear skid plates, a sport-tuned suspension with more aggressive steering and a variety of sport-themed appearance tweaks. The Climate package adds heated front seats and an interior air-quality system. Standalone options include a rear-seat entertainment system, special soft leather upholstery, a blind spot warning system and a redwood steering wheel.
Safety
The 2014 XC90 features standard stability control and six airbags, including full-length side-curtain airbags. Only six? Don't worry. The independent Insurance Institute for Highway Safety gave the XC90 its top rating of Good in all tested categories. As for the government, it hasn't tested the XC90's crashworthiness using its latest methodology.
Behind the Wheel
True to form, Volvo has outfitted the XC90 with some of the finest front seats in the business. The dashboard is less memorable because it lacks the "floating" center panel of newer Volvos, but we have to give credit to Volvo's designers from over a decade ago: This cabin still looks pretty sharp all around, and the materials are nice, too. Ergonomics are satisfactory, including the XC90's early version of Volvo's distinctive air-flow controls, which take the form of a reclining human figure.
We expected to ding the XC90 for not offering the latest technological niceties, but Volvo beat us to the punch. Every XC90 comes with iPod/USB and Bluetooth connectivity. Bravo! Less impressive is the optional flip-up navigation system atop the dash, which looks like a glorified Garmin portable unit. What's more, the controls are hidden behind the steering wheel where you can't see them, so you have to fumble around with your fingers and program by feel. We see no reason to spring for the pricey Platinum trim just to get this outdated nav -- your smartphone will do a better job anyway. However, the Platinum's other selling point, the 650-watt surround-sound stereo, is much more tempting.
The XC90's second-row seat provides plenty of room for adults in its outboard positions, and the center position features an integrated child booster seat. The standard third-row seat will probably be used by kids only, but it does make the XC90 a legitimate minivan alternative. Cargo space is minimal behind the third row -- 8.8 cu ft, to be exact -- but there's a healthy 43.3 cu ft if you fold down the third row, and a full 85.1 cu ft with the second row folded, as well. That's not class-leading maximum capacity by any means, but 85.1 cu ft is still a lot of space.
Unfortunately, the mandatory 3.2-liter inline 6-cylinder engine really isn't enough for a 3-row luxury crossover, at least not by current standards. The 3.2 struggles to get the XC90 up to speed, especially with passengers and/or cargo aboard, and it sounds strained, too. Too bad the XC90 doesn't offer the smaller XC60's excellent twin-turbocharged inline 6-cylinder. At least the 6-speed automatic transmission is generally well-behaved.
The XC90 has the smooth, quiet ride that luxury crossover buyers demand these days. All the more impressive, then, that Volvo already had this figured out over a decade ago. Handling is indifferent, even with the R-Design's sport-tuned suspension, but the XC90 feels stable and secure in sudden directional changes.
Other Cars to Consider
Acura MDX-- Another 3-row luxury crossover based on a front-wheel-drive platform, the MDX has a more satisfying engine than the Volvo but perhaps a less premium feel.
Ford Flex -- We have a soft spot for Ford's funky yet surprisingly upscale 3-row crossover, especially with the optional EcoBoost turbocharged V6 under the hood.
Infiniti QX60 -- The 3-row QX60 (formerly known as the JX35) is Nissan/Infiniti's entry in the luxury crossover wars, promising good V6 power and distinctive style.
AutoTrader's Advice
Like most Volvos, the XC90 comes well-equipped right out of the box. We'd stick with the base model at around $40,000 -- it's a decent value for a vehicle of this type.