Car Comparison
2014 vs. 2015 Cadillac Escalade: What's the Difference?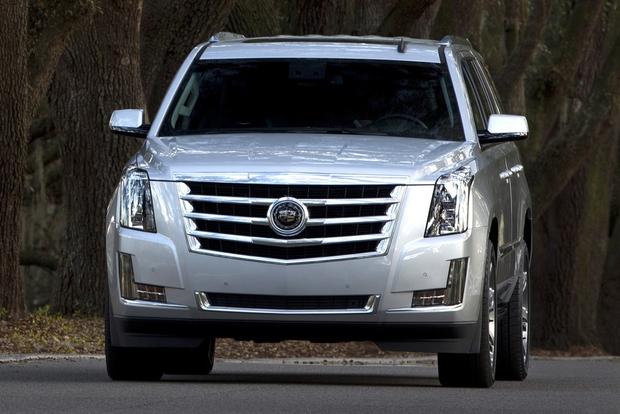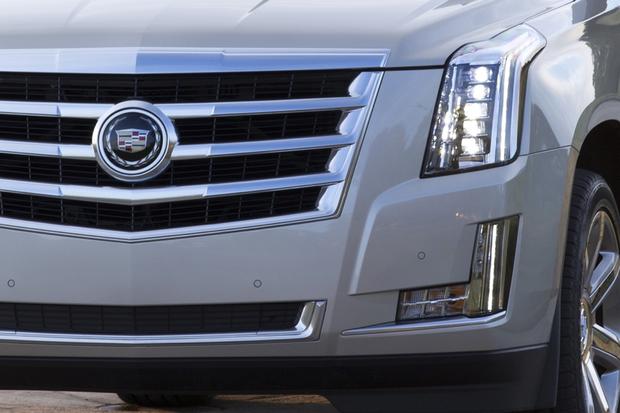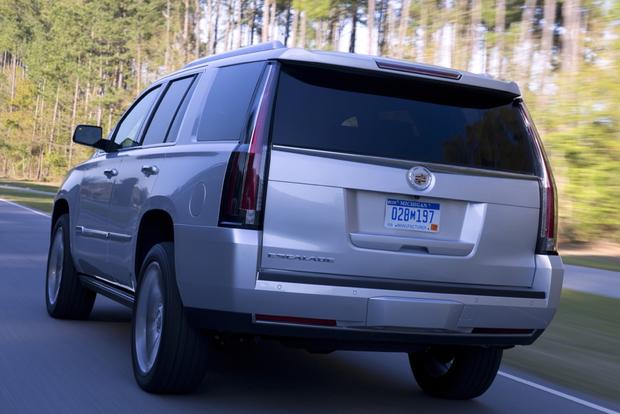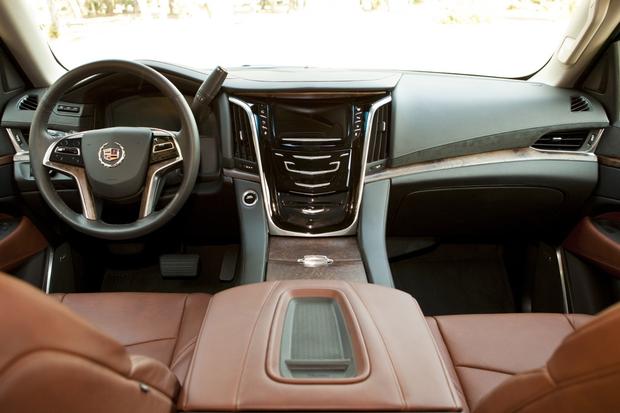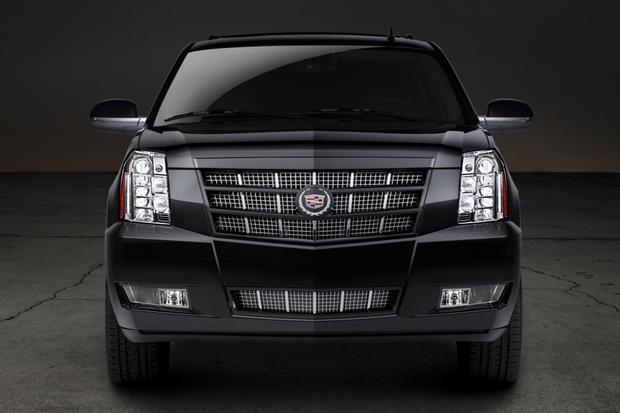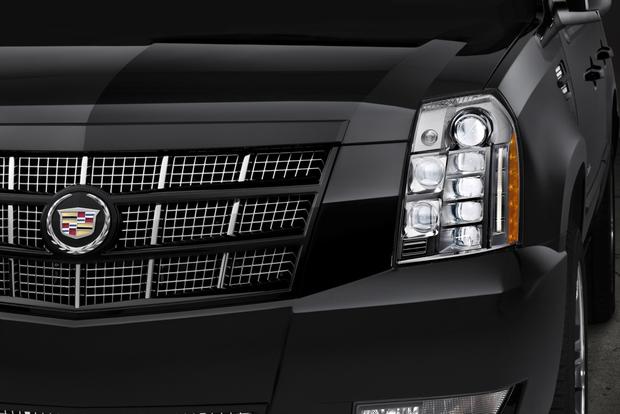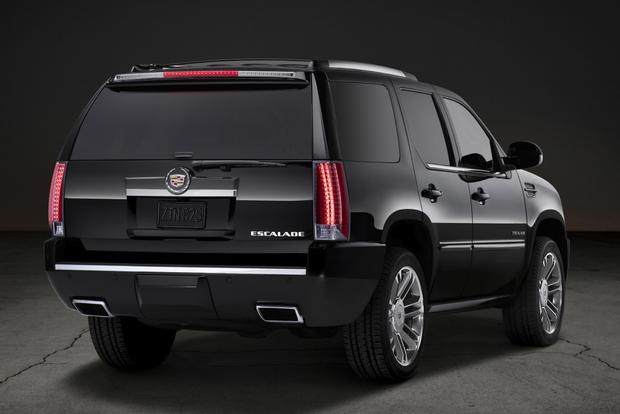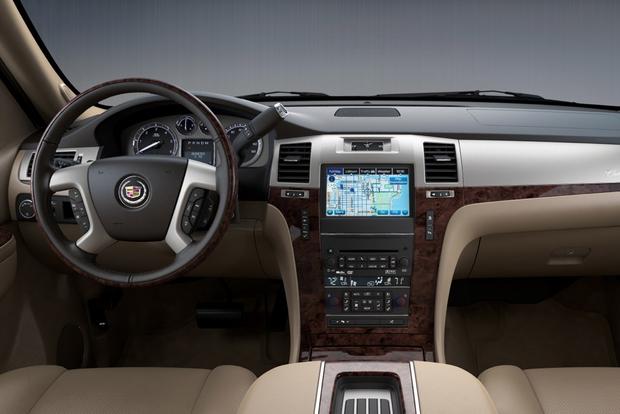 The Cadillac Escalade has offered bold styling, high-end appointments and V8 power since its original debut for the 1999 model year. For 2015, the Escalade begins its fourth generation with a totally new look, more equipment, more technology and more assertive styling than ever before. So what are the details on all the updates that distinguish the 2015 Cadillac Escalade from last year's model? We've explained the revisions to help you understand the major differences between the new Escalade and last year's version.
Exterior
Although it may not be immediately obvious from just one glance, the 2015 Escalade offers a host of exterior changes compared to last year's model. Yes, styling changes are restrained, but observant SUV shoppers will notice completely new headlights, a larger grille, a pronounced character line that runs down each side and a boxier look in back. Maybe the most obvious update, however, comes to the taillights: They're now huge red vertical strips that will make the latest Escalade especially easy to identify at night.
Interior
Although you might not be able to immediately distinguish the 2015 Escalade from its predecessor, you'll notice some major differences the second you climb inside. The SUV offers a completely redesigned interior with improved materials, a totally updated dashboard, a new center control stack and stylistic revisions to just about every surface. While the outgoing Escalade offered an acceptable, functional high-end cabin, the new model is finally up to par with high-end luxury SUV rivals.
Mechanicals
Although the V8 engine powering Cadillac's 2015 Escalade still uses the same displacement -- 6.2 liters -- as the outgoing model, it's actually a totally new engine. Offering cylinder deactivation and direct injection, the 2015 Escalade's V8 makes 420 horsepower and 460 lb-ft of torque, a big improvement over last year's 403 hp and 417 lb-ft.
The new engine also improves the Escalade's gas mileage, not that we suspect many Escalade buyers are especially concerned about fuel economy. The new model's engine offers 15 miles per gallon in the city and 21 mpg on the highway with rear-wheel drive or 14 mpg city/21 mpg hwy with 4-wheel drive. That's a surprisingly strong boost over last year's 14 mpg city/18 mpg hwy with rear-wheel drive and 13 mpg city/18 mpg hwy with 4-wheel drive.
Features
The 2015 Escalade offers a long list of new equipment compared to last year's model, but the Escalade also offers a few other new features: There's cylinder deactivation for improved gas mileage, a push-button system to fold the second- and third-row seats flat, and high-end interior materials to give the cabin a more upscale feel.
The Escalade also locks in a few more standard features than last year's model, no doubt to help Cadillac justify the SUV's base price increase from $64,500 with shipping to $72,500. Some newly standard items include Cadillac's excellent magnetic-ride-control system, a heated steering wheel, LED headlights and 20-inch alloy wheels.
Technology
Most of the 2015 Escalade's new features are technology-related. A few are designed to improve comfort and ease of use, including the SUV's newly standard magnetic-ride-control suspension, a new Blu-ray player for the rear entertainment system, and push-button fold-flat second- and third-row seats.
Other new tech features are designed for convenience, such as Cadillac's CUE infotainment system. CUE replaces last year's mediocre infotainment system, adding integrated smartphone technology that includes app functionality, text-to-voice capability and Bluetooth audio. It's a welcome change on an SUV like the Escalade, given its base price and luxury positioning.
In addition to new comfort- and convenience-related tech features, the Escalade also offers some new high-tech safety gadgets for the 2015 model year. They include features such as adaptive cruise control, front crash mitigation with automatic braking and lane-departure warning.
Safety
Although the 2014 Escalade already offered a wide range of safety features, the 2015 model adds to that tally with a long list of newly available equipment. We're excited to see these features finally reach the Escalade because several other models -- including a few rivals -- have offered some of these items for years.
Among the new items are a blind spot monitoring system, which vibrates the driver's seat if the Escalade starts to drift out of its lane; rear cross-traffic alert, which makes it safer to back out of a parking space; forward- and reverse-collision alert, which includes automatic braking to stop you in the event of an impending crash; and adaptive cruise control, which can help you keep pace with the traffic in front of you, or if necessary, bring you to a stop.
In National Highway Traffic Safety Administration (NHTSA) crash-testing, last year's Escalade received four overall stars out of a possible five. We expect that the 2015 model will do at least that well when NHTSA tests it, and we believe it's possible that the latest Escalade could even earn a 5-star overall rating.
Conclusions
The 2015 Cadillac Escalade improves on an already successful formula: Take a large SUV with bold styling, add a powerful V8 engine, and load it full of luxurious, desirable features. While we're a bit dismayed with the Escalade's price increase for 2015, we like everything else about the SUV. If you're the kind of shopper who gets excited about full-size luxury SUVs, we suspect you'll like it, too.