Car Comparison
2014 vs. 2015 Chevrolet Suburban: What's the Difference?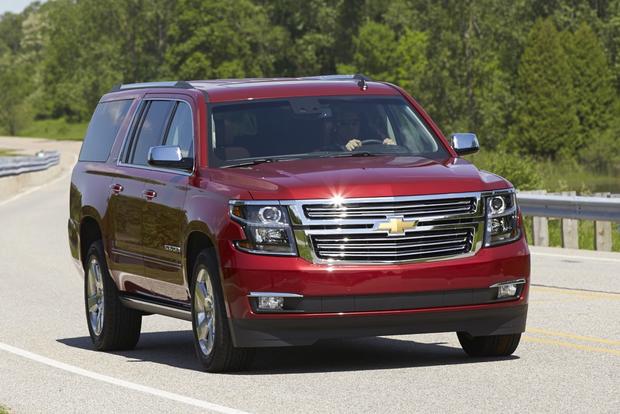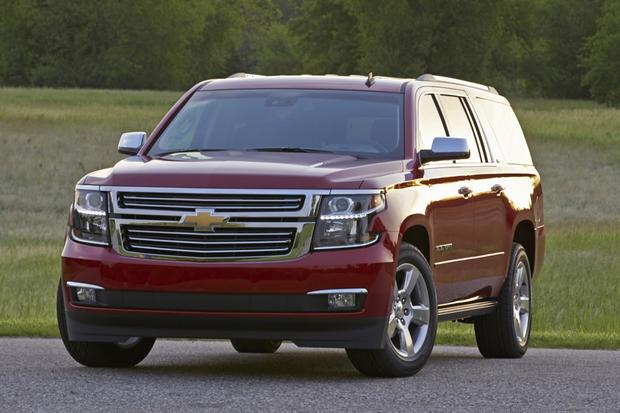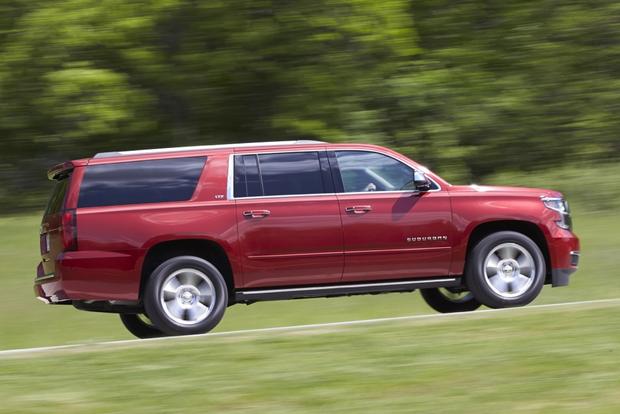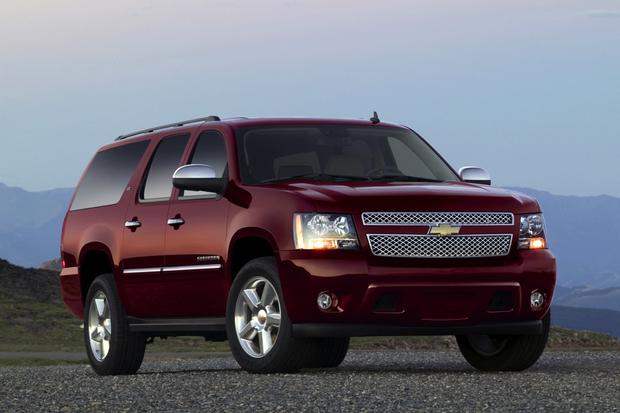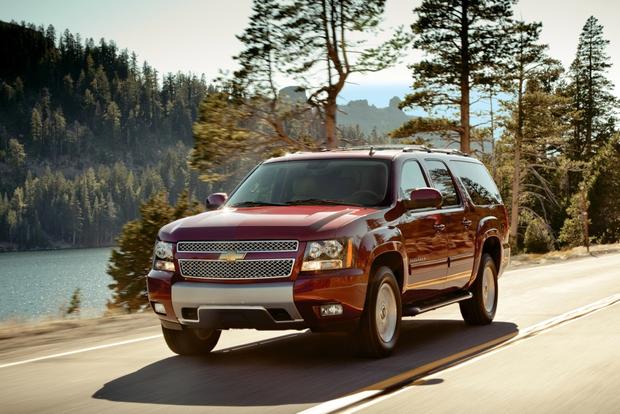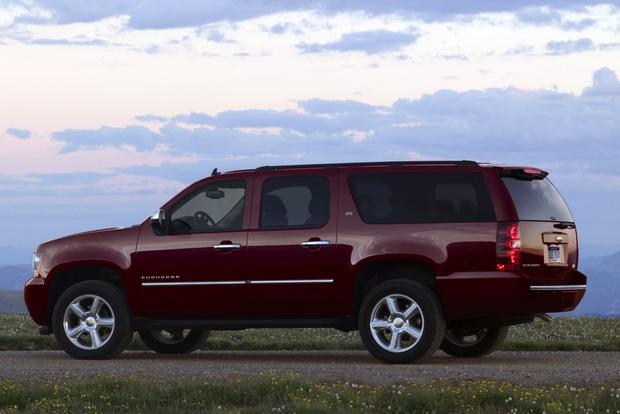 The reigning king of the full-size-SUV segment has been redesigned for the 2015 model year. That would be the Chevrolet Suburban, which offers new features, new styling, a new interior and new engines for the very first time since its last redesign in 2007. So what are the details on all these new items that distinguish the 2015 Chevrolet Suburban from the outgoing model? To help you understand all the changes to the latest Suburban, we've explained the major differences between the new model and last year's version.
Exterior
Although it may take a second or even a third look to realize it, there are some big styling differences between the 2015 Chevrolet Suburban and the outgoing 2014 model. The front end is one example; the 2015 Suburban offers a larger grille and headlights that wrap around to the SUV's front fenders. From there, the new Suburban boasts a strong character line just below the windows, another distinguishing feature from last year's model. SUV shoppers will also note a blockier look in back, along with revised taillights and a larger rear bumper.
Interior
Chevrolet has made far more significant updates to the 2015 Suburban's interior than it did to the SUV's exterior styling. The changes are clear from the moment you enter the cabin, which boasts highly improved materials compared to the outgoing model. It also offers a more stylish look than the functional appearance of the 2007-14 model, touting a handsome dashboard that features Chevrolet's MyLink infotainment system front and center. Everything else is new too, from the air-conditioning vents and dashboard to the steering wheel and gauge cluster. It's rare that we see such a thorough, comprehensive overhaul of a vehicle's interior in just one redesign.
Mechanicals
Although the 2015 Suburban uses a 5.3-liter V8, just like the outgoing model, don't be fooled by the identical displacement. The 2015 Suburban's 5.3-liter V8 is completely new, featuring direct injection and cylinder deactivation for improved fuel economy. It also offers 355 horsepower and 383 lb-ft of torque, up from last year's 320 hp and 335 lb-ft.
Once again, the Suburban's sole transmission is a 6-speed automatic. In rear-wheel-drive Suburban models, it helps the engine achieve 16 miles per gallon in the city and 23 mpg on the highway, while 4-wheel-drive Suburbans see those numbers drop to 16 mpg city/22 mpg hwy. Either way, it's an improvement over last year's model, which managed 15 mpg city/21 mpg hwy, regardless of drivetrain.
Features
The 2015 Suburban may look like the outgoing model, but compare their lists of equipment, and you'll quickly realize that a major redesign has taken place. Most updates are related to new technology and safety equipment, but the 2014 Suburban also boasts one big comfort and convenience change over the 2014 model: fold-flat rear seating. This may not seem revolutionary, but it's a huge benefit over last year's Suburban, which offered heavy, bulky third-row seats that needed to be physically removed from the SUV in order to haul larger items in back.
Additionally, the 2015 Suburban adds a few new features as standard equipment. Such items include a remote ignition, power adjustable pedals, rear parking sensors, a backup camera and auto-dimming mirrors, all of which help justify the Suburban's base-price increase from last year's $47,300 with shipping to today's $48,600.
Technology
The bulk of the 2015 Suburban's new features are technology upgrades. Some are fairly minor, such as an available Blu-ray player for rear passengers and newly standard cylinder deactivation for improved fuel economy, but the latest Suburban also offers a few important new items.
The biggest addition is Chevrolet's MyLink system, which solves nearly every problem with the outgoing Suburban's infotainment technology. Gone is phone-only Bluetooth capability; the new system can now stream audio. MyLink can also integrate with your smartphone for apps, voice control and text-to-voice capability. For iPhone users, Siri's Eyes Free capability is included, and it makes the iPhone easier to use while driving. Clearly, MyLink is a welcome addition to the Suburban lineup.
In addition to the new MyLink technology, Chevrolet has added a host of new high-tech safety features to the latest Suburban. We've covered them in greater detail below, but new items include a lane-departure warning system, a blind spot monitoring system, and a frontal crash-warning and crash-prevention system.
Safety
The 2015 Suburban offers a wide range of new safety features that weren't previously available on the outgoing model. They're not uncommon in the auto industry, but they're new to the Suburban. They're important for drivers who plan to use the SUV as a family vehicle.
Among the new items are a lane-departure warning system, which uses a vibrating seat to let you know if you've drifted out of your lane; a blind spot monitoring system, which can be useful on a Suburban-sized SUV; rear cross-traffic alert, which can help you back out of parking spaces; and a frontal crash-warning and crash-prevention system. The Suburban also has plenty of newly standard safety features, including a backup camera and rear parking sensors for improved maneuverability in tight spaces.
Another interesting new safety feature: The Suburban now has Chevrolet's center airbag, which deploys between the two front seats in order to keep you from moving around during a side-impact collision. Chevrolet first rolled out the industry-exclusive feature last year in the heavily revised 2014 Traverse crossover.
Conclusions
For shoppers who need a large SUV, few models compare to the 2015 Suburban. Essentially, the latest Suburban builds on an already successful formula, adding new technology, new styling and a highly improved interior to Chevrolet's popular full-size family hauler. If you liked the old Suburban, you'll love the new one, especially since you no longer have to manually remove the third row in order to load huge items in back.