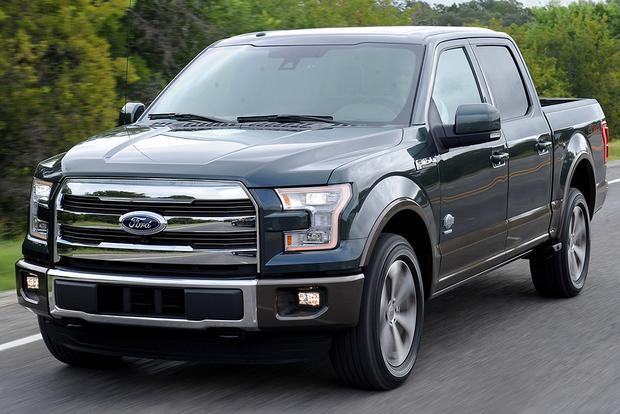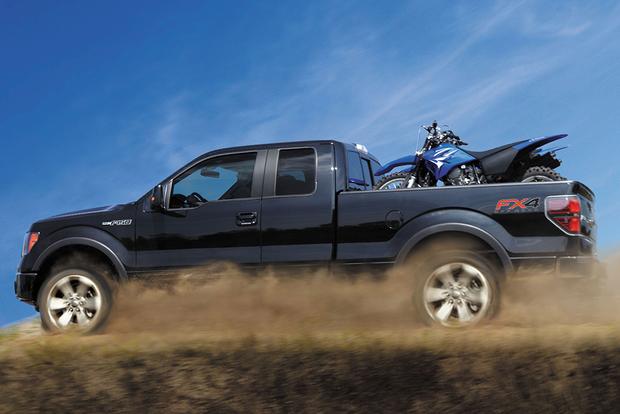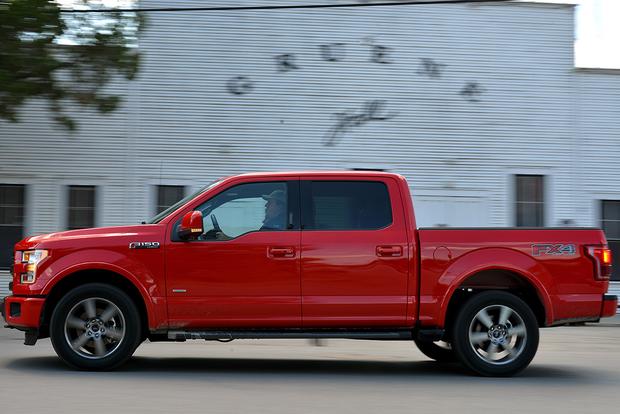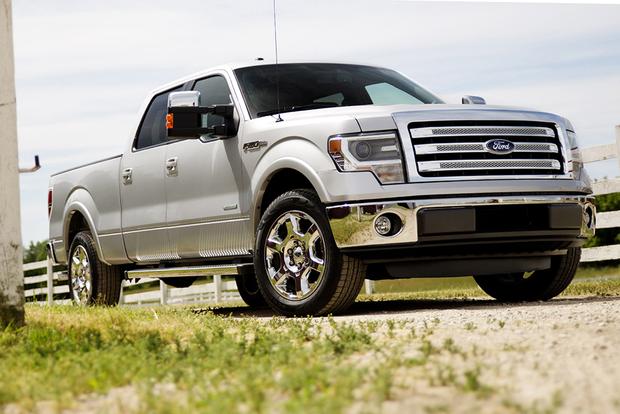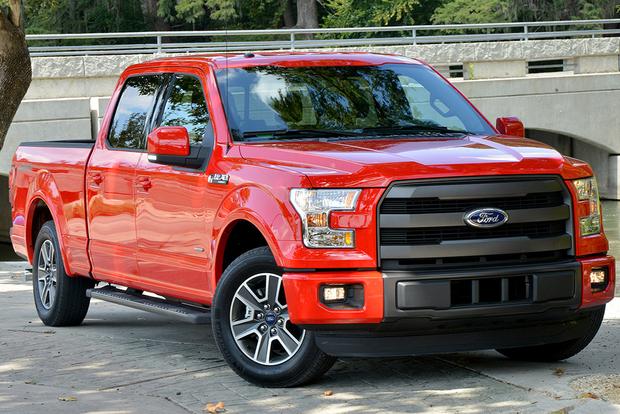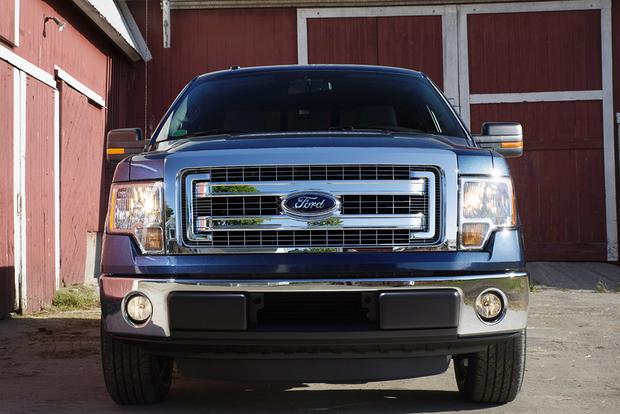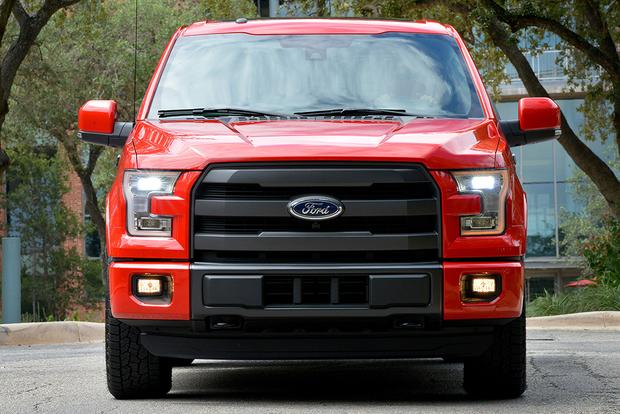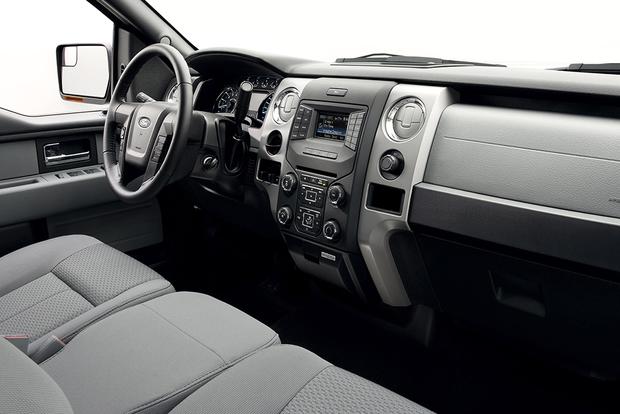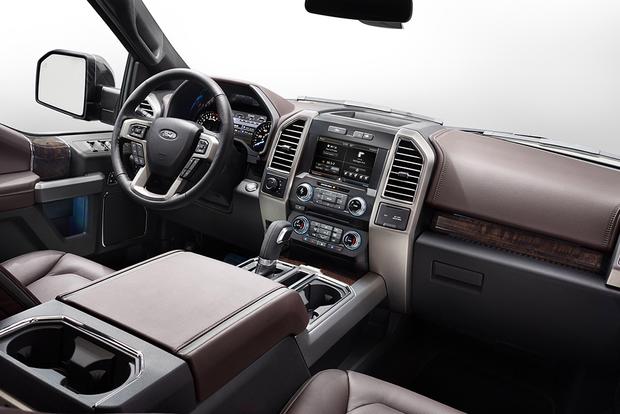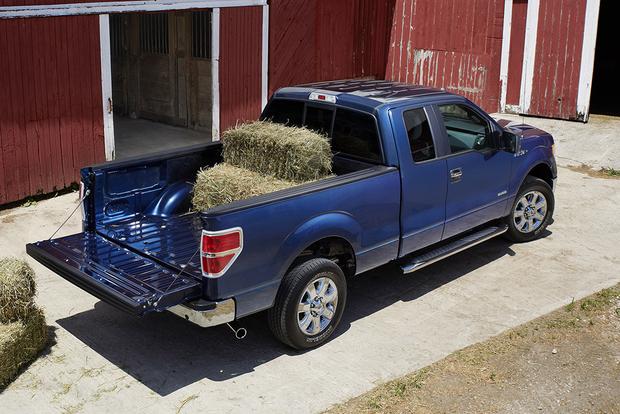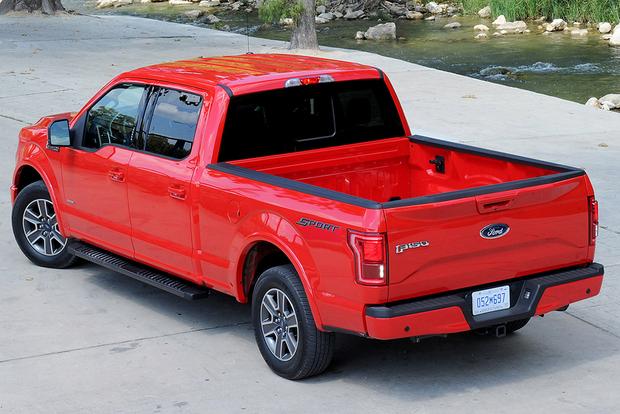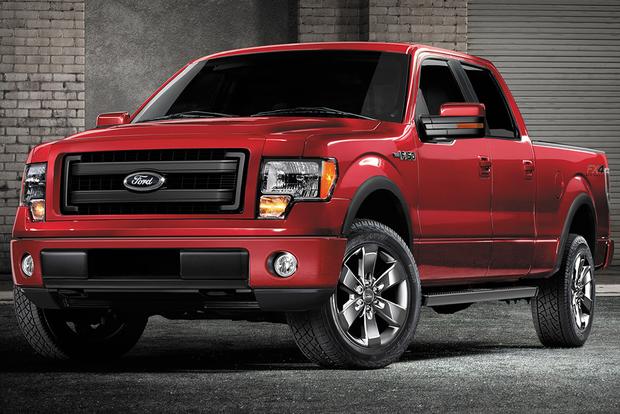 The all-new 2015 Ford F-150 may look like the outgoing F-150. The models share the same profile, general shape and even some crucial styling cues. Don't let appearances fool you: The all-new F-150 is a completely different truck than last year's model, thanks to new engines, new features and new capabilities. It's even built of aluminum, an entirely new construction material that's designed to save weight and improve gas mileage. To help you understand all the key differences between the latest F-150 and the outgoing model, we created an in-depth comparison of the two trucks.
Exterior
At a quick glance, the 2015 F-150 looks surprisingly similar to the outgoing model, especially for a truck that claims to be all new. A closer inspection reveals some key revisions. The fog lights are square, rather than round; the headlights and grille are new; the tailgate design is revised; and the wheel arches are updated. The biggest exterior change isn't noticeable from just a glance: Many of the truck's body panels are now made from aluminum, which helps to save weight and boost fuel economy without sacrificing durability or rigidity.
Interior
The interior of the latest F-150 has far more noticeable updates than the truck's exterior. One immediately obvious difference is the quality of materials: The latest pickup offers a nicer cabin than that of the outgoing model, which had an excessive amount of inexpensive plastic. More importantly, however, just about everything inside the latest F-150 is different. The controls are updated, and there's a new steering wheel and a larger LCD screen in the gauge cluster. A series of small, yet noticeable, items have also been redesigned to improve ergonomics. In short, the 2015 F-150's cabin is totally updated, and it's head and shoulders above the one in the outgoing F-150.
Mechanicals
The 2014 F-150 and the 2015 F-150 share two engines: a 360-horsepower 5.0-liter V8 and a 365-hp 3.5-liter turbocharged EcoBoost V6, both of which are available to shoppers looking for an upgrade over the truck's base-level powerplants.
Those base-level powerplants, however, are completely new for the latest model year. Last year's 302-hp 3.7-liter V6, which was standard on most models, has been replaced by a 283-hp 3.5-liter V6. There's also a new choice for shoppers who don't want to upgrade to V8 power. Ford is offering a 325-hp 2.7-liter EcoBoost V6, which touts an impressive 19 miles per gallon in the city and 26 mpg on the highway.
Thanks to aluminum construction, fuel economy has improved for the new model year. While the 2014 EcoBoost model topped out at 16 mpg city/22 mpg hwy, the 2015 F-150 EcoBoost can reach as high as 17 mpg city/24 mpg hwy. It's the same story with the 5.0-liter V8, which increases slightly from 15 mpg city/21 mpg hwy in 2014 to 15 mpg city/22 mpg hwy for 2015.
Features & Technology
In terms of equipment, we're astonished by all the features available in the 2015 F-150. With that said, we also appreciated the wide range of standard and optional items offered by the outgoing truck. However, it can't even touch what the 2015 F-150 offers.
One new item, the panoramic sunroof, isn't offered on any other pickup. There's also a nifty new trailer hitch assist video camera that can help you line up the truck's rear end with a trailer. We also love the new 360-degree camera system, which makes maneuvering in tight parking lots much easier, and the new 8-inch LCD screen in the gauge cluster. The new F-150 also touts a long list of new high-tech safety features, such as lane-keeping assist and adaptive cruise control.
Put simply, the 2015 F-150 has it all, from a bare-bones, job-site-ready XL model to a truly luxurious level of features and equipment. For truck shoppers eager to try out the latest gadgets and innovations, few pickups come close to the 2015 F-150.
Driving Experience
Interestingly, the 2015 F-150 doesn't offer a dramatically different driving experience than the outgoing model did. Yes, there are some changes, as is typical with a newly redesigned model. The ride is smoother, for example, and wind noise is a little more restrained. Handling is a little better, too, thanks to the new truck's lighter curb weight, but there are few new formulas when it comes to the world of the full-size pickup driving experience. The latest F-150 is still a huge, full-size workhorse with vague steering and a tall design that's prone to body roll.
We were, however, highly impressed with the new 2.7-liter turbocharged V6 engine. From an acceleration standpoint, it hardly feels like a V6, and while we didn't tow with it, we suspect it's highly capable, thanks to muscular horsepower (325 hp) and torque (375 lb-ft) numbers. At this point, the F-150's two turbocharged engines make a lot of sense, and we highly recommend them over the 3.5- or 5.0-liter naturally aspirated powerplants.
Safety
Unfortunately, the all-new 2015 F-150 has not yet been crash tested by the nonprofit Insurance Institute for Highway Safety or the federal government's National Highway Traffic Safety Administration. We expect high marks, however, thanks to its durable construction and such standard safety features as anti-lock disc brakes, curtain side airbags, and traction and stability control.
Speaking of safety equipment, the latest model offers some serious upgrades over the 2015 F-150. While last year's truck boasted only an optional backup camera and parking sensors, the 2015 F-150 has it all: an available 360-degree camera, parking sensors and even a trailer hitch assist camera angle to help connect to a trailer. The 2015 F-150 also offers a wide range of new safety options, including forward-collision warning, lane-departure warning, blind spot monitoring, rear cross-traffic alert and inflatable rear seat belts.
Conclusions
The 2015 Ford F-150 proves the old adage that you shouldn't judge a book by its cover. While most casual observers probably won't notice a difference between the new model and the old one, the truth is that the latest F-150 offers some substantial revisions. One is hidden in plain sight: the truck's aluminum body panels, which save weight and improve fuel economy. Other updates include new technology, new safety features, a totally new interior, improved gas mileage and an excellent new 2.7-liter V6 engine. No, the latest F-150 might not look dramatically different than last year's model, but it truly is an all-new pickup.