Editor's note: You may want to read more of Autotrader's model vs. model comparison car reviews as well as the 2014 Ford Focus review and the 2015 Ford Focus review.
The Ford Focus is one of the most popular compact cars on sale, and Ford is dead set on keeping it fresh to make sure buyers remain interested. That's why the automaker has revised the Focus for 2015, offering several major changes over the 2014 model. While it's not a full redesign, there are many important updates, so we're comparing the 2015 Ford Focus to its predecessor to help you understand precisely what's new for the latest model year.
Exterior
Changes to the 2015 Focus's exterior styling aren't dramatic, but they're noticeable, if you know what to look for. Revisions are primarily concentrated in the car's front end, where it offers a completely new grille that brings the Focus in line with other models in the Ford family. There are also several other updates, including a new front bumper, a new grille and cleaner taillights that give the car a more grown-up look.
Interior
Changes to the Focus's interior are also subtle, though they're obvious for drivers who have spent a lot of time behind the wheel of the 2014 model. Some of the car's bold interior styling touches have been toned down, replaced instead with a more traditional look and higher-quality materials. Last year's rather large parking brake is swapped out for an electronic unit, while slight revisions also come to the car's climate controls, stereo controls and steering wheel. Passenger room is, of course, the same, since the 2015 Focus doesn't offer a new platform or an enlarged body.
Mechanicals
Most of the Focus's engines are carried over for 2015. Base models retain the car's standard 160-horsepower 2.0-liter 4-cylinder engine, mated to either 5-speed manual or 6-speed automatic transmissions. The sporty Focus ST keeps its 252-hp 2.3-liter turbocharged 4-cylinder, while the Focus Electric retains its 143-hp electric motor.
But there is one new engine for the new model year: a 123-hp 1.0-liter turbocharged 3-cylinder, which marks the first time a 3-cylinder has been used in the Focus. Designed specially for optimal fuel economy and only offered on the Focus SE EcoBoost, the new engine returns 29 miles per gallon in the city and 40 mpg on the highway with its mandatory 6-speed manual transmission.
Features & Technology
As you might expect in the modern era of high-tech cars, an updated Focus means updated technology and equipment. That's especially true for safety features, since the Focus adds several important new items. There's a newly standard backup camera, for instance, which was an optional feature on 2014 models. There are also several other new options, including blind spot monitoring, rear cross-traffic alert, automatic high beams and lane departure warning.
Beyond safety equipment, the primary updates to the 2015 Ford Focus include the latest iteration of Ford's MyFord Touch infotainment system and its SYNC voice command technology. None of these are major changes, especially if you plan on ordering your Focus without many options. But they still demonstrate Ford's willingness to keep the Focus competitive in the challenging compact car segment.
Driving Experience
Like last year's model, the 2015 Ford Focus boasts some of the most precise handling of any modern compact car. Steering is tight, and the Focus is rather entertaining to take around curves and turns, much more so than the vast majority of its rivals. While Ford says that the Focus offers recalibrated suspension for 2015, we think it still feels largely similar to the outgoing model, but that's a good thing. The sporty Focus ST is especially a hoot to drive, offering excellent acceleration and a slick 6-speed manual transmission.
Speaking of transmissions, we're impressed with the Focus's dual clutch, a dramatically improved unit compared to the compact car's original debut in 2012. We also like the Focus's outward visibility. Though the standard 4-cylinder is a fairly strong powerplant, the new 3-cylinder is merely adequate, so much so that we understand why it's only offered with a stick shift. Still, drivers who don't mind trading speed for gas mileage might appreciate the new engine and its impressive fuel economy numbers.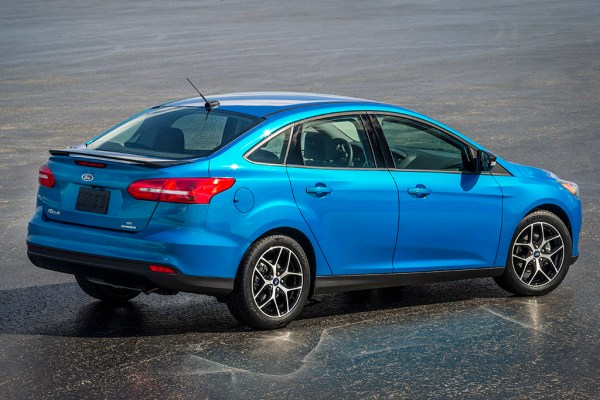 Safety
Although the latest Ford Focus has not yet been crash-tested, we expect it to perform roughly as well as its predecessor, since it doesn't have major structural differences. That means it'll likely earn a perfect 5-star overall rating from the federal government's National Highway Traffic Safety Administration (NHTSA) and an excellent Top Safety Pick score from the nonprofit Insurance Institute for Highway Safety (IIHS).
The new Focus does, however, offer several new standard and optional safety features for the latest model year. Newly standard is a backup camera, which was formerly optional, while new safety options include automatic high beams, blind spot monitoring, rear cross-traffic alert and a lane-departure warning system. Our only gripe is that a forward-collision alert system still isn't available on any trim level.
Conclusions
Whether you'll prefer the updated 2015 Ford Focus to a certified pre-owned (or leftover new) 2014 model boils down to your priorities. If it's safety equipment you're after, the 2015 Focus is the model to have. It's the same story for gas mileage, since the new 1.0-liter 3-cylinder engine trumps last year's SFE fuel economy package. And the 2015 Focus offers a slightly revised interior and exterior design that makes it look a little more modern than the outgoing model. But if you're interested in getting a great deal rather than maximizing your gas mileage or having the latest safety equipment, you might want to take a look at a 2014 Focus, since it's largely similar in many key areas.
Find a 2014 Ford Focus for sale