Editor's note: You may want to read more of Autotrader's model vs. model comparison car reviews as well as the 2014 Honda CR-V review and the 2015 Honda CR-V review.
If you're interested in a compact crossover, your search has undoubtedly led you to the Honda CR-V, one of the most popular compact SUVs on the market. And if you've studied the CR-V, you probably know that it's been heavily updated for the 2015 model year with several changes and revisions compared to last year's model. What exactly is new about the 2015 Honda CR-V? And is it worth paying more for a new model or searching for a better deal on a certified pre-owned (CPO) 2014 version? Here's everything you need to know about the two models.
Exterior
Although the CR-V isn't completely new for 2015, it's received a facelift, with a nip here and a tuck there. On the outside, you'll see several noticeable updates, including a new front end, an updated bumper, a new grille and newly available LED running lights. In back, there's a new tailgate and an updated rear bumper. The CR-V also boasts new wheel designs. No, these changes aren't massive, since the car's general design, styling and profile stay the same, but the updates combine to give the CR-V a slightly more modern look.
Interior
The outgoing CR-V's interior is very similar to the cabin in the revised 2015 model. In fact, many items are carried over unchanged, including the steering wheel, the gauge cluster, the center control stack and most of the switchgear. The only real update comes to the CR-V's center console, which is revised to offer a new armrest and reshaped cupholders. Otherwise, expect more of the same for seats, visibility and passenger room. We assume Honda simply abided by the old adage: If it ain't broke, don't fix it.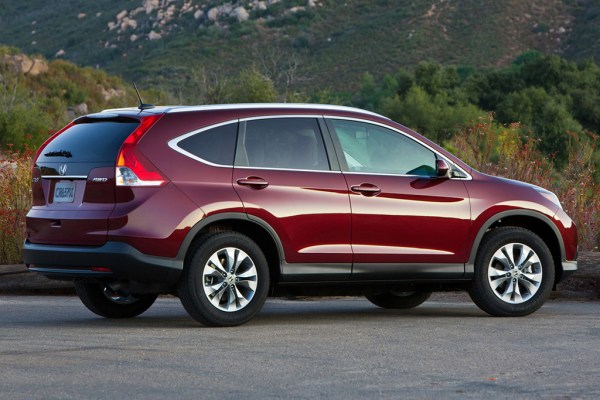 Mechanicals
Some of the 2015 CR-V's biggest changes are under the hood. For one thing, there's a revised 2.4-liter 4-cylinder engine with fuel-saving direct-injection technology, an updated powerplant that retains last year's 185 horsepower but boosts torque from 163 lb-ft to 181 lb-ft. There's also a new continuously variable automatic transmission (CVT), which replaces last year's 5-speed automatic in a further effort to improve gas mileage. And the results are promising: The crossover's maximum fuel economy ratings jump from 23 miles per gallon in the city and 31 mpg on the highway to 27 mpg city/34 mpg hwy.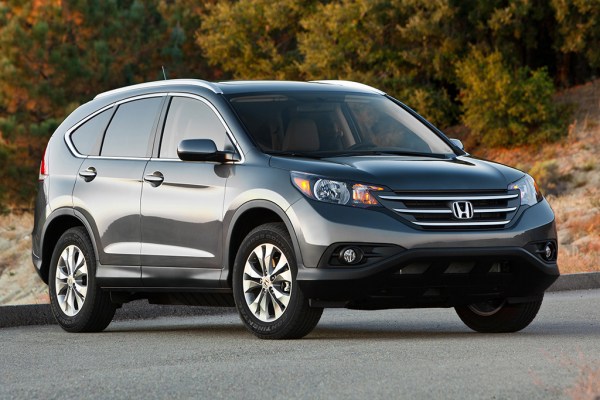 Features & Technology
The 2015 CR-V improves on last year's model with several important new features. We've already covered two welcome additions: the front armrest and the CVT automatic that's designed to help boost the crossover's fuel economy.
But there is a host of other updates, including rear climate vents and an available 7-inch touchscreen that adds Honda's impressive LaneWatch blind spot camera on EX trim levels and above. There's also a new high-end Touring model that boasts a wide array of new safety features, including adaptive cruise control, forward-collision warning with automatic braking and a lane-departure warning system, none of which were available in last year's model.
In other words, don't let subtle changes to the CR-V's look fool you. If you want modern gadgets and equipment, the 2015 CR-V offers a substantial step forward compared to its predecessor.
Driving Experience
The CR-V has always offered the safe, dependable choice when it comes to compact-SUV driving experience, and the new model continues to do just that. Despite tales of revised suspension and an increased torque figure, we didn't notice any major changes compared to last year's model. That's not a bad thing; this crossover still offers predictable handling, average acceleration, reasonably good visibility and a comfortable, compliant ride. You won't get much fun with the CR-V, but you won't get much fussing, either.
Where the CR-V does make a noticeable change is with its transmission. Gone is last year's traditional 5-speed automatic, replaced instead by a fuel-saving CVT automatic. While some drivers don't like CVTs due to their noise levels and unusual gearless behavior, we found this one to be among the better units. It's quiet in normal driving, and it doesn't drone like many CVTs. Still, this is unmistakably a CVT, and if you've been dismayed by them before, we suggest you give the CR-V a thorough test drive before signing the papers.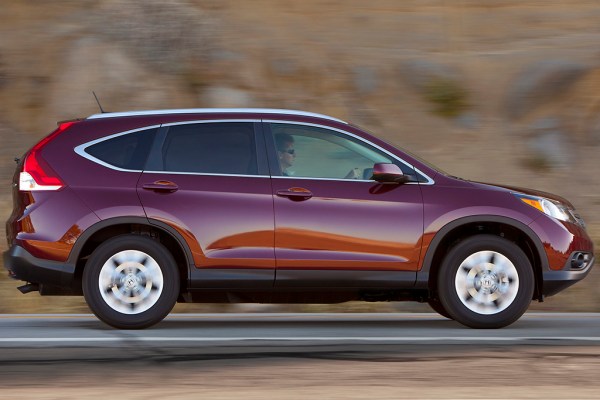 Safety
Although last year's CR-V aced the National Highway Traffic Safety Administration's crash tests with a perfect 5-star score, it received only middling results in tests carried out by the nonprofit Insurance Institute for Highway Safety. The new CR-V improves on those results dramatically, earning the firm's highest rating of Top Safety Pick+ thanks to additional crash protection and a newly available forward-collision alert system.
Crashworthiness isn't the only safety item that's improved with the 2015 CR-V. The compact crossover also offers several new safety features, including adaptive cruise control, forward-collision alert with automatic braking, lane-departure warning and LaneWatch, an excellent camera system that helps monitor your blind spot. In other words, the 2015 CR-V is much safer than its predecessor, whether you're choosing a base-level model for its improved crash protection or a high-end CR-V Touring for its additional safety equipment.
Conclusions
The new 2015 Honda CR-V doesn't offer major updates inside or out, but it's thoroughly revised where it counts. It offers dramatically better gas mileage than last year's model, along with several new tech features, improved crash protection and a slew of new safety gadgets. And it retains all of the traditional CR-V benefits, such as a predictable driving experience, a comfortable ride and traditional Honda reliability.
As a result, we think you'd be justified in spending a little more for a new 2015 CR-V than a certified pre-owned model, unless you don't want the latest model's new safety equipment or the CPO model comes with a really great deal.
Find a 2014 Honda CR-V for sale