Car Comparison
2014 vs. 2015 Mercedes-Benz C-Class: What's the Difference?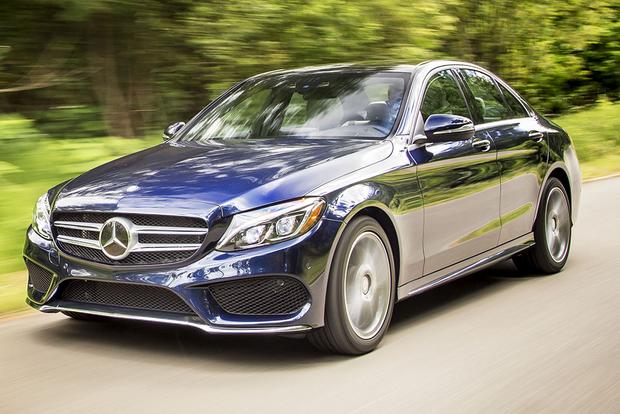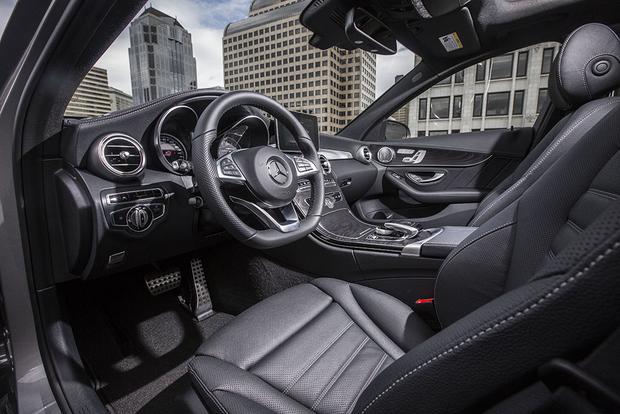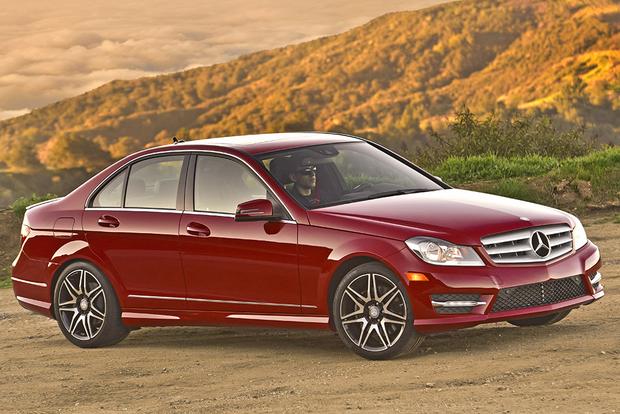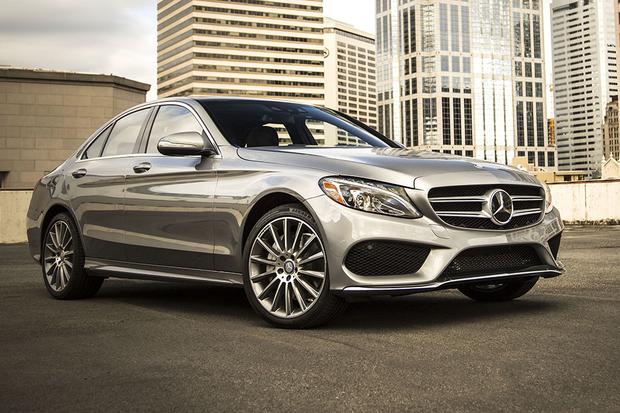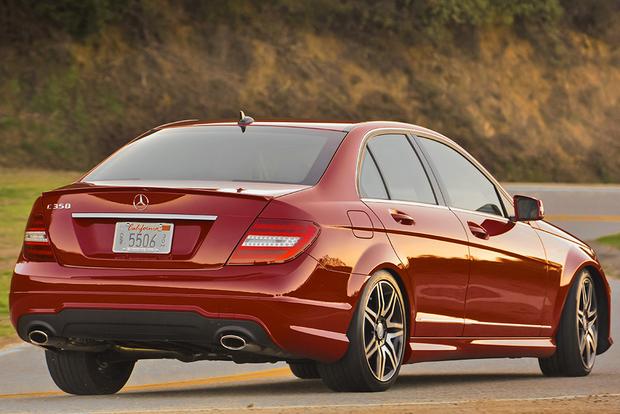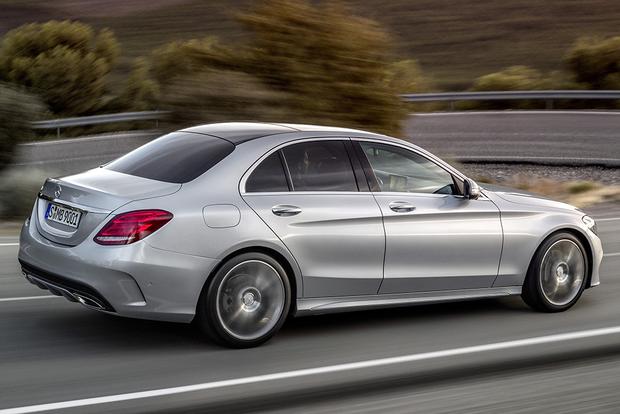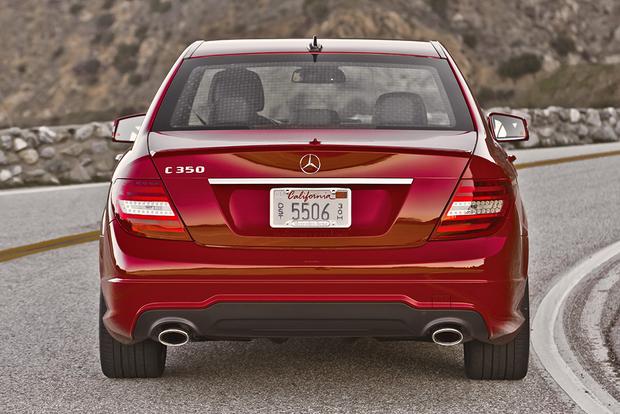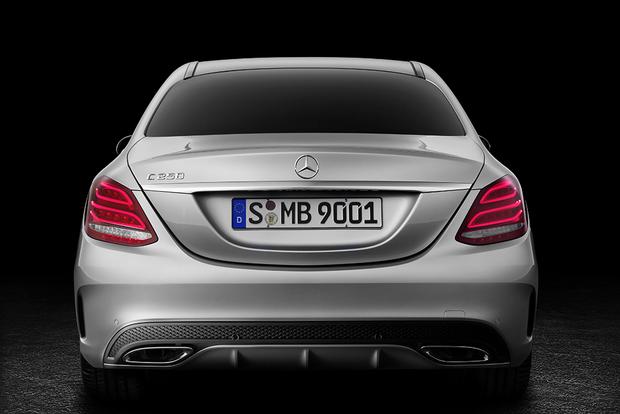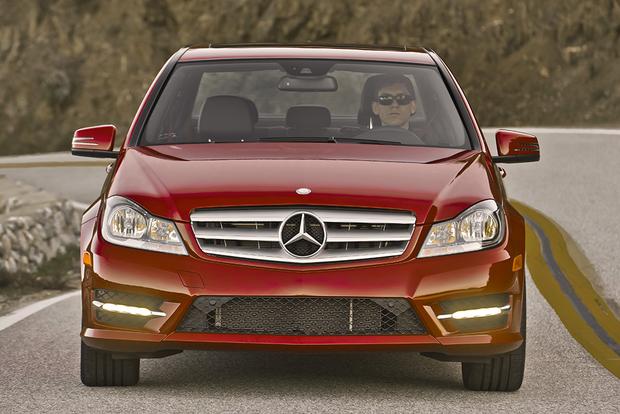 For the last 20 years, Mercedes' entry-level C-Class has been a popular choice for shoppers interested in combining high-end Mercedes-Benz trimmings with an affordable price tag. This year, with the addition of a new base-level Mercedes sedan called the CLA, the C-Class moves upmarket, adding more power, more features, more luxury and a higher price tag. To help you understand exactly what's changed between the 2015 Mercedes-Benz C-Class and last year's model, we've created a detailed comparison between both vehicles that covers several important areas.
Exterior
In an age of subtle updates rather than full redesigns, there's nothing subtle about the styling change between the 2014 C-Class and the all-new 2015 model. Every surface is different, and the overall look has changed dramatically, from a boxy shape that clearly indicates the C-Class' smaller size to a new, rounder design that gives the car a more luxurious appearance. Everything is different, including taillights, headlights, wheels and the car's overall profile, and we suspect you'll have no trouble telling apart the new C-Class from the outgoing one, even if they aren't parked next to one another.
Interior
Changes to the new C-Class' interior are just as dramatic as updates to the sedan's exterior. Not only is there more room for front and rear passengers (a hallmark for practically every redesigned car), but the C-Class offers a totally new look with nicer materials than last year's model. The dashboard and center stack offer a sporty new style, there are fewer overall buttons, the navigation system uses a new stick-on style as opposed to an integrated unit and virtually every surface, including door armrests, the center console and the dashboard, seems to use an upgraded material.
Mechanicals
Both the outgoing C-Class and the new C-Class offer two engines, but as is the case with styling updates, changes to these powertrains for the latest model year are significant.
Base-level versions of the outgoing C-Class, dubbed the C250, used a 1.8-liter turbocharged 4-cylinder engine with 201 horsepower and 229 lb-ft of torque. Fuel economy ratings topped out at 22 miles per gallon in the city and 31 mpg on the highway. In the new base-level C300, that 1.8-liter is replaced by a turbocharged 2.0-liter 4-cylinder, which makes 241 hp and 273 lb-ft of torque. Fuel economy stands at an excellent 25 mpg city/34 mpg hwy.
In both new and old models, drivers looking for more power can also upgrade to an optional engine. In the 2014 C-Class, that was a 3.5-liter V6 found in the C350 model, a potent powerplant capable of 302 hp and 20 mpg city/29 mpg hwy. By comparison, the all-new 2015 C400 uses a turbocharged 3.0-liter V6 that makes 329 hp and returns 21 mpg city/29 mpg hwy. It's worth noting, however, that the C400 manages better fuel economy even with newly standard all-wheel drive.
Although the engine options can get a little complicated, here's the most important point when it comes to C-Class powertrain changes: The new model offers both more power and better gas mileage, regardless of which version you get. That's an impressive combination.
Features & Technology
As you might expect from its massive improvements in interior design, powertrains and styling, the C-Class offers some major high-tech upgrades for the latest model year. For example, you can get an 8.4-inch center display screen in the new C-Class, which trumps the outgoing model's smaller screen. You can also get scented cabin air, Airmatic air suspension, a power-closing trunk, an in-car Wi-Fi hot spot, a Burmester sound system, a smartphone-style touchpad and several new safety features such as semi-autonomous steering and lane-keeping assist.
Simply put, the 2015 Mercedes-Benz C-Class is the most technologically advanced version of this car to date, and if you want a high-tech driving experience, a certified pre-owned 2014 C-Class won't be able to reach the level of the all-new model.
Driving Experience
Although we'd like to say that the all-new 2015 C-Class dramatically outshines the 2014 model, we actually had a very high opinion of the outgoing C-Class, and we don't think the new version improves on it too much. In fact, we don't think the new version had much to improve on: The old C-Class offered possibly the best combination of sharp handling and ride comfort in the entire segment.
However, the new C-Class does offer one improvement over the old one: a new Agility Select feature that allows you to choose your throttle, steering and transmission response, giving drivers the ability to choose exactly how they want their C-Class to behave, from snappy and quick to relaxed and comfort-focused.
Aside from Agility Select, an obvious engine-power upgrade and the typical slightly lazier steering and handling that goes along with a marginally larger vehicle, we find few major differences between the new C-Class and the outgoing model.
Safety
Although the latest C-Class is too new to be rated by the federal government's National Highway Traffic Safety Administration (NHTSA) or the nonprofit Insurance Institute for Highway Safety (IIHS), the outgoing model earned some excellent scores that will be hard to beat. In fact, the old C-Class got a perfect 5-star overall score from NHTSA and a strong rating from IIHS.
However, the new C-Class offers a few additional high-tech safety features that may help prevent collisions. Partial autonomous steering is available, for example, which can help keep the car on course in case of an emergency. There's also a new lane-keeping assist function that can keep you from drifting out of your lane. Both cars feature several other cutting-edge safety options such as adaptive cruise control, lane-departure warning, forward-collision warning and more.
Safety is probably the area where the new and old C-Class are most similar, and although we're eager to see how the new model performs in crash tests, we think it will offer only minor improvements compared to last year's version.
Conclusions
Although most automotive redesigns offer only gradual changes from the old model to the new one, this year's C-Class update is far more dramatic. There are huge changes to the interior, the exterior and the equipment, and totally new engines offer both additional power and enhanced fuel economy. Indeed, few all-new cars impress us like the 2015 C-Class.
The only catch? Price, of course. Pricing has gone up around $2,000 from the 2014 model to the 2015 version, which is no small figure, especially when you consider the further discount you can get from buying a certified pre-owned 2014 model. Is the new version good enough to justify its price increase? That's for you and your budget to decide. Suffice it to say, we'd be looking under couch cushions for extra pennies in order to afford the new C-Class over last year's model.