Editor's note: You may want to read more of Autotrader's model vs. model comparison car reviews as well as the 2014 Volkswagen Jetta review and the 2015 Volkswagen Jetta review.
The Volkswagen Jetta has been revised for the 2015 model year, and while updates aren't too thorough, some key changes help distinguish the latest model from last year's version. So what's new with the 2015 Volkswagen Jetta? We've listed all the important updates below to help you decide whether it's worth springing for a new model or whether you should save your money and look for a used or certified pre-owned 2014 version.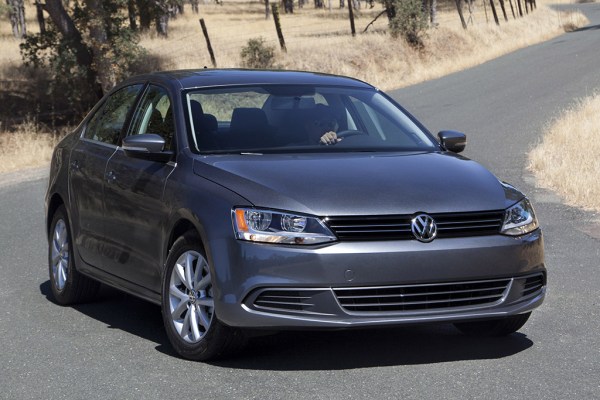 Exterior
The Jetta isn't fully redesigned for 2015 but rather only given a facelift, so it doesn't boast major changes compared to last year's model. Still, there are some new touches, including minor updates to the headlights and taillights, a revised grille and restyled front and rear bumpers. But don't search for a brand-new look when buying a new Jetta; changes are so subtle that we suspect most drivers won't even be able to tell apart the 2014 Jetta from the 2015 model.
Interior
Changes to the Jetta's interior go a little further than updates to the sedan's exterior styling. While the overall interior design doesn't change much, the latest Jetta offers better interior materials, including a revised steering wheel and higher-quality plastics around the center control stack. There are also revised climate controls and a few other minor updates, including a new gear lever. While the 2015 Jetta's interior isn't hugely different from the cabin in last year's model, it's updated where it counts.
Mechanicals
When it comes to mechanicals, the 2015 Jetta is largely the same as last year's model, with one major exception: an updated diesel engine in TDI models. It's still a 2.0-liter turbodiesel 4-cylinder, but power has jumped from 140 horsepower to 150, and diesel fuel economy ratings have increased from a maximum of 31 miles per gallon in the city and 42 mpg on the highway to 31 mpg city/46 mpg hwy.
Otherwise, the 2015 Jetta is exactly the same as last year's model. Base versions use a 115-hp 2.0-liter 4-cylinder, while higher trim levels get a 170-hp 1.8-liter turbocharged 4-cylinder. Shoppers with an eye on fuel economy can go for the 170-hp Jetta Hybrid, and the high-performance Jetta GLI tops the compact car's range with 210 hp and a 6-speed manual or an optional dual-clutch DSG automatic.
Features & Technology
Although most Jetta features and gadgets carry over for 2015, the latest Jetta does offer a few important updates over last year's model. Specifically, the sedan boasts a newly optional suite of electronic driver aids, which includes such items as forward-collision alert, parking sensors and a blind spot monitoring system. Other updates include new exterior LED running lights and revised seat fabrics for additional interior flair. Otherwise, the Jetta remains largely similar to last year's model, carrying over just about every other feature, gadget and option without major changes.
Driving Experience
Volkswagen hasn't made any real updates to the Jetta's driving experience for 2015, which means things are largely the same as last year. As a result, expect a relatively lackluster gas-powered driving experience, unless you upgrade to the sedan's 1.8-liter turbocharged 4-cylinder engine (or the 2.0-liter turbocharged Jetta GLI). Also, expect reasonably solid steering feel, secure handling and composure over most varieties of road surfaces. Most importantly, the Jetta touts a roomy interior, especially for back-seat passengers, which is something that not all rivals can say.
If you're on the fence between a 2014 Jetta and a 2015 model, don't buy the 2015 expecting a largely different driving experience. Instead, you'll find it to be almost exactly the same.
Safety
In National Highway Traffic Safety Administration crash tests, the outgoing Volkswagen Jetta earned a perfect 5-star overall safety rating. We suspect that score will continue with the new model, given that the Jetta hasn't received major chassis updates for the 2015 model year. With that said, extra structural reinforcements designed to boost the Jetta's performance in the Insurance Institute for Highway Safety's small-overlap front test appear to have worked, because the sedan now boasts a Top Safety Pick rating that last year's model didn't attain.
As for safety equipment, the 2015 Jetta also boasts a few improvements over its predecessor. A newly optional blind spot monitoring system, a forward-collision alert system and new parking sensors make last year's Jetta a little safer than before, though the sedan still can't quite touch even more advanced rivals such as the Mazda3 and Ford Focus.
Conclusions
The 2015 Volkswagen Jetta offers only minor updates compared to its predecessor, primarily limited to a few extra mpg with the diesel engine, a subtly revised interior, some new features and an enhanced interior. Although these changes are welcome, they hardly transform the Jetta into a totally new car, so we'd suggest that shoppers interested in a Jetta also consider used and certified pre-owned 2013 or 2014 Jetta models before deciding to sign the papers on a brand-new 2015 version.
Find a 2014 Volkswagen Jetta for sale