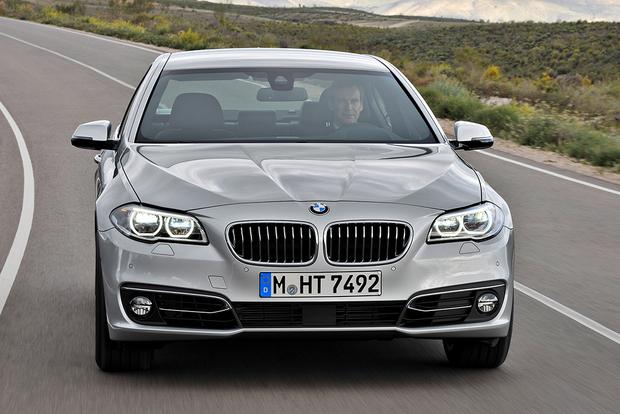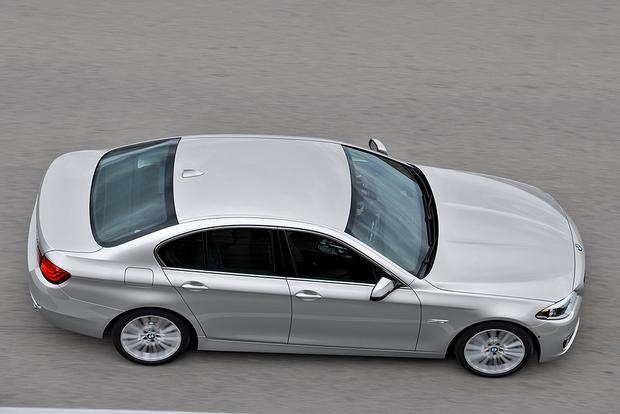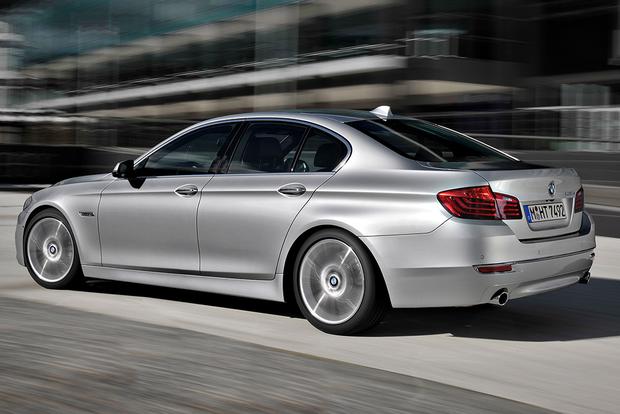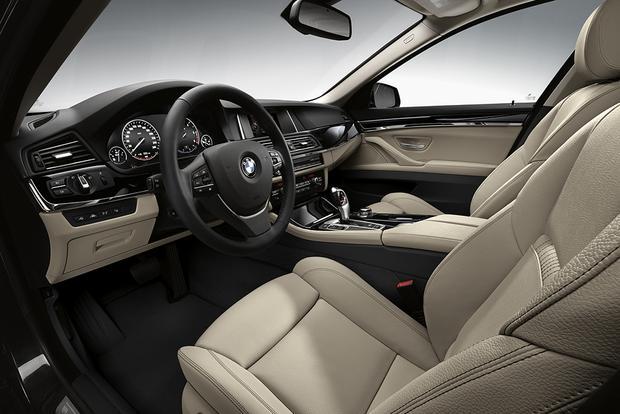 If the 2015 BMW 5 Series were a politician, its recent shift toward the center would be the talk of the town.
In the old days, the 5 Series lived at the margins of mainstream luxury, offering up genuinely sporty handling with a premium veneer. Those models pleased die-hard BMW enthusiasts, but typical shoppers were left wondering why the steering was so heavy and the ride so firm. Many buyers opted for softer alternatives from Lexus and Mercedes, instead.
Accordingly, when BMW designed the current 5 Series, their mantra was that age-old piece of wisdom: If you can't beat 'em, join 'em. This 5 Series is actually based on the top-dog 7 Series, so it has an ultra-smooth ride, and there's even a 335-horsepower ActiveHybrid 5 sedan that competes against the previously unrivaled Lexus GS 450h.
Not surprisingly, some of the 5 Series lineup's former athleticism was lost in translation. That's what happens when you use a big car like the 7 Series as a foundation. While the 5 Series is still quite capable by the numbers, it's more of a high-speed cruiser now than a back-road bomber.
But for most shoppers in this segment, that's exactly as it should be. The 2015 5 Series is perhaps the most accomplished centrist among midsize luxury sedans, offering something for just about everyone.
What's New for 2015?
A sport steering wheel and LED fog lights are now standard, but the 2015 5 Series is essentially unchanged.
What We Like
World-class engines; cosseting ride; rich interior; full range of technology offerings
What We Don't
Small back seat; handling could be sharper; ActiveHybrid 5 model's fuel economy disappoints
How Much?
$50,900-$65,850
Fuel Economy
The 528i is motivated by a turbocharged 2.0-liter inline-4 engine rated at 240 hp and 255 lb-ft of torque. An 8-speed automatic is the only transmission. It returns 23 miles per gallon in the city and 34 mpg on the highway, or 22 mpg city/33 mpg hwy with the xDrive all-wheel drive.
Next up is the 535i, which boasts a turbocharged inline-6 rated at 300 hp and 300 lb-ft of torque. Fuel economy is still strong at 20 mpg city/31 mpg hwy with the automatic and 20 city/30 hwy with the standard transmission, a 6-speed manual. All-wheel drive is available on the 535i, though only with the automatic, and it barely affects fuel economy, returning 20 city/29 hwy.
The 535d has a turbodiesel inline-6 that pumps out 255 hp and 413 lb-ft of torque. The 8-speed automatic is mandatory. Fuel economy is a highly impressive 26 mpg city/38 mpg hwy with rear-wheel drive and 26 mpg city/37 mpg hwy with all-wheel drive.
For true power-mongers, the 550i serves up a twin-turbocharged 4.4-liter V8 that cranks out 445 hp and 480 lb-ft of torque. Fuel economy predictably plummets, settling at 17 mpg city/25 mpg hwy with the standard 8-speed automatic. The all-wheel-drive 550i returns 16 mpg city/25 mpg hwy.
The ActiveHybrid 5 pairs the turbocharged inline-6 with an electric-drive system and the 8-speed automatic for a total system output of 335 hp. Fuel economy is disappointing for a hybrid at 23 mpg city/30 mpg hwy.
Standard Features & Options
The 2015 BMW 5 Series sedan is offered in five trim levels: 4-cylinder 528i, 6-cylinder 535i, turbodiesel 535d, V8-powered 550i and ActiveHybrid 5. The high-performance M5 is reviewed separately.
The 528i ($50,900) comes standard with the turbocharged inline-4 engine, 17-inch alloy wheels, adaptive xenon headlamps, LED running lights/fog lights/taillights, a sunroof, an electronic limited-slip differential, leatherette upholstery, 10-way power front seats with lumbar support and driver memory, a power tilt-telescopic steering wheel, dual-zone automatic climate control, iPod/USB and Bluetooth connectivity, a 10-speaker audio system and the iDrive infotainment system with hard-drive-based navigation, digital music storage and a 10.2-in central display screen.
The 535i ($56,550) adds a turbocharged inline-6, 18-in wheels and leather upholstery.
The 535d ($58,050) boasts a turbodiesel inline-6 but is otherwise comparable to the 535i.
The ActiveHybrid 5 ($62,850) is essentially a 535i with an electric propulsion system added to the turbo inline-6, though it also comes standard with quad-zone climate control with individual temperature settings.
The 550i ($65,850) tacks on a twin-turbo V8, front and rear parking sensors, a rearview camera, a hands-free power trunk lid with a foot sensor, keyless entry and start, 20-way Multi-Contour power front seats and memory settings for both the driver and front passenger.
All-wheel drive is a $2,300 option on all except the ActiveHybrid 5, which includes rear drive only.
Most of the higher trims' standard features are available as options on lower trims. There are also numerous packages and individual options, including various performance enhancements, a dual-screen rear entertainment system and a 16-speaker, 600-watt Bang & Olufsen audio system.
The trunk officially measures 14 cu ft., which is a low number for a midsize sedan, but in our experience it's a usefully deep cargo bay. The ActiveHybrid 5 drops to 10 cubes, however.
Safety
The 2015 BMW 5 Series comes with 4-wheel anti-lock disc brakes and six airbags (front, front-side and full-length side-curtain). The available BMW Assist Safety Plan adds four years' worth of emergency roadside services. The Driver Assistance Plus package brings a slew of high-tech safety features, including a surround-view camera system, lane departure warning, blind spot monitoring and a collision-detection system with auto-stop capability.
In government crash tests, the current 5 Series received a perfect five stars overall, including four stars for frontal impacts and five stars for side impacts. The independent Insurance Institute for Highway Safety (IIHS) gave the 5 Series its top Good rating in all tested categories.
Behind the Wheel
In our interior evaluation, we noted that even the standard 10-way power front seats are among the best chairs you'll find at this price. But it's worth stepping up to the 20-way Multi-Contour seats, as they're basically BMW's shot at building the world's best places to sit. The interior materials are uniformly rich, and the restrained dashboard design, including the center stack canted toward the driver, is straight out of the 7 Series playbook. The 10.2-in central display screen features beautiful graphics and the most intuitive iDrive interface yet.
The 5 Series may be based on the 7 Series, but its back seat is considerably less accommodating. If you're looking for a big difference between the two models, this is it. Adults can still fit in the back row, but the bench is on the low side, and legroom isn't as ample as you might expect based on the car's substantial dimensions.
Under the hood, the 528i's turbo four makes more power than BMW lets on, and we can confirm that it feels surprisingly strong. Of course, the 535i model's 300-hp inline-6 is mighty seductive if you sample it, and the 535d model's turbodiesel six might even be more satisfying with its massive torque. As for the 550i model's V8, incredible acceleration at any speed is the name of its game. You have to experience it to believe it.
The ActiveHybrid 5, however, is less compelling. A true dual-mode hybrid, the ActiveHybrid 5 can accelerate solely on electric power up to 37 miles per hour, and it can coast in electric-only mode at speeds up to 100 mph. But performance is only on par with the less-powerful 535i due to the Hybrid's increased weight, and fuel economy is barely better than what you get in the 535i.
Some who step into the 2015 5 Series might expect it to be a nimble sport sedan like the BMWs of yore. But it isn't. The 5 Series has evolved into a swift, supple and silent sedan, an unflappable touring car that gives the driver a sense of complete confidence and control. This is still the ultimate driving machine; it's just a different breed.
Other Cars to Consider
2015 Audi A6 -- We're referring specifically to the supercharged 3.0T and turbodiesel TDI models, as either can give the 5 Series a run for its money. There's also the S6 sedan with its twin-turbocharged V8, a direct 550i competitor.
2015 Mercedes-Benz E-Class -- The E350 sedan has a strong, naturally aspirated V6 that some may prefer to BMW's turbocharged options, while the E400 sports a twin-turbocharged V6 aimed at the 535i.
2015 Lexus GS -- The current GS reminds us a lot of the previous 5 Series. Its standard V6 is a beauty, and there's an available Hybrid model that takes on the ActiveHybrid 5.
Used BMW 6 Series Gran Coupe -- Although the Gran Coupe is considerably pricier when new, you can find certified pre-owned examples at BMW dealerships for 5 Series money. The back seat is smaller, but the styling is a home run.
AutoTrader's Advice
We'd go whole-hog and get the 550i. We know the other powertrains sound plenty capable, but that twin-turbo V8 is something else with the way it picks you up and hurls you down the road.