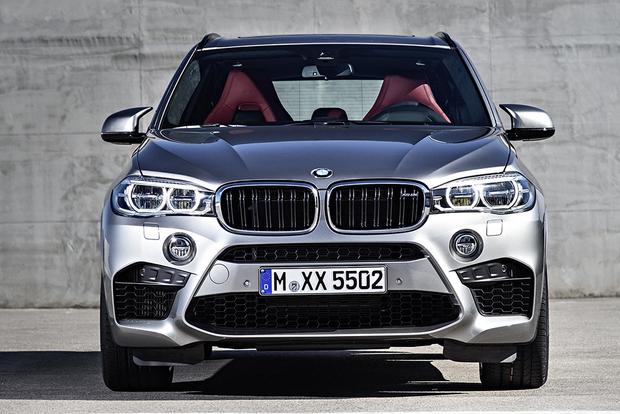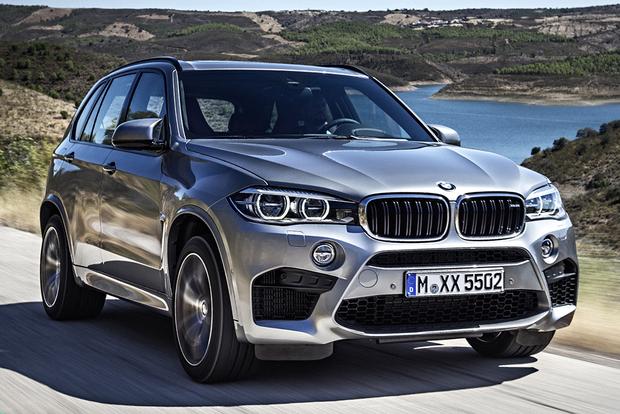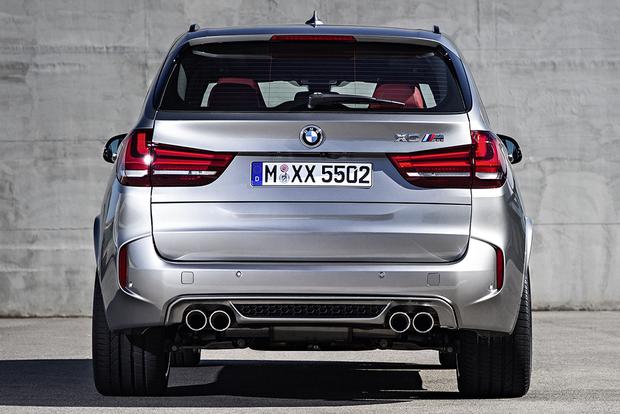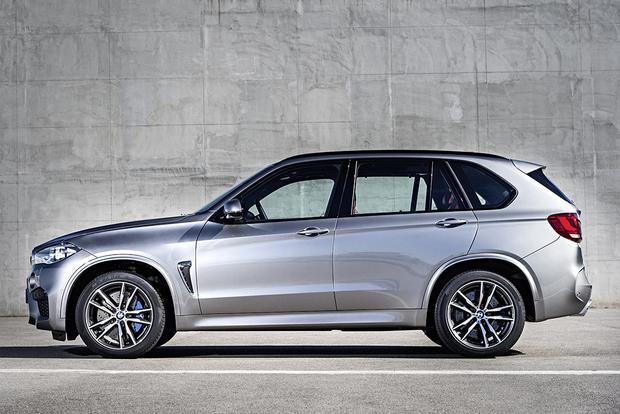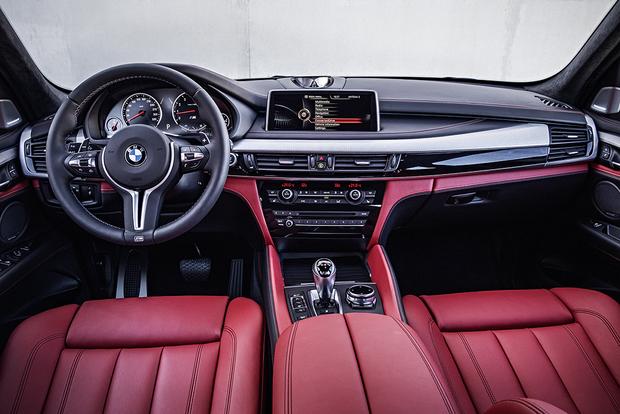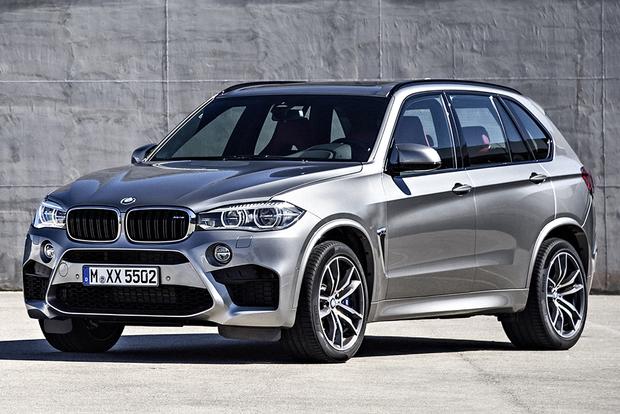 No one truly needs a 5,260-lb crossover SUV with a 567-horsepower V8 engine that can sprint to 60 miles per hour in 4 seconds flat. But if you're shopping for a luxury crossover and want the best, the 2015 BMW X5 M is BMW at its finest. It's almost miraculous how the automaker's vaunted engineers have transformed a bulky utility vehicle into a performance machine that only a select few sports cars can outrun. You could get a regular X5 for tens of thousands less, but for those who simply won't settle for second place, the X5 M is virtually guaranteed to please.
What's New for 2015
The 2015 X5 M is an all-new model.
What We Like
Blistering acceleration from twin-turbo V8; incredibly capable handling for a crossover; sumptuous cabin with comprehensive tech features
What We Don't
Questionable value relative to regular X5
How Much?
$99,650
Fuel Economy
The all-wheel-drive X5 M features an 8-speed automatic transmission and a twin-turbocharged 4.4-liter V8 engine that churns out an absurd 567 hp and 553 lb-ft of torque.
The Environmental Protection Agency (EPA) rates the regular X5 xDrive50i at 15 miles per gallon in the city and 22 mpg on the highway with its 445-hp version of the same V8. The X5 M is estimated to be roughly 20 percent less efficient due to its higher output and more aggressive tuning.
Options and Standard Features
The 2015 X5 M comes in a single trim level with almost all the fixings.
Standard features include 21-inch wheels, adaptive sport-tuned suspension dampers, a rear air suspension, quad tailpipes, an M body kit, adaptive xenon headlights, LED fog lights and taillights, a panoramic sunroof, a power liftgate with hands-free operation (via a foot sensor in the bumper), front and rear parking sensors, a performance-themed instrument cluster with a high-resolution color driver information center, a power-adjustable steering wheel with paddle shifters, driver memory settings, adjustable drive settings (Driving Dynamics Control), 18-way heated front sport seats, leather upholstery, 4-zone automatic climate control, Bluetooth phone and audio, a USB port, a 16-speaker Harman Kardon audio system and BMW's iDrive infotainment system with a widescreen 10.2-in display, navigation and hard-drive MP3 storage.
The optional Executive package adds LED headlights, soft-closing doors, a heated steering wheel, a head-up display, ventilated front seats, heated rear seats and rear-window sunshades. Additional options include smaller 20-in wheels, an automated parking system, a rear-seat entertainment system and a 16-speaker Bang & Olufsen audio system.
Rear-seat comfort in the X5 M is satisfactory, though we still wish that BMW would position the X5's rear bench a bit higher for Land Rover-grade outward visibility. The regular X5's optional third-row seat is unavailable in the M, and that's a pity, because three seating rows would make this BMW a truly singular beast.
The current X5 is a bit of a letdown in terms of cargo capacity, providing 23 cu ft. behind the rear seatbacks and 66 cu ft. with those seatbacks flipped forward. That's good for a compact crossover, but the X5 is a midsizer, so we expect a bit more. Still, considering the massive performance on tap, that's a lot of versatility.
Safety
The X5 M comes standard with stability control, 4-wheel anti-lock disc brakes (with automatic collision-preparation) and six airbags (front, front-side and full-length side-curtain).
The optional Driver Assistance Plus package includes a 360-degree parking camera system, a blind spot monitor and lane departure warning. You can also specify an infrared night-vision camera that detects pedestrians in dimly lit areas.
Behind the Wheel
For the most part, the 2015 BMW X5 M borrows the regular X5's dashboard and control layout. Materials quality is excellent, and the dashboard has a sleek, modern look. The X5 M also adds a number of special standard items, such as extended leather trim inserts and remarkably comfortable sport front seats with 18-way power adjustments. Furthermore, there's a unique M-spec gauge cluster with performance-oriented displays, as well as a sport shift lever that mimics the one found in the M3 sedan.
Cabin technology is top-notch in the current X5, and the X5 M gets the cream of the crop, coming standard with the widescreen 10.2-in display and the touchpad-enabled iDrive controller. BMW also throws in a premium Harman Kardon 16-speaker audio system that's optional on lesser X5 models. If that's not enough, spring for the 16-speaker Bang & Olufsen system with its superior power output and clarity. At this price point, a few extra grand is arguably worth it for the peerless road-trip sound quality you'll get.
On the road, the 2015 X5 M won't let you forget how large it is, but it's also astonishingly capable thanks to its adaptive dampers, active roll stabilization and enormous performance tires. You can even activate a special M Dynamic Mode in the stability control system for tail-out cornering (BMW suggests that full-on drifts are possible in the hands of skilled drivers). Of course, shoppers in this segment expect comfort, too, so those adaptive dampers can be toned down at the press of a button for compliant daily driving. It's hard to beat this BMW as an all-in-one solution for driving enthusiasts.
Other Cars to Consider
2015 BMW X6 M -- It might seem odd to recommend basically the same vehicle with less cargo space, but the X6 M offers a sleek fastback roofline that'll turn more heads.
2015 Porsche Cayenne Turbo -- While the X5 M can keep up with the Cayenne Turbo in a straight line, our money's on the Porsche once the going gets curvy.
2015 Mercedes-Benz ML63 AMG -- The AMG-tuned ML is a bit unwieldy during twists, but it's a freight train when going straight.
Used Mercedes-Benz G63 AMG -- A new G63 costs about twice as much as the X5 M, but if you poke around, you can find a nice low-mileage truck with some serious depreciation.
AutoTrader's Advice
The one thing that gives us pause about the X5 M is the regular X5 xDrive50i, which has a similar twin-turbo V8 that's pretty thrilling in its own right. Is the M version worth another $20,000-$30,000? We suggest driving both back-to-back to see how you feel.