Car Comparison
2015 Chrysler 200 vs. 2014 Honda Accord: Which Is Better?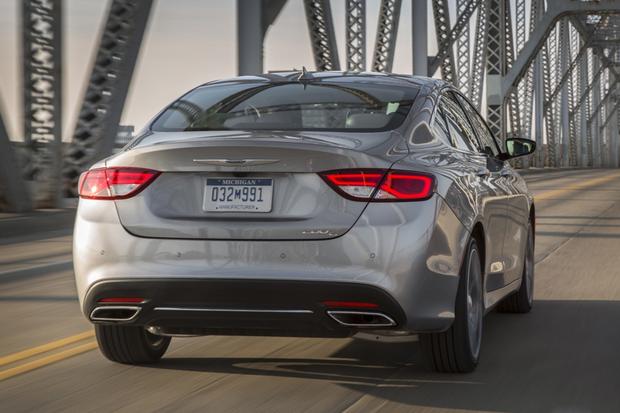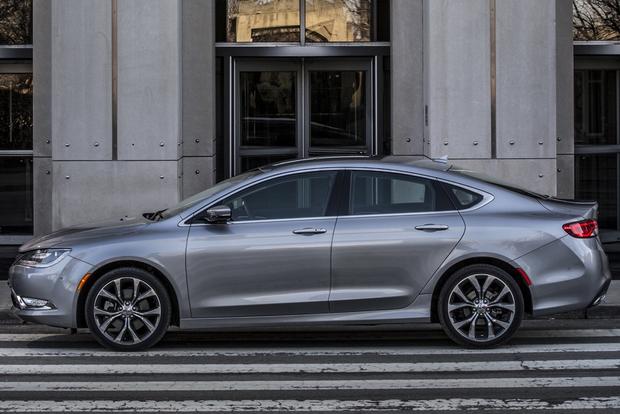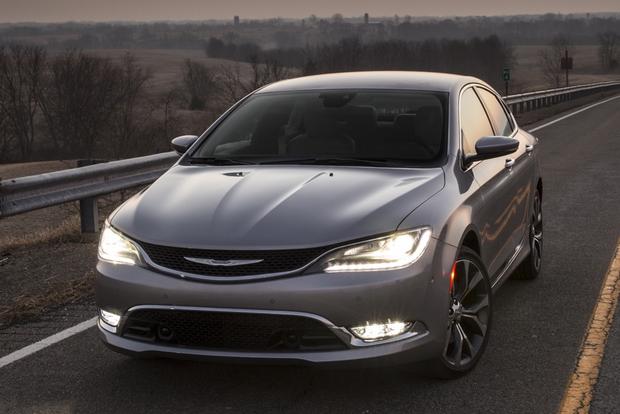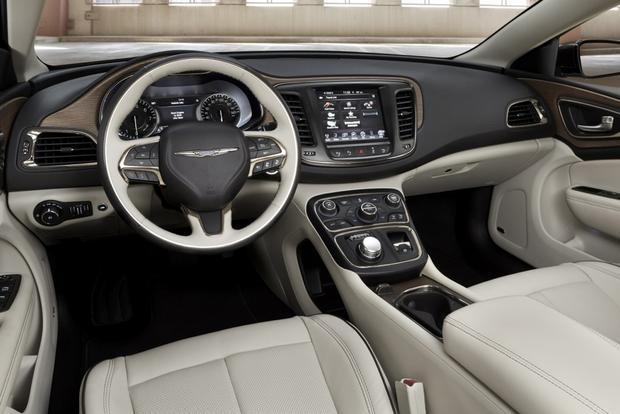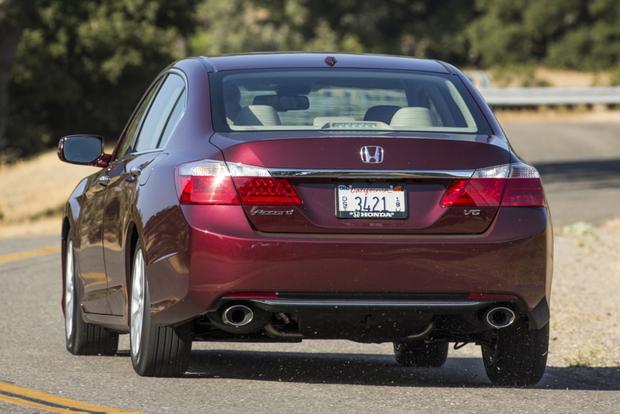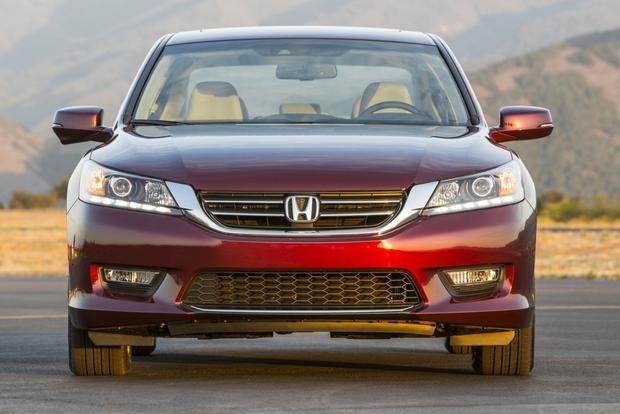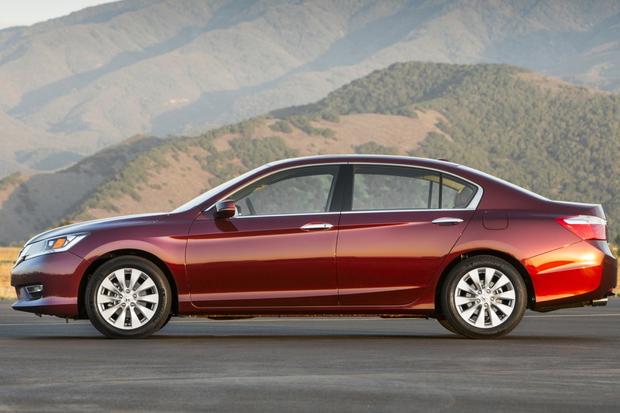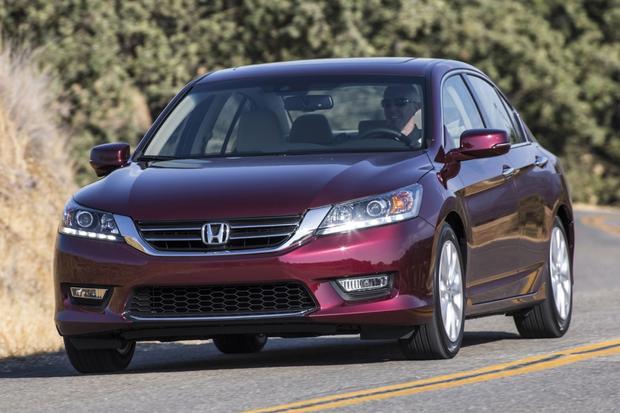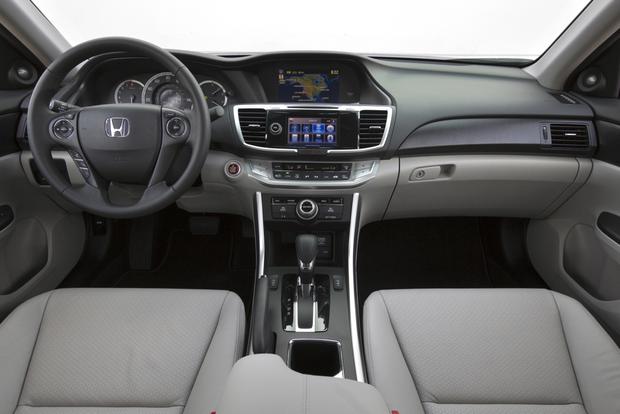 If you're looking for a midsize sedan, chances are good that you've put down the 2014 Honda Accord on your shopping list. If you've been paying attention, you've probably also included the 2015 Chrysler 200 -- a newly redesigned midsize sedan that's earned high praise recently for its combination of excellent equipment, reasonable pricing, high-tech features, and a significantly improved interior compared to its predecessor. So, which one is better? We've taken a closer look to find out. First, let's check out what's new with both cars for the latest model year.
2014 Honda Accord
Gas-powered versions of the Honda Accord are largely unchanged for 2014, but the sedan's big news is the addition of two new hybrid models. There's a regular hybrid, which returns a combined 47 miles per gallon in city and highway driving, and a plug-in, which has a 15-mile range on purely electric power before the gasoline engine kicks in. The Accord starts out with an advantage over many cars because it's offered as a coupe or sedan with either a manual or automatic transmission and with your choice of 4-cylinder, V6, hybrid or plug-in hybrid powertrains.
2015 Chrysler 200
The Chrysler 200 is fully redesigned for the latest model year. While last year's 200 was a lackluster midsize sedan, the new one changes all that: It has improved engines, a better interior, revised styling, and a long list of new features designed to help it compete with the likes of the Accord, the Toyota Camry and other midsize-sedan mainstays.
Reliability
It's often hard to predict the reliability of a new car, and that's especially true of the Chrysler 200, which offers such a dramatic difference from last year's model. As a result, the 200's reliability is mostly unknown. It will have trouble toppling the Accord, considering that J.D. Power rates the Honda with four circles out of five (indicating better-than-average reliability) and considering Chrysler's typically poor reputation (with last year's 200 only earning two circles out of five).
Recognizing the fact that it isn't known for reliability, Chrysler offers an exemplary warranty on the 200. The sedan boasts an impressive 5-year, 100,000-mile powertrain warranty, which is an improvement over the Accord's 5-year, 60,000-mile powertrain coverage. Both cars offer 3 years and 36,000 miles of bumper-to-bumper warranty coverage.
Still, a few extra warranty miles from the 200 can't topple the Accord's impressive reputation for reliability and durability. Until the 200 proves itself like the Honda has, we have to award the reliability category to the Accord.
Fuel Economy
The base-level Honda Accord and Chrysler 200 offer very similar engines. In the Accord, it's a 185-horsepower 2.4-liter 4-cylinder; in the 200, it's a 184-hp 2.4-liter 4-cylinder. Fuel economy is strong in both models, but the Accord has the slight edge: It returns 27 mpg in the city and 36 mpg on the highway, while the 200 returns 23 mpg city/36 mpg hwy. The difference is likely due to the transmission: While the 200 uses a state-of-the-art 9-speed automatic, the Accord's continuously variable automatic is especially designed for saving gas.
For drivers interested in more power, both the Accord and the 200 offer it. In the Accord, it's a 278-hp 3.5-liter V6, while the 200 boasts an available 295-hp 3.6-liter V6 -- one of the most powerful engines in the midsize-sedan segment. Once again, the Accord has the slight advantage here, returning 21 mpg city/34 mpg hwy compared to the 200's 19 mpg city/32 mpg hwy.
While gas-powered Accord and 200 models tend to get about the same mileage, the Honda's real edge comes in the world of hybrids. The Accord boasts two: a plug-in model, which can travel around 15 miles on electric power alone, and a traditional hybrid, which returns around 47 mpg in combined city and highway driving. The 200, on the other hand, doesn't offer a hybrid variant. Hybrid capabilities combined with slight increases in its gasoline engines give the Accord a clear advantage in the fuel economy category.
Safety
Most modern midsize sedans come with a strong focus on safety, and the 200 and Accord are no exception. The Accord boasts some impressive available safety technology, including a forward-collision warning system, a lane-departure warning system, a blind spot monitoring system, and even a LaneWatch camera that assists you when you change lanes. It also includes a standard backup camera. While the 200 doesn't boast LaneWatch or a standard backup camera, it does offer a rear cross-traffic alert system -- not available on the Accord -- and a forward-collision braking system, which automatically stops for you under certain conditions. It also offers other Accord technologies, such as lane-departure warning and a blind spot monitoring system.
In terms of crash tests, it's hard to pick a winner. While the Accord earned a perfect 5-star rating from the government's National Highway Traffic Safety Administration and a Top Safety Pick+ score from the nonprofit Insurance Institute for Highway Safety, the 200 hasn't yet been tested. We suspect that it'll do well in those assessments, so if crash-test ratings are important to you, you may want to wait and see how the Chrysler scores before deciding which model is safer.
As a result, safety is a draw. We'd like to see a standard backup camera on the 200, but we'd also like to see a collision-prevention system in the Accord. It's just a little too early to say which car performs better in crash tests.
Technology
In the past, it would've been easy to give this category to the Accord over the 200, which has hardly been known as a gadget-lover's dream car, but that's all changed for 2015: The 200 now offers everything you can get in the Accord, plus a few other high-tech items that the Honda can't beat.
We've already covered a few safety differences, such as the fact that the Accord offers its exclusive LaneWatch camera while the 200 boasts forward-collision protection and a rear cross-traffic alert system. The 200 does hold a few other high-tech benefits over the Honda, including a panoramic sunroof, an available automated parallel-parking system, rain-sensing wipers, and a lane-keeping system that takes over if you start to drift from your lane. We also prefer the 200's Uconnect infotainment system, which is incredibly easy to use.
In this case, technology is simply a factor of age: The 200 is a brand-new car, so its technology is just a little more advanced than the Accord's. If gadgets are important to you, we'd recommend the 200 over the Accord.
Value
Given the wide array of trim levels and option packages offered by both the 200 and the Accord, it's hard to assess value, especially since it largely depends on what you want. If you want a base-level car, we recommend the Accord: It has more standard equipment for about the same money. If you want a well-equipped model, things swing in favor of the 200, which offers a wide range of features that aren't available on the Accord.
In the end, we strongly suggest spending time on each car's online configurator. Equip each vehicle exactly as you'd like it, and then take a look at just how much it'll cost to drive off the lot with the features you want. Depending on the options you desire, the value category could easily be awarded to either model.
With that said, we do have two important warnings before you head to the dealer. One is resale value. Chrysler's resale value has been notoriously poor in the past, while Honda's is typically excellent. While the new 200 may correct this flaw, you might also find that the 200 loses value far more than you'd expect; that could make it more expensive to own. Right now, it's too early to tell how the car will perform on the used market. In favor of the 200, however, is the transaction price; Chrysler usually discounts its vehicles more than other automakers, especially Honda, so you may be able to negotiate a better price on the 200 than you can get on a new Accord.
AutoTrader's Advice
To us, this is a surprisingly difficult choice. While the 2014 Honda Accord is undoubtedly the shining star of the midsize-sedan segment, the 200 is an impressive up-and-comer, especially if technology and gadgets excite you the most. Historically, Chrysler vehicles haven't been as reliable as Hondas, but the 2015 Chrysler 200 is an all new car so holding it to the previous car's service history may or may not be fair. Also, fuel economy is surprisingly close if you're not looking for a hybrid.
In the end, this comparison is just too close to call. Ultimately, it comes down to you: We suggest that you spend some time in both cars and decide which you prefer. For most shoppers, we suspect that the Accord will win out due to its proven reputation, solid quality, variety of models, and offer of both hybrid and plug-in-hybrid versions. But for the first time in years, the 200 provides a strong Chrysler entrant into the midsize-sedan segment.