Car Comparison
2015 Chrysler 200 vs. 2015 Ford Fusion: Which Is Better?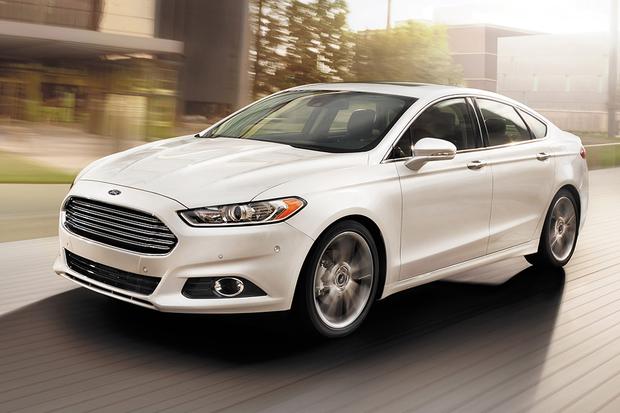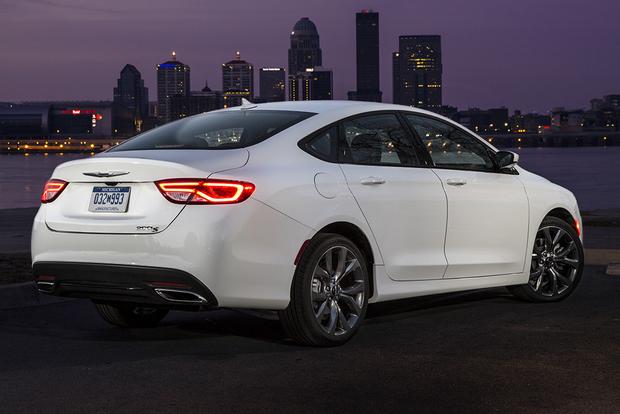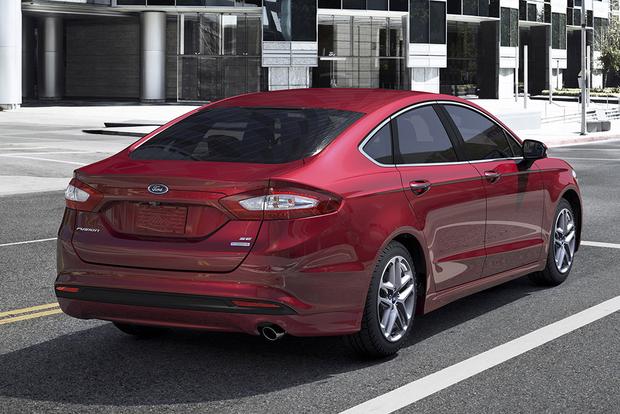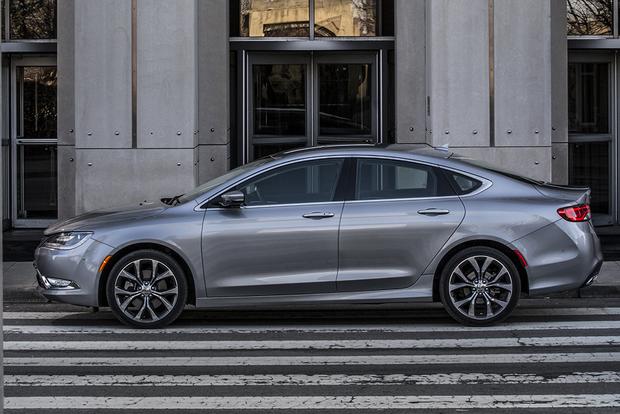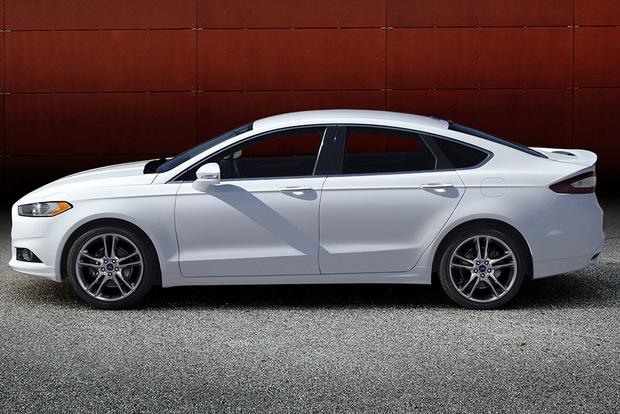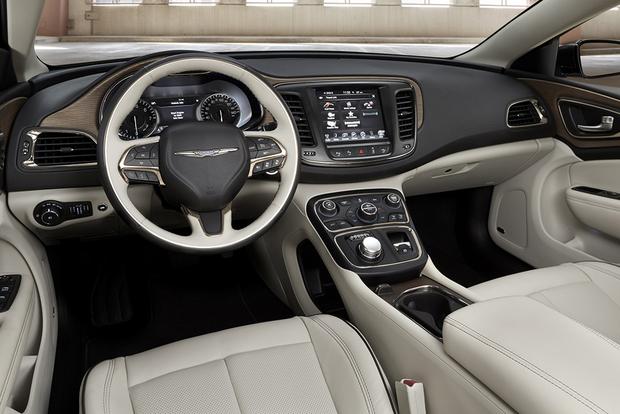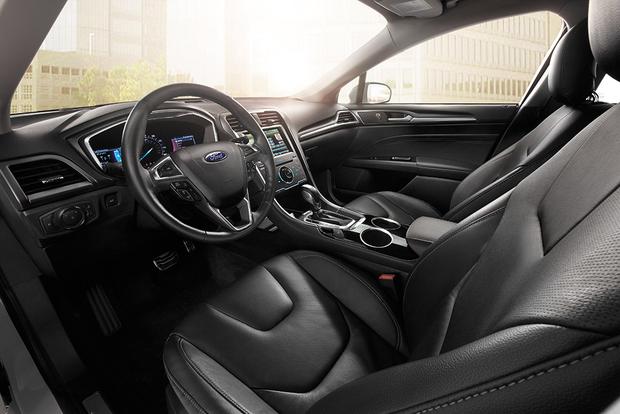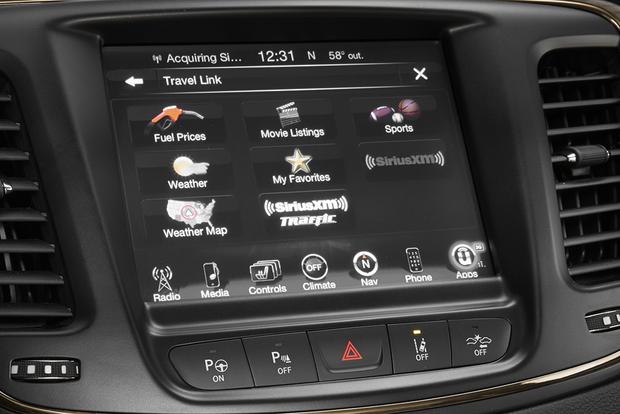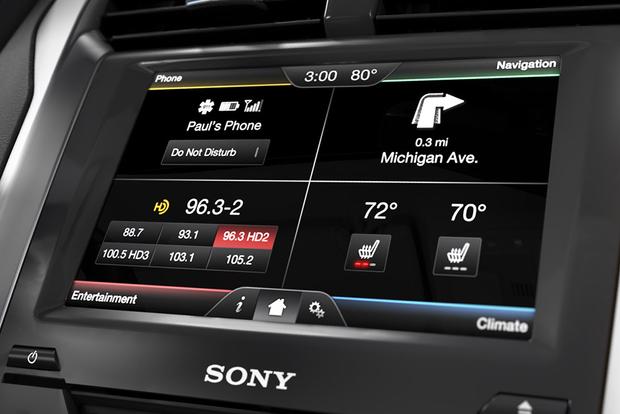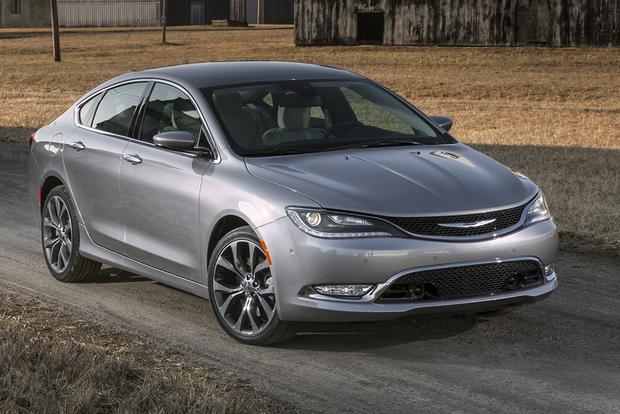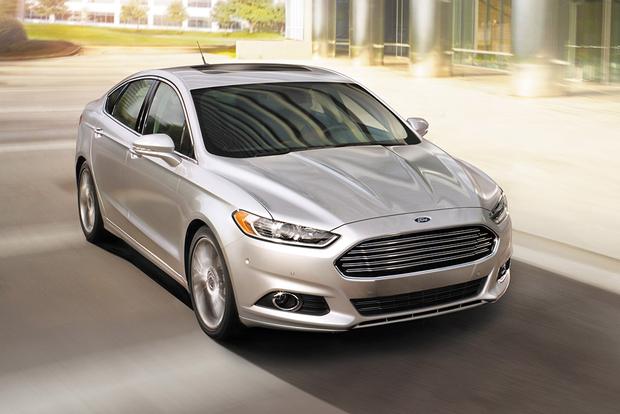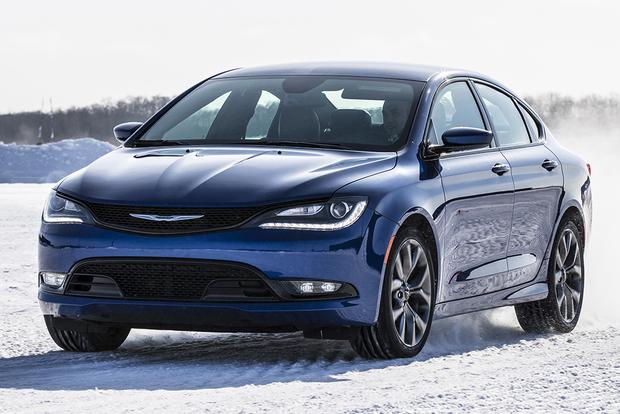 The all-new 2015 Chrysler 200 brings a fresh new face to the midsize-sedan market, one that's designed to do battle with several of today's most popular players, from the Toyota Camry and Honda Accord to the Hyundai Sonata and Ford Fusion. So how does it stack up? To find out, we're comparing the 200 to the Ford Fusion, which is among the best models in the competitive midsize-sedan segment. Before we determine which is better, let's see what's new with the 200 and the Fusion for the latest model year.
2015 Chrysler 200

The Chrysler 200 is completely redesigned for 2015 with a totally new look inside and out, along with new features, new technology, new safety equipment and revised powertrains. Additionally, last year's drop-top 200 Convertible model has been discontinued.
2015 Ford Fusion

Following a major redesign just 2 years ago, the Fusion sees only minor updates for 2015. Changes include a newly standard backup camera on all models and newly standard alloy wheels for the base-level Fusion S, along with a 1.5-liter EcoBoost 4-cylinder in place of the outgoing 1.6-liter.
Reliability
Because the 200 is so new, industry experts at J.D. Power have not yet given the sedan any reliability ratings. However, the 200's reliability makes us a little nervous, especially since its predecessor received only two circles out of five in J.D. Power's Power Circle Ratings, indicating worse-than-average reliability. On the other hand, the Fusion received four circles, indicating a better-than-average score.
When it comes to warranties, both the Chrysler 200 and the Ford Fusion offer roughly the same warranty length: 3 years or 36,000 miles of bumper-to-bumper protection and 5 years of powertrain coverage. However, the 200's powertrain warranty covers slightly more miles than the Fusion's warranty: 100,000 miles to the Fusion's 60,000.
For us, however, the Fusion's above-average J.D. Power score is all we need to hear in order to give this category to the Ford. We'd have a change of heart if the Chrysler overcomes its predecessor's mediocre ratings to earn a strong score.
Fuel Economy
The Ford Fusion offers three gas-engine choices, while the Chrysler 200 only offers two. In the 200, base models use a 184-horsepower 2.4-liter 4-cylinder that returns up to 23 miles per gallon in the city and 36 mpg on the highway. That's a little more impressive than the Fusion's base engine, a 2.5-liter 4-cylinder that offers 175 horses and returns up to 22 mpg city/34 mpg hwy.
Drivers who want more power from the 200 can also get a brawny 3.6-liter V6, which puts out a sports-car-like 295 hp. That engine returns up to 19 mpg city/32 mpg hwy. The Fusion's more powerful engine, meanwhile, is a 240-hp turbocharged 4-cylinder that's capable of a slightly better 22 mpg city/33 mpg hwy.
The Fusion also offers one more gas engine for shoppers especially interested in fuel economy: a 181-hp 1.5-liter turbocharged 4-cylinder, which delivers up to 25 mpg city/37 mpg hwy.
The Fusion also offers two other fuel-efficient engines: a hybrid 4-cylinder in the aptly named Fusion Hybrid, which puts out 188 hp and returns 44 mpg city/41 mpg hwy, and a plug-in hybrid 4-cylinder in the Fusion Energi. That model can travel about 20 miles on electric power alone before a miserly gas-powered 4-cylinder kicks in.
If you're into fuel economy, the 200 does a stellar job, but nothing compares to the Fusion's impressive array of powerplants that range from fun to frugal. Wherever your fuel economy priorities lie, the Fusion has an engine for you, and that's why it easily wins this category.
Safety
Both the Chrysler 200 and Ford Fusion earned perfect 5-star overall ratings from the National Highway Traffic Safety Administration (NHTSA), whose battery of tests includes side-impact and front-impact tests, along with a rollover assessment. Both cars also earned top ratings from the nonprofit Insurance Institute for Highway Safety (IIHS), though the Chrysler's Top Safety Pick+ score slightly edges out the Fusion's Top Safety Pick rating. As a result, we think these two cars are fairly similar in terms of crashworthiness.
When comparing equipment, the Fusion and the 200 are also neck and neck. Both offer all the latest gadgets, such as rear cross-traffic alert, forward-collision warning with automatic braking, blind spot monitoring systems, adaptive cruise control, automatic high beam control and even an automated parallel parking system. Admittedly, we like the 200's unique lane-keep assist function, which isn't offered in the Fusion, and we also appreciate that the Fusion includes a standard backup camera, which remains an option in the 200.
In other words, neither car offers a distinct advantage on safety. Both cars earned excellent performance ratings in crash tests, and neither one offers any significantly different features than the other. There's no winner in this category except the shopper, who benefits from the excellent engineering and impressive features offered by both vehicles.
Technology
Although it may be hard to believe considering Chrysler models of years past, the 200 is this segment's overall technology leader. The Fusion undoubtedly comes in second, which makes these two cars great choices for any technophile.
Some examples of the gadgets offered by both the 200 and the Fusion include intuitive, simple, well-designed infotainment systems (though we slightly prefer Uconnect to the Fusion's MyFord Touch), automated high beams, adaptive cruise control, an automated parallel parking system (with automated perpendicular parking in the Fusion) and much more. However, we think the 200 just manages to edge out the Fusion with a few additional features such as a panoramic sunroof and the unique lane-keep assist function, which can help steer you back on course if you drift out of your lane.
But these two models are at the top of the midsize-sedan technology game, and we think any gadget lover will be pleased with either one.
Value
Although the 200 undercuts the Fusion by around $700 in terms of base price, the base-level Fusion offers a little extra equipment. But prices even out as the two models ascend through their trim levels, as do standard equipment levels.
As a result, it's hard to pick a winner in terms of value, so we'd have to award this category to whichever model is available with a better deal. Given that the 200 is all new for the 2015 model year, Ford dealers may be a little more willing to offer good deals right now than Chrysler retailers.
Autotrader's Advice
These are two of the best midsize sedans on the market, and picking a winner between the two is difficult, but they each have their own strengths and weaknesses. With that said, we think more drivers will be happier with the Fusion for one simple reason - the Fusion has more variety. In addition to its excellent safety features, its wide array of technology and its strong reliability numbers, the Fusion offers more model choices than the 200, including a fuel-saving gas-powered model, a hybrid and a plug-in hybrid. That means the Ford has a broader appeal than its Chrysler rival. However, the Fusion is popular and the fact that it's a very good sedan is known by many. That means the price of the Fusion might be a little less flexible when it comes time to buy. Also, we prefer the Chrysler's newly updated interior and believe the Uconnect technology is among the best in the business.
In the end, here are the two big determining factors for us. The Fusion feels bigger inside with slightly more rear seat legroom, this one thing could be the make or break factor when shopping for a family car. However, the Chrysler is more fun to drive. We like the V6's noticeable exhaust note, responsive acceleration and tight suspension. In the end, which of these two features you like best will determine the right car for you. It's hard to go wrong with either the 2015 Chrysler 200 or the 2015 Ford Fusion, and in a segment full of challengers, it's easy to say that both of these models should be near the top of your shopping list.