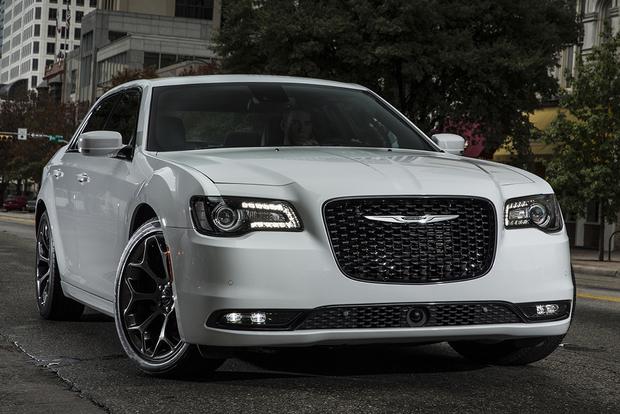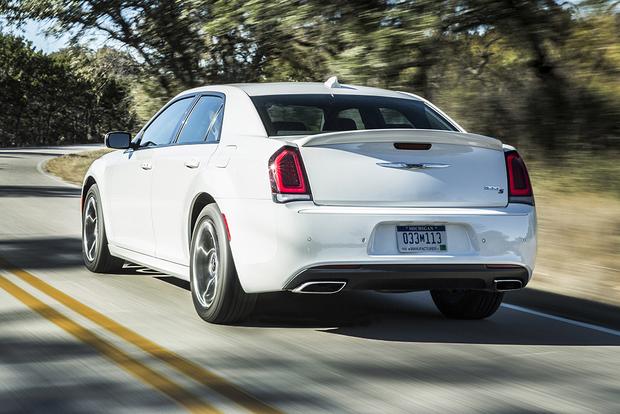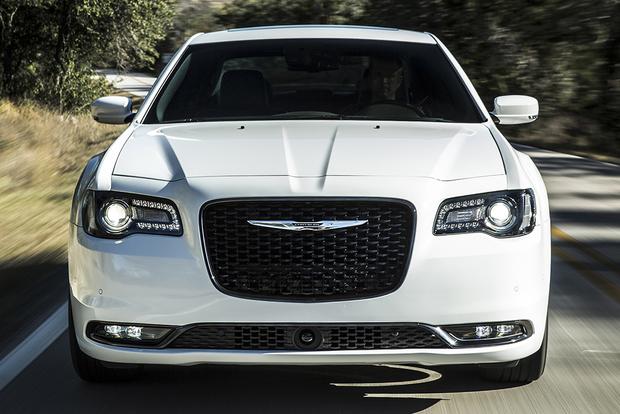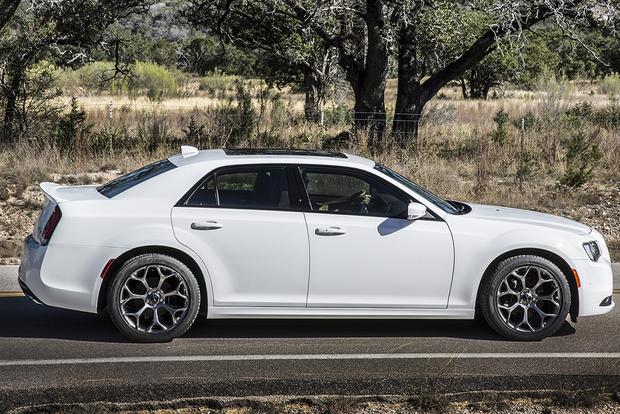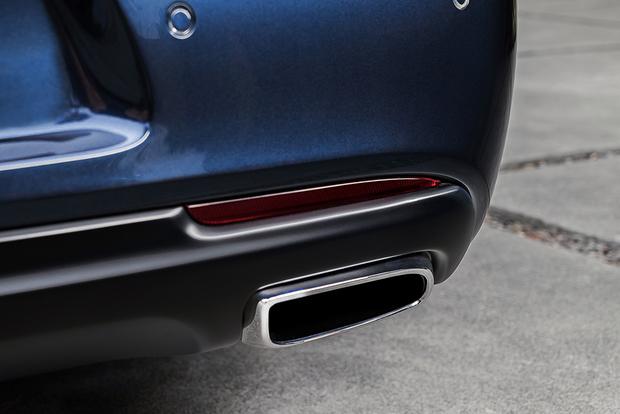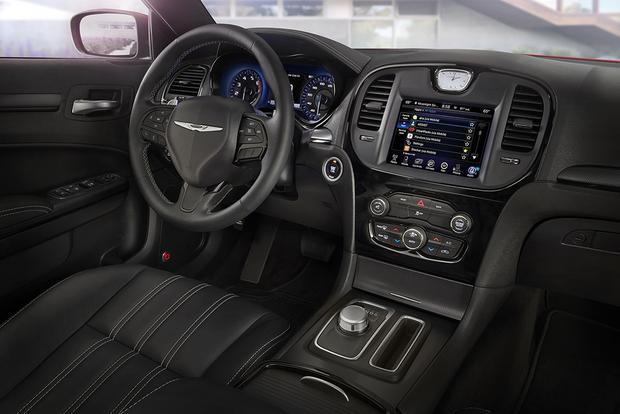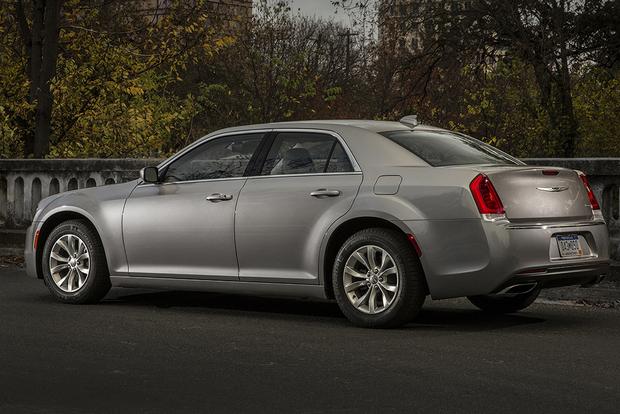 The Chrysler 300 has now been on sale for 10 years, and it enters the 2015 model year with some substantial updates. In spite of several major revisions just 3 years ago, the 2015 Chrysler 300 receives new styling, a revised interior, new features and, perhaps most importantly, a smooth new transmission in V8 models. To us, all are welcome changes that make one of our favorite full-size sedans even better.
Why do we like the Chrysler 300 so much? For the same reasons it's been a popular mainstay in the full-size sedan segment since its 2005 debut: reasonable pricing, surprisingly sharp handling, lots of standard and optional features, a comfortable ride and, most importantly, a highly distinctive style that helps the 300 stand out from its peers. Our review covers all the major changes for 2015, along with an overview of the car and our thoughts on its driving experience, competitors and more.
What's New for 2015?
The 300 is substantially updated for 2015, with new styling, a revised interior, new features and a new 8-speed automatic transmission for V8 models.
What We Like
Huge back seat; excellent Uconnect infotainment system; bold styling; smooth ride; powerful engines
What We Don't
Challenging outward visibility; SRT-8 model is gone; all-wheel drive is discontinued for V8 models
How Much?
$32,200-$43,100
Fuel Economy
The 2015 Chrysler 300 offers two engines. Most models use a 3.6-liter V6, which makes either 292 or 300 horsepower, depending on the trim level. Fuel economy with the V6 stands at 19 miles per gallon in the city and 31 mpg with rear-wheel drive, or 18 mpg city/27 mpg with optional all-wheel drive.
For drivers interested in more muscle, the 300 is also offered with a 363-hp 5.7-liter V8. Only available with rear-wheel drive and the 8-speed automatic, that powerplant returns 16 mpg city and 25 mpg on the highway. Last year's high-performance SRT-8 model has been discontinued, though it may return later.
Standard Features & Options
The 2015 Chrysler 300 is offered in four trim levels: base-level Limited, midlevel 300S and 300C, and upscale 300C Platinum.
Despite its name, the 300 Limited ($32,200) serves as the sedan's base model. Standard features include keyless access with push-button starting, automatic headlights, dual-zone automatic climate control, an 8.4-inch touchscreen with Chrysler's Uconnect infotainment system, steering wheel audio controls, SiriusXM satellite radio, leather upholstery, heated front seats, dual power front seats and a power trunk release.
Upgrade to the 300S ($35,600) and you get a remote starter, a backup camera, a sport mode for the transmission, 20-in alloy wheels and a 10-speaker sound system.
Next up is the 300C ($38,600), which adds a heated steering wheel, automatic tilt-down mirrors, a power tilt/telescope steering column, a navigation system, heated rear seats, ventilated front seats and SiriusXM traffic capabilities.
Topping the 300 range is the upscale 300C Platinum ($43,100), which adds heated and cooled cupholders, along with additional luxury trim.
Options and extras include a Harman Kardon audio system, bi-xenon headlights and a wide range of safety features including blind spot detection, rear cross-traffic alert, front and rear parking sensors, adaptive cruise control, lane departure warning and automatic wipers. The sedan's V6 is standard on all trim levels, though 300S and 300C models also offer an optional V8.
Safety
All 2015 Chrysler 300 models come standard with a wide range of safety features, including side-curtain airbags, anti-lock brakes and traction control. Also available are high-tech safety options such as adaptive cruise control, lane departure warning, blind spot detection and rear cross-traffic alert. A backup camera is standard on all 300 models except the base-level Limited.
Although the 2015 300 is too new for crash tests, we expect it to perform about the same as its predecessor. That means we're hoping for a 5-star overall rating, just as the outgoing 300 received.
Behind the Wheel
The updated Chrysler 300 drives a lot like the outgoing model, and that's a good thing. Both V6 and V8 models tout smooth, compliant rides, though we find that the V8 handles a little better than its V6 counterpart. Interestingly, acceleration isn't vastly improved with the V8. There's a noticeable difference between V6 and V8 models, but unless you're excited to blast away from every stoplight, we suspect you'll probably be content with the car's smooth V6 engine.
If you're a passenger in the 300, you're in for a treat because the sedan boasts comfortable seats, a comfortable ride and lots of room in virtually every direction. The 300 also offers Chrysler's excellent Uconnect infotainment system, which is standard on all models. We think it's the best in the business thanks to a huge screen and easy-to-use on-screen instructions.
Other Cars to Consider
Chevrolet Impala -- As full-size sedans go, the newly redesigned Chevrolet Impala is an excellent one. You'll have to move up in the trim levels to equal the 300's luxury, but the Impala offers a wide range of features and surprisingly exciting styling.
Dodge Charger -- Dodge's full-size Charger sedan is mechanically identical to the 300, but it's much cheaper. Additionally, styling is different and the Charger doesn't include as many standard features. Still, it's worth a look if you're interested in a bold full-size sedan.
Hyundai Genesis -- The rear-wheel-drive Genesis is probably the 300's closest competitor, offering V6 and V8 engines along with a similarly premium cabin. Unfortunately, it doesn't have the same bold styling as the 300.
Used Lexus GS -- The Lexus GS offers just about everything you can get in the Chrysler 300, including a smooth, comfortable ride, a stylish exterior and muscular engine power. Its premium badge may entice some shoppers more than the Chrysler's mainstream brand name does. You'll probably want to consider a used GS, however, because new prices can be steep.
AutoTrader's Advice
We'd avoid the high-end Platinum because we have a hard time justifying its expensive base price given its minimal additional equipment. We highly recommend just about any other 300, especially the base-level Limited, which offers highly reasonable pricing and nearly every feature we could possibly want.