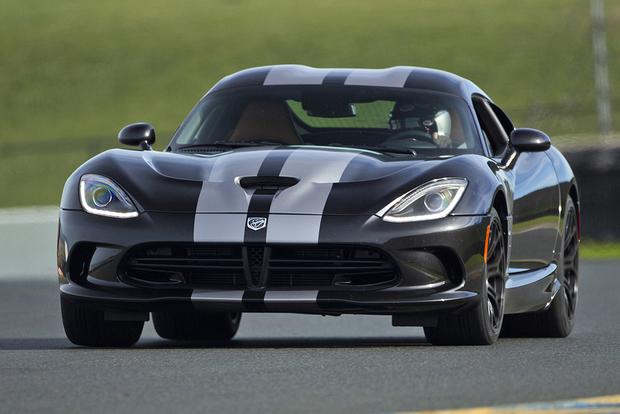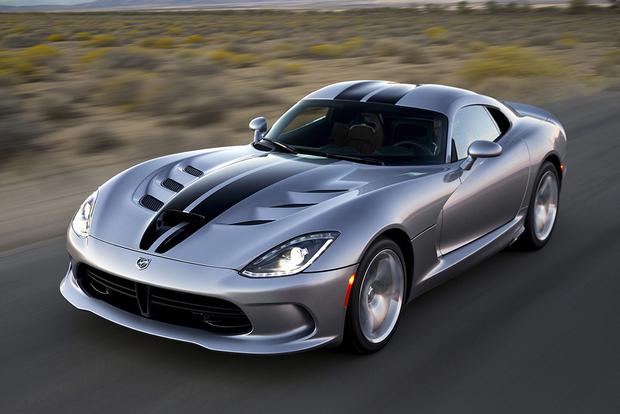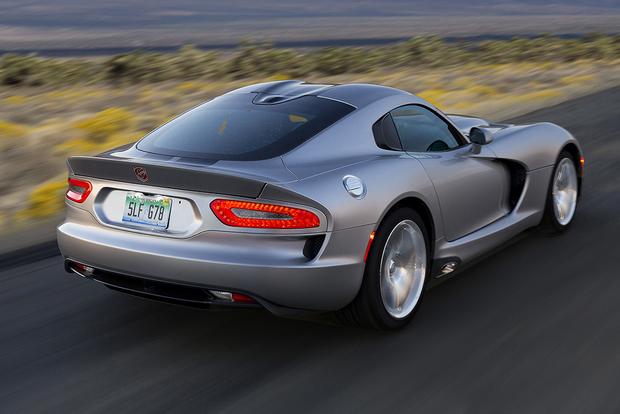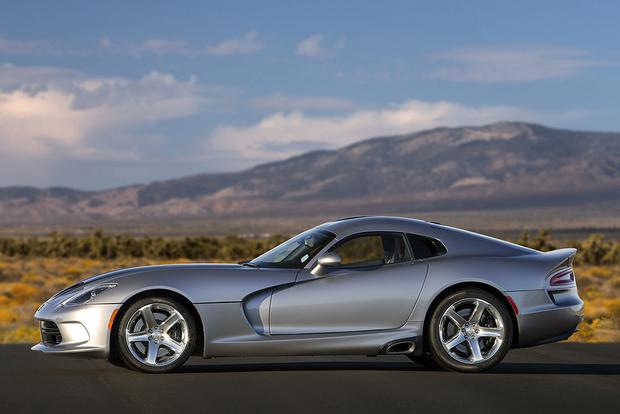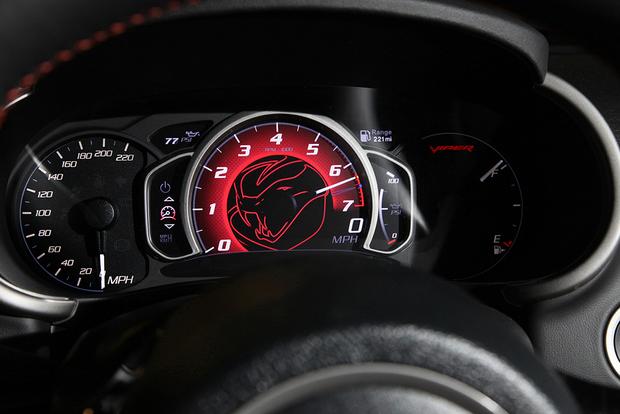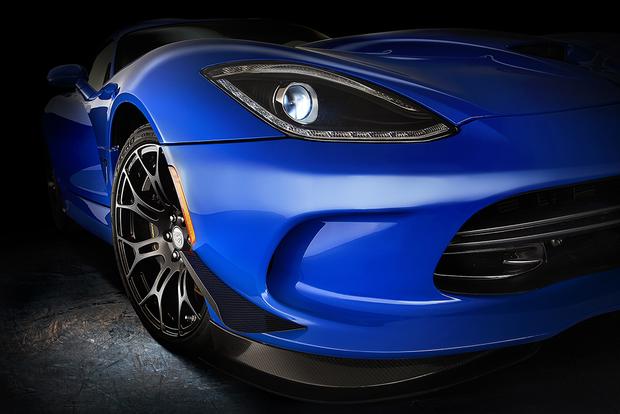 If you're looking for information on a newer Dodge Viper, we've published an updated review: 2017 Dodge Viper Review
Although the 2015 Dodge Viper SRT enters its third model year with a new name and a new price tag, other key enhancements over previous Viper models remain the same. That means dramatically improved comfort and livability compared to Vipers of years past, so much so that you'd be forgiven for using the term "luxurious" to describe certain upscale versions of this Viper.
The improvements are a welcome change to the iconic 2-seater. After all, few sports cars possess such a notorious identity and charismatic personality. As Chrysler continues its recovery from bankruptcy, halo products such as the Viper help cement the automaker's big-picture relevance.
Although pricing increased dramatically last year, it's down to a more manageable figure this year: around $86,000 with shipping. The name change from SRT Viper to Dodge Viper SRT also helps bring back the sports car that we all knew and loved. Otherwise, expect few changes from the latest Viper, whose additional sophistication helps it rival such well-rounded sports cars as the Chevrolet Corvette Z06 and Nissan GT-R.
What's New for 2015?
In addition to a new name (Dodge Viper SRT instead of SRT Viper) and a new price tag ($86,000 instead of $100,500), the Viper's major upgrades for 2015 are a new GT trim, some new standard features and a slight power boost.
What We Like
Thundering personality; hair-raising performance; interior refinements finally reach luxury-car territory; lowered pricing See the 2015 Dodge Viper models for sale near you
What We Don't
No side airbags; no convertible; pricey GTS package; a 1-note performance personality gets tiresome during prolonged seat time
How Much?
$86,000
Fuel Economy
If you're interested in a Viper, we find it hard to believe you'll even read this section, but here it is just in case: The Viper is powered by a 645-horsepower, 8.4-liter V10 that makes a whopping 600 lb-ft of torque. All Viper models use a 6-speed manual transmission, and they all return an Environmental Protection Agency-rated 12 miles per gallon in the city and 19 mpg on the highway.
Standard Features & Options
The Viper comes in four trim levels: the base-level Viper, the new midlevel GT, the track-focused TA and the high-end Viper GTS.
If you choose the Viper ($86,000), you'll get alloy wheels with high-performance tires, an 8.4-inch center-mounted touchscreen with navigation, Bluetooth, satellite radio, an auxiliary jack and a USB port for music, keyless entry and ignition, cruise control, automatic headlights, a 12-speaker Harman Kardon stereo, power adjustable pedals, a backup camera and LED running lights.
Upgrade to the new GT ($96,000), and you'll add Nappa leather seats with Alcantara inserts, aluminum Viper sill plates, 2-mode sport suspension, 5-mode stability control, red brake calipers, a power driver's seat and 2-piece brake rotors.
Next up is the track-focused TA ($103,000), officially called the TA 2.0 to follow up on last year's TA model. It adds a competition rear spoiler, a high-performance aero package, performance brake pads, performance tires and some cosmetic modifications.
Upgrading to the pricey GTS ($109,000) adds an 18-speaker sound system, Laguna leather seats, dual power front seats, an Alcantara headliner and leather-finished accessories including door panels, a center console and an instrument panel.
The Viper's list of options primarily includes a long list of color combinations and wheel choices.
Safety
The Viper includes anti-lock brakes, traction control and stability control. Like all new cars, it features dual front airbags, but side airbags aren't available. A rearview camera is standard on all Viper models.
As of this writing, the government's National Highway Traffic Safety Administration has not yet crash-tested the Viper. Due to the model's low production volume, it's unlikely that crash tests will ever be carried out.
Behind the Wheel
The world can seem like your personal drag strip from inside the Viper cockpit: A new virtual tachometer and submenus offering data analysis reveal that the poisonous snake has assumed new technological aptitude, but one stab of the right pedal offers a not-so-subtle reminder that this is still a screaming, snarling hellion of a car.
It's not just the mammoth 8.4-liter V10 or the notchiness of the 6-speed manual shifter but the brutishness that emerges while hustling the Viper across city streets. Even in its soft setting, the suspension still hops around and has trouble tracking straight on bumpy roads. Forget about the track setting for real-world driving; it's simply too stiff for use, unless you actually enjoy the sensation of teeth rattling.
The Viper seems more in its element at the track, where it's capable of fully delivering its intended goals of automotive shock and awe. Grip from the Pirelli tires is considerable, especially in TA guise, which wraps special Corsa rubber around lightweight wheels for even more handling prowess. The tires' steep drop-off of adhesion during high g-force driving will put hair on your chest, though, as will the locomotive-like acceleration and the glued-down handling, which enables direction changes with considerably more feedback and intuitive steering than was offered by Vipers of yore. And once again, the suspension's Track setting proves too stiff for off-road use, as it results in twitchiness that ultimately diminishes confidence rather than boosting it.
Gut-punchingly potent and impressively capable, the Viper offers a challenging and ultimately rewarding experience for drivers bold enough to explore its limits.
Other Cars to Consider
2015 Audi R8 -- Powered by V8 or V10 powerplants, Audi's top-dog 2-seater takes a more technologically finessed tack to the supercar formula. It delivers a balanced midengine configuration that, unlike the Viper, pulls few punches when tackling road courses and twisting highways.
2015 Chevrolet Corvette -- The all-new Corvette may not quite be able to tackle the Viper when it comes to all-out speed, but when you consider performance that can be used on the street, the 'Vette is just as much of a hoot. We happen to think it looks pretty nice, too.
2015 Nissan GT-R -- The GT-R allows drivers to lean on fighter-jet-like electronics and all-wheel drive in order to wring maximum performance from its twin-turbocharged V6, without the Viper's terror.
Used Porsche 911 Turbo -- If speed is your drug, few cars offer it like the Porsche 911 Turbo. Featuring virtually unmatched 0-to-60 times, the 911 Turbo boasts staid 911 looks but packs a mean punch. You'll have to get a used model to match Viper prices, though.
AutoTrader's Advice
With its new lower base price and its longer list of standard features, the base-level 2015 Dodge Viper SRT is the one we'd take. It might be the best performance-car bargain on the road. Find a Dodge Viper for sale