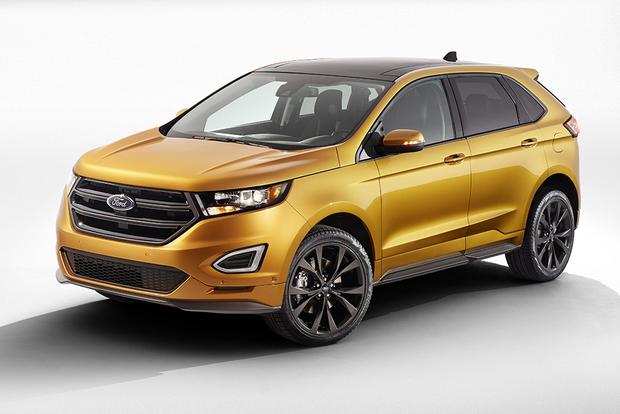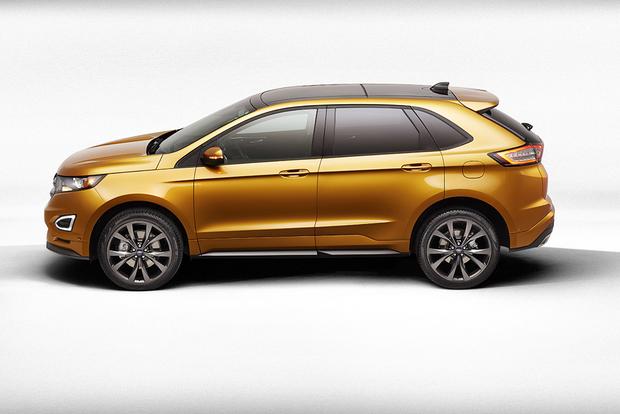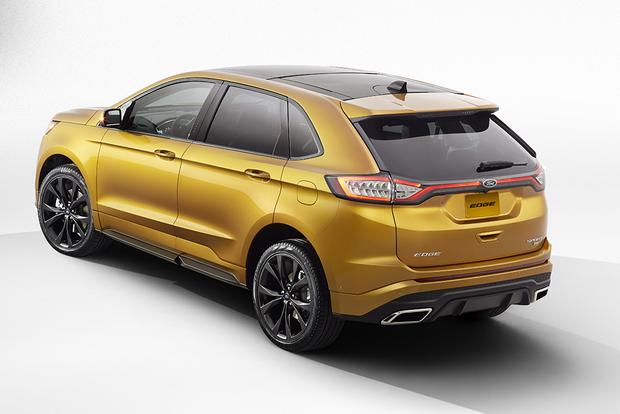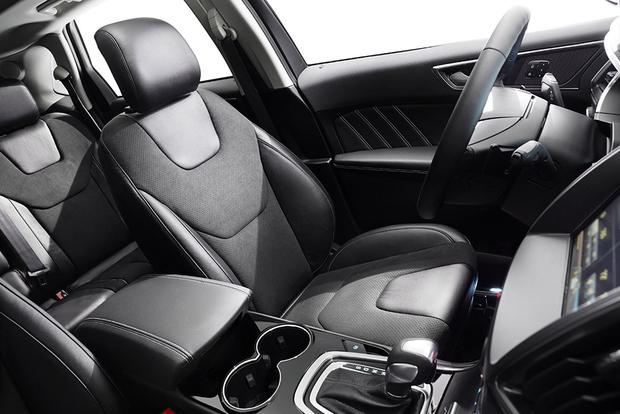 For family-vehicle buyers, one size does not fit all. Depending on the size of your family, their driving habits and your family's leisure activities, you may want a 4-door sedan, a full-size SUV, a minivan, or a small, medium or large crossover utility vehicle (CUV). Ford got into the CUV game in 2007 with the midsize Edge. But while this early model catered to families, it was never one of our favorites. A redesign this year changes that, however, because the 2015 Ford Edge is more family-friendly than ever.
The Handling It Should Have Always Had
The 2015 update includes an all-new structure that makes greater use of high-strength steel, giving it 26 percent more bending stiffness and 10 percent more twisting stiffness. Ford also revised the geometry of the front and rear suspensions and swapped out the hydraulic power steering for electric-assist power steering.
The result is an Edge that rides and handles like it always should have. It feels lighter than the outgoing model, with just a little well-controlled lean in turns and fairly agile moves for a vehicle this size. The steering is direct and has a natural feel, and the ride is smooth, especially with the base 18-inch wheels.
The Sport model features firmer suspension tuning, which only serves to improve the Edge's agility without making the ride too harsh. The Sport is in fact sporty. We wouldn't have ever said that about the first-generation Edge.
Improved Engine Lineup
Ford has shuffled the Edge's engine lineup for 2015. The 3.5-liter V6, which makes 280 horsepower and 250 lb-ft of torque, moves from standard to optional. It's replaced by a newer version of the 2.0-liter EcoBoost 4-cylinder that had been optional. A new twin-scroll turbocharger helps improve hp and torque slightly to 245 and 275, respectively, and Ford says that the 2.0 now delivers its power sooner. The Sport model replaces a 305-hp 3.7-liter V6 with a 2.7-liter turbocharged (EcoBoost in Ford parlance) V6. At 315 horses, this engine produces only 10 more hp, but torque is up by 70 lb-ft to 350.
While all three are fine engines, we only recommend the EcoBoost. The 2.0 isn't a world beater, but it offers nice pep. Zero to 60 miles per hour takes about 8 seconds, and the power is delivered smoothly and willingly. The 3.5 is probably a tad quicker to 60 mph, but it costs an additional $425 and gets worse fuel economy (18 miles per gallon in the city and 26 mpg on the highway with front-wheel drive versus 20 mpg city/30 mpg hwy for the 2.0). For those reasons, we see no need to opt for the 3.5. The 2.7, on the other hand, is downright quick, cutting the 0-60 mph time to 6 seconds flat in our estimate. And with Environmental Protection Agency ratings of 18 mpg city/27 mpg hwy, it balances its ready power with decent fuel economy, making a strong case for buyers to choose the Sport model.
More Room, Better Accommodations
The Edge has grown with its 2015 redesign, adding 3.9 inches of length, 0.9 inches to the wheelbase and 1.3 inches to the height. The extra size adds an inch of legroom to what was already a comfortable rear seat, as well as 7 cu ft. of cargo space behind the rear seat for a total of 39.2. Fold the rear seats down, and that expands to a very useful 73.4 cu ft., putting the Edge near the top of the class for cargo volume. That roomy rear seat and large rear cargo area make the Edge a better choice than a compact crossover for many families.
Ford has also improved the quality of the interior environment. Soft-touch surfaces have replaced hard plastics in several areas in the front and rear. All areas that the driver is likely to touch or rest an arm on are now padded, which aids comfort and creates a more upscale environment. That's appropriate because the Edge starts near $30,000 and ranges up to the mid-$40,000s.
Technology Old and New
Buyers who pay those prices expect the latest in connectivity. In this regard, the 2015 Ford Edge is a mixed blessing. It's available with SYNC with the MyFord Touch infotainment system that has drawn criticism for being overly complicated and freezing up on occasion. While this system does offer the connectivity buyers want, other systems offer more features and simpler control interfaces. Don't worry, though. MyFord Touch will be replaced by the next generation of SYNC in the 2016 model.
Bottom Line
Ford has made considerable improvements to the Edge's handling, interior quality and engine lineup without raising the price appreciably. That makes it a much better value for families who want a crossover in a medium size.