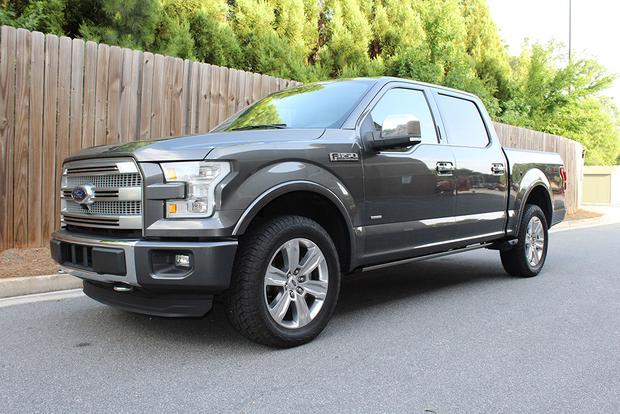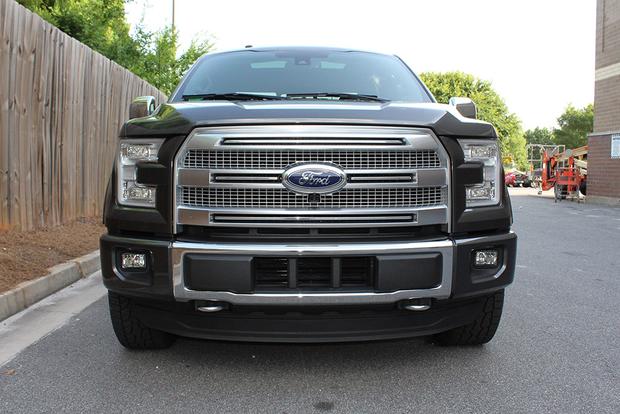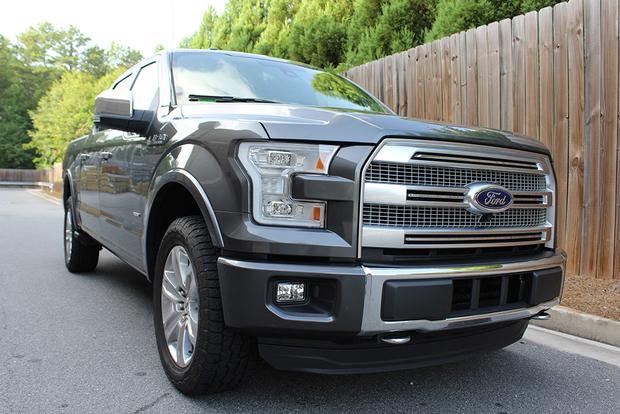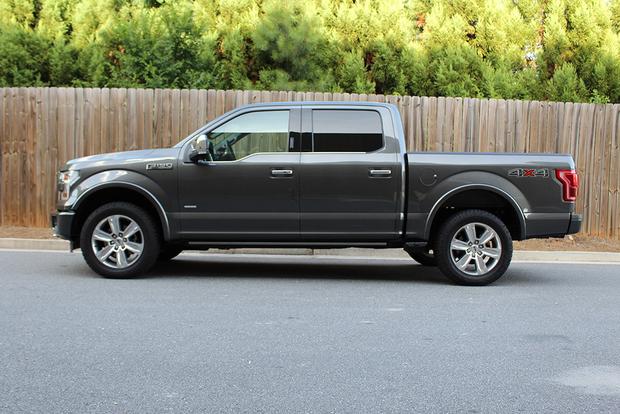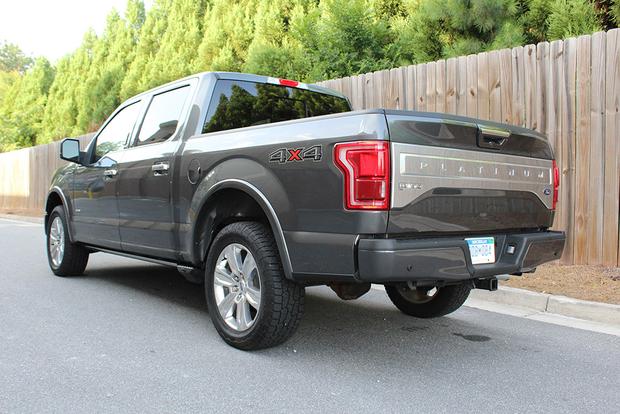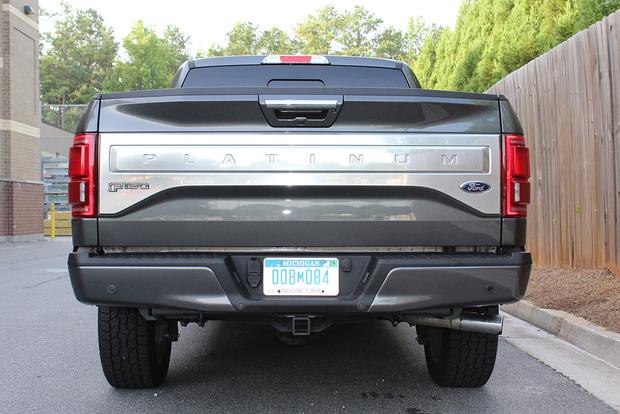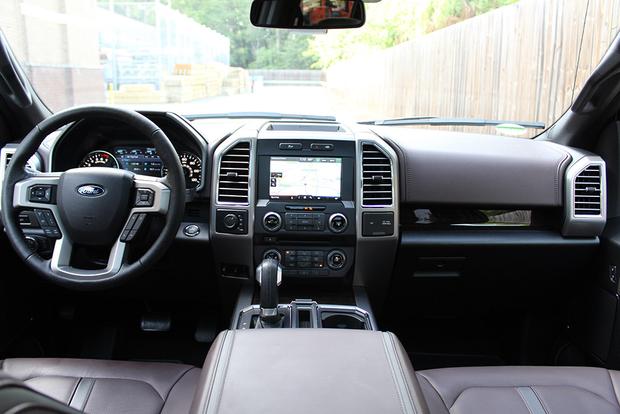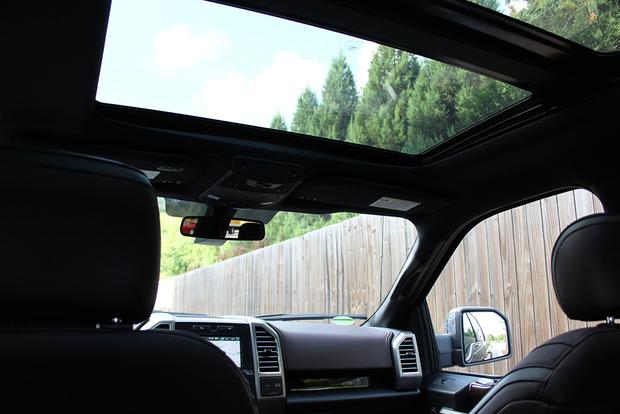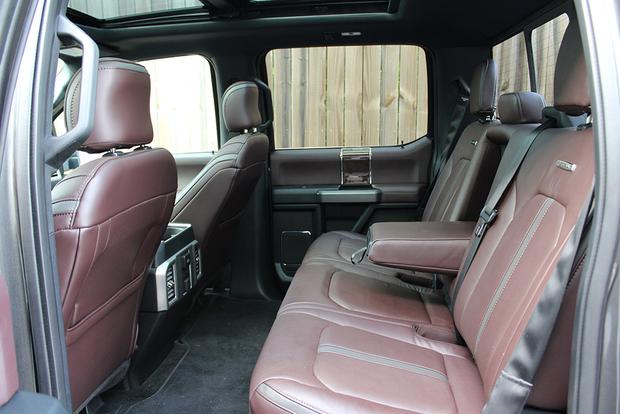 Although pickup trucks were once bare-bones workhorses designed for towing, hauling and other commercial-grade duties, that's no longer the case. Today, pickups offer all the luxuries of normal cars -- and then some. One of the best examples of this is the newly redesigned 2015 Ford F-150 Platinum, which is a high-end luxury pickup that tops the trim-level range in Ford's popular F-150 lineup. We were curious just how far Ford has gone with its luxury truck, so we spent a week behind the wheel to find out.
Loaded, Loaded, Loaded
The F-150 Platinum bills itself as a luxury truck -- and you'll understand that this is an accurate description of the pickup from the moment you step inside. The seats aren't just heated; they're cooled too, and they offer a massaging feature. There's a huge glass sunroof. There's an electric rear window. There's an LCD screen in the gauge cluster and a huge touchscreen in the center stack. There's a parallel-parking assist feature, there's adaptive cruise control, there's a forward-collision warning system, and the running boards retract and extend automatically when you open the door. In short: This isn't like any pickup you've ever experienced before.
With that said, a few of our testers were a little disappointed with the interior materials, especially given the truck's $60,000-plus price tag. One editor, Dwight, noted that the truck "still has some catching up to do with its interior," specifically calling out the strip of fake wood on the door panels. Another editor, Tommy, agreed, noting that the door panels' design and excess plastic reminded him of his grandfather's 1984 F-150. Everyone agreed, however, that the interior has been dramatically upgraded compared to the outgoing F-150.
Comfortable and Powerful
One item of praise we heard over and over from everyone who drove or rode in the F-150 Platinum related to its ride quality. Specifically, everyone said this truck was comfortable -- from our editors to their spouses, children, friends and family. And yet, we didn't feel like the suspension was too soft. In praising the ride, Tommy said that the truck "doesn't have the bouncy ride I've experienced with other trucks," noting that it holds the road well and feels very balanced.
We also found the truck to be very powerful, even though it's only a V6 under the hood. Of course, this isn't just any V6: It's Ford's turbocharged EcoBoost V6, which offers 365 horsepower, 420 lb-ft of torque and a towing capacity that can outdo the truck's available V8. Between the V6's brawn and the faux engine noise piped into the cabin through the speakers, one editor said he had to check under the hood to make sure this F-150 didn't have a V8.
The Little Things
As always, our week behind the wheel yielded a few small items we wouldn't normally notice in just a day with the truck. For instance, we're not pleased with the truck's short seat bottoms, which don't extend out to the knees for some taller drivers. Given that many pickup drivers spend a lot of time behind the wheel, we thought Ford would have addressed this issue.
Meanwhile, we found a few unique items that make pickup life easier. One is those retractable side steps, which are a novel feature that dramatically improves entry and exit for some shoppers. But we also loved a few other clever truck items, such as the integrated tailgate step, the foldable bed extender and the tow-hitch camera -- three cool features we haven't seen from other automakers.
Our Take
The 2015 Ford F-150 Platinum competes in a small yet competitive segment with only a few challengers: the Chevy Silverado High Country, the GMC Sierra Denali, the RAM 1500 Laramie Longhorn and the Toyota Tundra Platinum. It's hard to say which one is the best because so much of your opinion will depend on emotion: which one you think looks best, which one you think makes you look best, and even which brand you like best. But we think the F-150 Platinum certainly deserves a spot on any luxury-truck buyer's shopping list.