Editor's note: You may want to read more of Autotrader's model vs. model comparison car reviews as well as the 2015 Ford F-150 review and the 2015 Ram 1500 review.
If you're interested in a new full-size truck, we're sure that you have the 2015 Ford F-150 and the 2015 Ram 1500 on your shopping list. After all, there are only so many choices, and the F-150 and Ram 1500 are among the best options available today. But which one is better? And more importantly, which one should you buy? We've tackled those very questions with a detailed comparison. But first, let's see what's new with the F-150 and the Ram 1500 for the 2015 model year.
2015 Ford F-150
The F-150 is fully redesigned for the latest model year. While its exterior styling isn't substantially different from last year's model, it offers new powertrains, new features, new weight-saving aluminum construction and extra capabilities. See all 2015 Ford F-150 models available near you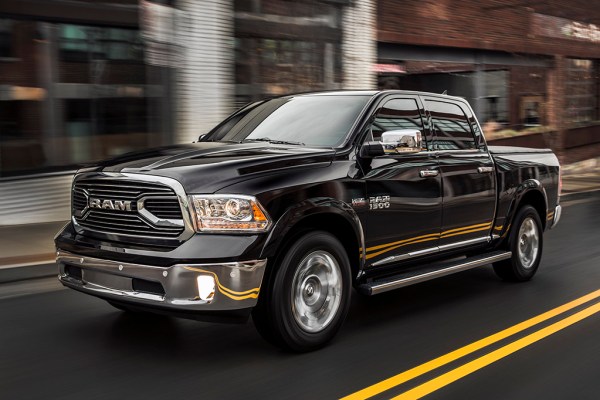 2015 Ram 1500
Although recent years have seen major changes to the Ram 1500 with each new model year, the truck is largely unchanged for 2015. See all 2015 Ram 1500 models available near you
Reliability
Although the recently redesigned 2015 F-150 is too new for ratings from automotive experts at J.D. Power, last year's model scored a promising four circles in the firm's Power Circle Ratings, indicating better than average reliability. We have high hopes that the new model earns the same score. Meanwhile, the Ram 1500 also earned a better than average 4-circle score.
As for warranty length, the trucks are largely the same: Both tout 3 years or 36,000 miles of bumper-to-bumper coverage, and both offer 5 years of powertrain protection. The only minor difference is powertrain mileage coverage: The Ram offers 100,000 miles to the F-150's 60,000 miles. Still, that difference isn't enough for us to hand this category to the Ram — so we consider it a toss-up.
Fuel Economy
Although the Ram 1500 and the Ford F-150 come in a wide range of powertrain and body style configurations, both trucks have similar engine lineups. The Ram comes standard with a 305-horsepower 3.6-liter V6, for example, which returns up to 18 miles per gallon in the city and 25 mpg on the highway. The F-150's 283-hp 3.5-liter V6, meanwhile, tops out at 17 mpg city/24 mpg hwy.
The Ram's available V8 is a 5.7-liter HEMI unit that makes 395 hp and 410 lb-ft of torque, which is a slight increase over the F-150's 5.0-liter V8, which makes 385 hp and 387 lb-ft. Both V8s return about the same maximum fuel economy: 15 mpg city/22 mpg hwy.
Interestingly, both pickups also have some additional fuel-saving tricks up their sleeves. In the Ford world, this is EcoBoost, which includes two available turbocharged V6 engines that can easily stand in for their naturally aspirated counterparts. The F-150's base-level EcoBoost engine is a 325-hp 2.7-liter V6 that returns up to 19 mpg city/26 mpg hwy, while the optional 3.5-liter EcoBoost V6 manages an impressive 365 hp and 387 lb-ft while still returning 17 mpg city/24 mpg hwy.
By comparison, Ram's secret weapon is a 3.0-liter EcoDiesel V6 that offers 240 hp and a stellar 420 lb-ft of torque. That engine makes up to 21 mpg city/29 mpg hwy, which are amazing figures for a full-size truck.
While that's all a bit complicated, here's our take: In naturally aspirated guise, the Ram 1500 and Ford F-150 are roughly the same. If you opt for an EcoBoost, the Ford has the advantage. And while Ram 1500's thrifty EcoDiesel engine offers the best fuel economy in the segment, it can be expensive to buy.
Safety
In government crash-testing, the 2015 Ford F-150 earned a perfect 5-star score, while the Ram boasts only four stars. Likewise, the F-150 offers more safety equipment than its Ram rival.
Indeed, while the Ram 1500 touts everything you might need, such as side-curtain airbags, anti-lock brakes and an optional backup camera, the F-150 also offers some of the latest items in safety technology. Such features include a 360-degree camera system, a lane-departure warning system, a blind spot monitoring system, rear cross-traffic alert and forward-collision warning — all impressive features to see on a pickup's options list.
Because of the F-150's better safety ratings and its extra technology, this one is easy: The safety category goes to the Ford.
Technology
As you might expect, given the F-150's longer list of available safety technology, Ford's newly redesigned F-150 trounces the Ram when it comes to gadgets and features. Of course, we've covered a few, including forward-collision warning, rear cross-traffic alert, blind spot monitoring system and lane-departure warning, none of which the RAM has. But the F-150 also holds several other unique features over the Ram, such as adaptive cruise control, power retractable running boards, an 8-inch gauge cluster information display and more.
Although no pickup can really be considered a technophile's dream, the F-150 comes as close as possible. As a result, it's the clear winner in terms of technology.
Value
In the world of full-size pickups, "value" depends a lot on exactly what you're looking for. Do you need a fuel-efficient family hauler? A base-level work truck? A luxurious pickup that doubles as a rolling office? Or a bare-bones farm vehicle? The value equation will change quite a bit depending on your exact needs, and the exact deal you find, so we struggle to give a one-size-fits-all judgment of any pickup's overall value.
With that said, we like the fact that the F-150 boasts a lot of new features for the same price as the aging Ram. The F-150 seems smoother, offers more equipment, and touts far better capabilities than the Ram — all for about the same money. That means it edges ahead of the Ram in terms of value, but we wouldn't say it's the overall winner.
Autotrader's Advice
We've spent a lot of time in these two trucks, and we think this one is easy: The Ford F-150 is a better pickup than the Ram 1500. No, the Ram isn't a bad truck, and on the contrary, it's rather impressive. But the F-150 boasts the latest in technology, equipment and safety features, along with improved capabilities for drivers who plan on towing and hauling. Plus, when it's equipped with its EcoBoost powertrains, the F-150 offers excellent fuel economy, too. We like the Ram, but it's hard not to pick the latest F-150 in any discussion of today's best trucks.
Find a Used Ford F-150 for sale