Car Video
2015 Ford Fiesta: 5 Reasons to Buy - Video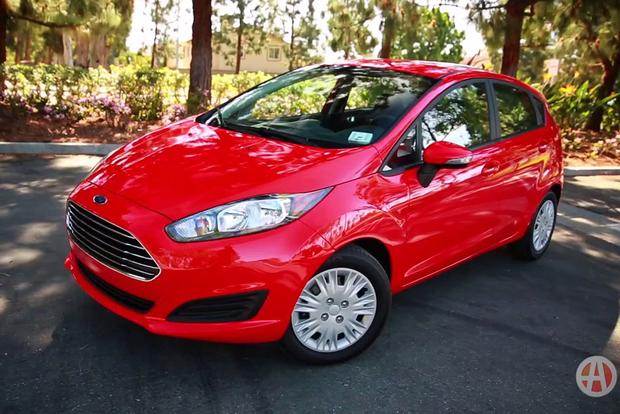 If you're looking for information on a newer Ford Fiesta, we've published an updated review: 2019 Ford Fiesta Review
With a 2015 Ford Fiesta, less really is more. You could have a 1.6-liter 4-cylinder engine that makes 120 horsepower, or a 1-liter 3-cylinder turbocharged EcoBoost that's good for 123 hp. Here are five reasons why the Fiesta is the life of the party:
Innovative Engine
Try to name another car with a 3-cylinder engine. Now name one that's turbocharged. Unless you know something we don't, there's only one answer, and you're looking at it. So what's the big idea? Well, the low cylinder count means that the engine is small and fuel efficient, yet the turbo gives even more punch than the Fiesta's standard 4-cylinder engine. This will give you better fuel economy without giving up performance, and it's one of those deals that's hard to refuse.
Mega MPG
You want numbers? How about this: With its 6-speed manual transmission, the 3-cylinder Fiesta gets 31 miles per gallon in the city and 43 mpg on the highway, which is an incredible 36 mpg combined. Even with the 1.6-liter engine and an automatic transmission, you still get 32 mpg combined. See the 2015 Ford Fiesta models for sale near you
European Drive
Although the U.S.-market Fiesta is built in Mexico, it's a carbon copy of the one designed for Europe's tight and twisty roads. Translation: It's got moves. No matter which engine you choose, the Fiesta offers quick steering and a nimble chassis, and it's a blast to drive.
Upscale Features on a Budget
Don't count out the Fiesta when it comes to equipment. You can get all sorts of cool stuff in this car, including push-button start, SYNC with MyFord Touch, leather upholstery and Sony audio -- all for less than $20,000.
Uncommon Style
Whether you get the hatchback or the more affordable sedan, you'll have one of the best-looking subcompacts on the road. The Fiesta has the same Aston Martin-inspired grille as other Ford cars, while the strong character lines and wraparound taillights give it a premium vibe.
Autotrader Says
From the base model all the way up to the high-performance ST, the 2015 Ford Fiesta is one of the best little cars you can buy. Find a Ford Fiesta for sale