Car Comparison
2015 Ford Taurus vs. 2015 Ford Fusion: What's the Difference?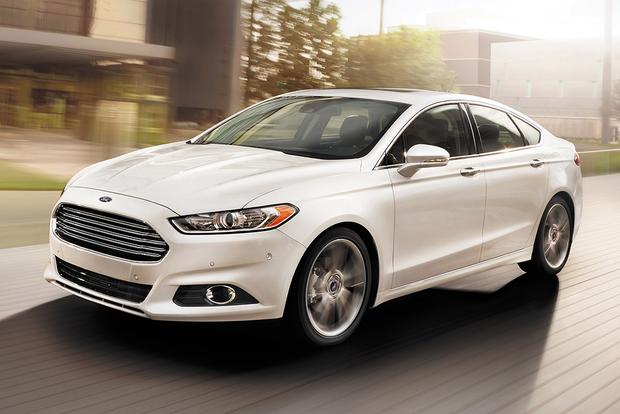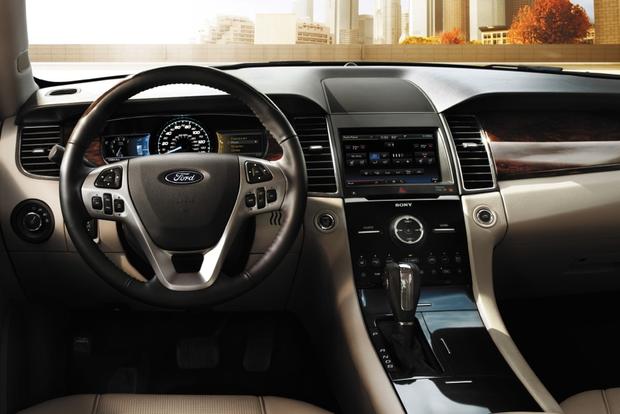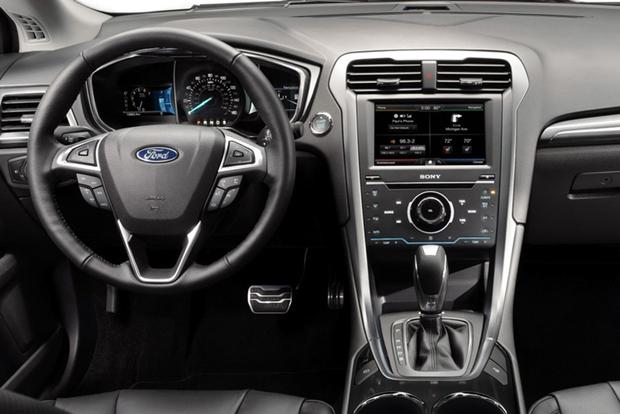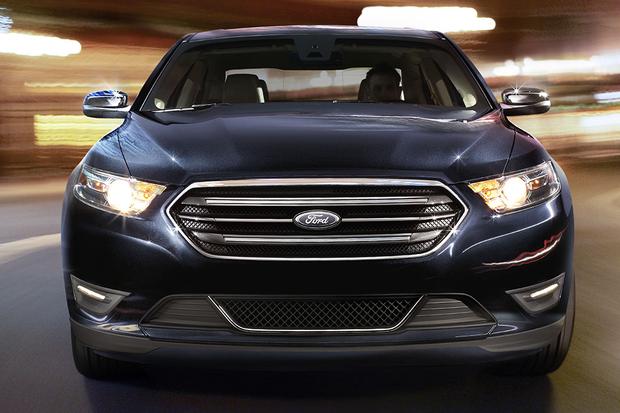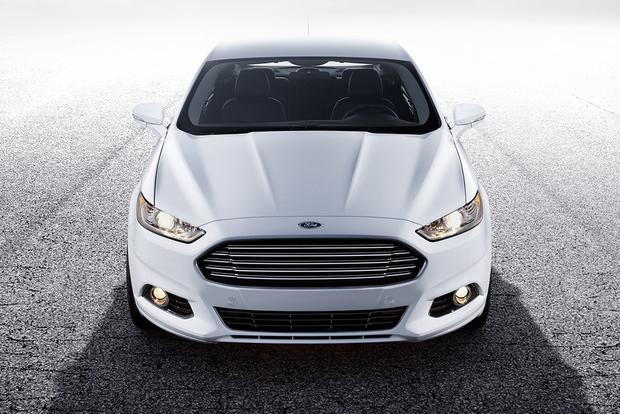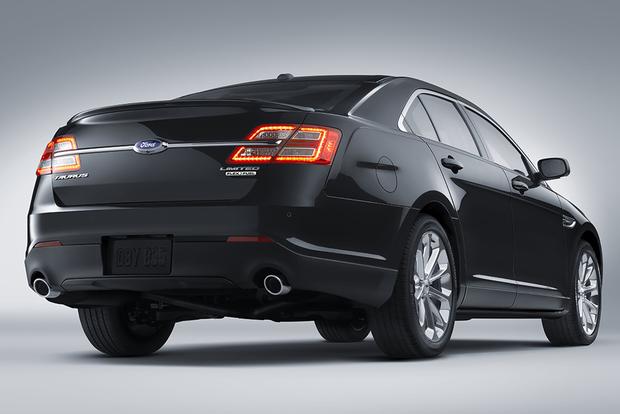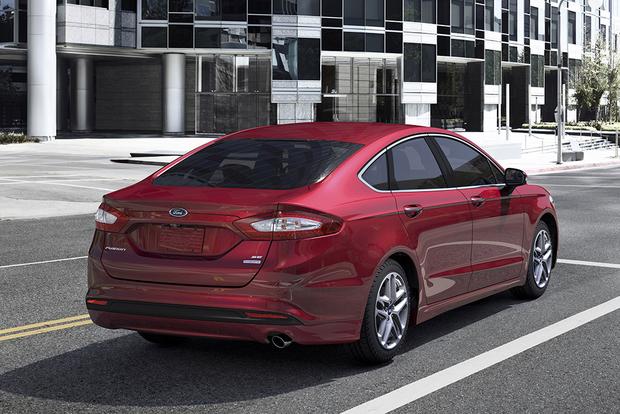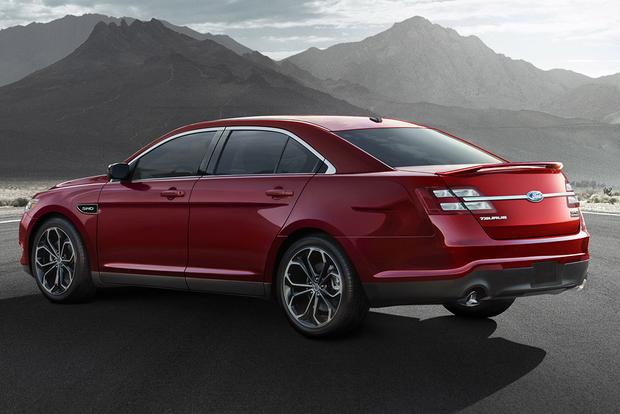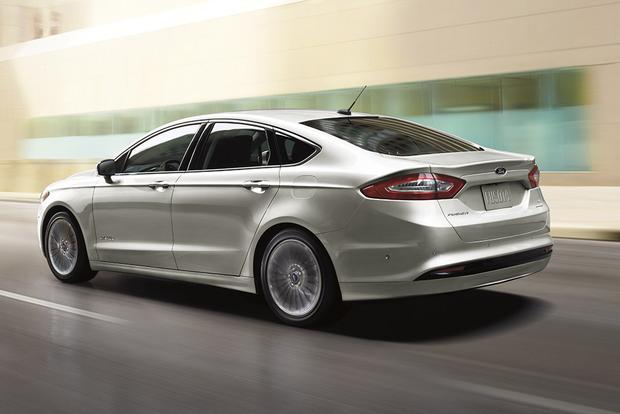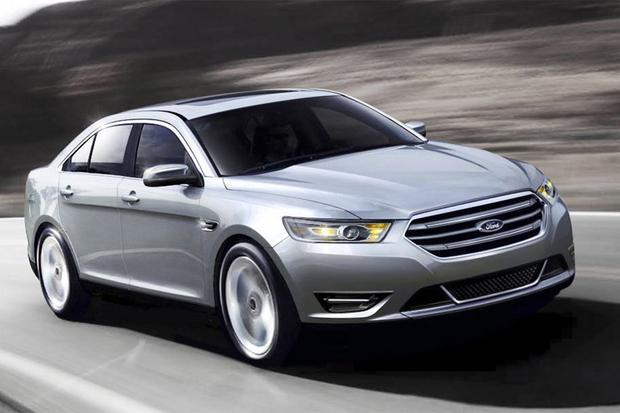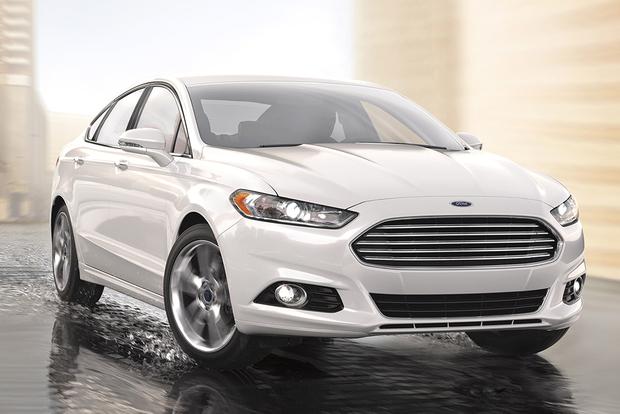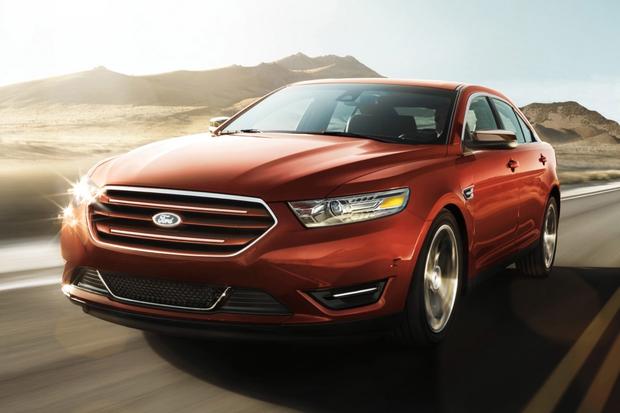 If you're interested in a family-sized Ford sedan, you'll probably notice that two different models are available: the 2015 Ford Taurus and the 2015 Ford Fusion. In years past, the Taurus would've been the right car for the job -- so what exactly is the Ford Fusion? Is it worth considering? And just how does it differ from the Taurus? Our latest article answers all those questions and more with a close comparison between the Fusion and the Taurus.
Exterior
On the outside, the largest difference between the Fusion and the Taurus -- size -- is immediately apparent with one quick glance. Not only is the Taurus bigger than the Fusion, measuring 202.9 inches in length to the Fusion's 191.7, the Taurus simply looks bigger, with a large visual presence from just about every angle. The Fusion, meanwhile, looks stealthier and more fluid, with more attention paid to styling than reaching the full-size-sedan dimensions of its larger stablemate. Oddly, despite coming from the same manufacturer, these two sedans don't share many styling cues: They feature different designs in front, in back and in profile.
Interior
The Taurus and Fusion carry their aesthetic exterior differences into the cabin. Once again, the Taurus looks like the more grown-up of the two, offering a more traditional interior with a dual-section dashboard and larger wood accents. The Fusion's interior, by contrast, is sharper and smaller, with a sportier look and a crisper feel. And then there's sizing: Like the exterior styling suggests, the Taurus is larger than the Fusion, touting full-size interior dimensions with more room in just about every direction. Of course, there are a few similarities too, such as shared steering wheels, switchgears and instrument clusters.
Mechanicals
Both the Fusion and the Taurus offer a wide range of engine options. While we'll cover them in detail below, the gist goes along with the differences between the two models' interiors and exteriors: The Fusion offers smaller engines, less power and better fuel economy, while the Taurus touts larger engines, lower gas mileage numbers and more muscle.
As an example, the Fusion doesn't offer any engine larger than a 4-cylinder -- unlike the Taurus, which touts two available V6s. Base-level Fusion models use a 175-horsepower 2.5-liter 4-cylinder, while drivers can also choose from four other powertrain options: a 181-hp 1.5-liter turbocharged 4-cylinder, a 240-hp 2.0-liter turbocharged 4-cylinder, a 188-hp 2.0-liter hybrid 4-cylinder and a 195-hp 2.0-liter plug-in hybrid 4-cylinder in the Fusion Energi.
The Taurus, meanwhile, offers three engines. Base models use a 288-hp 3.5-liter V6, while drivers looking for better fuel economy can opt for a 240-hp 2.0-liter turbocharged 4-cylinder. There's also a high-performance Taurus SHO, which touts a 365-hp 3.5-liter turbocharged V6.
As for their drivetrains, both the Taurus and the Fusion come standard with front-wheel drive -- though each model offers all-wheel drive as an option. Base-level Fusion models include a manual transmission, though most Fusion trims -- and all Taurus models -- feature a standard automatic.
Features & Technology
Despite differences in size and base pricing, the Fusion and the Taurus offer roughly the same level of equipment. That's intentional, as Ford's goal is to ensure that drivers at just about every budget can take advantage of the brand's wide range of modern technology and features.
In terms of safety gadgets, for instance, both the Fusion and the Taurus tout available blind spot monitoring systems, lane-keep assist, rear cross-traffic alert and forward-collision warning. And both cars also offer other upscale gadgets such as a heated steering wheel, Ford's MyFord Touch infotainment system, an automated parallel parking system and heated rear seats. Only a few high-end features are limited to the more expensive Taurus, including available massaging seats, xenon headlights and a power sunshade.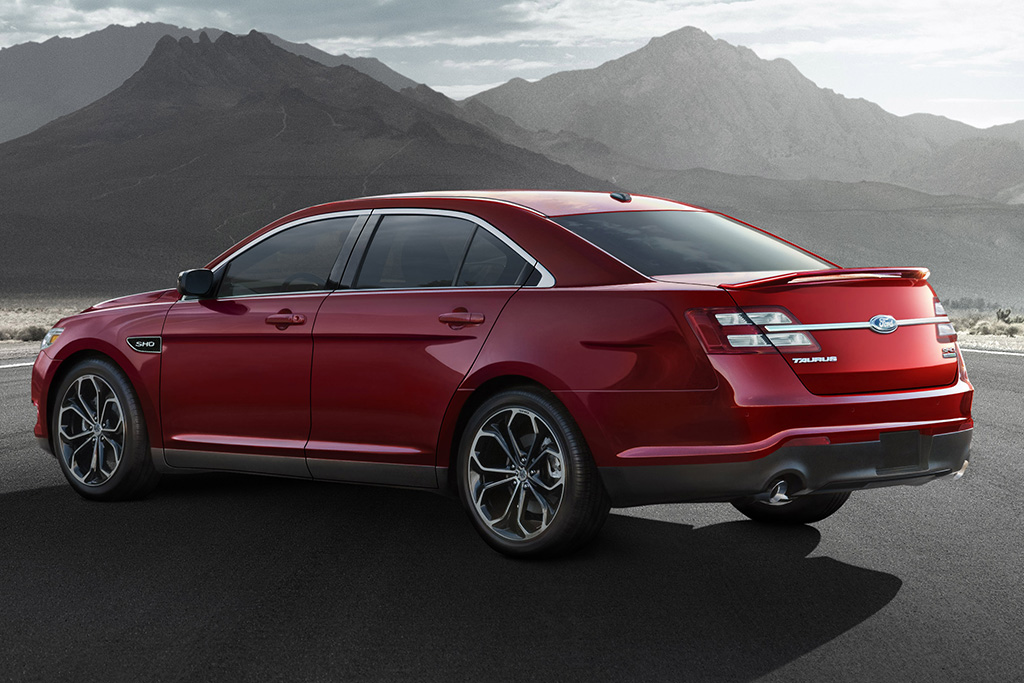 Driving Experience
On the road, it's easy to feel the difference between the Taurus and the Fusion. As you might expect from their size disparity, the Fusion feels smaller, stealthier and more fun to drive, while the Taurus is obviously larger and more lumbering -- even in sporty SHO guise. If you don't feel that from the moment you put your foot down at a stoplight, you'll surely experience it as you go around some tight corners.
The trade-off, however, is that the Taurus feels more comfortable than its Fusion stablemate. In fact, the full-size Ford offers plusher suspension that's more forgiving over bumps and harsh road surfaces, leading to ride quality that's among the best in its segment. The Taurus also offers more room for drivers and passengers. But it does have at least one major drawback compared to the Fusion: Due to the Taurus' high trunk lid, rear visibility can be a challenge -- something we hope Ford changes when it comes time to redesign the Taurus.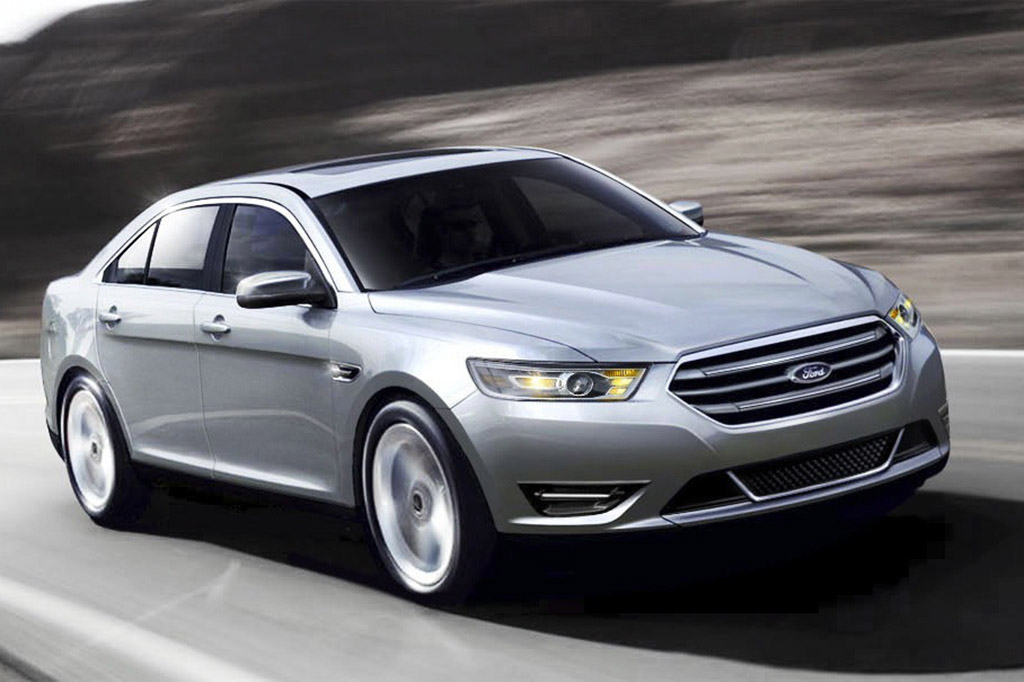 Safety
In National Highway Traffic Safety Administration crash testing, both the 2015 Ford Taurus and the 2015 Ford Fusion earned a perfect 5-star overall rating. Both cars also earned strong scores from the nonprofit Insurance Institute for Highway Safety (IIHS), though the Fusion outshines the Taurus with its Top Safety Pick designation, as the Taurus has not yet participated in all of IIHS's tests.
As for safety equipment, both the Fusion and the Taurus offer everything you could need or want in a modern car -- from standard items (such as side-curtain airbags and a backup camera) to a wide range of options that includes a blind spot monitoring system, lane-departure warning, pre-collision warning, adaptive cruise control and rear cross-traffic alert.
Conclusions
Although there are some major differences between the Fusion and the Taurus, it's accurate to think of these two sedans as large and small versions of one another. If you don't need the Taurus' additional space, don't bother with it -- especially since the Fusion is easier to park, easier to drive and easier on your wallet at the gas pump. It also offers roughly the same level of available equipment. Meanwhile, drivers looking for a full-size sedan will want to skip over the Fusion and go straight for the Taurus, with its large interior, comfortable suspension and spacious trunk.