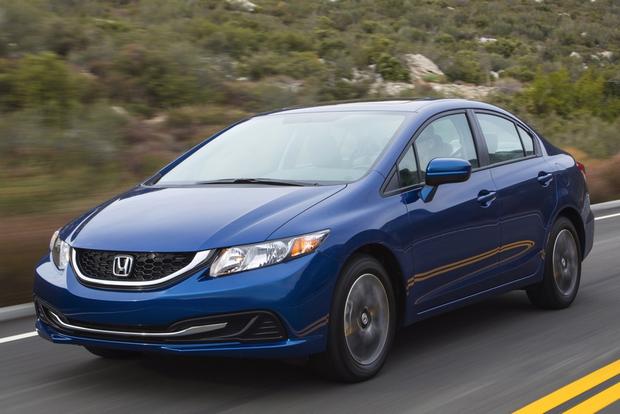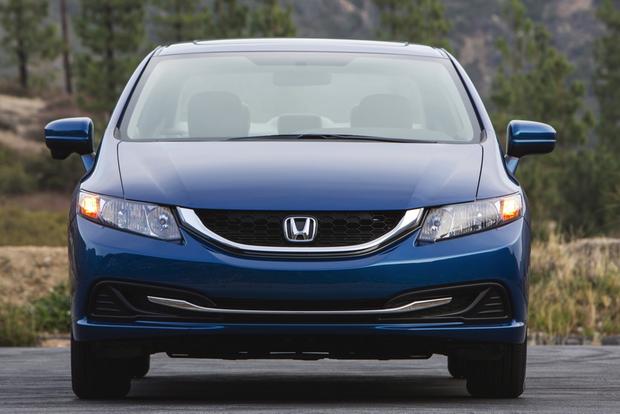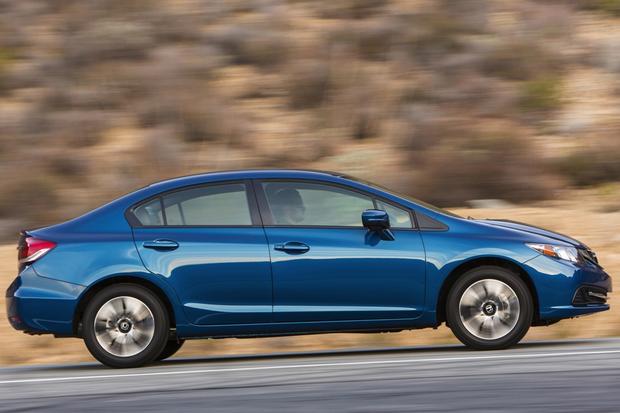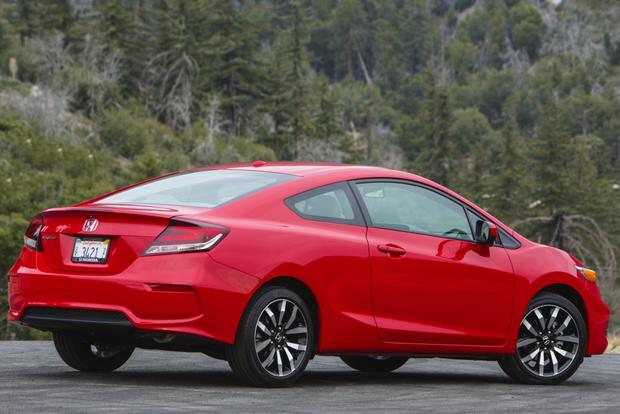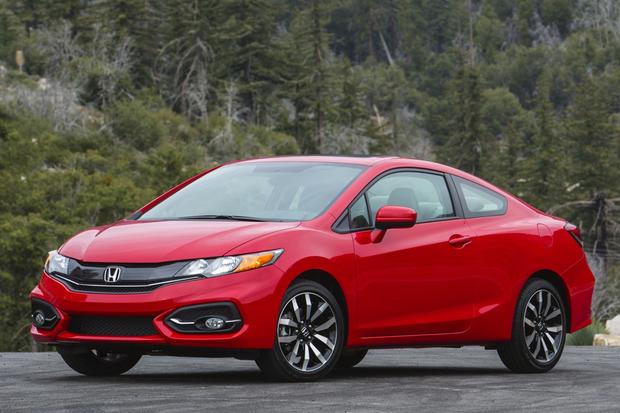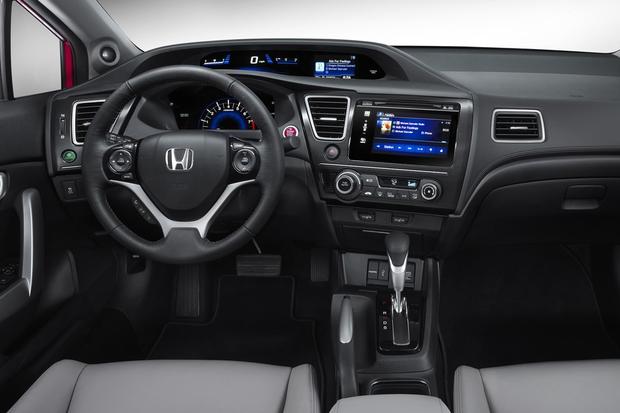 After 3 years of constant changes -- an all-new model for 2012, a greatly improved version of the same for 2013 and a host of safety and powertrain updates for 2014 -- the 2015 Honda Civic finally took a rest. With an all-new Civic on the way for the 2016 model year, the '15 version was largely unchanged, but that's not a bad thing. With all of the improvements of the previous years, the Civic remains among the best in the compact segment.
What makes the Civic such a great car? Gosh, where do we start the list? The Civic has a roomy interior and a choice of fuel-efficient engines, and it's built to last an eon. There are more choices than any other compact car we can think of: Buyers can choose from 2-door coupe and 4-door sedan body styles, fuel-efficient HF and Hybrid models, sporty Si and an alternative-fuel version that runs on clean natural gas. The 2015 Honda Civic was a smart buy when new, and it's an equally smart choice as a used car.
What We Like
Roomy interior; legendary reliability; broad range of models; good fuel economy
What We Don't
Not as engaging to drive as competing cars
Fuel Economy & Engine Specs
Most Civics are powered by a 1.8-liter 4-cylinder engine that produces 143 horsepower and 129 lb-ft of torque. Fuel economy is 28 miles per gallon in the city and 36 mpg on the highway with the 5-speed manual transmission and 30 mpg city/39 mpg hwy when equipped with the new continuously variable automatic transmission (CVT), a 2-mpg city improvement compared to the 2013 Civic's 5-speed automatic. Honda also offered a more fuel-efficient model, the HF, which is rated at 31 mpg city/41 mpg hwy.
The Civic Hybrid couples a 1.5-liter gasoline engine with an electric motor and a CVT, with a total gas/electric system output of 110 hp and 127 lb-ft of torque. The Hybrid is rated at 44 mpg city/44 mpg hwy.
At the other end of the spectrum is the hot-rod Civic Si, powered by a 201-hp/170-lb-ft 2.4-liter engine. This engine comes exclusively with a 6-speed manual, with fuel economy estimates of 22 mpg city/31 mpg hwy.
Honda also offered a version of the Civic powered by compressed natural gas (CNG), bearing the imaginative name Civic Natural Gas. It has a variant of the 1.8-liter engine that produces 110 hp and 106 lb-ft of torque. CNG is sold by the gasoline gallon equivalent (Gge), and the Civic Natural Gas is rated at 27 MPGge city/38 MPGge hwy
Standard Features & Options
The 2015 Civic comes in a staggering eight different models: mainstream LX, EX and EX-L; a new SE model; the more fuel-efficient HF; the CNG-powered Natural Gas; the rocket-ship Si; and the Hybrid. Most are offered as a sedan or a coupe, but the SE, HF, Hybrid and Natural Gas are sedan-only. With Hondas, the trim level determines what equipment the car has: The only factory-installed option is navigation -- offered on all but the LX, SE and HF models -- and, for the LX and the 2-door EX, an automatic transmission. (All other Civics are automatic-only, except for the Si, which comes exclusively with a 6-speed manual.)
The nicely equipped LX is the entry-level Civic. It comes with power mirrors and door locks, keyless entry, cruise control, floor mats, air conditioning and a 4-speaker stereo with a CD player, an iPod-compatible USB port and Pandora internet radio. The HF and Natural Gas models are equipped much like the LX; the HF gets low-rolling-resistance tires, cast-aluminum wheels and a trunk spoiler, while the Natural Gas gets alloy wheels and variable-delay wipers. The Natural Gas model also has an abbreviated trunk; most of the space is reserved for the cylindrical CNG tank.
New for 2015 is the value-oriented SE model, which comes with an automatic transmission, Honda's LaneWatch system, push-button ignition, automatic climate control, 15-inch alloy wheels and a touchscreen stereo.
The EX model comes with everything found on the SE plus 16-in alloy wheels, a sunroof, rear disc brakes, automatic headlights, variable-delay wipers, a split/fold rear seat and Honda's SmartLink smartphone integration. The EX-L adds leather upholstery, a leather-wrapped steering wheel, larger wheels and heated front seats; sedans get a power driver's seat as well.
The Hybrid model offers similar equipment to the EX, with unique alloy wheels and LED taillights, and adds forward collision warning and lane-departure alert. A Leather package adds the same upgrades found on the EX-L.
The Civic Si gets most of the features from the Civic EX, plus equipment designed to enhance performance: 17-in alloy wheels, a sport-tuned suspension, a limited-slip differential, sport seats, a leather-wrapped steering wheel, an aluminum shift knob and a unique instrument panel.
Pricing
Hondas have a well-deserved reputation for long-term reliability, particularly in states where rust is not an issue -- without metal corrosion, a well-cared-for Civic can keep going for hundreds of thousands of miles. Good reliability means high resale value, and even high-mileage examples can command higher prices than other Japanese cars of similar vintage and mileage. We suggest checking KBB.com to see values of used 2015 Honda Civics, and since asking prices can vary with locale, check the Autotrader Classifieds to get a better idea of prices in your area.
Recalls
The National Highway Traffic Safety Administration (NHTSA) has issued the following recall for the 2015 Honda Civic:
Faulty transmission software can result in damage to the transmission drive pulley shaft, which can cause the wheels to lock or the car to lose power while driving.
Recall repairs are required by law even if the vehicle is out of warranty. Your dealer can check to see if the repairs were performed, and if not, they'll fix the car at no charge to you.
Safety Ratings & Warranties
The 2015 Civic sedan received a perfect 5-star rating from the NHTSA, though the Coupe achieved only four stars. Both body styles received 4-star ratings for front impacts and five stars for side impacts. The Insurance Institute for Highway Safety once again awarded both body styles of the Civic a Top Safety Pick rating owing to its best-possible Good score in all crash tests and the availability of forward collision warning and lane-departure alert (though they only come in hybrid models).
The 2015 Honda Civic was sold with a 3-year/36,000-mile bumper-to-bumper warranty and 5 years or 60,000 miles of powertrain protection. These warranties are transferable when the car is sold, but the rust-through warranty (5 years/unlimited mileage) only applies to the original owner. Civics sold under the Honda certified pre-owned program get an additional 1-year/12,000-mile bumper-to-bumper warranty (added to the 3-year/36,000-mile warranty if it's still in effect), plus powertrain protection for up to 7 years or 100,000 miles from the date the car was purchased new. This additional warranty can also be transferred to subsequent owners.
Other Cars to Consider
2015 Toyota Corolla -- The Civic's archnemesis is every bit as reliable as the Honda but even less engaging to drive.
2015 Mazda Mazda3 -- The Mazda3 comes up short on back-seat space, but it's very fuel-efficient in 2.0-liter form, and if you love to drive, no compact will put a bigger smile on your face.
2015 Nissan Versa -- The Versa is technically smaller than the Civic and aging less gracefully, but it's just as roomy inside, and a bargain price when new translates to great buys on the used market.
Autotrader's Advice
They say there's no such thing as a sure thing, but a used Honda Civic comes pretty darn close. All 2015 Civics are nicely equipped -- we especially like the new SE model, which gets some of the most desirable equipment (including Honda's LaneWatch camera, which is one of the most practical safety devices we've seen) at a reasonable price. The EX offers several nice-to-have luxury features, and the Civic Si is a great choice for performance enthusiasts. If you can find a Civic with a complete set of maintenance records, that's the best choice. You may pay a bit more for a used 2015 Civic than you would for another car, but it should run for decades if you're diligent about scheduled maintenance. That makes it a great long-term investment -- and one of our favorite used-car buys.