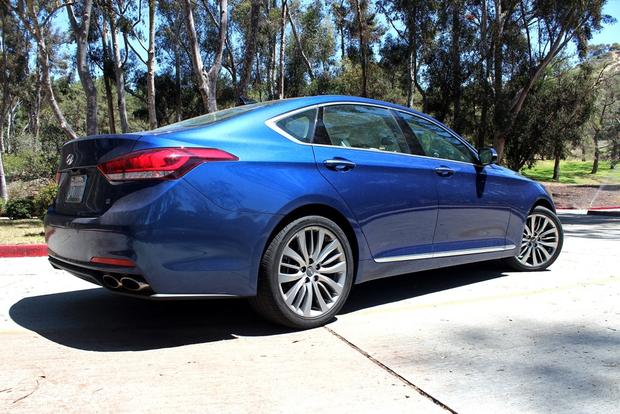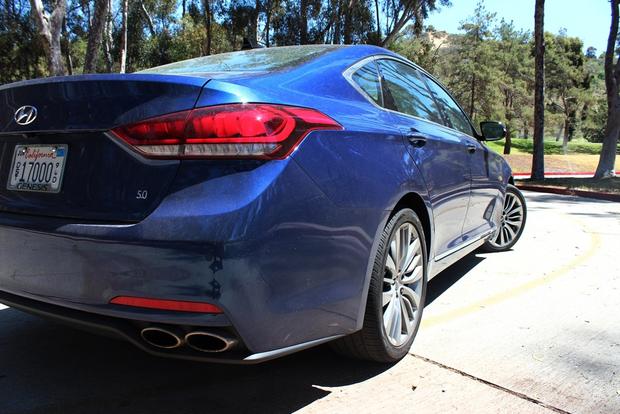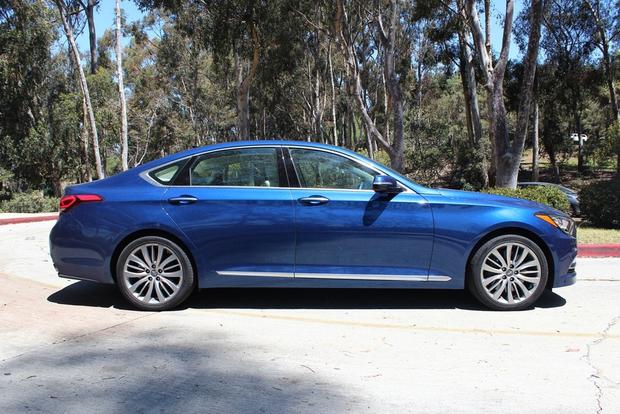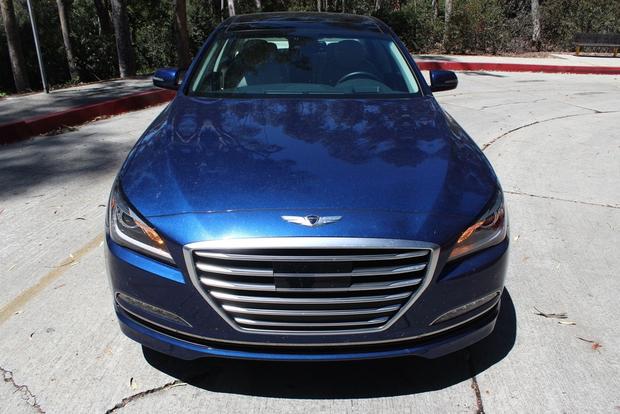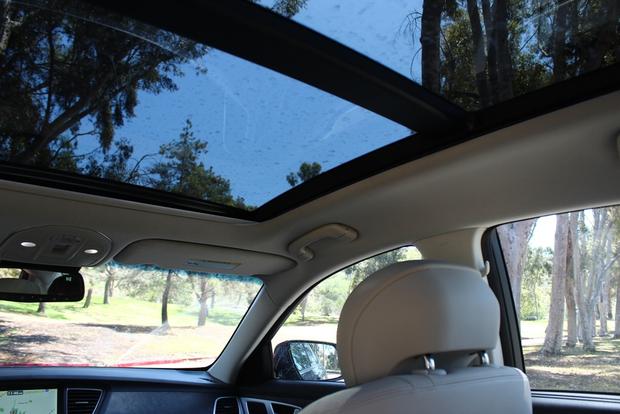 Hyundai's been on a roll for some years now, but here's the question I always ask myself when I get behind the wheel of the company's latest and greatest: "Would I actually want to own a 2015 Hyundai Genesis 5.0?"
It's a useful question, because it cuts through the pros and cons and gets right to the heart of the matter. For me, if I want to own a car, it's because it just feels right -- and even though I've advised countless car shoppers to consider buying a Hyundai, I've never been moved enough to want one in my own garage. Until now, that is. I just spent a week in a 2015 Hyundai Genesis 5.0, and this is a car that I would be proud to call my own. It's not just a nice car for a Hyundai or for the price anymore; this luxury sedan is the genuine article.
Boss Engine
How much power is enough? I've heard a lot of people say that the base 311-horsepower V6 in the Genesis is just fine, so there's no need to ante up for the 420-hp V8. I must respectfully disagree. Think about the Lexus LS 460, a car that the Genesis 5.0 reminds me of very much. Did Lexus ever put anything less than a V8 into its top-dog luxury sedan? I'm not faulting Hyundai for offering the V6; folks want a downsizing option these days, and anyway, it's the chauffeur-ready, V8-only Equus that's Hyundai's true top dog, not the Genesis. But my point is that the Genesis feels truly special with the big V8 rumbling contentedly under the hood, and you don't get that same feeling with the V6.
It's not just about the rumble, either. When you put the hammer down, the V6 can't touch the V8's sub-5-second sprints to 60 miles per hour. That's what an extra 109 hp will do for you, not to mention 90 lb-ft of torque. Speaking of the Lexus LS, its 386-hp output is humbled by the Genesis 5.0's 420 horses, yet its starting price eclipses the Hyundai's by more than $20,000. At full throttle, the Genesis 5.0 certainly feels like a worthy rival to the $75,000 Lexus; it just doesn't have the price tag to match.
Boss Ride
I was also impressed with the big Hyundai's ride quality. No matter what the speedometer says, the car is always composed and confident, with that sense of substance that all good luxury sedans share. That wasn't the case with the previous Genesis. Although you could get the same V8, it was only offered in tuner-inspired R-Spec trim with a cheesy body kit and a flinty suspension. This time around, Hyundai has the whole package ironed out. I purposely rolled over as many potholes and rough patches as I could, and the Genesis just shrugged them off, recalling once again its illustrious Lexus counterpart. Granted, my test car had the optional continuous damping control suspension, which provides adaptive dampers that don't come with the base setup. Based on my experience, this is a no-brainer upgrade as part of the value-packed Ultimate package ($3,250).
Boss Cabin
The Genesis has also cleaned up its act inside, where the previous model's faux S-Class dashboard has been replaced by a clean, modern layout with simple controls that evokes BMW's best -- yet retains an identity of its own. The strip of matte wood that bisects the dash is another nice touch; I felt like I was rolling in a modern urban condo, a positive association at this price point. Materials quality is satisfactory, and I searched fruitlessly for a single panel that wasn't screwed on tight. The back seat is another highlight, with acres of legroom that make the Genesis a legitimate 7 Series substitute. If I could change one thing, it'd be the steering wheel; I want a large wheel with a thick rim in a car like this, not the small, delicate device that's currently installed.
In terms of technology, the Ultimate package's 9.2-inch high-definition display is crisp, colorful and quick, with an intuitive menu structure that requires hardly any time to get used to. I also liked the 7-in thin-film-transistor information display between the gauges. The impression here is one of thoroughgoing modern technology; it's as if Hyundai brought in Samsung's engineers to make sure everything was tip-top. Returning again to the Lexus comparison, I found the Genesis' overall infotainment system to be more intuitive and aesthetically appealing than the LS' mouse-inspired Remote Touch Interface.
The Bottom Line
For an as-tested price of $55,700, the fully loaded 2015 Hyundai Genesis 5.0 Ultimate is a revelation. You're not cheaping out by choosing it over other full-size luxury sedans; you're just being smart. That's true on the warranty front, too, where Hyundai's coverage is virtually peerless. When the original Lexus LS debuted some 25 years ago, it was a similarly eye-opening product. Hyundai's LS moment has finally arrived.