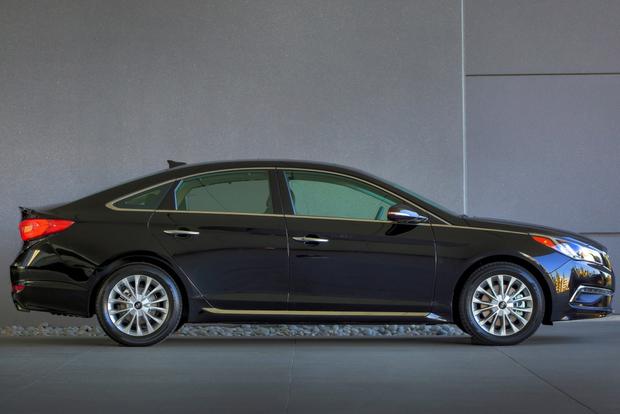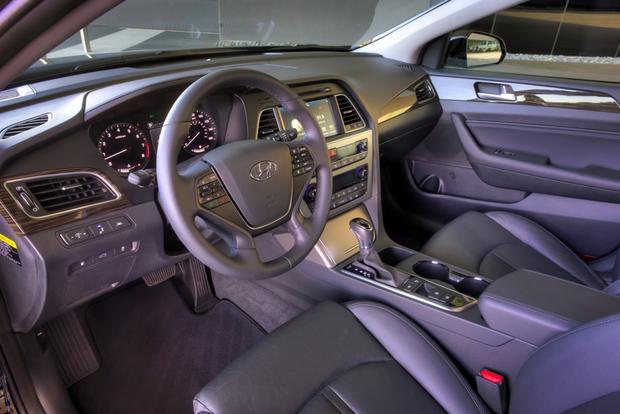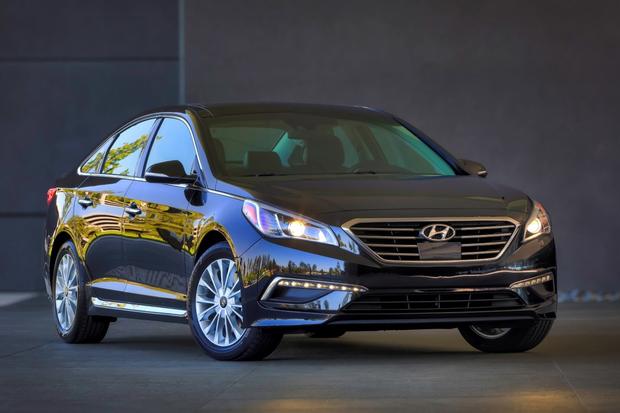 I've been a fan of the midsize Hyundai Sonata sedan since the 2009 LA Auto Show, when the reinvented 2011 Sonata introduced Hyundai's now-familiar Fluidic Sculpture design language to the world. Fast-forward five years and we're talking about the all-new 2015 Hyundai Sonata, which promises to take this popular ride to the next level. I just had a 2015 Sonata Sport 2.4 in my driveway for a week, and I came away suitably impressed.
The styling is what you notice first; it's definitely crisper and more sophisticated this time around. In fact, Hyundai calls it Fluidic Sculpture 2.0, marking the next step in the brand's aesthetic evolution. One of the goals is to create a "premium ambiance." That may sound like marketing mumbo jumbo, but the 2015 Sonata nails it in person. This car is going to win a lot of fans based on its upscale character alone -- it looks more refined than most midsize sedans, and that's something that shoppers care about these days.
But enough about the styling. How does it drive? I remember a few things that needed improvement on the previous-generation Sonata (2011-14), particularly road noise and steering response. On my journey from Los Angeles to San Francisco and back, I found that the 2015 Sonata addresses those issues remarkably well, and it's got a lot else going for it, too. Here are a few impressions that lingered in my mind after the trip.
Luxury Car Vibe
I was heading to the Bay Area for a reunion of sorts with three college friends, and when they heard I'd be showing up in a Hyundai, I could sense their disappointment. Brand stereotypes die hard, and a lot of Americans are still getting over that Hyundai Excel hangover from more than 20 years ago.
But my comrades were converts by the end of our first cruise. The 2015 Sonata's niceness is undeniable, from the roomy back seat and hushed cabin (permitting easy 4-way conversations at speed between the front and rear compartments) to the absorbent ride that could give some luxury sedans a run for their money. The Technology Package's ($1,750) upgraded infotainment displays were also a hit with their sharp graphics. We also liked how the color driver-information screen in the instrument panel matched the font and quality of the central 8-inch touchscreen. Even the dashboard itself has a markedly premium look, favoring strong lines and angles over the swoopy look of its predecessor. The kicker was the Dimension audio system (also part of the Tech Package), which pumped our mp3s with rich tones and plenty of power.
Decent Performance, Better Fuel Economy
The regular Sonata Sport is powered by a 2.4-liter 4-cylinder engine rated at 185 horsepower. I wasn't especially impressed by its passing or merging power (it didn't help that I had a heavier load than usual with the four of us on board). I missed the spunky torque of the available 2.0-liter turbo 4-cylinder, although that motor drives the price up considerably. Overall, the 2.4 is a perfectly adequate engine for this segment, but it's not going to light anyone's hair on fire at full throttle.
Here's the payoff for sticking with the base engine, though: not only do you save money up front, but you also save at the pump. The EPA rates the 2015 Sonata Sport 2.4 at a realistic 35 miles per gallon versus 32 mpg for the turbocharged 2.0T. Traffic moves quickly on California's Interstate freeway between Los Angeles and the Bay, and I found that a steady 75-80 miles-per-hour cruise with the air-conditioning on yielded about 32.5 mpg, according to the trip computer. Dial it back to 65-70 mph and I'm sure that 35-mpg figure will be within reach.
Incredible Value
The Sonata Sport 2.4 starts at $23,975 including destination, and my test car had both the above-mentioned Tech Package and the Premium Package ($1,700), which adds keyless entry and ignition, sport front seats with enhanced bolsters (you can feel the difference), a blind-spot monitor, dual-zone automatic climate control and more. The total tab came to $27,425, and we all thought that was a shockingly low price for such a well-equipped and satisfying sedan. Usually I end up shaking my head at the suggested retail prices of test cars, but this Sonata was the rare car that struck me as a genuine bargain. Aside from the turbo engine, I wouldn't have asked for anything more. That's pretty cool given that the average price of a new vehicle today has crept well past $30,000.
The Bottom Line
If I were shopping for a midsize sedan right now, the Sonata Sport would be my odds-on favorite. I like the manual-transmission Accord Sport as much as the next enthusiast, and there's plenty to be said for the Ford Fusion and the Mazda6, too. But the 2015 Hyundai Sonata Sport looks fancier, is fancier inside, is better than ever to drive and you just can't beat the price. I would be proud to drive this car daily. Aside from the 2015 Genesis luxury sedan (also a Fluidic Sculpture 2.0 product), I haven't felt that way about a Hyundai before.